When I first published my underrated (not necessarily the best—repeat: not necessarily the best) restaurants on Longbeachize in 2017, it was, at the time, my most popular piece, a testament to the fact that Long Beach's culinary scene was flourishing.
That's been going on for a few years now and, with it, comes change—and, admittedly, the fact that this will always be incomplete because there are always more that deserve the same nod. Given that, there both newbies and some repeats—and there are repeats because they just still fly under the radar, even after years of operation, and are rarely mentioned. And some that have returned after being removed because they re-deserve the limelight.
No matter how you dice it, lists like these will always remain incomplete because there are spaces deserving of attention but aren't listed—but this particular list is one I feel worth celebrating and it is thanks to the generous support of Zaia Estates, one of the city's best realtors and largest supporters of the local food scene.
In no particular order….
---
Grilled Fraiche
2210 N. Bellflower Blvd.
This inconspicuous space tucked into the Target/Trader Joe's parking lot is a gem that fills a long-held gap in the Long Beach food scene, catering to the melding of Caribbean flavors with the sensibility of Californian cuisine. The egregious absence of Trini, Jamaican, Barbadian, Haitian, and other Caribbean cuisines in Long Beach has been felt for years, with the last spot dedicated to the flavors of the islands—Callaloo on Anaheim Street where the stellar Selva currently stands—formally closing in 2018.
Grilled Fraiche helps fill that hole (especially with the growing impatience toward Ackee Bamboo's seemingly perpetually halted opening on Broadway)—but perhaps there is no more warmer welcome than its hyper-active, almost-always-present owner, Peace Love, who bounces tirelessly between Grilled Fraiche's Long Beach and two South L.A. locations.
"If the Black community isn't succeeding, then our entire community isn't succeeding," Love told me at lunch one day. "And sharing Black food in ways where it can be healthy, beautifully presented, accessible—that's clutch for the entirety of the food scene to thrive because everyone, from every culture, deserves to experience quality food and support local businesses… Food belongs to all of us."
And while Love's sermon certainly speaks to the soul, it also doesn't hurt that quality oxtails, Jamaican patties, and jerk chicken bowls sit next to wonderfully rich Californian takes on classics. Vegan crab cakes made from garbanzo beans and jackfruit. An insanely delectable stew dubbed "Believe Stew," a vegan concoction where hefty black beans meet coconut milk in a dish that would surely have you asking how they created it without a chicken or beef broth.
---
Sesame Dinette
1750 Pacific Ave.
The hyper-minimal aesthetic-meets-hyper-maximal flavors of Sesame Dinette is certainly one of its core charms and attractions, especially given the clean space is literally tucked between an auto shop and pharmacy on Pacific at Pacific Coast Highway.
But there is something particularly special about Sesame Dinette—and that is the fact that much of our Vietnamese food is passed through a Cambodian or Thai lens. Even our much-loved Pho Hong Phat is Cambodian owned and operated—and that necessarily isn't a bad thing but it does provide a deep yearning for traditionally prepared Vietnamese food by Vietnamese hands.
And that's where daughter-and-mother, owner-and-chef team Linda Sivrican and Chef Judy Mai Nguyen come in: What started as a market popup in DTLA's Chinatown during the pandemic, where Nguyen's cold food was served out of a refrigerator, blew up into a national sensation, garnering coverage from the New York Times to the Los Angeles Times.
Nguyen's food is special: It spans the traditional and even breaks away from it—like her beautifully witty pho French dip—but the traditional is where Long Beach can begin to explore some genuinely gorgeous Vietnamese dishes, like her bún thịt nướng with chả. Vermicelli noodles colorfully painted with green, pickles, peanuts, carrots, bean sprouts, and a variety of pork—in this bowl, something special: chả, or Vietnamese pork sausage—before you get to douse it with a fish sauce vinaigrette and toss to your delight.
Or go for the phở đuôi bò, a classic oxtail pho with a clean, nearly clear broth and chunks of beef falling off the tailbone. Or the mì vịt tiềm chay, a vegetarian version of a noodle soup that features braised "duck" tofu, and a broth with the fragrant aromas of jujube dates and shiitake mushrooms.
In all honesty, there are no bad orders at Sesame Dinette.
For Brian Addison's full feature on Sesame Dinette for Eater LA, click here.
---
Sushi Beluga
707 E. Ocean Blvd.
Tucked between BMore Protein Pub and a leasing office on the first floor of The Current, Sushi Beluga is easily the city's most underrated sushi spot (with the other being Kihon)—and it can be said that sushi, like the Vietnamese counterpart mentioned above, is also largely viewed through non-Japanese lenses (with the exception being, again, Kihon).
Sushi Beluga is pretty straight-forward Japanese: From saikyo yaki black cod and chirashi bowls to baked green mussels and sunomono, Sushi Beluga is quietly serving up some of the city's best sushi while lacking a severe amount of spotlight.
Even more warming, owner Cun Sang Chi first opened Sushi Beluga in Playa Del Rey thanks to being the city's first recipient for a micro loan via Playa Del Rey's then-newly-minted small business loan program—and due to the success, opened up his second location here. His humble nature—he politely declined me doing a profile on him when they first opened, saying he would prefer to let the customers discover the space for themselves—and his ability to convey his intentions make this space all the more special.
---
Nonna Mercato
3722 Atlantic Ave.
Is it likely this Bixby Knolls gem, particularly after launching its brunch and slowly approaching dinner service, will be underrated by the end of the year let alone next year? No—it's, quite honestly, extremely unlikely.
I've long said that Nonna Mercato—the brainchild of Chef Cameron Slaugh and Steve Massis, the team behind the overwhelmingly delectable turnaround of The Attic, who had long dreamed of opening a bakery after Slaugh's bread-making gymnastics was overwhelming the kitchen there—is space is where the practical meets culinary romanticism.
And the longtime dream of what Nonna could be—that it could create an Italian-with-a-hint-of-French space that mimics the off-the-street charm of the countries' stellar sidewalk dining scene—has taken a large step forward after a year since their opening: They have launched head first into brunch and are beginning to tease dinner options.
The result so far? One of the city's best brunch spots—the air of the patio, underneath the petals of pink trumpet trees, has the perfect hum of traffic on Atlantic with the feel of perfectly-social-but-not-too-intimate—where Slaugh flexes and hones his masterful pasta making skills.
For Brian Addison's full feature on Nonna Mercato, click here.
---
Sal's Gumbo Shack
6148 Long Beach Blvd. / 4470 California Pl.
How can Long Beach's sole worthy destination for gumbo be on an underrated list? Well, to be honest, people just don't talk about it enough or give it the respect it deserves.
Owner Sally Bevans is nothing short of the prime example of taking ownership of one's life: After living a life in the corporate workspace only to find it questioned when a new owner took over, Sally took what she had saved—a nice chunk of nearly $40K—and began focusing on turning her gumbo into a bonafide business.
Now, this wasn't Sally's first rodeo in the famed dish that is a cornerstone of the Louisiana food diaspora: She had long been slingin' out bowls of gumbo across company parties, community gatherings, and for neighbors (including Mayor Rex Richardson, who still has his name attached to some dishes and I certainly suggest you get the Rex Special Po' Boy, where both fried shrimp and catfish are stacked between a starchy white bun.) And those friends had long encouraged Sally to do what she eventually did: Open her first brick-and-mortar in North Long Beach.
Soon to follow, she found herself opening a second location in Bixby Knolls and, true to this very day, still slings up what she calls "cooking you can't get outside of home.
"That's real home cookin', right there," she delightfully but sternly tells people. "Those fries are fresh cut fries—not that frozen crap you get elsewhere. You want that frozen thing, go to a fast food joint. We keep it scratch here at Sal's Gumbo Shack."
Can we get an amen?
For Brian Addison's full feature on Sal's Gumbo Shack, click here.
---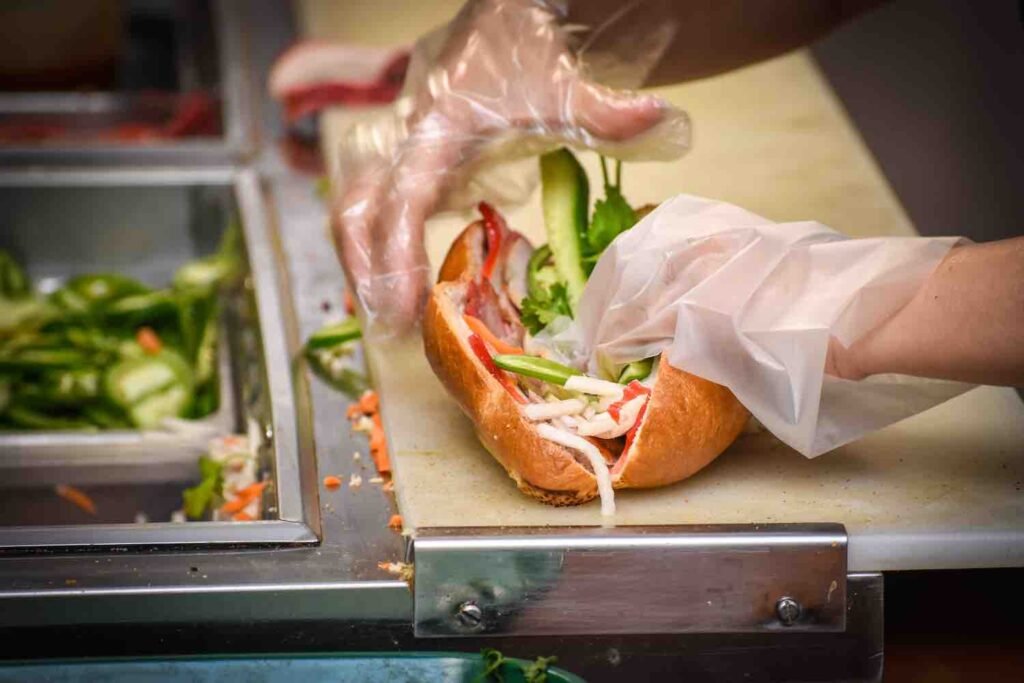 Pickle Banh Mi
1171 E. Anaheim St.
I absolutely love our city's growth in traditional Vietnamese cuisine—and Pickle Banh Mi Co.'s first location beyond the Orange Curtain is a prime example of that, giving us the city's undisputed best bánh mì (and some of the best baguettes, made in house for a buck a piece if you just want some good bread).
Even more, the story behind the small operation is one that is about the empowerment and resilience of Vietnamese women and their families—and it is directly reflected through their food, including their offering of the city's best bánh mì.
From the traditional—like bánh mì đặc biệt, the cold cut bánh mì that has defined the sandwich since its origins, or the bánh mì bò nướng sả, a lemongrass beef that has subtleties of sweetness amid its savory and herbal qualities—to the witty and fun—like a play with Peruvian lomo saltado for one or the use of chả cá thăng long, the famed turmeric-dill fish dish, for another—there is no bad bánh mì order at Pickle Banh Mi.
I mean that: No bad or even middling bánh mì at Pickle Banh Mi.
And the menu doesn't stop there: Joining it are an array of rice dishes—including a stellar roasted pork belly rice plate, cơm heo quay, where succulent bits of pork belly, skin crisped to perfection, are lined atop steamed rice and a side of pickled veggies—and spring rolls galore—including the nem nướng cuon version, where house made pork sausage is grilled before being layered with veggies and herbs in rice paper.
For Brian Addison's full profile on Pickle Banh Mi, click here.
---
Tacos La Carreta
3401 E. 69th St.
Tacos La Carreta, the tiny-but-mighty estilo Sinaloense taco truck that has made its home in Long Beach for the past three years at 69th Street, has recently earned its flowers, from being named by Bon Appétit as one of the best tacos on the West Coast to being named the Taco of Tacos at LA TACO's much-revered TACO MADNESS this year.
I first wrote about taquero José Manuel Morales Bernal Jr. back in 2020 when they first moved to Long Beach—and discovered that much of what José learned he knows from his father, who was born in Mazatlán, the Sinaloa city whose love for carne asada is so pervasive that every single urban sector has the sweet smoke and savor of carne asada on the grill.
As a way to kill time over the weekend, their popular, Compton-based popup was an instant hit—but the pandemic eventually altered that.
As first reported by Bill Esparza over at Eater LA, the pandemic is what caused Junior lost his nine-to-five position handling linen—and knew dependence on such jobs wouldn't be secure enough in our pandemic-centric world. With that, he has now decided to offer his (and his father's, though he is retired) famed tacos in a more regular fashion thanks to a food truck outing at 69th Street in North Long Beach.
True to the Sinaloense style, Morales' biggest star is his carne asada chorreada: A thick tortilla is topped with a hefty scoop of the truck's masterful carne asada, lathered in Morales' pork lard-based sauce and onions.
---
Poke Pub
160 The Promenade N.
In the world of poke, Long Beach can feel overwhelmingly saturated: There's the OG Poke Bar in the East Village, the now closed Poki Cat (which had two locations within less than a mile of each other in DTLB, the corporatized Sweetfin that just opened in Belmont Shore and joins Poke Pole literally a few blocks over, Poke 2 Grill and Poke & More by the airport, Poke Plus on the Westside, Ahipoki by the Traffic Circle, Hippo Poke out of the Daisy ghost kitchen…
Yeah, we have a lotta poke.
But there is a space that stands out in so many particular fashions: Poke Pub, where Oahu-native June Choe has been slingin' out some of the best traditional poke in the city—even when it seems not so traditional at all.
Her option of bulgogi, chicken teriyaki, and shrimp tempura might seem off-beat for poke but the reality is: Hawaiians do mix plates all the time with poke.
"You have your beer, you get your mix plate, and it's just the best combo ever," Choe said, noting that land meats and raw fish are a common if not outright craved dish amongst native Hawaiians—and for good reason: Choe, whose family holds onto Korean heritage, will happily encourage you to add bulgogi onto your poke bowl, assuring you will not regret it.
And regret you will not: Savory, sweet, umami all combine into a wonder of a bite that definitively feels island-esque even though you're, well, smack dab in the center of The Promenade. Get it with her soba noodles—yes, soba noodles; you don't always have to order rice—and a hefty drizzle of her yuzu ponzu sauce and I promise you you'll never go to another poke joint. Well, besides the poke counter at Lazy Acres.
---
Torisho
730 Long Beach Blvd.
Torisho owner Ken Harada knew Long Beach lacked not just tori no karaage—Japanese-style fried chicken—but solid classic Japanese cuisine in general—and the Japan native wanted to fix that with one of its most accessible styles, the mighty frying technique that is karaage.
Harada ins't so obsessed with tradition when it comes to his karrage that he is strictly aligning himself with it—he skips on the mirin in his marinade and goes for garlic instead, for example—but his standards in maintaining the quality of his fried chicken is definitively a traditional Japanese approach.
One can't expect anything less than a 10-minute wait for his fried chicken because of the tried'n'true tradition of ni do age, or the double-fry: 2 minutes at a lower temperature in oil after being dredged in solely potato starch and spices, rest for two minutes, fry for two more minutes in a hotter oil, and then a bit of rest before being served.
The result? An incredibly crispy piece of fried chicken thigh that lacks the weight of flour dredges, giving an airy crunch'n'crisp that borders between tempura and traditional fried chicken made in the South. And don't skip the chicken
---
Partake Collective
456 Elm Ave.
Hold up, Addison: A ghost kitchen?
Yup, a ghost kitchen—and not just any kitchen but the city's first locally-owned and -operated ghost kitchen, which has brought in not only regional brands—like the much-loved vegan Mexican concept Cena Vegan—but has provided an extension of business for local businesses whose take-out orders are overwhelming their brick-and-mortar kitchen, like Thai District.
Partake Collective, ever since announcing their presence back in the beginning of 2022, has built a name around community—largely in part thanks to its CEO, Adam Carrillo. He has been a consistent steward of supporting the community: Abbey Metcalf's vastly underrated Locali Seasoned cooking classes-meet-formal dinners? Hosted at Partake. Seemingly endless free tours of the space, with open invitations to not just cooks and bourgeoning restaurants, but for creatives to come and support the food scene? Adam has been there with the door open.
Also, there is just some great food being churned out of the space. From some pretty stellar tamales—thanks to Toma Tu Tamal—to great vegan grub—a la Cena Vegan—to solid steak sandwiches—from The Cave.
Look for Brian Addison's full feature on Toma Tu Tamal in the coming weeks.
---
The Italian Homemade Company
6460 Pacific Coast Hwy. #130
There is no denying that Long Beach's Italian scene has, actually, long been strong: La Parolaccia and Michael's on Naples approach legacy status as each have been serving the city for decades while Vino e Cucina and Ellie's are likely to join those ranks in the coming years.
And The Italian Homemade Company? They're on par to keep up as well as they pass two years serving up carbs at the 2nd & PCH retail complex.
The approach, however, is what is great: Rather than telling you what pasta'n'sauce combos to order, you choose yourself: Pick your pasta—from their gorgeous papardelle to their variations of ravioli—and pick your sauce—from the simple-but-sumptuous brown butter-sage sauce to bolognese… And then, the beautiful act of dolce farniente.
And Chef GianMarco Cosmi—the brother of Mattia Cosmi, who founded in the company in San Francisco in 2014—has been nothing but a steward for both 2nd & PCH and the fifth location of Italian Homemade itself, offering up stellar pasta and the city's best versions of piadina—the yeast-less flatbread that creates some amazing sandwiches—and cassone—the Northern Italian stuffed flatbread staple, which is like piadine but thinner.
---
Chinitos Tacos
11130 Del Amo Blvd. (Lakewood)
Chinitos was on this very list when it first opened in 2019—but with a glowing feature in the Los Angeles Times by the much-missed Patricia Escárcega and a growing cult-like following for their famed burnt-cheese tacos, Chef Beeline Krouch had it seemingly all made.
But then he realized he is in Lakewood—and Lakewood, love it or hate it, is different: Much quieter, much slower, while the patronage was loyal, Krouch found himself closing early—effectively shutting down his dream of being the late-night-go-to taco joint—and not really feeling much love from Long Beach. And if the mentions in my group are any indication, there is a partial truth to that: Chinitos is, somehow, vastly underrated.
The blunt reality is that while Chinitos might be in Lakewood, it is one-hundred-percent birthed out of Long Beach: Chef Beeline Krouch, the Cambodian-American Long Beach native, has been serving up some of the region's most distinct tacos with his melding of Cambodian and Southeast Asian flavors with Mexican grub.
While he is beyond well-known for his burnt-cheese taco and things like lemongrass carne asada and five-spice barbacoa, there are added items that are not highlighted on the menu but worth requesting—like his stellar pork belly taco. Chunks of slighty-sweet-definitively-savory pork belly sit atop browned quesillo on a small four tortilla before being topped with Beeline's mom's papaya salad. The result? A quite perfect taco.
Keep it up, Bee—promise you Long Beach has your back.
Look for Brian Addison's full feature on Chinitos in the coming days.
---
Dave's Burgers
3396 Atlantic Ave.
In the world of smash burgers, Wagyu burgers (one even mentioned on this damn very list), IG burgers, and, well, burgers just in general… We need a moment for where the over-glorified and under-satisfying take a step aside for a space which focuses on two and only two things: burgers and fries.
And yes, that includes the drinks: There are none to be had. That's reserved for the gas station. Which…
On one side: The traffic-heavy hum of Atlantic Avenue. On the other: Aforementioned gas station feeding that traffic-heavy hum. In the middle: A hidden, tiny-but-mighty burger shack decked out in red-and-white paint. Dave's Burgers has a legacy-like reputation throughout the city, where people often love the food but despise the solid service, get frustrated by its varying hours of operation, and want it to become bigger—all signs that point toward the fact that this place is legit.
You can go as basic or decadent as you like—there is no limit on patties or cheese slices despite this option not being openly advertised on the menu—but I suggest you actually go basic to get a grasp of Dave's old-school approach to burgers. And in regard to that aforementioned decadence? That comes in the form of a Cubby Burger, where hot dog slices are added to your burger.
---
Chez Bacchus
743 E. 4th St.
Chez Bacchus is a vastly underrated space, particularly for Long Beach. Overtaking a previous space which was riddled with problems and following a concept that never even led to open doors, owner and sommelier John Hansen has done what most thought was outright impossible: Create a white-cloth dining experience without the pretense—and made it successful.
With the onboarding of the incredibly humble, equally talented Chef Danny Kay, there's been a nice shift that expands the space's dedication to Californian cuisine: Yes, it includes some stellar, elevated dishes—like Chef Kay's wonderful potato and chèvre-stuffed agnolotti with shaved Tuscan black truffle—and incredibly humble-but-also-incredible dishes—a braised pig ear, gluttonously gelatinous before Kay throws it in a tamarind concoction while crisping the slivers of ear.
But truly, what makes this space so vastly underrated is that it is keeping Long Beach's white-cloth dining scene alive without making it feel un-Long Beach. Hansen's exorbitant wine knowledge and masterful hospitality skills make for a dinner that is always one worth sharing with at least one other person—but if you dine by yourself, you won't miss anything else for it because it will be enchanting.
For Brian Addison's full feature on Chez Bacchus when they first opened, click here.
---
Gypsy's Persian Grill
21 39th Pl.
In the world of Levantine food—be it Lebanese, the oddly broad "Mediterranean," Palestinian…—Long Beach certainly doesn't lack: Taboon feeds Bixby Knolls, Panini Kabob Grill now has two locations as does Green Olive, Alibaba caters to fairly empty Redondo-7th crowd, Open Sesame has been serving the Shore for over 25 years, and Ammatolí…
Well, Ammatolí is unquestionably one of the city's best restaurants. But flying under the radar of all this Levantine hubbub has been Gypsy's, a tiny-but-mighty, hole-in-the-wall space tucked between the Belmont Brewing Company and Primal Alchemy's prep kitchen, just a stone's throw from Jack in the Box.
Having served the Belmont Shore community for over 20 years, Gypsy's has been nothing but consistent in their offerings across the years—and with the booms of Open Sesame followed by Ammatoli followed by Panini Kabob Curry (of which all three are distinctly different), Gypsy's has remained continuously out of the spotlight.
From their amazingly delicious barberry hummus to coconut curry-marinated chicken, this true hole-in-the-wall deserves far more recognition as not just a consistently decent place but a straight-up Long Beach legacy restaurant.
---
3rd & Loma
301 Loma Ave.
Waffles, ice cream, and spring rolls.
I don't care how awkward that combination sounds, the space that sits directly next to the newly renovated Honeybee's in Belmont Heights is a hidden gem that feels like the perfect fit within a neighborhood surrounded nearly entirely by single-family homes.
But this little homey gem is not only willed with sincerely solid treats—the panda waffle, deep green and topped with coconut flakes? One of the best I've ever had. The vegan and meat spring rolls? Both good and both a great value: Three pretty damn big rolls for $11—but its really the service and kindness of its owner, DC, that wins the day: Charming, attentive, and wildly efficient—the speed at which your food comes out is pretty wild sometimes—there is something sweet about both her offerings and her own character.
There's no other thing to say than something I need to say to myself: 3rd & Loma deserves a full feature, doesn't it?
---
Ten Mile Brewing
1136 E. Willow St. (Signal Hill)
While the space has always been a strong supporter (and still is) of Long Beach popup staples like Chef Chad Phuong of Battambong BBQ, Ten Mile has begun its formal dive into food—and it is tackling none other than the mighty pizza scene that has been bourgeoning throughout Long Beach.
So what, exactly, is the pizza at Ten Mile like?
Owner Jesse Sundstrom goes for the much-appropriate "neo-American" description where it follows the basic principles of Neapolitan pizza—thin undercrust, big and airy edges—but he commits a few sins in terms of the fundamentalist approach to Neapolitan pie.
For one, he uses oil and he will not apologize for it. Secondly, he uses—as most pizzerias should—flour made locally from Central Milling rather than having old flour shipped from Italy (which is also the same flour carb master Harmony Sage uses at the also-underrated Long Beach Beer Lab). And also within that the-best-pizza-uses-local-ingredients vein, they use a yeast they have immediate access to: the very same company which makes the yeast they use to make Ten Mile's beer. He cold-ferments because, well, he is in a brewery so it makes sense to work with a yeast that can survive lower temperatures.
In other words, Jesse knew from the start that no one can mimic the ecosystem of Naples unless they're in Naples—and therefore, there is no reason to attempt to mimic them but rather use the pizza masters of the world as guidance rather than unbreakable rules.
For Brian Addison's full feature on Ten Mile Brewing, click here.
---
Saltwater Deck
2630 E. Ocean Blvd. (at Junipero Beach)
Saltwater Deck owners and business partners Amy and Marvin have been through quite the 2023: After opening mid-pandemic in September of 2021—the first of beachfront amenity upgrades being headed by the city, the other three including Granada Beach and Bayshore, and the now-opened Alamitos Beach concessions area, which includes a full-bar restaurant, Gaucho Beach—they were met with rightful applause: Affordable, quality, casual, the space was exactly what one would hope for when it comes to an on-the-sand eatery while meandering the coastline.
But come the following year in November, they would have to deal with a city-led effort to remove an underwater pipe from a pilot program that went defunct years ago, enduring a fenced off parking (that blocked their idyllic view for patrons) and a constant pounding of heavy duty equipment—and this just after they scored their beer and wine license.
The thing with Saltwater Deck is simple: It is everything you want from a beach food kiosk, lacking pretense and extraordinary costliness but never lacking on flavor and quality.
Their breakfast burritos—one with bacon, cheddar, eggs, and potatoes; another with soyrizo, tofu scramble, potatoes, and vegan cheese—each come with a side of their house made salsa that is worthy of any burrito.
Their breakfast sandwich—using torta bread from Marilu Panaderia in Central Long Beach—is the precise simplicity you want from an egg sandwich: three eggs, cheddar, lettuce, tomato, and mayo. All for $8.25. Three bucks more to add bacon (and I suggest you do so).
And their tofu "bánh mí"? An underrated gem on the menu that eschews the baguette for a telera roll and is filled with soy-and-ginger marinated tofu, pickled carrots and daikon, cilantro, and vegan mayo
---
The Kroft
4150 McGowen St. #15
There's no denying that The Hangar inside Long Beach Exchange is not only a space that has given East Long Beach some much-needed alternatives to the corporate big boys that have long dominated the food scene in the area but also marks its place as one of the city's richest clusters of restaurants—The Kroft being no exception.
There is so much more than this little blurb that needs to be said about The Kroft's owner, Stephen Le, a man who has entirely shifted the way he runs his business, an OC giant in the food scene when they bursted out as Anaheim's Packing District's most popular spot when they opened in nearly a decade ago in 2014.
What used to be a spot focusing mainly on decadent poutine, Le—during the pandemic and currently—noticed a slip in both patronage and online promotion. With a humble heart, he realized two major things: he wasn't that happy and he wasn't making food the way he used to enjoy.
The Kroft is rightfully known for its poutine and one of its latest iterations released this year is what owner Stephen Le calls "food that reflects what I love to eat myself." And it's is a genuine star: The chicken katsu curry poutine, where happily panko-covered, fried bits of chicken are slathered in a rich, brown Japanese curry after being topped on fries with melted cheese curds. Savory, slightly sweet, all flavor. It stands strong with their other array of poutines.
But don't skip the sandwiches and burgers: The porchetta? One of the best in the city and most affordable.
The burger? Along with some other stellar items, including a great chicken parm sandwich, the burger—easily one of the best in the city—is a culmination of that effort to better himself and his business: Succulent, savory, stellar, where double Wagyu patties sit amid gooey globs of cheese, caramelized onions, wonderfully thick pickles, and sauce.
---
Breakfast Dreams residency at Rose Park on Pine
801 Pine Ave.
Those who know me know I love me some popups: They've spurred some of the best collabs—here's cheering to the much-missed Proudly Serving, which has now vacated its residency at Beachwood Brewing in DTLB—and brought some of the best food to Long Beach that would have otherwise not happened—like Sonoratown recently stopping by Baby Gee Bar.
And Chef Josh Haskal's outright stellar breakfast popup having a two-day residency at Rose Park on Pine? Well, that's just perfection.
The move is doubly sweet: Rose Park on Pine was and remains its most underrated location of three after opening in 2018—and has seen its own roller coaster when it comes to food: After going through a chef-turnover game in its infancy with a short-lived affair with Chef Brooke Webber, owner Nathan Tourtellotte brought back the culinary wonders of Chef Melissa Ortiz, who showcased a style of seafood-only menus that proved to be some of the best in the city. And then, with concerns about the sustainability of such a menu, unfortunately had to abandon Ortiz's concept and return to being a coffeehouse.
The residency—though only Mondays and Wednesdays and in its third week—lifts two sad weights: The now former loss of Rose Park on Pine as a viable food space and, with it, the quality food that was attached to it. Now, we have the space occupied with a quality vendor that is churning out some of the city's best breakfast sandwiches and burritos in a growing game of competition. (Sala immediately comes to mind as the closest comparison to Breakfast Dreams in terms of quality when it comes to their breakfast sandwiches and burritos.)
And with it, brings Haskal's breakfast burrito and breakfast sandwich into the top of the competition games.
For Brian Addison's full feature on Breakfast Dreams's residency at Rose Park on Pine, click here.