One of the first entrees I had at Chez Bacchus was a plate of ostrichfrom a farm in Perris: The oval shaped the oyster filet from the bird's inner thigh arrived, succulent and evoking a mixture of beef tenderloin and dark turkey meat, joining leeks and potatoes on top of an heirloom tomato sauce. Paired with a dry douro from Portugal's Casa Ferreirinha, the experience felt simultaneously wondrous and strange.
Wondrous in that I was enjoying food from Chef Christopher that I did not expect to have in Long Beach—straight forward, intercontinental fine dining from an era that seems stuck in pre-pandemic times—and wine from owner and sommelier John Hansen—a man dripping with the wine world's best, including working with master sommelier Michael Jordan at Napa Rose—that felt curated in a way that did not limit wine choices to borders or styles.
Wondrous.
And strange in that it admittedly evoked a bit of deja vu and nostalgia: It was several years ago that in the very space, Fourth & Olive attempted to bring white-cloth dining to Long Beach with a strictly Alsatian food and wine menu that eschewed trends and aimed to bring food the city rarely sees.
On a later trip to Chez Bacchus, when a duroc pork chop was presented to me in all its perfect glory—oozing with savory moistness that was only expounded by a honey apple cider vinegar gravy poured atop it—I was once again nostalgic: For it reminded me of the incredible tomahawk pork chop from Fourth & Olive, one of the finest dishes served in the city.
Of course, the juxtaposition of these two sensations—great food and the concern of whether this great food can be sustained in Long Beach, particularly in the Downtown neighborhood of 4th Street and Olive—is alleviated by Hansen himself.
Calm, composed, confident but humble, Hansen is no stranger to the fine dining game but also wants to skip the pretense: A live duo playing jazzy covers of contemporary songs is paired with your food on white cloth, for sure—but there's also cheeky art, including an outright hilarious 'Please don't do coke in the bathroom' neon sign, that assures the experience is for everyone if they're open to it.
The chocolate soufflé from Chez Bacchus. Photo by Brian Addison.
Moving to Long Beach in the early 1980s, Hansen has been a well-defined veteran of the food scene here in the city: He helped opened The Sky Room at the Breakers, helped open The 555 in DTLB—where Sam and Jeff King, sons of the founders of King's Fish House, worked on the floor with Hansen—helped opened Mums in DTLB with John Morris, where BO-beau currently sits…
This is all on top of working at Duane's at Mission Inn, the aforementioned Napa Rose at the Grand Californian… Hansen's experience in the roller coaster of Long Beach's upper dining scene is unquestionable—but he wants to blend that experience with his affable, approachable personality.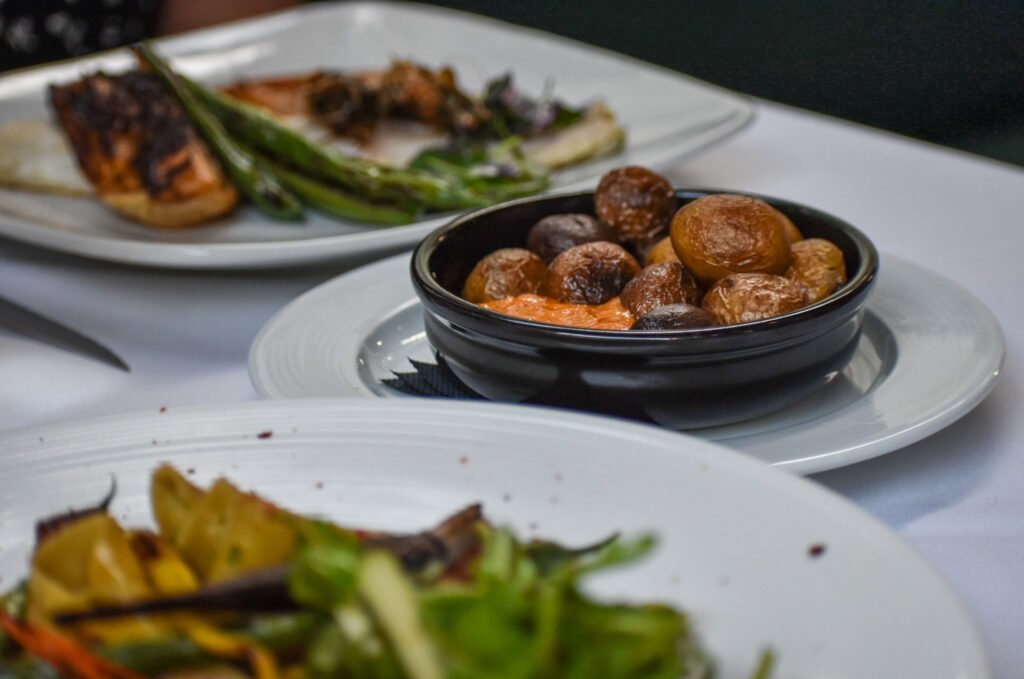 "I used to have a little sandwich shop on Broadway called The Broadway Express and it really taught me how important food is at all levels—from the casual to the fine dining," Hansen said.
"And here, we know we're serving food that is on the upper scale but we want to welcome everyone, whether they are saving up for a special occasion or have the privilege of enjoying this food regularly, each will be treated with the highest sense of respect and hospitality."
When Hansen makes this proclamation, it oozes with a genuine sense of empathy and authenticity: He is not here to cater to any crowd except those who are wanting to travel down a very particular culinary road with him, one that takes the patient over the rushed, the quality over the value, and the season over a steady offering of never-changing-menu items.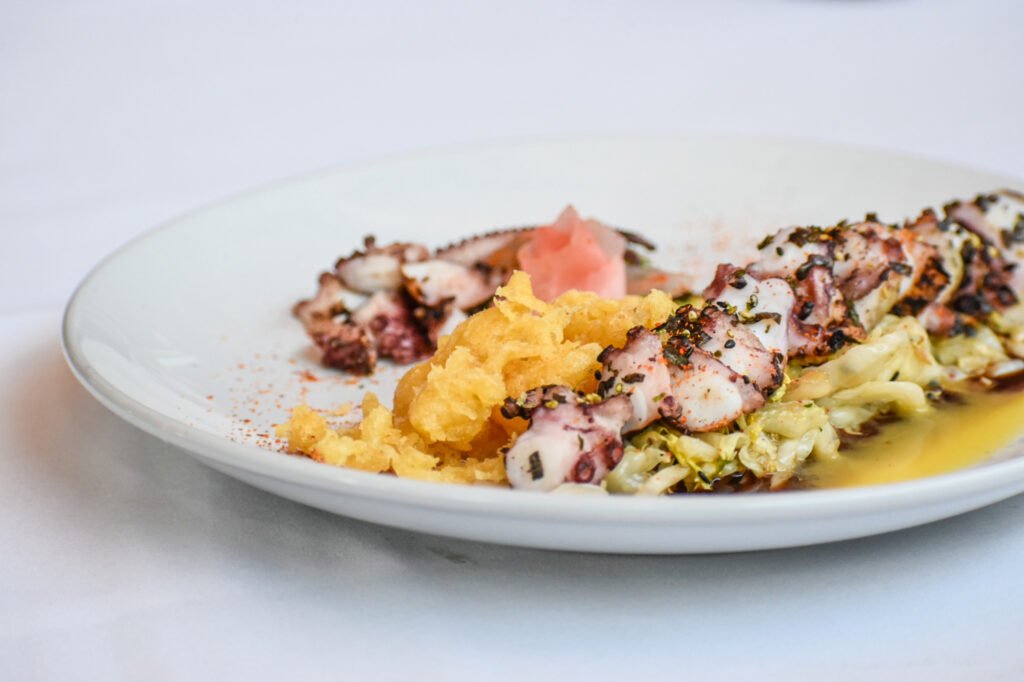 Charred octopus with tempura flakes from Chez Bacchus. Photo by Brian Addison.
The ostrich—a dish I would definitively order again—was off the menu. As was the king salmon, lamb rack, and bison. In its place? Wild Baja white shrimp, Jidori roasted chicken, Mediterranean sea bass, Santa Carota culotte, and a duroc pork chop.
Same with the starters: Gone were the incredible array of mushrooms from Long Beach Mushrooms, trout rillete, and Kanpachi crudo and instead, a salmon crudo, arancini, and a charred octopus with tempura flakes.
"I approach a menu with seasons in mind—both current and upcoming," said Chef Christopher Meehan, a nearly 40-year vet in the food industry. "Seasons also need to be thought of in terms of proteins and vegetables, cheeses and pâtés… In this sense, my food always jumps between two things: Familiarity and daring, intentional and interactive, fun and challenging."
The result is Long Beach's first white-cloth restaurant in years—and its first white-cloth intercontinental restaurant in decades—that both harnesses quality but eschews pretense. For some, it will be an experience they've had before but appreciate; for many, it will be a special occasion in order to experience something a bit more elevated.
Either way, it is a welcomed addition to both the food and hospitality scene here in Long Beach, where patient, un-rushed meals—like those of Michael's on Naples, Heritage, and Ginger's all hold high regard for—paired with ambiance, culinary knowledge, and hospitality are of the utmost importance.
To put it simply, it is indeed something worth experiencing.
Chez Bacchus is located at 743 E. 4th St.