Pickle Banh Mi—the tiny-but-mighty bánh mì joint that has brought Long Beach the Vietnamese staple lathered in its purest, most traditional form—is a story of Vietnamese women (and their family members) owning both their food and their entrepreneurial power.
And with their first location beyond the Orange Curtain having its grand opening this weekend, July 29 and 30, those women, especially daughter/son and niece/nephew to the matriarchs, sister and brother team My and Sean Nguyen—the latter of whom is the general manager at the Long Beach location—are ready to let Pickle Banh Mi have its Long Beach shining moment.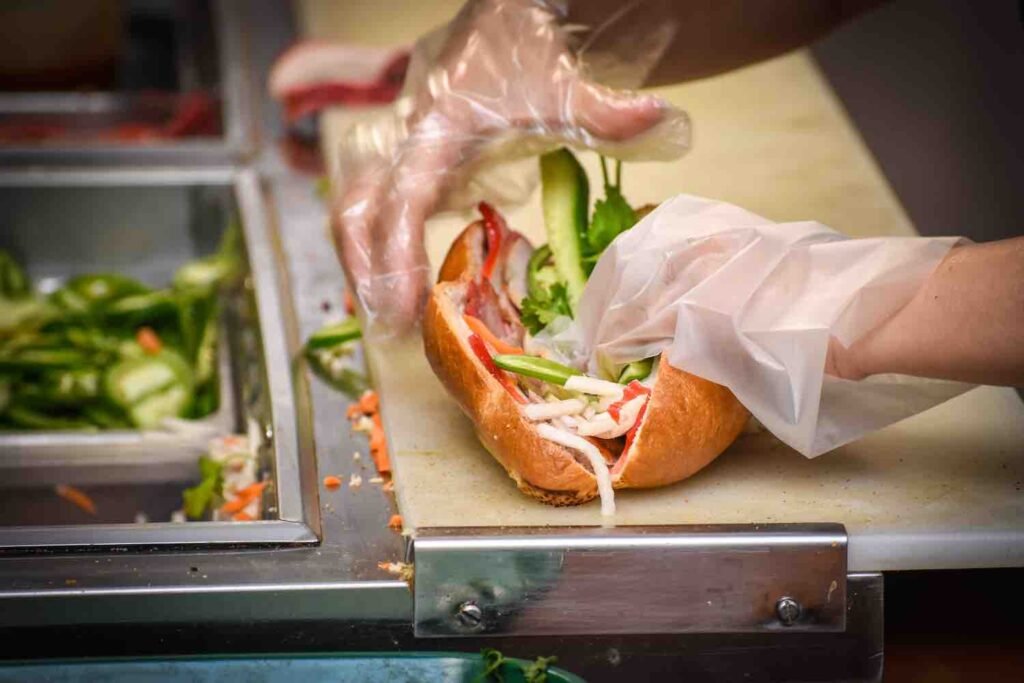 "You will be greeted by Sean and the team when you walk in," My said happily. "There's no question we pride ourselves in flavor and service—and that stems from our family."
But the power of those women behind the growing brand is, of course, not noticeable at first sight.
Instead, wafts of fresh, house made baguettes drift through the air and massive screens showcase a seemingly endless amount of bánh mì options: From the traditional—like bánh mì đặc biệt, the cold cut bánh mì that has defined the sandwich since its origins, or the bánh mì bò nướng sả, a lemongrass beef that has subtleties of sweetness amid its savory and herbal qualities—to the witty and fun—like a play with Peruvian lomo saltado for one or the use of chả cá thăng long, the famed turmeric-dill fish dish, for another.
And the menu doesn't stop there: Joining it are an array of rice dishes—including a stellar roasted pork belly rice plate, cơm heo quay, where succulent bits of pork belly, skin crisped to perfection, are lined atop steamed rice and a side of pickled veggies—and spring rolls galore—including the nem nướng cuon version, where house made pork sausage is grilled before being layered with veggies and herbs in rice paper.
These are the immediacies you notice but the women and family members leading the operation are likely assembling your food, especially My and Sean, who has taken on the particular challenge of opening Pickle Banh Mi outside Orange County, which began by her mother, Dung Dong, and her aunt, Oanh Dong.
"My mom has long had this determination in her—it's inspiring, to be honest," My said. "She's done everything when it comes to work—she was a seamstress, she picked fruit out in the field—so she worked extremely hard and always has. But it wasn't until she began sharing her food with people that I could see her determination skyrocket."
Dong began selling bánh cuốn—steamed rice roll sheets that are now only sold in their Orange County locations, as well as gỏi cuốn, spring rolls that remain on Pickle's menu in various versions—some 20 years ago in a plaza in Orange County.
With that, she had an opportunity to take over a bánh mì shop in hopes to deter competition within the same plaza—and never one to miss an opportunity, Dung dove into the mighty world of the bánh mì with Oanh. The sisters, over the decades, worked together, researched, and developed their personal and what would eventually become professional touch on the grand bánh mì. Through their shared experience, they created recipes—collected through the efforts of their team and community—that perfected the baguette. (And yes, they are perfect; you can even buy them individually if you're not, for some wild reason, interested in the sandwich.)
My beautifully reflects her mom's own determination when it comes to the food business: Though she sold it in 2018, shortly before her mother and aunt opened Pickle Banh Mi, My's own shop, Mariner's Coffee Shop in Newport Beach, was an extension of the business-minded inspiration My's mom had always instilled in her. Buying the space from another Vietnamese family which had operated it, the hole-in-the-wall bistro was thriving for six years under her tenure.
"It wasn't my intention to end it that way—selling it—but it's a conversation we don't really have in the industry," My said. "It's really hard to get time off because you're the one on which everything sits. It was a tiny space—grandfathered in with its building so altering anything would result in an entire saga with planning and contracting and permitting… So there was no way to expand it beyond our two-person team and I genuinely needed the break."
That opened the door for My to step into the Pickle Banh Mi business—and not just any step: It included taking the reins on bringing her family's brand beyond the Orange Curtain.
From lines of Vietnamese iced coffee to to stacks of orders for bánh mìs that need prepping, Pickle Banh Mi has already shown its success even before its grand opening. Photos by Brian Addison.
"We always wanted to venture out but there's a hesitation when you've built something of your own, inside your own bubble," My said. "The people in my family and this business? We do everything: We do the social media, we create the recipes, we run the ship because we have to. Sure, we have money coming in but we need to remain as nimble and interconnected with each other as possible—especially with something like taking this into an environment that is entirely new to us."
That nimbleness is what keeps Pickle Banh Mi incredibly accessible: Prices are outrageously reasonable—classic bánh mìs are $7.50 and "premium" bánh mìs are $9.50—and things are offered market style for patrons that need them—like the aforementioned baguettes, which are $1 for one or $2.75 for three.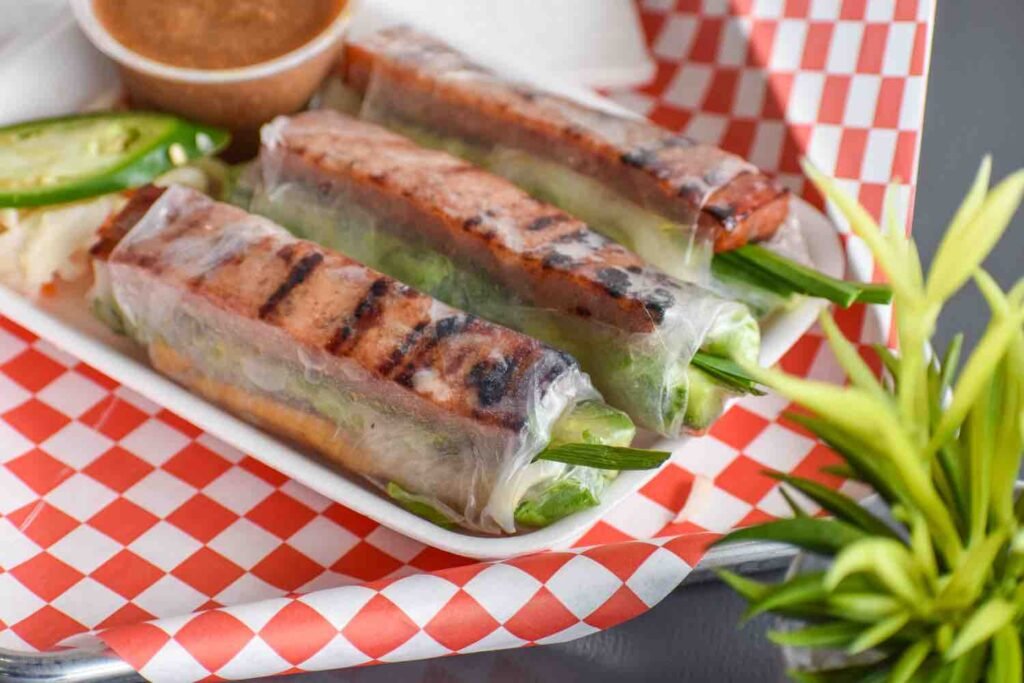 "We come from a working class family and we wanted that to be reflected here," My said. "Immediately coming here, we realized that we are feeding the workers who depend on a lunch under or around ten bucks. Medical and dental workers. Construction people. Salon ladies."
That pride in not only serving the working class but actually getting to know how important spaces like Pickle Banh Mi are to an area like the one in which they opened their Long Beach location is proof of both the family's astounding intuition and their care for how and to whom their food is served.
"This space really is a reflection of the women in my family and I am so honored to help them take it to the next level here in Long Beach, which has been nothing but supportive of us so far," My said. "I would even say Long Beach is incredibly loyal—which is exactly how I would describe my family."
Come their grand opening, patrons are encouraged to score their free coffee or tea with the purchase of a sandwich (limited to three per person) from 9AM to 3PM on Saturday, July 29, and Sunday, July 30.
Come the July 31? The shop will expand its hours: They will be open on Monday through Saturday from 7:30AM to 5PM and on Sundays from 7:30AM to 3PM.
Pickle Banh Mi is located at 1171 E. Anaheim St.