Editor's note: The owners have asked to have their last names removed from the article.

Long Beach's waterfront has been undergoing its biggest update in decades over the past three years, with the city upgrading the beach's amenities via three junctions set to include a variety of uses—and one of those most look-forward-ed to uses are what will hopefully be quality food hubs that go beyond old hot dogs and pre-packaged popsicles.
The first restaurant to tackle the newly minted beach views, Saltwater Deck, has garnered a popular following through a very simple approach via owners Amy and Marvin: Using the common beach-going dreams of eating decent food on the sand, they created a kick-back menu that provides genuinely quality, not-trying-reinvent-the-wheel grub.
However, that success has been recently hindered with the massive pipeline removal project taking place directly west of their business, starting the very month they scored their beer and wine license.
Spanning the entire eastern half of the beach's parking lot and then some, while taking up the entirety of Junipero Beach's shoreline, the project consists of constant hammering, clanking, and movement.
"We are so grateful for the community who still shows up and continues to support us," Amy said. "The ambiance is dramatically affected by the cranes and parking lot closure. Every day is a struggle yet we continue to push through—because it's a true labor of love. We are working together to make a difference and get our beach cleaned up."
As reported by the Press-Telegram, the project that has now affected business was supposed to take place in 2010 in order to remove pipes under the ocean water that were part of a desalination demonstration project that tested "under-ocean floor intake and discharge pipes."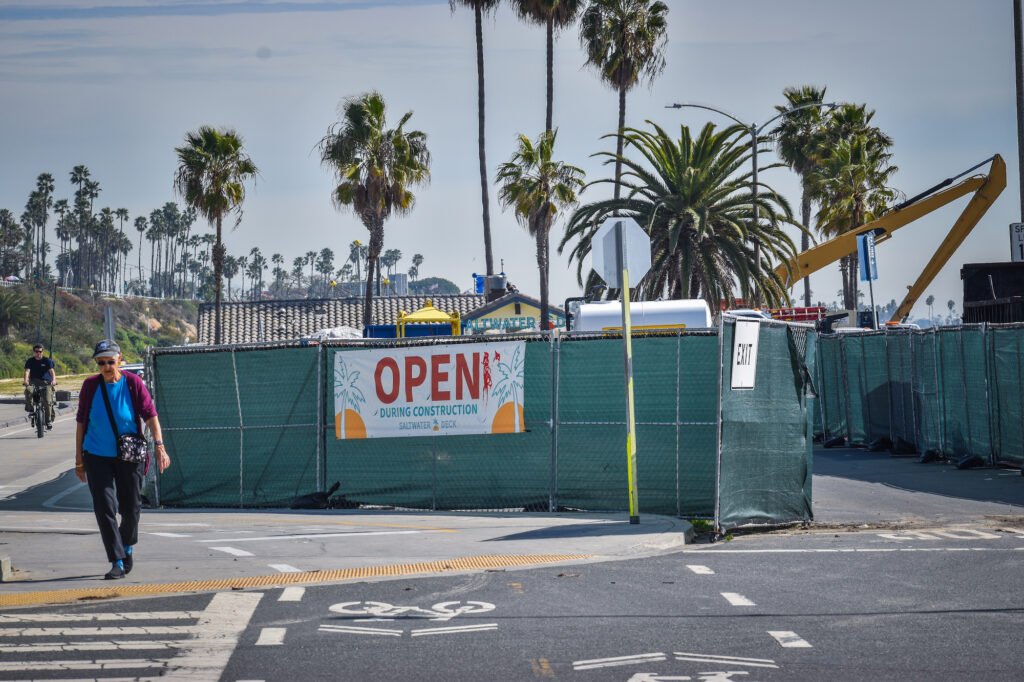 That testing began in 2007 with the condition that the pipes be removed three years later; through various council resolutions, it was pushed to now, expecting to go into completion by May of this year.
While that seems like eons away for the business owners, Amy notes that "Saltwater Deck will be the place to be for the summer."
The Deck crew is already planning on wine dinners for the sunsets, popups and collaborations like the one with Blue Taco this upcoming Tuesday, and expanding on their already stellar, best-food-on-the-sand menu.
That includes their solid breakfast burritos—one with bacon, cheddar, eggs, and potatoes; another with soyrizo, tofu scramble, potatoes, and vegan cheese—each come with a side of their housemade salsa that is worthy of any burrito.
That includes their breakfast sandwich—using torta bread from Marilu Panaderia in Central Long Beach—is the precise simplicity you want from an egg sandwich: three eggs, cheddar, lettuce, tomato, and mayo. All for $8.25. Three bucks more to add bacon (and I suggest you do so).
The use of Marilu's telera roll is ubiquitous throughout the menu: It's used on everything from their would-have-normally-skipped-it-but-glad-I-didn't turkey chipotle sandwich to Amy's ode to her work at an old-school Italian restaurant as a teenager that is Italian sandwich, loaded with mortadella, salami, capicola, and provolone.
It's used—and even welcomed—on their tofu "banh mi," an underrated gem on the menu that eschews the baguette for a telera roll and is filled with soy-and-ginger marinated tofu, pickled carrots and daikon, cilantro, and vegan mayo with a side of house-pickled jalapeños.
The setting might not be ideal but the food? It remains solid.
Saltwater Deck is located at the Junipero junction of the beach: Take Ocean Blvd. east or west until you hit Junipero and turn toward the Ocean.

Editor's note: This article originally could have been interpreted as the Press-Telegram being the first to report the pipe removal project; it was intended to reflect they were the first to report on the construction affecting a nearby business. The article has been altered.