The first dish was in a small, heated, deep stone bowl filled with what only could be described the permeating ooze of the ocean. An uni-layered foam, topped with more sea urchin, an oyster, and a dollop of caviar.
It was umami bomb in the best way possible, with bits of salt, acid, and ramsons—garlicky white flowers often called wild or bear's garlic—cutting through the fat and creaminess of the uni and oyster. And for a moment, there was little to focus on other than the dish, the people surrounding me, and the room.
To the western wall, an array of bottles of wine in temperature controlled, built-in cabinets. In front of me, a large glass table with a white-and-black marble checkered floor peeking through, surrounded by friends. Behind me, a giant window overlooking the crowd on the patio. Around me, deep forest greens with a wallpapered ceiling to cut through the darkness.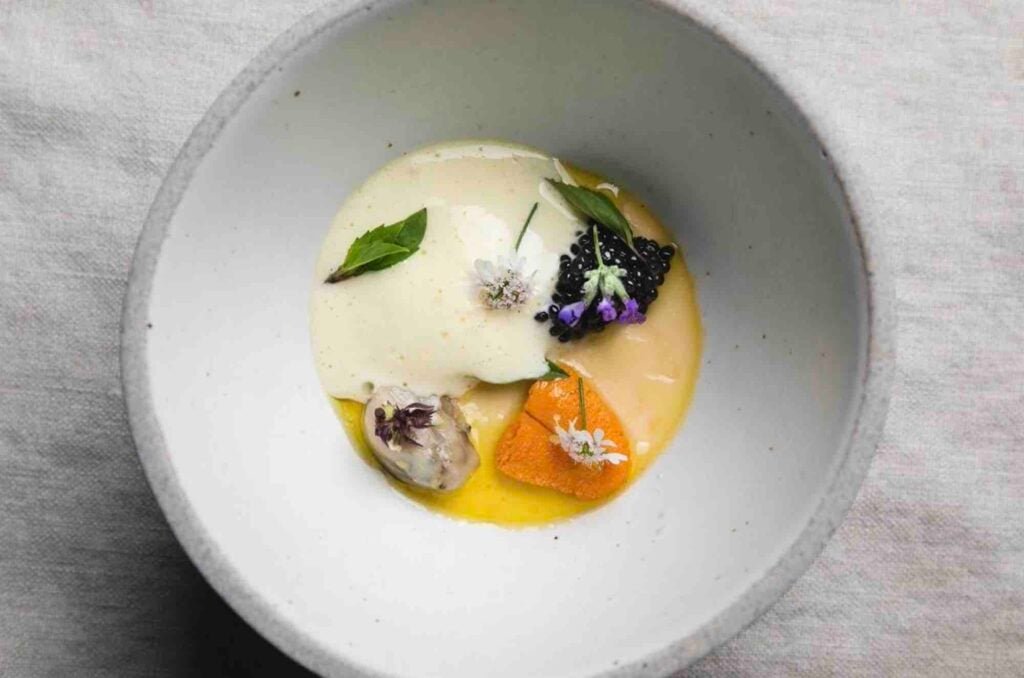 And when the server closed the door, an immediate escape of the restaurant's cacophony of diners, servers, and chatter. It was our private little universe—and I was diving fork first into the first dish of five, an oceanic universe of a first course created by The Attic on Broadway's Chef Cameron Slaugh.
It was a nearly perfect dish in a nearly perfect room—my fingers only avoiding typing "entirely perfect" because of that nagging thing inside me that no such thing exists. But if we were to push toward it, this would be it.
This was The Attic's supper club, a private, prix fixe meal inside the restaurant's salon room that oversees the patio and peeps into the main dining room within the historic house that acts as its main structure.
And it is wondrous, if not the best current private dinner in the city, where ambiance, hospitality, vibe, and stellar food combine to create an experience that is The Attic in a way its never showed itself before.
The story of The Attic's dramatic transformation from Instagrammable-three-hour-wait-brunch haven to a quality space that exudes everything but the basic is one that is always worthy of re-telling—and its transformation is largely driven by, on one half, the humility and charisma of owner Steve Massis and, on the other, the talent and humbleness of Chef Cameron Slaugh.
The former had to face a seriously weighty situation for a business owner: Continue on with the wild success of a business which saw no sign of letting up but also no sign of fulfilling the soul of Massis or try to entirely shift toward something vastly different. He opted for the latter and, nearly three years later, is the proud owner of one of the best restaurants in the city.
"There was a real emptiness there," Massis once told me. "I was just not fulfilled and not happy. That's what was going through my head every week, every brunch, every day."
Slaugh, on the other half of the coin, came from kitchens of prestige, from L.A. favorite Osteria la Buca to the vaunted, three-Michelin-starred Eleven Madison Park in New York City, where he was sous chef. Coming to Long Beach—an admirable but still-in-the-growing-pains food city compared to giants like Los Angeles and New York—was a risk filled with, yes, opportunity, but also potential failure.
"'What do you need me for?' is what I asked him," Slaugh said. "And it essentially came down to wanting to create something special for the community and for ourselves. It is probably the most honest conversation I've had with a restaurant owner; you could feel our energy."
Since then, The Attic has immensely evolved: A stellar cocktail and wine program with equally stellar hospitality—led by the space's longtime, genial general manager, Iano Dovi, who exudes the type of professionalism more in the city could learn from—headed by a food service that honors its Southern-inspired roots while elevating the space.
However, this supper club is on a different plane of Slaugh's talent.
Sure, Slaugh's inaugural dishes—that damn near perfect fried quail, the fried octopus dish, that bone marrow, the my-gods-why-is-this-so-good? brick chicken…—are examples of what The Attic has always wanted to be as well as examples of Slaugh's talent behind the knife.
But this is Slaugh beginning to outright flex a proper flex, emanating his skill and mastery of technique in what is nothing short than a beautiful exercise in the power of umami.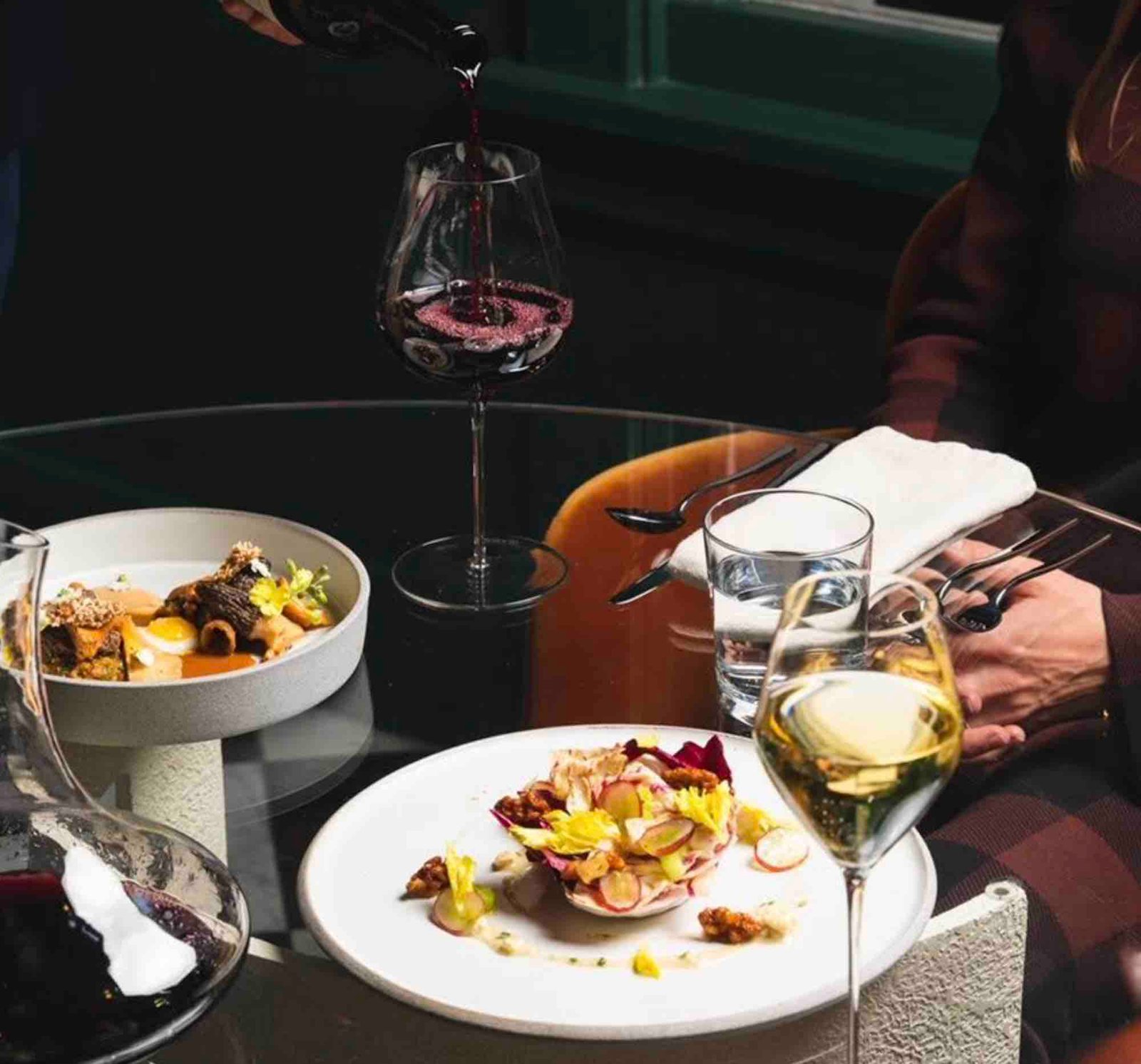 A cured piece of sea bream, surrounded by tomatoes and jasmine with an ocean-infused gelatin to add an almost fatty quality that is anything but off-putting.
Quite possibly the best carpaccio I've ever had: thin slices of raw beef sit atop bits of raw oysters, where buttered sourdough breadcrumbs and fresh sorrel are folded into the carpaccio before being drizzled with a gorgeously bright macaw green, beautifully silky sorrel and oyster sauce. The creaminess of the beef with the umami of the oyster, the earth and citrus of the sorrel with the pungent crisp of the bread crumbs, the deep red of the beef with the shining green of the sauce; this is a par-none encapsulation of why carpaccio will never escape the trending column.
A plate of morel mushrooms topped with green freekah and flowering broccolinis—the bright yellow flowers giving a peppery taste to the earth of the mushrooms—and adding extra creaminess with a quail egg creates an earth-meets-umami show that is an honor to the mushroom and the dirt it comes from.
Then there's Slaugh simply having fun, ending the night on a note to remind you not to take life so seriously but also be fond of your food memories and treat them with delicacy and honor: A dessert called "Childhood," where a black slate plate acts as the asphalt landing for a slipped-outta-my-hand ice cream cone. A pizzelle cone, broken, amid drops, splatters and scoops of hamiberry ice cream, vanilla curd, and sweet'n'slightly bitter bits of pineapple weed to cut through the fat and sugar of the curd and ice cream. It looks exactly like that fallen ice cream cone on that very hot day—only this time, you have the satisfaction of doing what you wanted to do as a kid but your parents forbade: lick the damn thing up off the ground so as to not waste such precious sweetness.
It reminds you that food can sit on all levels—from the highest of art forms to the best, simplest days of our childhood and nostalgia—and that is something worth celebrating.
But even more—joining Long Beach chefs like Eric Samaniego, Philip Pretty, Jason Witzl, and Melissa Ortiz, pushing the boundaries of our food scene with their own prix fixe dinners across the past few years—Slaugh shows us that our city wants to bat with the best of 'em and that we're capable of that.
The Attic on Broadway is located 3441 E. Broadway. The room for the restaurant's supper club fits up to eight people and is available on Friday and Saturday nights only; click here to make reservations.