The crew that brought Long Beach its first major beer festival, Halloween Hootenanny, during the pandemic in 2021—Festival Obscura founders Martin and Ryan Hughes-Svab along with Craft Beer LB founder Dennis Trilles—are yet again returning to bring Long Beach its best beer festival.
Come Oct. 21, Halloween Hootenanny will invade the Museum of Latin American Art from 1PM to 5PM (unless you score VIP, which gives one a clutch hour-early entrance time at noon).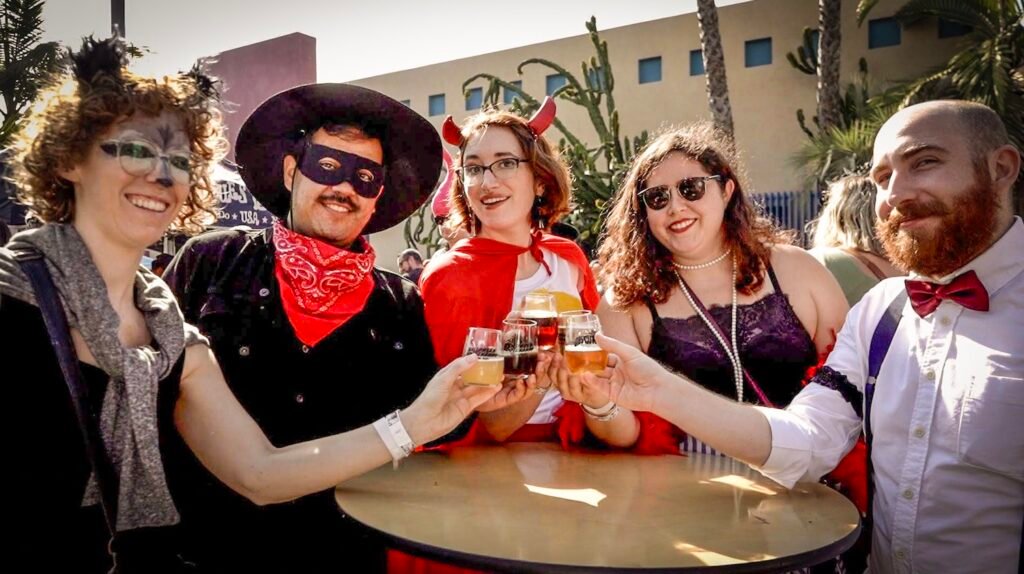 What makes this festival particulalry special is a variety of things but, first and foremost, it's the people behind it: On one hand, you have Trilles, a craft beer veteran that's been serving the city's home brew and region's independent beer scene for well over a decade (as well as tapping into ways to alter the city's festival scene, as exemplified by his stellar Sake Day festival with Sake Secret owner Greg Beck earlier this year).
Then we have the Hughes-Svab duo, who not only opened The 4th Horseman—which continually offers some of the city's best taps and cans and bottles—but are an essential part of the craft beer community. Martin opened Phantom Carriage in its wee days, Ryan was a longtime rep for independent beer brands, and together, just bring a great love of beer to the city.
On top of the solid folks behind the event, we have its core component: The macabre.
As always, a list of horror vendors (included below) will join in to offer everything from trinkets and tchotchkes dedicated to horror to posters and tees honoring the best in the dark arts.
The list of breweries, cideries, wineries, and kombucha makers—but especially the breweries—is a beautiful spotlight on Long Beach, Los Angeles, San Diego, and every other part of California's grasp on independent beer.
Just look at this list of libation producers:
Ambitious Ales
Bambucha
Beachwood Brewing
The Blendery
Brouwerij West
Burnin' Daylight
Buzzrock
Cellador
Chapman
Crown and Hops
Dutch's Brewhouse
Eureka!
Everywhere Beer
Frogtown
Hopsaint
Kyla Kombucha
Los Angeles Ale Works
La Jara
Maui Brewing
Modern Times
Orion Craft Beer
Paperback Brewing
Project Barley
Riboli Winery
San Antonio Family Winery
Sangre De Tigre
Smog City
Syncopated
Ten Mile Brewing
The Brewjeria
Three Weavers
Tortugo Brewing
Trademark Brewing
Trusted Gut
Villains
My personal Don't Misses on that list? Ambitious, Beachwood, Blendery, Burnin' Daylight, Crown and Hops, Ten Mile, Syncopated, Trademark, and Villains—that last one being particularly special: They are part of the OC-based legends that are Smoke & Fire, the very crew that will be taking over Portuguese Bend and taking on distilling for the first time. Master brewer Brad Kominek, who hails as Noble Ale Works and Green Cheek alumni, is the head honcho of beer at Villains—and he rarely if ever fails on quality.
And the food, as always, is on point: Shady Grove Foods (which had their roots in festivals before becoming a full-blown brick-and-mortar) and Whale Face Musubi return Hootenanny vets, having been with the festival since its inception. The latter—repeatedly a space I've touted as some of the best musubi in the city—will have its own fermented sriracha on hand for the event, a particular highlight if I say so myself.
And I haven't forgotten about the spooky vendors:
Art of Sketch
Bat in your Belfry
Brian Asman
CraniYums
Error `984
Fantasy Funerals
Girl Wonder Extraordinaire
Halloween Huns
Memento Mori Goods
Monster Tees
Mood Poison
The Contrary Dame
Or the music:
DJ Paul E Wog
DJ Buttercuts
Ukulele Hiro
Christopher Wonder
Ambrosius Jazz Darlings
Joey Cook
The 3rd Annual Halloween Hootenanny will take place on Saturday, Oct. 21 at the Museum of Latin American Art, located at 628 Alamitos Ave. For more information and tickets, click here.