"Sal's Gumbo Shack started because someone got tired of a company thinkin' they knew what they hell they were doing. Sal's Gumbo Shack started because a woman got sick and tired of some bullshit. And you can put me on the record as saying that."
These are the wonderfully heartfelt, outright makes-you-wanna-stand-up-and-applaud words from the equally heartwarming, no-filter boss that is Sally Bevans, the owner of Long Beach's best ode to the food of Louisiana, Sal's Gumbo Shack.
Long before she opened the first Sal's Gumbo Shack on the edge of North Long Beach in May of 2012 and her second location mid-pandemic at the end of 2021 in Bixby Knolls, Bevans was a woman working in corporate America and, like her words suggested and a sentiment that reflects so many exhausted with the grind, she was done.
Her story—a Black woman in corporate America, working as an international freight supervisor, and watching a new company move in only to watch her work of 12 years crumble before her eyes—is one that is hard to avoid cheering for, especially when she breaks it down in such a relatable fashion.
"You hit this point where suddenly, you're going home, and you find yourself doing emails at home, checking in on work at home," Bevans said. "And you realize: You're treating this company as if it is your company, you're working for this company for free when you're at home. For. Free. So I said: 'Screw it,' and devised a plan."
Her plan? Gumbo, of course, harkening to her roots as a Creole woman (with family still present in Louisiana, from Slidell to Lacombe, with their roots in the Belizean Creole culture). And this wasn't just a set-up-shop-and-find-out endeavor. No. This was getting up at 4AM daily before her trek into the glum office of her job and taking gumbo to the office. This was waking up at 4AM on her days off to then sell gumbo out of her home.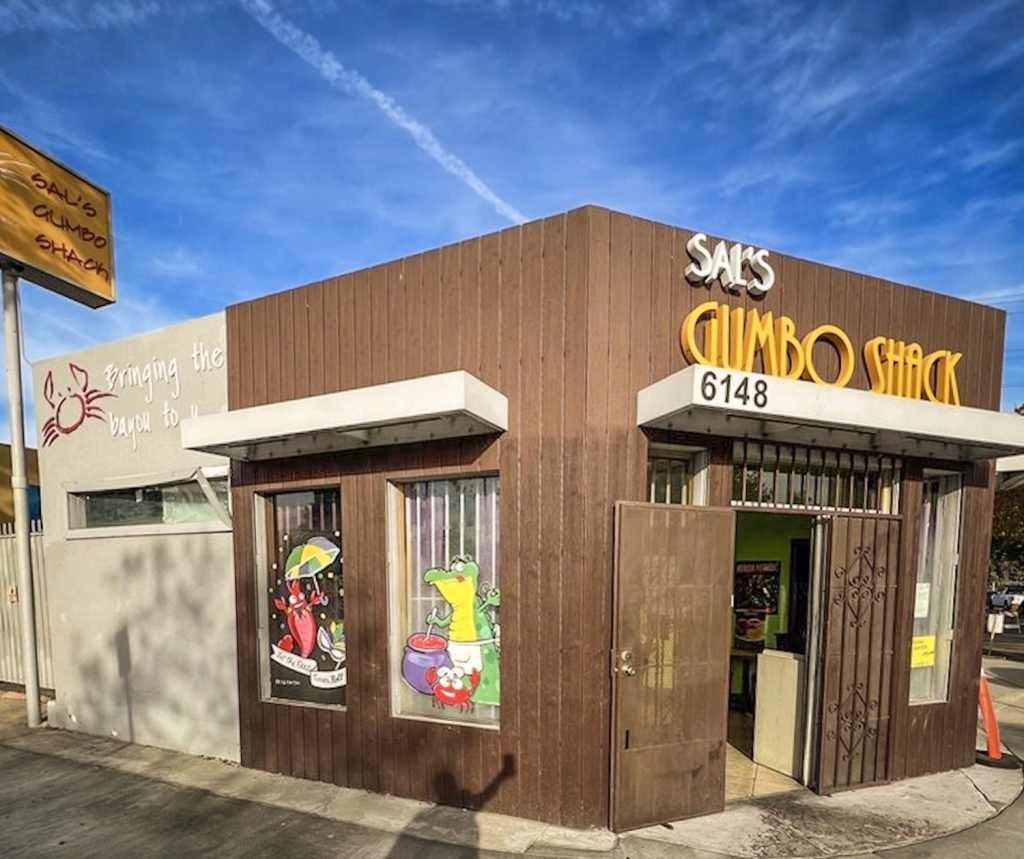 "I was pulling in a thousand dollars on some weekends," Bevans proudly said. "And I did not know that [former Councilmember Steve Neal's] Chief of Staff Rex Richardson lived across the street with his fraternity brothers—y'know, long before this mayor thing. Him and his brothers ate my gumbo up. The neighborhood loved it. And it's like the Lord struck me: 'This is what you're meant to do.'"
Serendipity (and the Lord, for sure) played a particularly strong role: A spot around the corner had opened up just as she was considering this overwhelming change in her life's trajectory. But like many with only one shot at a life investment—Bevans had saved $30K in her 401K, her sole sense of anything resembling a potential retirement or investment—she had worries: She was a mother, she had a mortgage—and thought it was corporate, though it was tiring, though it was bullshit, that provided stability.
But if anyone had the last laugh on the way to the bank, it was Bevans.
"God has a way of letting you know that your bullshit radar was on point because that $30,000?" Bevans said. "It has touched millions of dollars; I have grossed millions of dollars through this business. There ain't no way in hell I could have done that in that other job. No way. And on top of that, you don't get to own something with a job like that; I got to own something."
Of course, ambition without talent serves few unless you're rich.
Affluent people have the very luxurious benefit of throwing money into a well and seeing what wishes are returned versus the common American who, if they happen to have any savings and use it on a small business, face that as their sole chance of entering into something self-fulfilling—and the talent of Bevans when she took to the stoves and knives was something that was a safe bet that was hard to ignore.
Her gumbo—one of the few worthy reflections of the famed Creole dish and certainly the city's best traditional take on the classic—has its roots in her Belizean heritage, where its rich Creole culture that was driven by the slave trade has left the Latin American country with staple dishes like rice'n'red beans, fry jacks, and bile ups (or "boil ups," what could be argued as one of the unspoken predecessors to the mighty seafood boil of Louisiana).
"Belizean food—a lotta my family is from Belize, so they're Belizean Creole, another form of Creole—and the food they cooked is very similar to Louisiana: A lotta stews, a lotta stuff in pots," Bevans said. "That's what gumbo essentially is: Just a pot of everything in it."
Rex's Special Po' Boy from Sal's Gumbo Shack. Photo by Brian Addison.
Of course, Bevans's description of gumbo is a bit over-simplified: There's the patience of creating a proper dark roux. Preparing your rice correctly so it doesn't break. Adding certain parts, especially the shrimp, at the right time so they don't overcook…
Bevans calls its "home cooking" but there's a reality in that not everyone cooks well at home; what it really is is cooking done well. And even Mayor Richardson got that, long before becoming the leader of Long Beach: He was not only an early encourager of the works of Bevans but was the original architect of some of its most prized offerings—hence the "Rex specials," which includes an outright delectable po' boy that puts both catfish and shrimp into the same beautifully starchy white bun before being topped off with Bevans's nearly-perfect creamy rémoulade and lettuce.
Many people have asked Bevans how the hell she managed to open one restaurant with $30,000—an exhausted question which will rightfully give you the eye roll only a single mother can give—let alone a second one in Bixby Knolls, which is quickly approaching what she calls the "terrible twos."
"I am lucky to have Cece [general manager of both locations] and my partner Ty Holmes—if it wasn't for them, this second location wouldn't be possible," Bevans said of opening in Bixby Knolls. "But I equate it all to having a second child: The OG Shack is ten years old, you've been through it, so you have this confidence in creating another."
As with all things with Sally, however, there is no mincing when it comes to words—and those Terrible Twos is very much as real in the restaurant world as it is with children.
"Even though we're making almost as much as Sal's #1—which took us 11 years, mind you—we'd be a lot better if the community came to support more on a regular basis," Bevans said. "Every week feels like a roller coaster."
This isn't to necessarily say the community doesn't support her at all; rather, the community has been vocal about its support—but Bevans, in her ever entrepreneurial fashion, wants more: For her, it would make much more business sense to turn Sal's #1 into a catering spot and make the Bixby Knolls location the representation of Sal's Gumbo Shack as a proper restaurant: More space, newer building, walkable community…
Of course, this doesn't necessarily dismiss her roots.
"There's something about stepping in here everyday—whether it's Sal's #1 or #2," Bevans said. "Sometimes I am not in a good mood; we're human like that. But there was a moment my daughter came up to me and said, 'Mom, how did you do it when I was growing up? It seems like we would have nothing and you would make this incredible meal.' That's where I started, that's where I come from. And what can I say? My grandson is damn lucky his grandma owns a restaurant."
Sal's Gumbo Shack has two locations: One in North Long Beach at 6148 Long Beach Blvd. and one in Bixby Knolls at 4470 California Pl.