Gaucho Beach—the three-pronged restaurant and cafe concept that sits on the sands of Alamitos Beach just south of the Villa Riviera—has revealed the menu for its self-dubbed "coastal kitchen" after revealing what the final space will look like back in June.
The City approved its contract with Downey Restaurant Group, the owner of Gaucho Grill (which used to occupy the space now holding Agaves along Pine Avenue), back in 2021; it approved three proposed concepts from the group, each to inhabit the new facility.
Of course, what makes this project stand out from the others is that it is a full-on, full-bar-and-tap-list restaurant space. Taking over the north-facing side of the structure will be the most formal of dining, the main kitchen of Gaucho Beach, while its two other more casual concepts will be in smaller spaces.
Promo images for Gaucho Beach's cafe and market concepts, the latter clearly including the space's well-known empanadas. Courtesy of Gaucho Beach.
While I have not sampled the menu and there is still a lot more to learn about the other two concepts Gaucho is attaching to its space—a cafe that will  "coffee, juices, smoothies, baked goods and cakes, pizzas, signature empanadas, and ice cream" and a market with options including "specialty sandwiches, salads, beverages, sweets, and more"—the full kitchen's menu looks to showcase an array of Californian- and Argentine-inspired plates.
Corporate-y? Sure. Accessible for the array of folks visiting and exploring the beach? In today's dining out scene (let alone dining out on the beach with a full bar), for the most part, the answer is yes.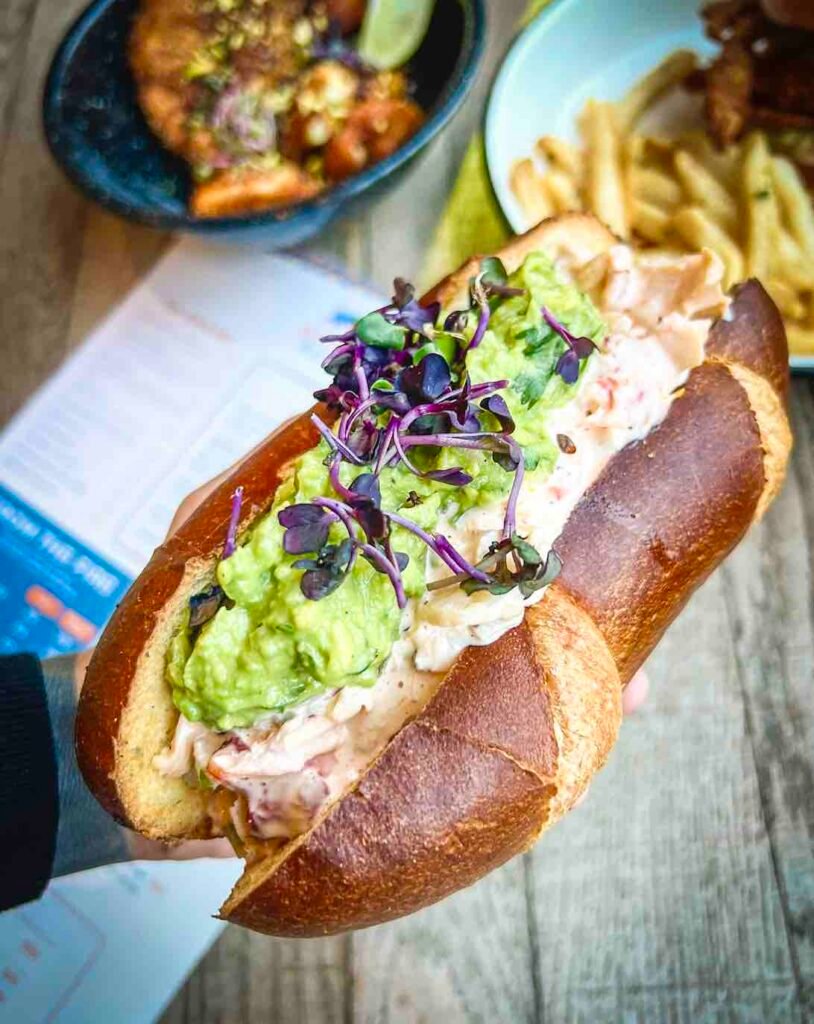 All its soups and salads—including a clam chowder they are particularly focused on advertising, as well as arugula, Ceasar, and Greek salads—are all under $10.
There's mostly an array of elevated casual offerings, particularly its heavy list of sandwiches: There's a massive lobster roll ($24) that is stuffed into a pretzel bun and slathered in mayonnaise and guacamole; soft shell crab sandwich ($18); a chicken and beef Milanese sandwich ($14); a blackened salmon sandwich (not currently priced); and choripan ($14), the sandwich menu's biggest ode to Argentina.
From their wood-fire sits the majority of their straight-forward entrées, including Argentine picanha (a top sirloin steak at $24); short ribs ($18); a half-chicken ($14); and an unpriced tomahawk ribeye. Joining the more direct entrée dishes is the restaurant's well-known paella, with shrimp, squid, langoustine, mussels, Argentine chorizo, and Pamplona chorizo ($32).
For those stopping in for small bites, their appetizer menu spans the usual suspects—guacamole ($10), chicken tenders ($11), ceviche ($14)…—but also some nice sounding options, including fried asparagus with chipotle-lemon aioli ($12); Korean short rib bites with rice ($19); mussels with shishito peppers and white wine ($16); short rib croquettes ($12), and shrimp taquitos ($10).
Their beverages definitely test the line of Long Beach's cocktail prices: While many sit at $16 and $18, there are some that hit $22—and will prove a testing ground to see if Long Beach is comfortable hitting L.A.-drink prices.
And yes, there will be brunch albeit a minimal one with three main offerings: Fried chicken and waffles ($16); a lobster omelet and salad ($22); and a skirt steak and eggs plate ($22).
The last formal update? "We are targeting summertime as the opening moment for Gaucho Beach," said Max Goldenberg, director of development for Gaucho Grill. "We are working tirelessly to make it happen."