Ten Mile Brewing Co., the tiny-but-mighty brewery of Signal Hill, has always been brewing great beer.
Beer-centric spaces like The 4th Horseman have long been supporters and their operation has earned them their own taproom at Steelcraft in Bellflower. They were recently representing Long Beach and Signal Hill at this past year's Great American Beer Fest—largely considered the nation's highest honor in beer—and snagged the gold for their Hooked on Onyx, a midnight ode to the almighty American black ale that has come to be expected of the brewery whenever they sample at beer festivals or have new patrons ask about their strengths.
"Honestly? I just wanted good pizza at home so I started working on doughs five years ago. And I finally got it to the point where I was proud to serve it." — Jesse Sundstrom, co-owner of Ten Mile Brewing Co.
And while the space has always been a strong supporter (and still is) of Long Beach popup staples likethe Cambodian Cowboy himself, Chef Chad Phuong of Battambong BBQ, it has begun its formal dive into food—and it is tackling none other than the mighty pizza scene that has been bourgeoning throughout Long Beach.
"My dad was a big food photographer so there's always been this presence of food in our family—which naturally leads to having food at the brewery," Jesse said, noting that his favorite cuisine is Cajun and Paul Prudhomme, the famed chef which took Cajun food to new levels, is a hero of both him and his father.
"We talked burgers, we talked Cajun—y'know, serving a poor man's jambalaya and things like that," Jesse said. "But when I started making the pizzas I was making at home for the people here, they basically said, 'This is what you should be serving.'"
So what, exactly, is the pizza at Ten Mile like?
Jesse goes for the much-appropriate "neo-American" description where it follows the basic principles of Neapolitan pizza—thin undercrust, big and airy edges—but he commits a few sins in terms of the fundamentalist approach to Neapolitan pie.
For one, he uses oil and he will not apologize for it. Secondly, he uses—as most pizzerias should—flour made locally from Central Milling rather than having old flour shipped from Italy (which is also the same flour carb master Harmony Sage uses at the also-underrated Long Beach Beer Lab). And also within that the-best-pizza-uses-local-ingredients vein, they use a yeast they have immediate access to: the very same company which makes the yeast they use to make Ten Mile's beer. He cold-ferments because, well, he is in a brewery so it makes sense to work with a yeast that can survive lower temperatures.
In other words, Jesse knew from the start that no one can mimic the ecosystem of Naples unless they're in Naples—and therefore, there is no reason to attempt to mimic them but rather use the pizza masters of the world as guidance rather than unbreakable rules.
"Coming out of the beer perspective through fermentation in dough has long fascinated me," Jesse said, echoing the work of Sage and Levi Fried at the aforementioned Long Beach Beer Lab. "Beer and dough are very similar in how they act and they share similar ingredients. Sure, one is making a liquid and one is making a dough but the idea behind each roughly the same."
The minute alterations over the course of the past five years—which is not just reduced down to the dough: sorting through 15-plus cheeses, playing with sauces, assembling toppings including experimenting with 13 different types of pepperoni; all of this was done through constant testing and practicing with both patrons and friends—with Jesse learning how to best flex his pie-making skills has resulted in what could be called the city's most underrated pizza.
That cold-fermentation and oil? It adds the perfect hint of tart and crisp without being outright called a sourdough or excessively crusty. The breaking of Neapolitan rules? Toppings that would otherwise be called heresy.
The Sundstroms regularly get down with their inverse barbecue kin, the other father-and-son team that is David and Dennis Robicheau at Shady Grove Foods, using their bacon in constantly revolving pizzas.
Pizza of yestermonth? The Breakfast Pizza, where Shady's glorious bacon was used to accompany potatoes, a sunny-side up egg, and a cajun cream sauce. This month's use of the bacon? A wildly savory-meets-umami pie that uses mushroom, said bacon, and is topped with a citrusy arugula salad.
There's Jesse's love of appropriate hints of sweet—a clear reflection of his love of Cajun cuisine—that are dotted throughout a few of his pizzas.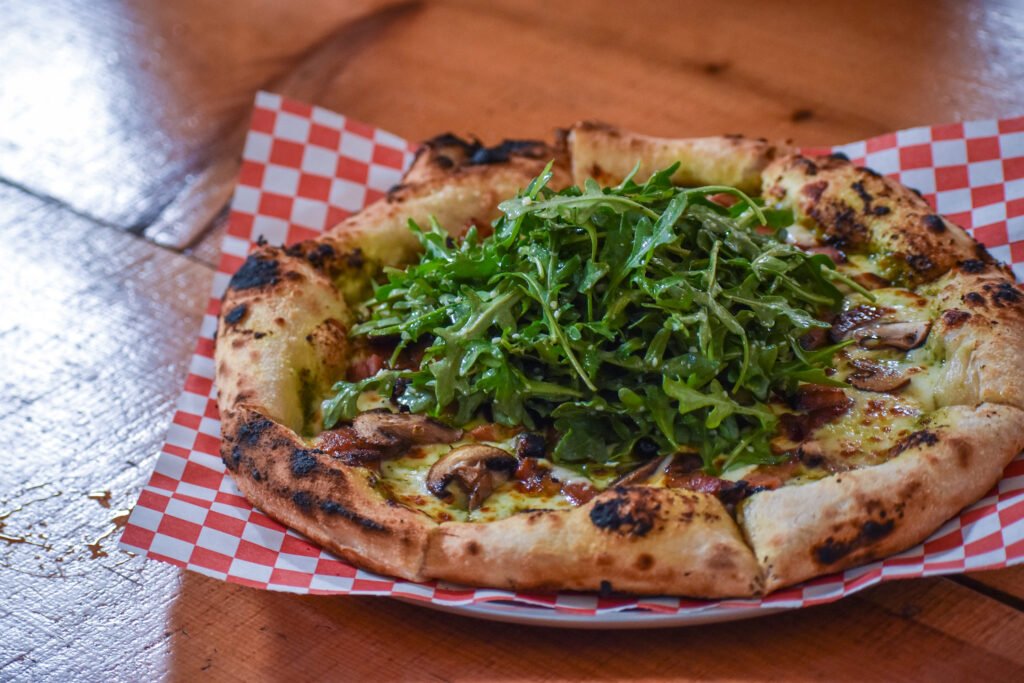 There's a chile-infused honey that he drizzles on his beautifully simple but outright wondrous pepperoni pizza—a pie that stands up on its own, with or without the honey drizzle, with or without the beer. But let's be honest: the thick, cupped'n'filled-with-pork-sweat pepperoni slices are the perfect delivery contraption for that spicy honey, creating a perfectly greasy, definitively salty, subtly sweet combo that can stand up with some of the best pepperoni pizzas in town, if not beat many.
There's a genuinely great pastrami pizza—easily the best pastrami pie since The 4th Horseman's Pastrami Dearest debuted on their inaugural menu in 2018—where Jesse procures the famed pastrami from The Hat, layers a not-yellow-mustard sauce, and ditches the dill pickle in favor of the much sweeter bread-and-butter pickle. Like its pepperoni counterpart, it results in a nicely balanced pizza that bounces between savory and sweet deliciously.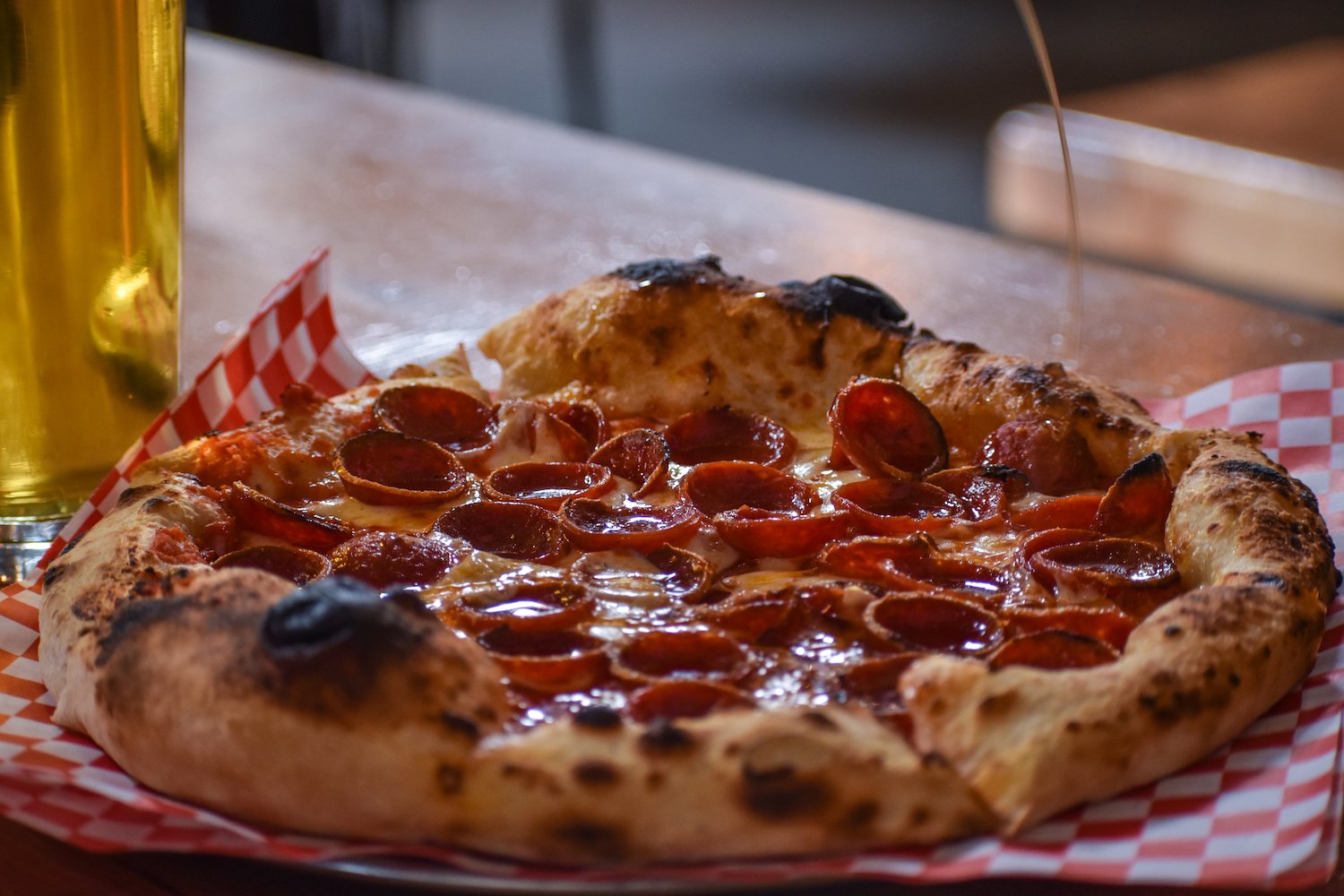 Jesse has even created a gluten-free dough that is unquestionably the best I've ever had, where an extremely expensive secret flour—$150 bucks for a few pounds—is used to create what nearly every gluten-free pizza has failed to do: that spongey-meets-airy quality that makes bread, well, feel like bread.
"My wife became gluten sensitive after having our last baby," Jesse said, "and really, I just wanted to create something for her—but it's become much bigger than that: There was a customer with celiac that basically shed a tear because she hadn't tasted something like bread in over a decade."
And he is not exaggerating: It is a masterful mirror to how much food can affect our well-being—and that human creativity, with just enough empathy and innovation, can help everyone feel like they're invited to the dinner table.
This dedication to his craft—first reflected in his beer, now through the endless gastronomical canvas that is pizza—perhaps even more reflects in the patronage at Ten Mile.
Diverse—a young man on his laptop, arugula pizza on one side, doing work while on the other side, a pair of older ladies share beer and conversation—and family-centric—there is a perpetual relay of parents, strollers, and their kids in a way that is far from annoying and closer to heart-warming—the Sundstrom have created a hidden gem in Long Beach's hilltop park that is Signal Hill.
And they deserve nothing but applause for making our city well lubricated and well fed.
Ten Mile Brewing Co. is located at 1136 E. Willow St. in Signal Hill.