When I first wrote about the return of Chef Melissa Ortiz's food a year ago, it was a cause for celebration: the mastermind behind both elevated (Bamboo Club's much-missed original menu) and just-outright-good bar menus (such as the one that opened Stache Bar/Sideburns, many of her items still there), it was a warm welcome to watch her exercise her skills at a proper bistro.
Dancing across an array of seafood-centric dishes that highlight cuisines from Mexico, the Americas, and, in all frankness, the wholeness of the world, Ortiz has flexed her creative skills while dusting each dish with her particularly witty approach: aguachile layered with passion fruit, habanero, and blush cherry tomatoes; shrimp chorizo and meatballs; "seacuterie" boards with a fish mortadella; country fried skate with eggs…
Since then, I've featured her work continuously: on My Favorite Things I'm Eating lists here and there, on my Essential Restaurants list for 2022, and on my Underrated Restaurants list for 2022.
Though it might look like overkill or over-appreciation, to be frank, each mention not only was deserved but doubly so: While Rose Park has built a steady reputation among loyal patrons—and brunches have a seen a slow growth from decently patronized to outright crowded—it still flies largely under the radar of restaurants people mention when creating their own listicles of must-go-to-in-Long Beach joints.
There is something particularly special about a chef who is confident in themselves to continually challenge their art: By eschewing land proteins—a choice many might find limiting—Ortiz has created some of the city's most interesting, witty, and outright delicious food.
And for Ortiz, that is okay; not in the sense of dismissiveness or passive aggression but in the sense of pride: She owns her food, with changes that are often so constant it often hard to keep up with what is on the menu and what isn't. It is exhilarating as it can be, in cases like her stellar fish nduja, a little heartbreaking.
Speaking of that oceanic nduja, it is never an inappropriate time to mention that Ortiz has eschewed all land proteins. That's right: One will not find a piece of beef, a chunk of pork, a portion of chicken, a slice of lamb… In Ortiz's simultaneously humble-yet-confident nature: "That's boring and easy."
So she sticks to the world of veggies, fruits, and the almighty oceans and lakes and rivers of the world to curate her menus—which results in things like the aforementioned nduja (and, if you're reading this article, just a forewarning: don't expect much of what I write about here to be on a menu; it is a beautiful frustration to have).
Her nduja had nodded toward the Calabrian pork pâté of Italy, where she (as always) uses a seasonal, sustainable fish—my first round was yellowtail; second was swordfish—that's muddled into a cream base of Calabrian chiles and Plugrá butter.
The result?
An extremely addicting, light-but-ultra-creamy umami bomb whose flavors are expanded when used as a spread on a miso-seaweed flatbread (from none other than carb master Arturo Enciso of Gusto).
That type of playfulness mixed with stellar creativity and execution has continued to some of her more current dishes.
There's a savory-meets-sweet breakfast sandwich that is as creamy and salty as it is delectably sweet and earthy. A cheese bun's top half is encrusted in a golden brown cap of Monterey cheese while the bottom has a thick topping of apricot preserves, its center connected by a soft-cooked scrambled egg patty.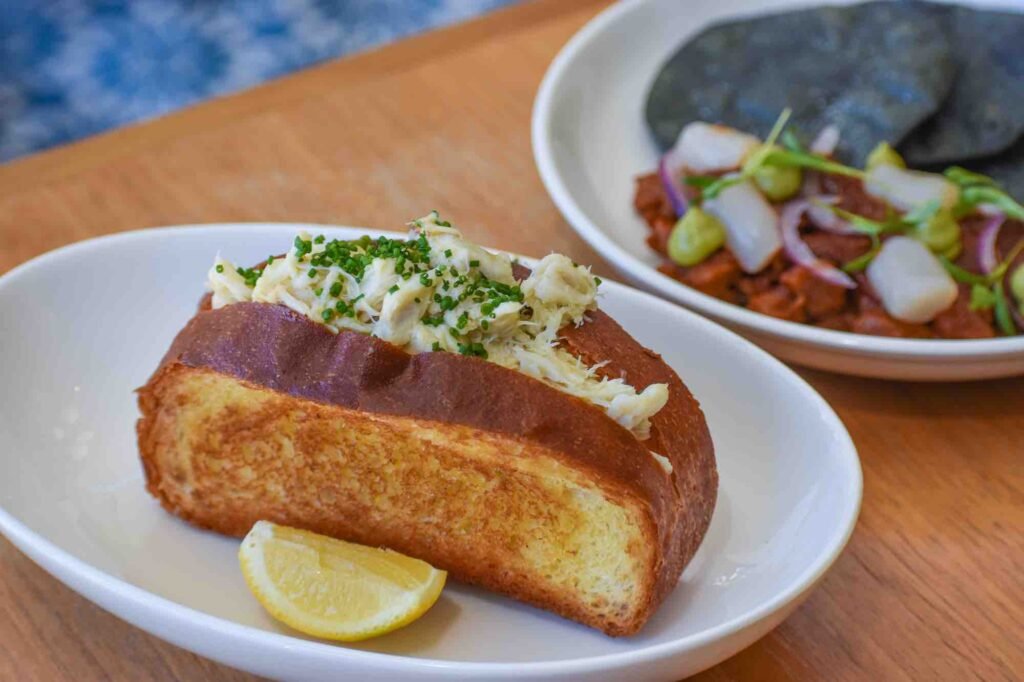 Her take on chile Colorado, the famed dish from Chihuahua where chunks of beef are stewed in a ancho-meets-guajillo sauce, is a dish that is, well, best served cold: Chunks of raw pescado—the type of fish depending on the catch—
"That's the best part of it all," Ortiz said. "The fish changes weekly as well as the sets. Sometimes it is bluefin. Or albacore. Or yellowtail. Or rockfish. Or… The list of fish we get changes daily. Sometimes I'll do a Colorado or a tinga or a smoked fish spread with raw fish tostada."
Ortiz's ever-changing menu, however, is being dotted with dishes that are likely to either remain or, in the least, stay for an extended period—and that includes what could be called the city's best bean and cheese burrito and Baja-style fried fish tacos.
With the former, we have an entry into the Ortiz food lexicon that stems from her childhood and, despite lacking seafood, strangely fits into the aura of Rose Park: A massive flour tortilla is coated with Monterey jack and cotija cheeses before being browned into a crusty, cheesy layer attached to the tortilla. Then small navy white beans, slow cooked across hours, are layered with strips of bright, tart nopal.
The final outcome is an ode to the almighty burrito at its most vegetarian, honoring the humble bean and cactus with a dish that feels as homey and traditional as it does deserving of an elevated space like Rose Park.
And then comes her beautifully colored—deep blues, bright magentas, and earthy greens dot the dish—plate of Baja-style fried fish tacos. Inspired by her visits Baja, the dish is indeed the perfect sonnet for the formidable taco that is at the heart of Ensenada street food.
Chunks of flakey, white fish are doused in a batter )that includes the very heirloom blue corn masa used to create its shell) before being fried. That masa, from the wildly-popular-and-rightfully-so Masienda based out of Los Angeles, is the type of corn creation that oozes the plant's natural gifts when it comes to flavors and scents: sweet, earthy notes that emanate off the plate.
Topped with pickled veggies, an avocado and serrano crema, and micro cilantro, with bits of cabbage layered beneath the fish, the final bow is a fried fish taco that Long Beach deserves: Equal parts ocean and earth, where layers of savory, fatty, sweet, and spicy meld, much like her burrito, it is an entire little opera, folded into a tortilla, and dedicated to Baja.
It is a food that is spectacularly focused, using preservation and fermenting skills, filleting and knife skills, flavor profiling and combination skills.
The food of Long Beach has obviously been in an immense growth creativity-wise (and, despite the opinion of those above the 10, one that has been genuinely solid for many years now)—but it is outright booming because of food like that of Chef Melissa Ortiz.
And she is not alone, for it is a reflection of the entire city's always-there-but-feels-newfound love of food that comes with soul, ethics, pride, and love.
The practically-perfect-in-every-way food of Chef Dima Habibeh of Ammatoli. Or Enciso from Gusto Bread. Or Chef Manuel Bañuelos of Fonda Tobalá. Or the Procaccinis of La Parolaccia. Or the Cambodian Cowboy of barbecue, Chef Chad Phuong. Or the gorgeous attention to allergens that comes from the team at Noble Bird Rotisserie. Or the beautiful play between American and Cambodian cultures that are the wings at Shlap Muan. Or, or, or…
These foods, particularly including that of Ortiz, is food that Long Beach not only needs but deserves.
Rose Park on Pine is located at 801 Pine Avenue.