"I couldn't believe it either: The decision was unanimous among the judges."
These are the words of LA TACO Editor-in-Chief Javier Cabral after Tacos La Carreta—the Sinaloense taco truck that has made its home in Long Beach for the past three years at 69th Street, just across from the Paramount border—scored the Best in Show title at the publication's annual TACO MADNESS event.
It brings a huge sense of pride for Long Beach, who faced some of Los Angeles's most respected and beloved taco slingers: From DTLA's flour-tortilla master Sonoratown to goth-trompo kings Evil Cooks to back-to-back winner of LA Taco's taco tournament, decided by online readers, the (rightfully) much-loved Villa's Tacos (whom also faced a shocker when they were de-throned by Tacos Los Cholos for the online taco tournament).
I first wrote about taquero José Manuel Morales Bernal Jr. back in 2020 when they first moved to Long Beach—and discovered that much of what José learned he knows from his father, who was born in Mazatlán, the Sinaloa city whose love for carne asada is so pervasive that every single urban sector has the sweet smoke and savor of carne asada on the grill.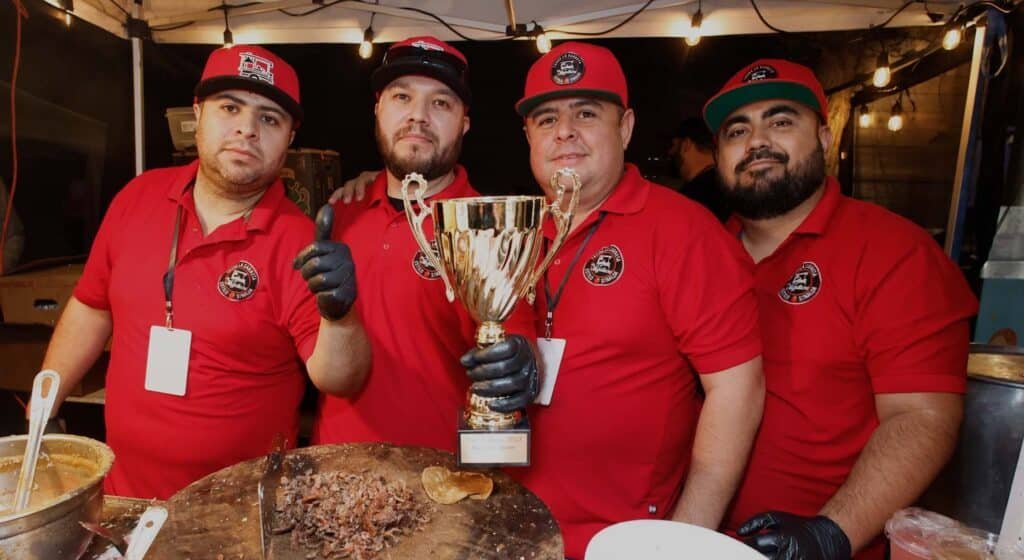 Courtesy of L.A. TACO.

As a way to kill time over the weekend, their popular, Compton-based popup was an instant hit—but the pandemic eventually altered that.
As first reported by Bill Esparza over at Eater LA, the pandemic is what caused Junior lost his nine-to-five position handling linen—and knew dependence on such jobs wouldn't be secure enough in our pandemic-centric world. With that, he has now decided to offer his (and his father's, though he is retired) famed tacos in a more regular fashion thanks to a food truck outing at 69th Street in North Long Beach.
True to the Sinaloense style, Morales' biggest star is his carne asada chorreada: A thick tortilla is topped with a hefty scoop of the truck's masterful carne asada, lathered in Morales' pork lard-based sauce and onions.
But what won over the hearts of judges was Carreta's "Torito," described by Cabral as "a taco on a flour tortilla featuring a roasted Anaheim chile, just a scant amount of cheese, and mesquite-grilled sirloin carne asada, bound together with minced cabbage and a runny tomato salsa."
Tacos La Carreta is located at 3401 E. 69th St. and is open Monday 5PM-10PM; Thursday 5PM to 9PM; Friday 5PM to 10PM; Saturday 2:45PM to 10PM; Sunday 2:45PM to 9PM