As we prepare for the launch of LB Food Scene Week, running Aug. 9 through Aug. 18 at over 30 restaurants spread across the city, we want to highlight businesses and restaurants we've partnered with that celebrate our culinary scene. For more information about the weeklong celebration of Long Beach's food scene, click here.
The launch of Long Beach Food Scene Week has been one of the most rewarding (and, not gonna lie, challenging) things I've been a part of—impossible to execute without my business partner, Hazel Quimpo, our amazing assistant and diehard rep West Long Beach, Abel Reyes, and most importantly, the businesses who are participating—but it has been well worth it.
Because our city's culinary scene deserves to be uplifted rather than dismissed—and we're proud of what we've achieved: Not a single restaurant had to pay in order to participate (and we are beyond thankful for the sponsors and restaurants that did donate money to help the machine that is LB Food Scene Week run) because we believe in our community and know that those with the means to support will. And they did, graciously.
Now it is up to you, mighty patron, to visit the 30-plus restaurants participating in LB Food Scene Week. And don't let my list restrict you—these aren't the only amazing things being offered throughout the week.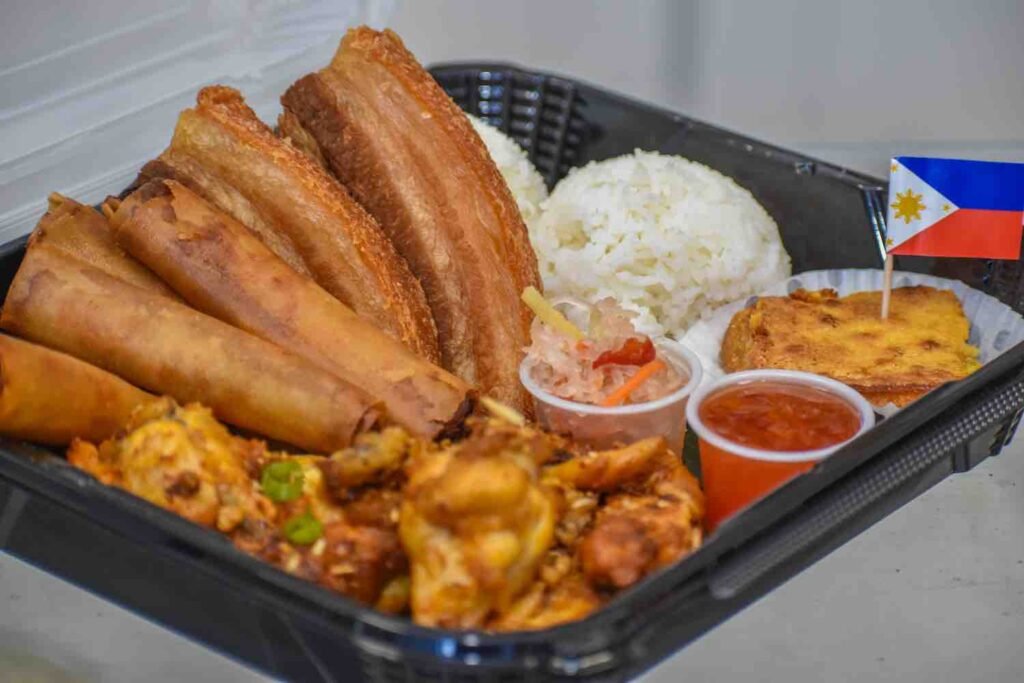 The Kamayan plate and Don Papa bibingka at Gemmae Bakeshop
1356 W. Willow St.
The full story behind the creation of these two things is worth reading but I do admit I ask questions a lotta people are likely to never ask themselves in their head: After falling in love with the Filipino rum that is Don Papa, What if Gemmae did a Don Papa-meets-Edam cheese pastry of some sort, a sweet'n'salty concoction?
Catherine was on board—and not only created something insanely delicious but like her pandesals, has taken on a new interpretation of bibingka, traditionally a rice cake with salted eggs that is often served during Christmas. This Gemmae-meets-Don Papa bibingka sticks to the rice flour with their house-made salted egg before being topped with shredded cheese and a cream cheese frosting infused with Don Papa rum.
On top of this, she is creating $20 individual Kamayan plates. Honoring the tradition of Kamayan food spreads—translating into "hands" in Tagalog, where foods that are intended to be eaten by hand are laid out across a table lined with banana leaves—Catherine has created a $20 plate with steamed rice, lechon kawali (braised'n'fried strips of pork belly), their famed lumpia Shanghai, adobong pula (a red adobo sauce, where it is used on chicken for this plate), cassava cake, and a side of atsara (pickled papaya) and sweet chili sauce.
For Brian Addison's full feature on Gemmae Bake Shop, click here.
For Brian Addison's full feature on Gemmae's LB Food Scene Menu, click here.
Mole negro Oaxaqueño from Lola's (4th Street location only)
2030 E. 4th St.
American chefs can try as they might to make traditional mole negro Oaxaqueño but the simple fact is that many of the ingredients—from the beautifully black pasilla mixe and earthy chilhuacle chile to the rare bi-color cacao beans—aren't here or, if they are, aren't as fresh or quality-centric.
Well, leave it to Lola's Chef Luis Navarro to do something out of the ordinary: After befriending famed Oaxacan Chef Susan Trilling—known for her absurdly complex, mind-blowing-ly wonderful mole negro—he decided to do something no one else is doing for LB Food Scene Week: Ship Trilling's mole negro straight to Long Beach.
Velvety smooth and outrageously complex, the sauce has notes that all hit at different times. A bit of heat there. A hint of bitter there. Sweet. Savory. Umami. Earthy. And Navarro let's it shine with nothing more than a perfect medium rare filet, white buttery rice, and some pickled onions and tortillas.
For Brian Addison's last feature on Lola's, click here.
For Brian Addison's feature on their LB Food Scene Menu, click here.
Learning to cook a four-course steak dinner with Locali Seasoned and The Cave Prime Steak
456 Elm Ave. on Aug. 12
I love stories of how people in Long Beach want to better connect their neighbors through food—especially if that connection includes learning how to cook like chefs.
Abbey Metcalf's Locali Seasoned plays off a simple idea: We have a tendency to stay in our bubbles—so why not bring the experience of a chef to your neighbors? She hosts dinners where patrons learn what the chef is cooking and then, when all is ready, plate it and eat their accomplishments at a proper dinner table.
For LB Food Scene Week, she'll be doing a four-course steak dinner with Chefs Juan Sanchez and Nicole Nguyen of The Cave Prime Steak (an underrated space at Partake Collective).
For Brian Addison's full profile on Locali Seasoned, click here.
For more information about the event, click here.
Dinner for two at Wood & Salt
4262 Atlantic Ave.
Wood & Salt owner Bjoern Risse has secured his place as one of Bixby Knolls's most dependable restaurateurs, with his second location for his German-centric Rasselbock (with the original location in Los Angeles) and his rightfully adored Wood & Salt concept, both on Atlantic Avenue.
Wood & Salt offered the neighborhood precisely what it needed during and post-pandemic: A step away from the more casual and boisterous and into the more refined and sexy, all the while providing a momentary step away from the pandemic blues.
And their $90 dinner for two is spectacular: from watermelon and arugula salads, fried stuffed squash blossoms and Brussels sprouts, to beautiful plates of pappardelle bolognese and roasted chicken with greens and potatoes—along with a couple cocktails, including a surprisingly delicious banana old-fashioned—this menu is the perfect date night option for LB Food Scene Week.
For Brian Addison's full profile on Wood & Salt, click here.
For Wood & Salt's menu for Long Beach Food Scene, click here.
Three-course tasting menu at Ammatolí
285 E. 3rd St.
When Chef Dima Habibeh first opened Ammatolí in 2018, it was quietly and casually: Nestled between an architectural firm and a fast-casual burger chain, the space reflected little of what it does now in terms of aesthetic—but the food? The food was always stellar, introducing Long Beach to the rich, diverse, and compelling cuisine of the Levant.
And if there is anything to be said about what is easily one of Long Beach's best restaurants—if not the best.
The tasting menu Chef Dima has created for LB Food Scene Week is looking spectacular, bringing back some of the influences she harnessed on her recent trip to Spain: Gazpacho or a watermelon feta start off the menu, followed by a choice of ouzi lamb chops, vegetarian moussaka, or her famed Palestinian musakhan chicken, topped off with basbousa for dessert, a semolina cake that she tops off with orange blossom, pistachio, and strawberry ice cream.
For Brian Addison's latest feature on Ammatolí, click here.
For Ammatolí's menu for LB Food Scene Week, click here.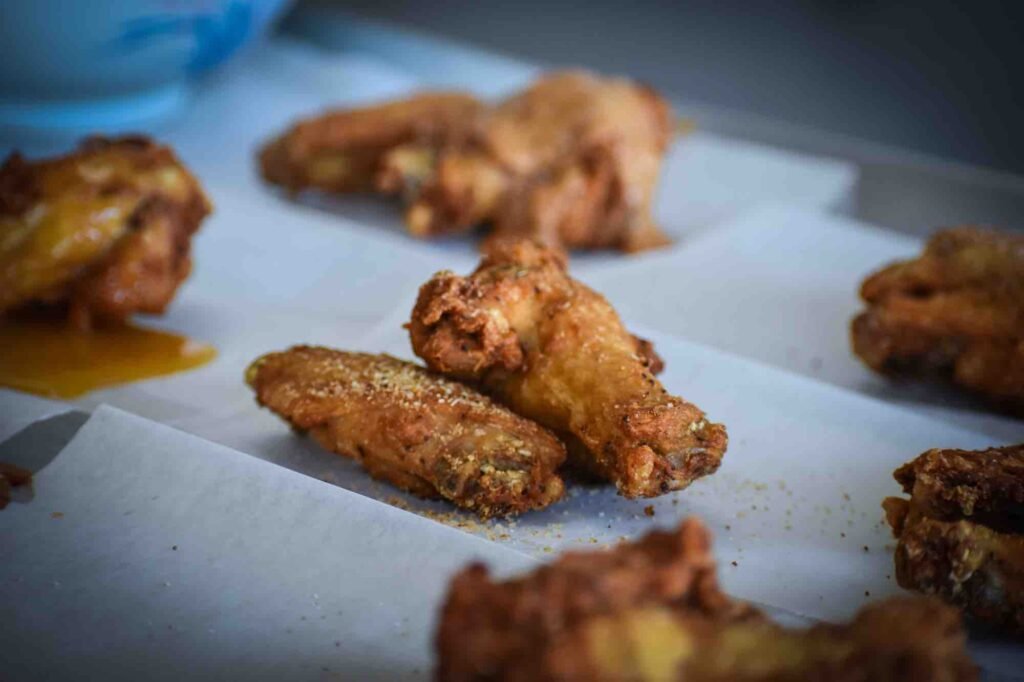 Wings at Shlap Muan
2150 E. South St.
When I first wrote about this tiny-but-mighty wing shop in North Long Beach for Eater LA, the story was an ode to the symbiotic relationship between the Cambodian community and Long Beach: Owner Hawk Tea had to balance many things while being raised in his parents' North Long Beach Chinese-American restaurant—his Chinese ethnicity, Cambodian culture, American citizenship, search for self…—but ultimately, it was his eventual take over that very restaurant that has proven to be his most fulfilling endeavor to date: Eschewing the majority of the space's old-school menu and rebranding as Shlap Muan ("chicken wing" in Khmer), Tea has created a mini-wing empire that honors everything about his multi-cultural life—especially the Cambodian side.
For LB Food Scene Week, Hawk and his wing fam will be offering 24 wings—some lathered in his Cambodian Dirt, others in his Sweet Spicy Garlic, and some with his wok fire-licked, spectacularly good Dirty Elvis wings—with a large side of fried rice (some of the best in the city, by the way) or their popular garlic noodles.
For Brian Addison's latest feature on Shlap Muan, click here.