In all frankness, the dinner between Ammatolí's Chef Dima Habibeh and Top Chef Middle East winner (as well as Top Chef World All-Star alumni and all-around stellar human) Ali Ghzawi has little to explain in terms of its quality and execution: Per the usual service and attention to detail that permeates nearly every aspect of Dima's food, this 70-seat, one-service dinner showcased the flavors of Jordan in a spectacularly collaborative way.
Surely, I could talk about the witty mixes of Dima and Ali's talents, like the pair's version of Dima's master muhammara, a red pepper-meets-walnut dip: Using Ali's love of the fermented—fermenting the peppers while mixing in sujuk, a fermented sausage—created an entirely new approach to the dip, where the earthy and nutty are exchanged for the a tart, peppery bomb that made me grab another. I am quite convinced that I wasn't the only one meeting sujuk and muhammara together for the first time; I am certain it will not be my last.
And yes, I could bring up their perfectly prepared prawn, sitting atop a bowl of rust red harra sauce and topped with fried pita cracker shards. Or the wondrous beef tartare—one of the best I've had ever and certainly the best I've had in the city—on crostini, where umami meet both chefs' love of citrus.
Or the succulently stuffed eggplant.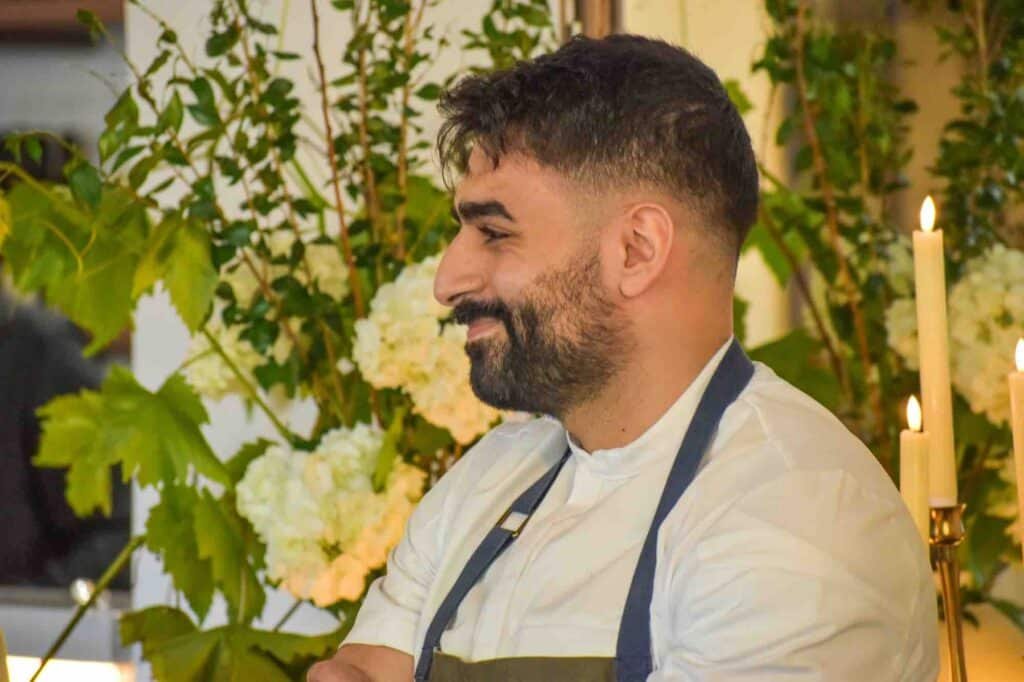 Or the whipped, airy labneh—the antithesis to the thick, yogurt-like version often served as a dip—topped with a dollop of tamarind.
Or the playful take on the textures of the humble potato, where Ali's potato purée—nearly a cream sauce in its smoothness—sits below cubed baked potatoes that sit below a pile of fried potato sticks, the middle layer tossed shatta, a vinegar-meets-chile sauce, that provides heat and acid. It's a dish where fellow Top Chef winner and Global All-Star contestant Amar Santana (of Broadway and Vaca in Orange County) jokingly asked Ali, "Where's my protein?" but still managed to clean his plate.
Or the best chicken shawarma I've ever had, where the shawarma itself is cooked on a skewer, topped with a whipped garlic-meets-tahini magic whip and Dima's house pickles, where you pull the skewer out while holding the thin flatbread—much like the one used for Turkish gözleme—and creating a perfectly folded carb-meets-chicken delivery system.
Yes, I could mention these and how I will likely constantly return to that shawarma whenever I have to now fill my craving of it with something less than…
But in all frankness, the genuinely heartwarming, pride-inducing part of the dinner wasn't necessarily the food (though that certainly played a part).
Rather, the power of the dinner was seeing Long Beach's love letter to Jordan and Jordan's response in turn—something that could be said sums up Dima's entire existence in and gift toward Long Beach. And while our city has had the blessing that is her food, where she has single-handedly introduced the glorious world of Amman and its surrounding cuisines to the palates of our denizens, we've never had the privilege of watching her amongst fellow Jordanians, let alone someone of the caliber and stature of Ali.
On the one hand, you have Dima, born in Jordan but choosing to make the States her home, bringing Long Beach her memories, her skill, her traditions; her food, likely the most stellar example of Levantine cuisine in the region, if not the West Coast, harpooning the traditional with deft coordination—and yes, occasionally, bending boundaries here and there with things like a habanero sauce but for the most part sticking to making the traditional the best.
On the other, Ali, also born in Jordan, continuing to live in Jordan, and putting Levantine food on a different map in the Middle East, where his witty, challenging plays to the status quo in cuisine—lamb marmalades meet fermented veggies meet hyper-locally sourced Jordanian goods—have also allowed him to take powerful stances within the industry and culture, including a deep focus on women empowerment, hiring women in his kitchens, and including women-made products in his spaces.
The melding of the two became an exemplary display of Jordanian love right here in Long Beach, where if it were not for the other—certainly no one but Dima could so easily attract Ali nor could Ali choose someone without the caliber of Dima—this dinner simply would have never happened.
It is not always a truth that chefs with similar styles can meld and collaborate but it can be said that it is likely two similar chefs can find a way to vibe cohesively; it is a true gift, however, to witness two such chefs perfectly capture their shared culture so seamlessly, equally celebrating one another while inviting people who would otherwise be strangers in on the party. It was an unabashed display of Jordanian hospitality, Levantine cuisine, and human care through the idea of serving one food.
So Chef Dima, Chef Ali, thank you—you're proof that the love of Jordanians is one that, if we were a perfect world, everyone would get to experience.