As we prepare for the launch of LB Food Scene Week, running Aug. 9 through Aug. 18 at over 30 restaurants spread across the city, we want to highlight businesses and restaurants we've partnered with that celebrate our culinary scene. For more information about the weeklong celebration of Long Beach's food scene, click here.
To see the growth of Catherine Tolentino—the daughter of Prescilla Tolentino, who uprooted herself 30 years from the Philippines to open Gemmae Bake Shop in Long Beach—is to witness a daughter not only grasp her mom's ambition but also inherit her talent. Gemmae has grown beyond a bake shop and into a true community asset: Expanding to offer hot foods, proudly charging into the 2020s with contemporary takes on Filipino classics (like their stuffed pandesal, which alters with a new flavor monthly), and a continual love of collaborations (like her stellar sisig pizza collab with Chef Jason Winters over at Speak Cheezy), Catherine is taking on her mom's spirit in creative ways that even get the hard-to-earn-but-very-much-worth-it Nod of Approval from Prescilla.
Just take a look at her pastry special for Long Beach LB Food Scene Week: After judging a Don Papa Filipino rum cocktail contest earlier this year, I was taken aback by mixologist Sonny Esponda's rather beautiful lyrical take on both the rum itself and Filipino culture. Researching, he discovered the Filipino love of Edam cheese—a staple gift during Christmas, where balls of the famed cheese from Holland are handed out in all their red wax wrapper glory—and used the cheese as both a palate cleanser for the cocktail and as a pairing with Don Papa rum neat.
It was such a great combination that it made me think: What if Gemmae did a Don Papa-meets-Edam pastry of some sort, a sweet'n'salty concoction?
Catherine was on board—and not only created something insanely delicious but like her pandesals, has taken on a new interpretation of bibingka, traditionally a rice cake with salted eggs that is often served during Christmas. This Gemmae-meets-Don Papa bibingka sticks to the rice flour with their house-made salted egg before being topped with shredded cheese and a cream cheese frosting infused with Don Papa rum.
"It took a few tries to perfect," Catherine said. "The first batch was a bit too dense and I really wanted to amp up the rum flavor in the cream so this second batch is what I was aiming for. Even my mom approved," she said, laughing.
The result? A beautifully rich, buttery, salty, sweet, creamy pastry bar that will certainly make you buy two on your second round.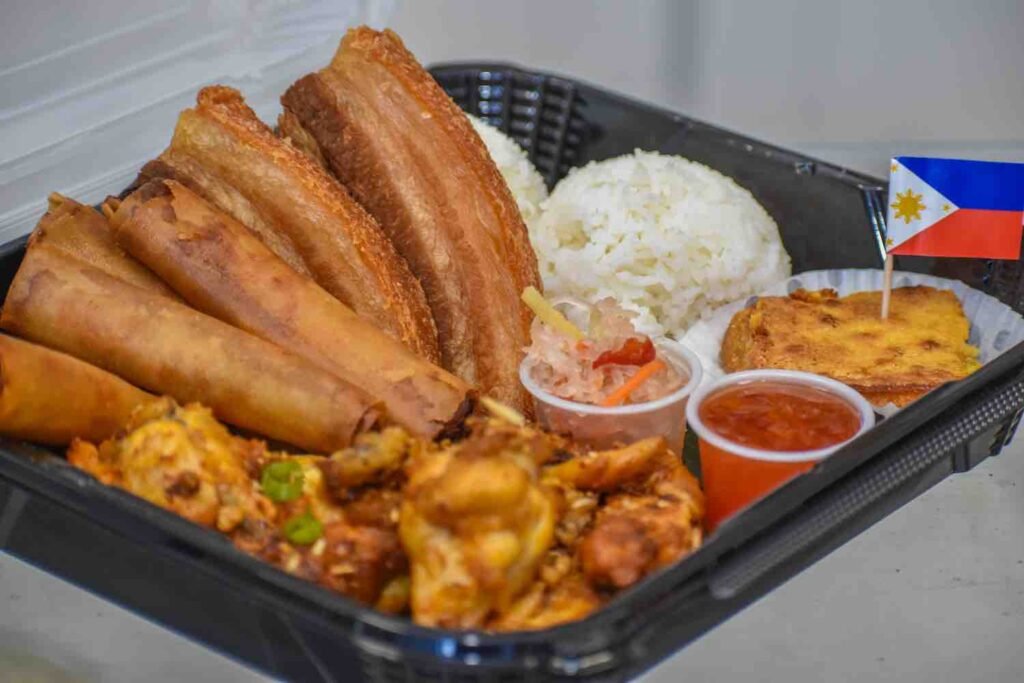 Then there is the other part that Gemmae is contributing to Long Beach Food Scene Week: a Kamayan plate. Honoring the tradition of Kamayan food spreads—translating into "hands" in Tagalog, where foods that are intended to be eaten by hand are laid out across a table lined with banana leaves—Catherine has created a $20 plate with steamed rice, lechon kawali (braised'n'fried strips of pork belly), their famed lumpia Shanghai, adobong pula (a red adobo sauce, where it is used on chicken for this plate), cassava cake, and a side of atsara (pickled papaya) and sweet chili sauce.
"'Adobong Pula' translates to 'red adobo,'" Catherine said. "It's different from what most people know as Filipino adobo because it doesn't use soy sauce. Instead it's made with patis—or fish sauce—and atsuete, which is annatto seed. The annatto seed gives the chicken a slightly orangey, reddish hue. Adobong Pula is a special dish to us because it originates from Cavite, the province in the Philippines where my family comes from."
Catherine's mom Prescilla had, at one point, some 13 bake shops across the islands of the Philippines; her resilience in attempting to expand her baking empire by moving to the States with not much in terms of social capital is a wonderful thing to witness, as she is a key cog in keeping the Westside's Filipino community both vibrant and well-fed. On top of all this, to witness her daughter not only successfully taking over part of the business but letting it evolve is just as rewarding, as Gemmae contributes to Long Beach's culinary scenes in distinctly beautiful Filipino and Filipino-American ways.
Go get a Kamayan plate and a bibingka bar. Explore Long Beach Food Scene Week. Support the community members that have not only kept our tummies full but uplift us culturally, spiritually, and emotionally.
Gemmae Bake Shop is located at 1356 W. Willow St. and will be offering their Kamayan plate and bibingka bar for Long Beach Food Scene Week, running from Aug. 9 through Aug. 18.