For Brian Addison's full feature on Shlap Muan for Eater LA, click here.
Hawk Tea, the humble Cambodian-American behind the stellar North Long Beach chicken wing spot that is Shlap Muan, is ready to take on the world—he just needs more help. Literally.
"We've expanded so much and into spaces that I would love to make permanent but we just don't have the staff yet," Hawk said. "So right now, my focus is on just that: expanding the business but doing so in a way that makes sense.
But in all honesty, Hawk is a Yes Man—and one would be hard pressed to find him saying no to any business opportunity, explaining how he has expanded into the massively popular Smorgasborg in DTLA, the Daisy ghost kitchen, and most recently, Rosemallows in DLTB.
But to understand the expansion is to understand the roots of Shlap Muan (which means "chicken wing" in Khmer). After trekking back from San Francisco, Hawk saw an amazing opportunity with a space that was inherently connected to his childhood: His parents' Chinese-meets-Cambodian-meets-American restaurant in North Long Beach—the very space Hawk learned the flavors of his family's heritages.
Arriving on the city's shores in 1991 after staying at the Nong Samet refugee camp at the Vietnam-Cambodia border camp in order to escape the genocidal Khmer Rouge regime, Chhay and Leeann Tea were like many other Cambodian families coming to Long Beach. And like those many families, they were rattled yet resilient: They knew they had to make a life for themselves and they chose, like many, the go down the route of food.
What Hawk has done to their shop—which used to feature a seemingly endless amount of Chinese, Cambodian, and Asian-American offerings in a fast-casual environment—is hone down their menu while homing in on their Cambodian side: Offer a handful of great items instead of a buffet of options—and that meant piping bowls of kuy teav, servings of lok lak, and heaps of garlic noodles…
…and further into it, Hawk's wings.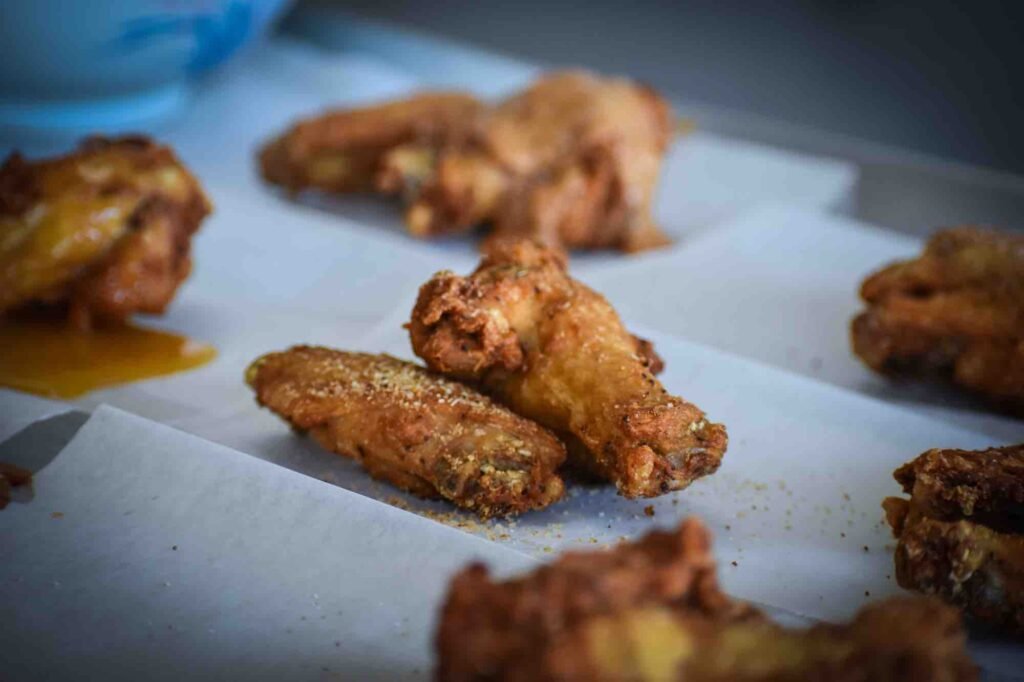 Those wings have come to have a reputation of their own: Inextricably Rambo-American, with flavors like "Cambodian Dirt"—a lemongrass take on lemon-pepper—and "Pekang"–an outright witty deconstruction of the five-spice awesomeness that is Peking Duck—Shlap Muan has proven its worth not just in Long Beach but beyond.
Hawk scored one of two coveted open spaces at Smorgaburg in Downtown Los Angeles—two spaces which saw hundreds of applicants seek, with Hawk and his tiny-but-mighty wing crew being one of them.
And then they signed the deal at Daisy ghost kitchen only to be approached by Jimmy Han—he's the man behind the former Beer Belly space that is now home to his bar, Rosemallows—after Fonda Tobalá sadly left the bar's kitchen.
"Jimmy has just been a pleasure to work with, ever since he saw us at the LB Night Market," Hawk said. "And the pairing is rather perfect: For now, we're Fridays and Saturdays from 6PM to 10:30PM and, if there's a special event, we're there for those."
Hawk would love eventually take the space permanently and more full time—but he'll quire some much needed staff in order to do that.
Once he does? He has big plans: Open for lunch and dinner—the former being a warmly welcomed idea to the Downtown, which is still trying to find its footing when it comes to restaurants and lunch time operation—while also opening a service window on the Long Beach Boulevard-facing façade of the building.
"People can just walk up, order some wings, chill on the sidewalk or wherever they want to take them to go," Hawk said. "I think the Downtown needs that type of service and it would only help our business grow stronger."
Until then, patrons are encouraged to use their Daisy services more for delivery, visit them inside Rosemallows at the southwest corner of 3rd Street and Long Beach Boulevard, hit them up every Sunday from 10AM to 4PM at Smorgasburg in DTLA, or visit their shop in North Long Beach at 2150 E. South St. inside Suite 105.
Either way, make no mistake: Shlap Muan is creating a mini wing empire and we're here for it.