It was likely in the most unsuspecting of places—what can be called, rightfully so, a "hotel bar" but what should be called the city's most underrated watering hole—with a slightly unsuspecting spirit—rum is finally having its moment though it isn't, remotely, on the level that tequila, mezcal, and bourbon have had across the past decade—and with those things, created a vibrant scene: Industry workers, largely from the bar scene, paired with locals that love their bars (because Long Beach is a drinking town), cheering on four bartenders vying for the cocktail heavy weight title (belt included) in the Tropical Shakedown.
Loud, joyous, and a culinary flex amongst mixologists that proves our sister to the north isn't the only haven for thoughtful, witty libations, this free event is what Long Beach's cocktail scene should be reflecting: camaraderie, competition, community.
And it was an honor to be a part of, both as a judge and, well, just an onlooker.
So let me back up and better explain some things: There was a competition, sponsored by Don Papa rum, at the (vastly, vastly underrated) Navy Proof space inside the Westin in DTLB. Four competitors. Free and open to the public (via RSVP). Free samplings of the drinks. People's choice winner. Judges' choice winner. Brought together by locals Tomas Delos Reyes and Dane Olson, each of whom helped found the Long Beach Bartenders Guild, and for locals in a way to showcase the fact that, well, local bar talent in Long Beach is stellar.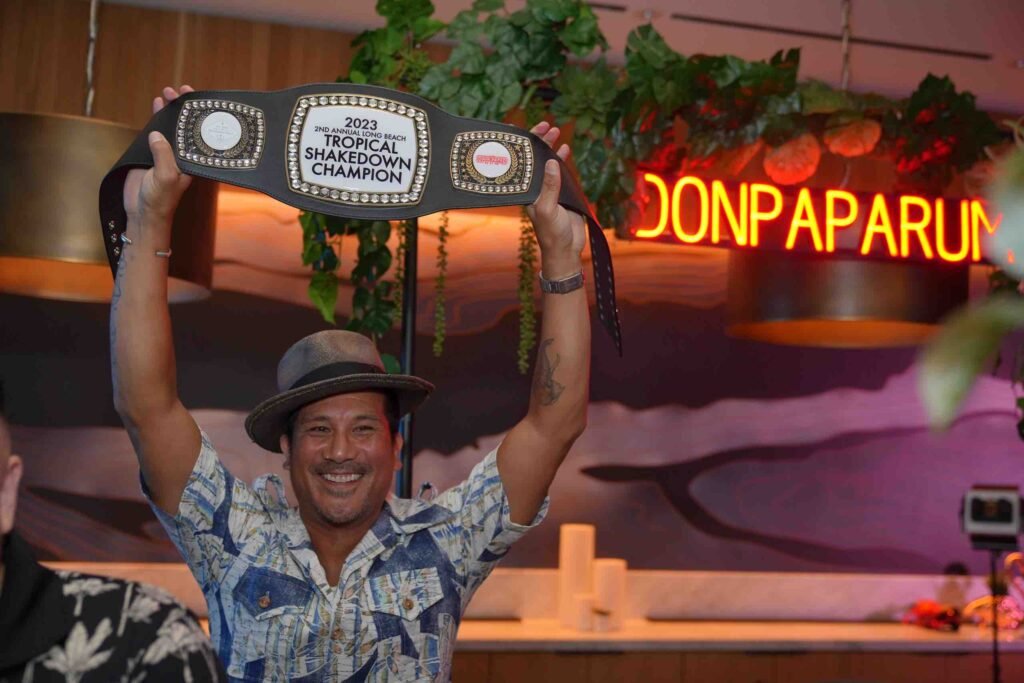 "I knew that this year, the Guild needed to sponsor the event—and that this will be the premier yearly composition for the Guild," said Olson, who also judged the event. "I was so happy with the turn out this year: There was so much talent up on the stage, a ton of energy in the audience, and I'm grateful a huge part of Long Beach got to see it. I was also so impressed with the amount of new industry people that came though. I hope this will only help to grow the bar guild and grow the bartending community in the city."
The 2023 Tropical Shakedown contenders: Brian Fernandez, Heather Ramirez, Ashleigh Hehmann, and returning champ (and, now, two-time champ) Sonny Esponda. Photos by Steve Lam.
The vibrancy of the audience—locals decked out in full-on looks that harkened to the tropics, friends of competing bartenders happily hooting and hollering their names…—paired with the quality of event—Don Papa offered up swag to guests, free samples of its classic rum, along with decorations that made it feel like, well, a competition—made it something that is deserving of our cocktail scene, which only seems to grow and grow as time progresses.
"Events like the Tropical Shakedown are important because it opens the door for the bartenders of Long Beach to showcase their work as culinary, creative, and competitive," Delos Reyes said. "And this is all in addition to bringing value to the bars and restaurants they represent. And for those new to the industry, it gives them opportunities to be exposed to spirit brands, new patrons, potential employers, influencers who could share their work…"
In other words: it's a way to create, network, collaborate, and promote, all in the name of creating an overall better cocktail scene—and that type of community, driven by those actually invested in it, is precisely the type of thing we need as a city.
Which is precisely what the Guild (deserving of its own piece—and I am on that, Long Beach) wishes to represent: education, cultivation, elevation, in the words of Delos Reyes.
"There was a unifying void in the bar culture here and after the success of last year's competition, we saw the need for the Guild and its events to exist," Delos Reyes said.
The "success" is putting it lightly: Hundreds invaded Rosemallows at 3rd Street and Long Beach Boulevard, overwhelming both the space and bartenders—and Olson knew first hand, considering he competed.
"While it was nerve racking to compete, I learned so much about competition-style cocktails," he said. "But the genuine fun was when we were serving the tasting drink: six bartenders from different bars, hanging out, laughing, having a good time. There wasn't ever a chance to have that in another situation. Sometime we are so siloed as bartenders that we forget theirs other people out there doing the same thing. Out of that experience I knew we needed a bar guild to continue making events like that first Shakedown; to create a place for bartenders to exchange ideas on the best ways to do this or more efficient ways to do that. Learn new techniques and liquor knowledge but also connect on a professional and business level. Out of the first cohort of six? We've hired each other, collaborated on ideas, and have helped each other grow."
The deep sense of connection and collaboration paired with the immense popularity (and uncomfortable cramming at Rosemallows) prompting Delos Reyes to take on a new location: With Olson at the head of Navy Proof and a hotel lobby at their disposal, this event was packed but roomy, with bartenders not overwhelmed and patrons happily tropical-ed out.
On top of that, there was an instilled spirit of respect: Bartenders from around the city submit their recipes blindly and three are chosen to compete against the reigning champ, which happened to be Sonny Esponda (who also won again this year).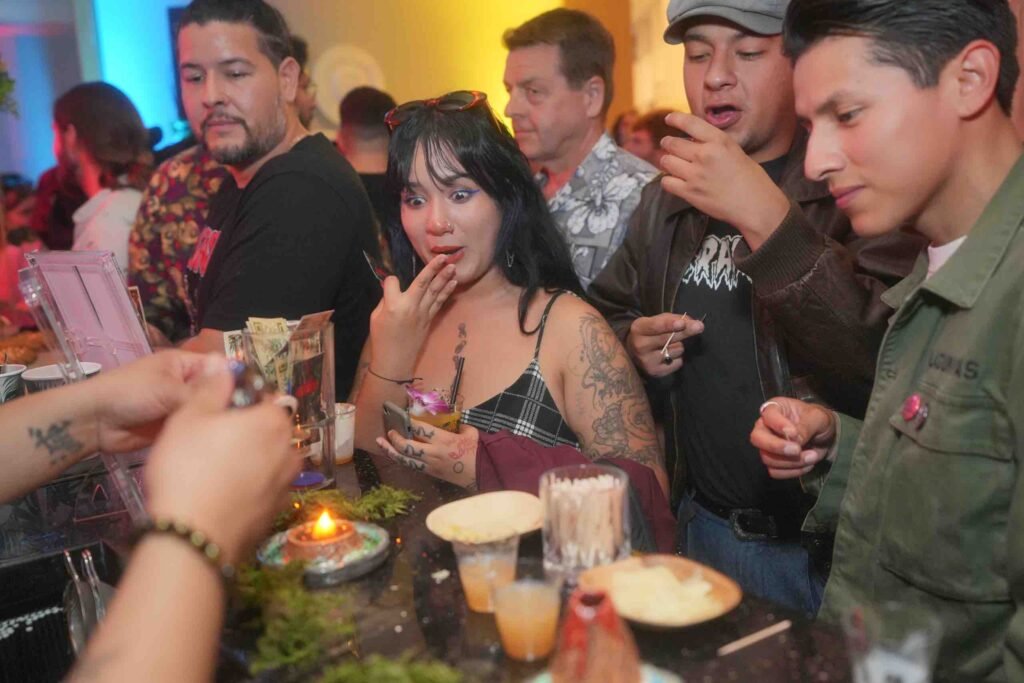 And the cocktails themselves were a reflection of how far the city has come in terms of drinks across the past decade: Long gone are the days when Stache bar was the first city to introduce Hudson Baby Bourbon and now we have the days where Olson gets to introduce olive leaf-tinted gins from Australia–and that was reflected in the cocktails.
Esponda, the returning champ, deservedly won: Taking on the origins of Filipino rum sponsor Don Papa, Esponda dove into the history of the distillery (which sits at the base of a volcano so, naturally, he had a local crafter hand-make three special smokers in the shape of a volcano for his presentation to us judges), included Edam cheese as a precursor to balance one palate (and if you have Filipino friends, you understand that Edam cheese is a staple, especially during the holidays, where balls of it will be found at every Filipino household), and a savory approach to the drink that distinctly separated it from the rest of the pack.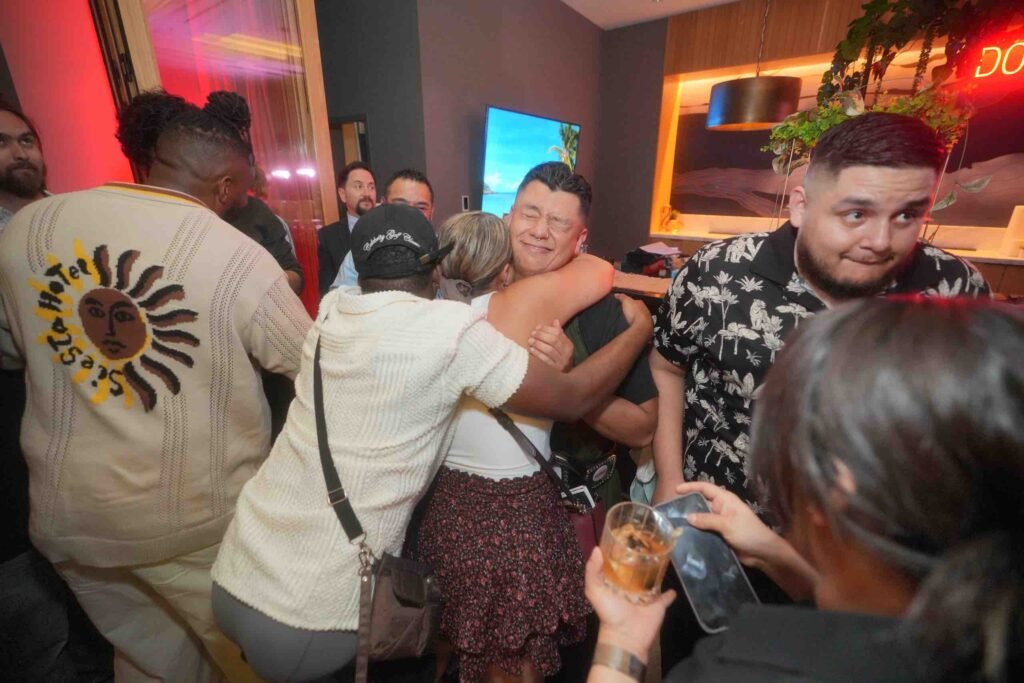 It was a reflection that, frankly put, needs to happen more.
"Listen, I'm also a brand ambassador for Don Papa," Delos Reyes said. "And with that, I understand the value of the Long Beach hospitality community. If I'm willing to invest in a competition like this and have it be as successful as it's been in driving awareness not only to the brand but, more importantly, to the talent and growing potential of our bars and restaurants, I hope other brands are taking notice and will want to invest in more programming here as well."
Can we get an amen? And another pour as well?