Rep. Robert Garcia may be a rising star in the House of Representatives because both his policies and his outright smirk-inducing badgering of the country's right-of-right wingers have garnered fans. (His particular distaste for the conspiracy theorist that is the representative for Georgia's 14th Congressional District has been adorned by social media fans.)
But the congressman's heart is and will always be intimately attached to Long Beach—especially its food, where weekly traditions at Deli News, regrettable decisions smoothed out by the sadly now-defunct 24-hour diner that was Shore House Cafe, and the connection to the city's growing culinary scene have induced both happiness upon return from and nostalgia while working The Hill in D.C.
Yes, there was 3AM fettuccine alfredo during his college years—as there should be—but Hof's Hut was where it was at
"Times were different when I lived in the dorms and at the Delta Chi [fraternity] house," Garcia said, "but those are still times that were really defined by food for me—y'know, the trips over to Casa Sanchez for a massive burrito or Tommy's for some chili cheese fries at 2AM. But there was something particularly special about the old Hof's Hut at 2nd and PCH."
The Hof's Hut near Marina Pacifica at 2nd Street and Pacific Coast Highway was a gem that had been there for 51 years before shuttering in 2013. And I mean gem: A sunken, full-bar in the back open to the wee hours (yes, in a full-service family restaurant), a meatloaf that cheesily but now nostalgically proclaimed it was "mom approved!" and a perpetually coming-in-coming-out crowd of teenagers, college kids, families, single businessmen, and older folks.
It was reflective of Long Beach and, for Garcia during his college years, a definitive food space that is still missed to this day.
"It was my Number One go-to back in the day—I would go several times a week," Garcia said. "Well, there and Deli News [the pizzeria off of Clark and Atherton]. The original owners of Deli News were not only great friends, we would have a tradition of going every Wednesday."
Highlights? The turkey avocado sandwich—"Something I've probably literally had over a hundred times"—and, when he was in a particularly bad mood or perhaps made regrettable choices the night before, the more heartier meatball sandwich. Rep. Robert Garcia's love of Deli News extends into his later career: As Mayor, he launched a "Go Long Beach" video series that focused on his favorite food haunts—and Deli News was not exempt when they were featured in 2018.
But perhaps no place represented food inherently connected to bad choices than that of the now-shuttered Shore House Cafe, a much-missed 24-hour, pseudo-dive that reflected Belmont Shore's more inelegant-but-comforting vibes before it closed in 2011.
"For a college student, everyone ended up at the Shore House," Garcia said. "There I would be, with this giant burger, surrounded by friends after hanging out all night. And, okay, not gonna lie: If I was," he pauses for effect and chuckles, "needing a filling meal, I would order the fettuccine alfredo. At 3AM. Yeah," he said, continuing to laugh.
The nostalgia of Shore House—which saw its Newport Beach and Huntington Beach sisters close around the same period, effectively altering the late night food scene in the area—often lies not necessarily in the quality of food. And certainly not in its space, where the fish tank brewing with algae assured no patrons there were actual fish in there until, in a drunken stupor come 3:48AM, indeed, a fish's shiny scales would zoom past the tanks edge.
No, the Shore House represents something desperately needed in the Long Beach food scene: A return to late night haunts, 24-hour diners, and food that is comforting because it's accessible. And for Garcia's college years—yes, happily including Jack in the Box and Denny's—these spaces were essential and, if they no longer exist, are extremely missed.
But this doesn't mean the evolution of our food isn't lost on Rep. Robert Garcia.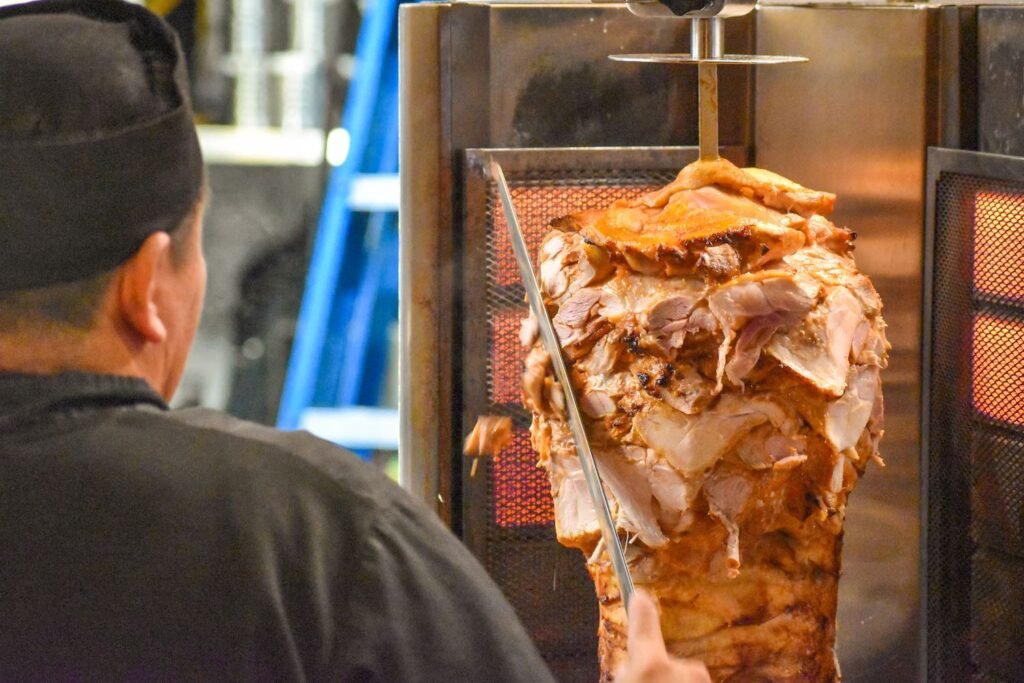 A lift in quality and continual evolution in the food of Long Beach is a win for the congressman
"Certainly being a starving college relegated me to certain spaces but it's been so fascinating and uplifting to see the change in our food scene," Garcia said. "And you know, it reminds me of the places that we deemed 'fancy' as students and how they truly helped my palate grow up, like Open Sesame. I remember when that space was just a tiny sliver of what it is now. They introduced me to chicken shawarma and all these flavors that helped me appreciate different foods later in life."
And through the Levantine food vein, Garcia believes there have been clutch restaurants in the city which have altered the way its food scene is perceived by outsiders, first noting Ammatolí.
"The impact Chef Dima [Habibeh] and Ammatolí are having on this city is huge—something that I feel when I step outside of Long Beach," Garcia said. "And it goes beyond how great of a human being Dima is, the food is just spectacular and she is changing the food game—actually in a way that, honestly, Lola's did when they first opened."
The mention of Lola's show's Garcia's knowledge of the food scene here in Long Beach—and despite the wavering opinions about the space, he is right: Maria Delores Navarro—referred to by friends and family simply as "Lola"—came to Long Beach from Guadalajara in 1972 with nothing but fifty bucks, her recipes, and the dream of opening a restaurant. With Lola's opening 2008, few Mexican restaurants in the region, let alone Long Beach, were serving birria. Fifteen years later, her spirit lives on with one of the most successful restaurants in the city with two locations now.
Garcia continues to go on a rapid fire of the city's evolving food and those spaces that contributed to it: Ellie's in Alamitos Beach, Nick's on 2nd in Belmont shore, the constantly evolving vegan scene thanks to staples like Seabirds, the wonderfully progressive and ever stellar menu at Noble Bird (which he noted that "you are sleeping to the point of being dead if you have not been to Noble Bird yet"), The Attic, which has evolved to one of the city's best restaurants…
"I think Long Beach has one of the best density of quality vegan restaurants around the entire region," Garcia said. "Look at the pizza scene: It's absolutely wild how quickly it has grown and exploded, from Speak Cheezy and The 4th Horseman to Michael's on Naples and Milana's… It's like looking less about a singular perspective of how our food is change more than you have to focus on what style of food to really see how the city is change because it is altering that often."
The growth of Central and South American foods in Long Beach is a source of pride for Garcia
And for Garcia, whose Peruvian heritage is clearly a huge influence on food taste, it is also witnessing that very explosion of his own heritage's culinary contributions explode in the city he loves most.
"There's really only been one Peruvian restaurant here, El Pollo Imperial," Garcia said, noting the popular restaurant which opened in a former KFC drive-through in 2010. "When I was growing up, El Rocoto in Cerritos or Inka Grill in Costa Mesa."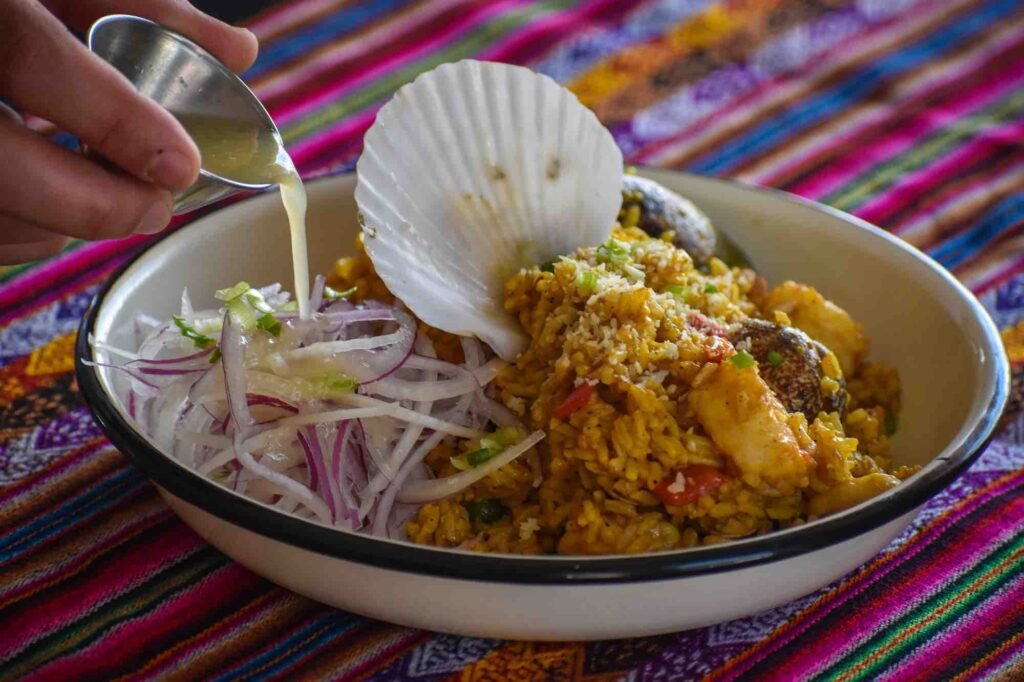 Peruvian food—rich with plates like their distinct take on ceviche (which Garcia says is "unquestionably the best version") to classics like the hearty lomo saltado to seafood paella with leche de tigre—joins a growing facet of Southern and Central American cuisines that are no longer being relegated to the shadows, from the underrated creations at Honduras Kitchen to massive celebrations like the upcoming Central American Heritage Festival in DTLB on Nov. 25.
"I like to tell myself delusional that I single-handedly help open all these Peruvian places," Garcia said, laughing, "but it's really because the food has exploded, people understand it and love it. You can have it in North Long Beach at El Pollo Imperial. You can have Sushi Nikkei, which is a totally different form of Peruvian that combines it with Japanese influence. You can go on the Westside and get Casa Chaskis. You can go to Retro Row and go to Ají, one of my favorite restaurants…"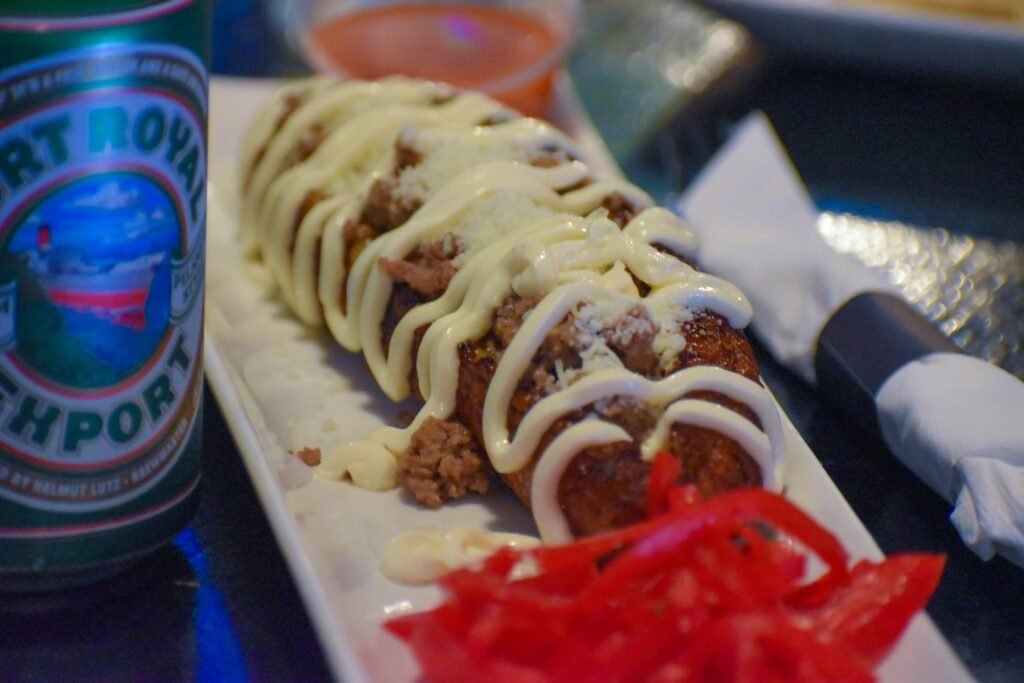 Garcia's enthusiasm is honest and difficult to avoid noticing: His pride in seeing Central and Southern American foods represented in a space where Mexican food has long been the dominate representer of Latin American cuisine is one that easily allows him to exude immense amounts of pride.
"It's been genuinely proud to witness people appreciate these cultures from South and Central America, especially through their foods," Garcia said. "It's about damn time, to be honest."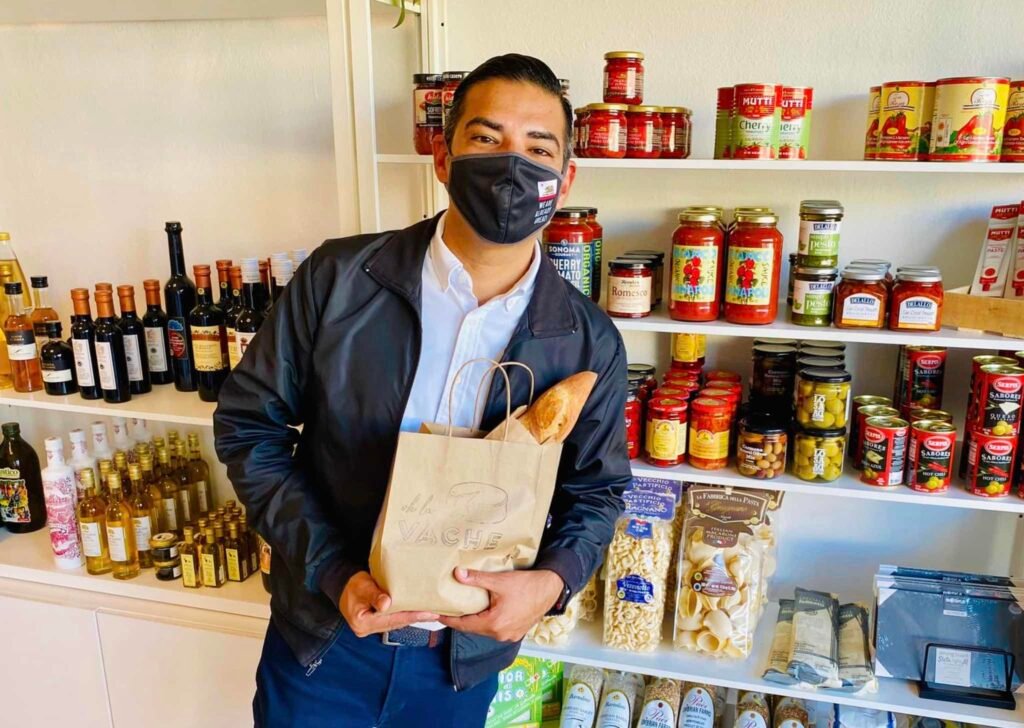 Uplifting the food community and understanding what small businesses go through
There is no question: When he was mayor and vice mayor and councilmember in Long Beach to now being Rep. Robert Garcia, the man has always been at his most charming and authentic when he's supporting small business. And for Garcia, the pandemic took a particularly harsh toll on the hospitality industry, something he attempted to curb through consistent free marketing (via social media posts, videos, and random quips of what he loves about this place or that) and actual Take-My-Money ventures that he opened advertised.
"I think the public should know by now what the restaurant industry went through," Garcia said. "And that means supporting them if they want to see such a vital cog of our city's culture continue to survive. Of course, from my end on a professional level, that means doing what I was doing when I was mayor: trying to create more grants, wether those are city, state, or federal, more avenues of support… You always want to be able to do more but I'm proud of what we did—and I hope we can continue on that trajectory.
"But the thing I want people to know is that we have a food scene that is worthy of support, on any level. If that is just having a drink at a place or if that is having a full-on feast, they deserve our support. The food experience throughout the whole city has never been level, from the service to the food to the way the space feels."
Can we get an amen?