If there is one way to gauge the importance of pizza in Long Beach, I would venture over to my food group: With over 45,000 members, the question of pizza—and which reigns supreme—is of constant discussion and, as the group grows, new members continuously ask about the almighty pie while the diehard locals battle each other over preferences.
Given the surge in the past decade of quality pizza, from Naples to Bixby Knolls, DTLB to Alamitos Beach, the time has come to create a definitive list of the city's most delectable (including some outright shame-inducing and crazy) pizza offerings.
---
La Parolaccia
2945 E. Broadway

What kind of pizza? Roman perfection.
The many wonders of the carb master and gluten samurai that is pizzaiolo Michael Procaccini cannot be understated: glorious pastas, spectacular paninos made from in-house focaccia, and, of course, practically perfect Roman pizzas.

For its many years, many of the patrons at the long-loved (and rightfully so) Roman restaurant that is La Parolaccia have been led toward their pastas and pizzas—but it wasn't until son of the patriarch Michael began honing his pizza skills that the restaurant became what could arguably be called the best pizza in Long Beach. Beautifully straddling the line between a nearly carb-for-carb imitation of Roman pizza proper and something distinctly Long Beach, Procaccini ability to master gluten, toppings, and the 900-plus degrees of his shipped-from-Italy wood fire oven are nothing short of spectacular.
There's a reason I called this joint the mother of Mother Wolf when writing about them for Eater LA—and even more, it has the soul, warmth, and charisma that Mother Wolf could only attempt to mimic.
For Brian Addison's full feature on La Parolaccia for Eater LA, click here.
---
Speak Cheezy
What kind of pizza? The unapologetically sourdough pizza.
3950 E. 4th St.
It is hard to miss the love of Speak Cheezy owner Chef Jason Edward Winters: It is exuded through his family, his community, his stellar pizza collaborations—which include those with Filipino staple Gemmae and the Cambodia Cowboy himself, Chad Phuong…
Of course, those bits of love don't just appear out of thin air; they require authenticity in both personality and professionalism, talent in both the kitchen and communication, and a deep sense of trust—and Winters has achieved that through a decade of mastering his craft, remaining humble to the point of nearly being absurd, and letting his pies speak for themselves.
It is some of the best pizza in the city. Period.
For Brian Addison's full profile on Speak Cheezy, click here.
---
Colossus Bakery
4716 E. 2nd St.
What kind of pizza? The Friday-night-only pizza that is also some of the best in the city.
I owe Colossus owner Kristin Colazas Rodriguez more of my platform; I say this humbly and honestly because, there is no mistake, she is the queen (and king) of baking here in Long Beach. From the city's best kouign-amman to the city's most solid loaves, Colossus is a gem that should be constantly heralded nationwide, let alone locally.
Her humble beginnings of renting out spaces in the middle of the night—like Primal Alchemy's kitchen in the Shore, a serendipitous beginning considering she eventually opened her first local storefront after opening her first brick-and-mortar in San Pedro—earned her the sweat equity. And while I have praised the carbs of spaces like Nonna Mercato and Gusto, Kristin's carb magic reigns supreme with a connection to community, a rejection of hype for hype's sake, and a stand-true-to-herself humility.
Every Friday, like the bread she churns out, she pulls out pizza that is some of the best in the region with a menu that changes constantly and is offered at 5PM every Friday until they sell out. (And yes, they always sell out.)
---
The 4th Horseman
121 W. 4th St.
What kind of pizza? Horrorcore-meets-fuck-around-with-magic-Californian-style.
While the owners of that other pizzeria have largely peaced out of Long Beach, leaving the space to new investors as they consult and advise, Long Beach's OG let's-fuck-around-with-flavors pizzeria that is The 4th Horseman continues to ride strong with local owners, Jeremy Cross and Jeremy Schott, who are genuinely invested.
Bringing on Chef Mike Royal—a humble, genuinely kind soul whose love of metal music and carbs makes for a perfect pairing in the Downtown restaurant-meets-macabre art gallery—was one of the best decisions The Two Jeremys could have made: Creating yeasty wonders that act as odes to the dark side, Royal has genuinely refined the already-rad pies and taken them to a heightened level of greatness.
For Brian Addison's full feature on The 4th Horseman for Eater LA, click here.
---
Ten Mile Brewing
1136 E. Willow St. (in Signal Hill)
What kind of pizza? True brewery pizza, with equal quality between brews and 'za.
While the space has always been a strong supporter (and still is) of Long Beach popup staples like the Chef Chad Phuong of Battambong BBQ, Ten Mile has begun its formal dive into food—and it is tackling none other than the mighty pizza scene that has been bourgeoning throughout Long Beach.
So what, exactly, is the pizza at Ten Mile like?
Jesse goes for the much-appropriate "neo-American" description where it follows the basic principles of Neapolitan pizza—thin undercrust, big and airy edges—but he commits a few sins in terms of the fundamentalist approach to Neapolitan pie.
For one, he uses oil and he will not apologize for it. Secondly, he uses—as most pizzerias should—flour made locally from Central Milling rather than having old flour shipped from Italy (which is also the same flour carb master Harmony Sage uses at the also-underrated Long Beach Beer Lab). And also within that the-best-pizza-uses-local-ingredients vein, they use a yeast they have immediate access to: the very same company which makes the yeast they use to make Ten Mile's beer. He cold-ferments because, well, he is in a brewery so it makes sense to work with a yeast that can survive lower temperatures.
In other words, Jesse knew from the start that no one can mimic the ecosystem of Naples unless they're in Naples—and therefore, there is no reason to attempt to mimic them but rather use the pizza masters of the world as guidance rather than unbreakable rules.
For Brian Addison's full feature on Ten Mile Brewing, click here.
---
Canadian Pizza
1241 E. 4th St.
What kind of pizza? The perfect rendition of American pizza (that is ironically at a place named after the other North American country everyone forgets about).
I don't think I've extolled the wonders of this 4th Street gem but this joint has been in my phone for well over a decade, harnessing the power of good ol' American-style in a distinctly Long Beach way.
Its cornmeal-flecked crust—not sourdough-y at all, straddling the thinness of New York and the doughy character of American pizza chains—has had its share of loyal patrons return repeatedly to get everything from the classics to the unique to the weird (like their pickle pizza, which is a dream come true for someone like me).
And pro-tip? Don't skip out on the garlic cheesy squares (not to be confused with the garlic cheese bread; two different things).
---
Milana's / Milana's Brooklyn Squares
165 E. 4th St. / 2000 Ximeno Ave.
What kind of pizza? The best New York slice from the real Long Beach (sorry, LB, NY).
Celebrating their 10th anniversary just weeks before the pandemic, Milana's owner and Brooklynite Adriel Fasci can largely be considered the man who brought Long Beach its first true New York pie.
The DTLB staple has many great things—a delectable pastrami sandwich slathered in red gravy and cheese with jalapeños being one of them—but it is their almighty New York-style pie that is the offering worthy of endless NY-centric memorabilia and decorations decking out the space.
Equal proportions of handmade crust, cheese and sauce, all baked in a 700-degree woodfire oven until it's crispy enough to stand on its own or be folded in half for consumption. The cheese? Freshly grated mozzarella. The marinara? Simmered for six hours before it ever touches dough.
Pizza the New York way. In Long Beach.
---
Michael's on Naples / Michael's Downtown
5620 E. 2nd St. / 210 E. 3rd St.

What kind of pizza? Neapolitan in all its refined glory.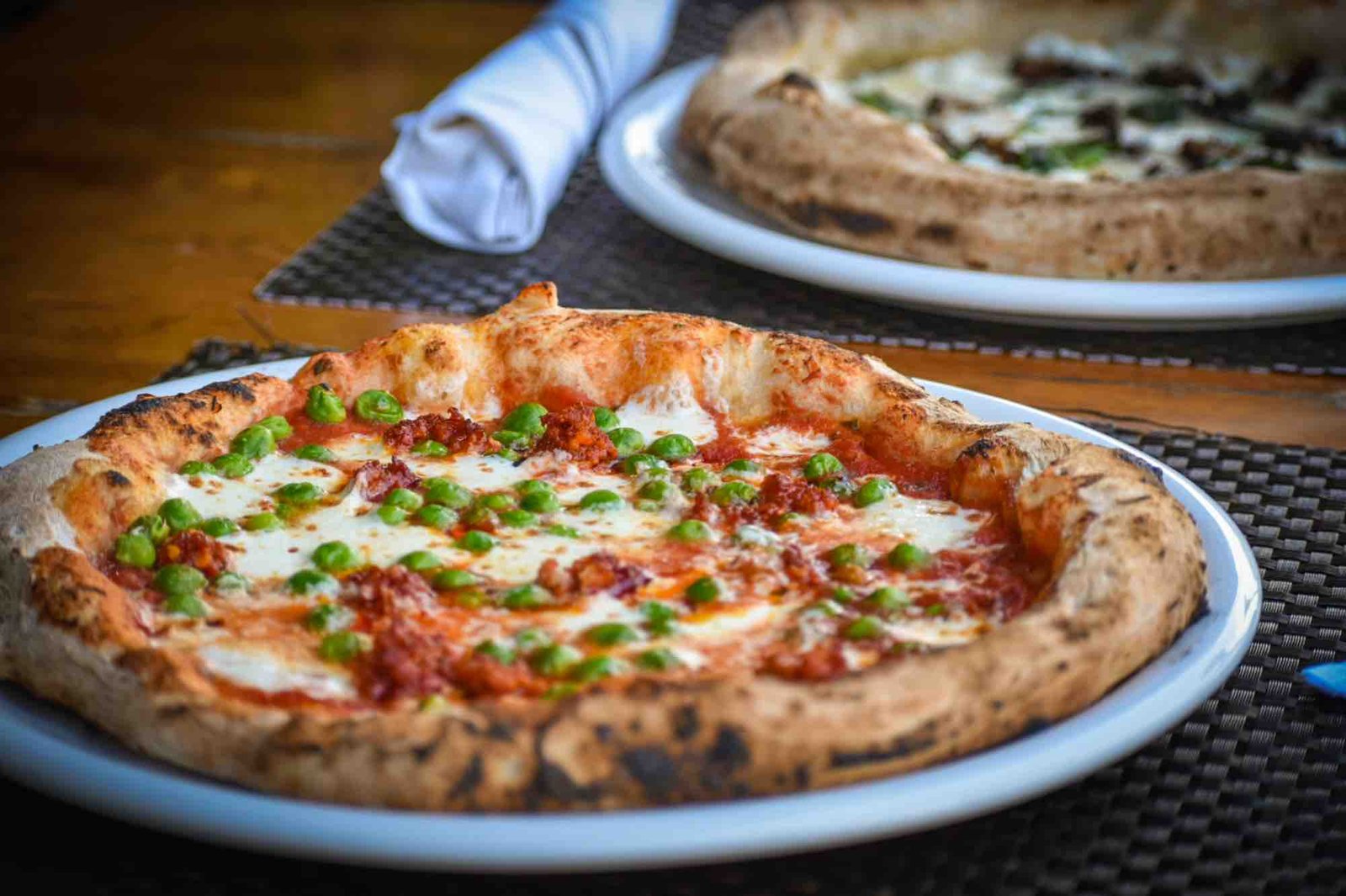 Listen, I know it is fairly unfair to lump Michael's on Naples with Michael's Downtown: After patriarch Michael Dene took a major step down from his Italian, food scene-changing institutions, Massimo Arrone largely took over the reins at Naples while Dene's son, Carl Dene, took on Downtown.
The two could not be more different in vibes and menu: Micheal's on Naples is an elevated, hospitality-centric gem that pushes what Italian food in SoCal can be, led by the talent and culinary prowess of longtime Executive Chef Eric Samaniego paired with Arrone's nearly unmatchable palate for wine. Michael's Downtown, led by the equally talented and affable Italian native Chef Giuseppe Musso, is definitively more, well, downtown: Casual but not tacky, quality but not stuffy, Musso cooks up the classics with zero apology.
Two different beasts—that is, except for the pizza: Birthed from the same cloth that was the now-nonexistent Michael's Pizzeria, each space exemplifies the nuance and simplicity of Neapolitan pizza.
For Brian Addison's full feature on Michael's on Naples, click here.
---
Dean's Thai Curry Pizza
929 Redondo Ave.
What kind of pizza? Tom yum and thai curry pizza—two Long Beach originals.
While I've heard rumors that Little Coyote wants to do a play on the Long Beach original that is Thai Curry (and their Tom Yum) Pizza, all I can say is that this house does not stand for Thai Curry Pizza ripoffs or mimicry.
Owners Sam and Sue have perfected the brilliant blend of their own Thai heritage with the American take on pizza: Slathering a doughy, chewy crust with panang yellow curry before topping it bell peppers, onion, and cheese, this magical pie—which joins its Thai pizza sibling, their equally great Tom Yum pizza—is something that works in a genuinely surprising way upon first bite.
It's a love letter to Long Beach, sent from the heart of Italy through Thailand.
(And OGs know to always get the $1 extra side of curry for dipping.)
---
5,000 Pies
2064 Santa Fe Ave.
What kind of pizza? The most solid Chicago-style deep dish you'll find.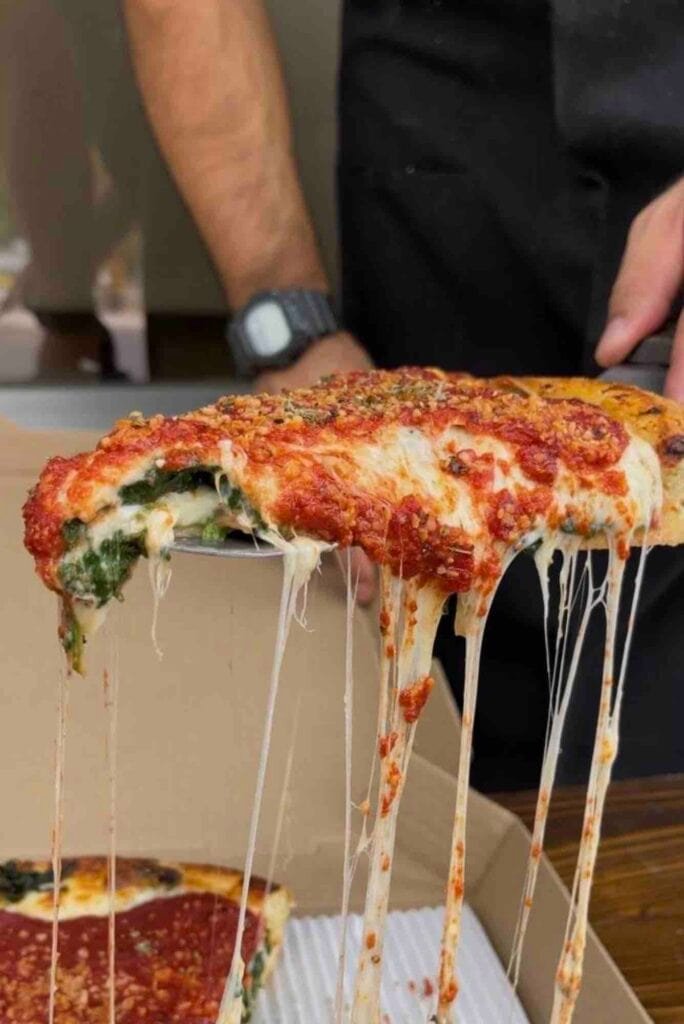 While many know of Rance's as one of the city's go-to spots for Chicago-style deep dish pizza, 5,000 Pies continues to fly under the radar after years and years of serving the Westside.
Becky Teter and her husband John, the pastor at the Fountain of Life Covenant Church in West Long Beach, sat down with church members Michael Martinez, Sharon Im-Lee and Sara Culver one day, and all of them fell into the same idea: their church, as an organization in which supporting your neighbors was essential, had to do more for West Long Beach.
And 5,000 Pies was birthed.
According to the founders, the name comes from the Book of John, Chapter 6, where Jesus fed 5,000 people from a few loaves of bread. Since opening in 2017, 5,000 Pies has become a place to work for former gang members, locals in need of a job and those trying to better their lives, and with it, they have brought stellar deep-dish pizza.
Support this truly local joint (and even go for their regular crust pizza, which is an all-American ode to the pie with chewy, doughy crust and plenty of goopy cheese).
---
Thunderbolt Pizza
4085 Atlantic Ave.
What kind of pizza? The genuinely great pepperoni pizza with the best beer.
Oh yes, the pizzeria next to a brewery. And not just any pizzeria—we're talkin' Bixby Knolls' best slice, Thunderbolt, taking over a much-missed hole that was left once PowWow Pizza left. And we're not just talkin' any brewery—we're talking one of the city's best, maybe even only second to Beachwood, the stellar Ambitious.

Thunderbolt Pizza and Ambitious Ales exemplify the rad type of community partnership—business-to-business in the name of a larger food community—all the while peddling some of the city's most quality pies and beers—and it is time to uplift what I still consider underdogs despite their years in business.

Owner and pizzaiolo Jay Stebbins sows quality ingredients to create some quality pies that are the perfect companion to Ambitious Ales' GABF-winning brews.
What is there not to love?
---
Baby Gee Bar
1227 E. 4th St.
What kind of pizza? The city's best bar pizza.
The thing I love most about Baby Gee—which I go into full detail on in my feature on them for Eater LA—is that owners Gianna Johns and Daniel Flores straddle the two best qualities someone opening a new space in a much-loved community can straddle: On one hand, an immense amount of humbleness and, on the other, a great grasp of knowledge.
While I disagree with the headline given by editors over at Eater—I wouldn't venture to call Baby Gee divey—there is one thing that makes Baby Gee already feel like it's been here forever and that is the sense of connection and hospitality Johns and Flores exude—and that includes in the details of their drinks and food.
Through a very tiny space and convection oven at the deep end of the bar, Flores churns out round warm marinated olives, an array of pickles, and more. But the focaccia and pizza is where it's at: Made by Pasquale Chiarappa of Della Corte Foods in Los Angeles, the same label used at Nancy Silverton's Mozza, and delivered parcooked and air-sealed for easy finishing at Baby Gee, the light loaves are topped with olives while the pizzas come with olives or pepperoni, a drizzle of honey, and some chile flakes to boot.
Drink up and snack down.

For Brian Addison's full feature on Baby Gee for Eater LA, click here.
---
Long Beach Beer Lab
518 Willow Ave.
What kind of pizza? The dedicated baker's pizza, both art and food simultaneously.
Speaking of sourdough…
Too long ago, I wrote about a union (and one I need to update because I keep sharing it without having ever fully written their story). This union is of many things, including beer and food at the Long Beach Beer Lab—but it's mainly and particularly the union between the life's work of business partners Levi Fried and Harmony Sage.
It goes beyond Sage's beautiful sourdough creations, from multi-pronged sourdough pizzas and loaves to their beautiful round challahs that comes just at this time of year, celebrating Rosh Hashanah. And it goes beyond the stellar beers—and outright odd creations like the "Imperial seltzer" that is more like a fruit smoothie with a 10% ABV punch…
It is the pairing of these two creatives.
Fried is a beer enthusiast-meets-fermentation nerd that churns out incredible brews while Sage is a master baker-meets-gluten samurai creating some of the city's best sourdough boules and more carb-y wonders that should be garnering more attention (even after years of serving the city).
Consistent staples at beer festivals across the city and region, they truly represent the power of beer, bread, and love in this city: Sandwiches? Wonderful. Soups? Awesome. Her food overall and pizza? Underrated and damn tasty, with or without a beer.
---
Dutch's Brewhouse
4224 Atlantic Ave.
What kind of pizza? The Feel Free to Talk Shit About Other Pizzerias pizza.
The thing about Dutch's Brewhouse owner Jason Van Fleet—the same guy that owns the vastly underrated Syncopated Brewing—is that behind badassery is actually a big ol' teddy bear who genuinely loves his community.
And yes, it comes with a healthy, much-needed dose of sarcasm: You will often find him delivering his own pies, one literally named The 5th Horseman, to customers inside The 4th Horseman—a loving, tongue-in-cheek feud because of his deep friendship with both former owners Ryan Hughes and Martin Svab, as well as current owners, Jeremy Cross and Jeremy Schott. (Here is a photo of Ryan and myself literally flipping Jason off at his own establishment because we love him.)
This is the reason Bixby Knolls is so dedicated to Dutch's Brewhouse: There is a warmth there that feels like it's been a part of the community forever and Jason himself is so damn dedicated to making sure it all works that the pizza could even be mediocre and most wouldn't care. The best part, though, is that it isn't mediocre but solid.
---
Big E Pizza
3225 E. Pacific Coast Hwy. (in Signal Hill)
What kind of pizza? The late night pizza that fills your stomach more than your soul.

Listen, Big E's isn't trying to reinvent the wheel here: Insanely doughy, crazy thick dough is the deliverer for equally hefty toppings. The kind with the mini-plastic table in the center so the whole thing can be held together while en route.
Affordable, deliverable, and available until 3AM on Fridays and Saturdays (and 1AM every other day of the week), Big E's is the place to take home or, even more preferably, brought to your door after one too many drinks and stumbles back home from the bars.
---
Little Coyote
2118 E. 4th St.
What kind of pizza? The one that people from L.A. go to.
Hear me out on the snark: Little Coyote is thoroughly a Los Angeles-bred space that happened to open in Long Beach—don't let anyone else try to fool you.
And while surrounded in mini controversies—from former chefs and cooks claiming the pizza dough recipe was stolen from a Long Beacher to the Los Angeles owners moving to Long Beach only to largely peace out of Long Beach [one back to L.A. and the other to Portugal] once the space was comfortably running—they do have some decent pies that have garnered a cult-like following.
For Brian Addison's full feature on Little Coyote, click here.
---
Rosario's
1443 E. Carson St. (in Carson)
What kind of pizza? Completely. Fucking. Unhinged.
Hold up, hold up, I know: "Carson?"
But I would be remiss to not include this infamously known pizzeria where, well, people have seemed to have lost their goddamned minds but that also seems to be their unapologetic MO and that, in turn, makes it feel strangely admirable?
With a canvas like a pizza, limits are basically unlimited—and Rosario's in Carson seems to have taken that metaphor to its extreme, layering each pie with ungodly heaps of toppings that makes you question both their overhead costs and the ability of the human body. Every pizza—whether it's a mushroom pizza like above or a pepperoni or this lovely ode to irritable bowel syndrome—is completely fucking unhinged, stacked with toppings the looks bowls of produce and meats were poured on top before baking—and its loyal patronage loves them for it.