For those in the loop, Noble Bird Rotisserie inside the 2nd + PCH retail complex in Alamitos Bay is a rare gem—and not just for Long Beach, but for the entire West Coast: Through its meticulously crafted and managed kitchen and its equally meticulously created menu, it is one of the few restaurants not just in the region but in the entire country where those with severe allergies-be it one or many, be dairy and eggs or tree nuts and shellfish—can eat with peace.
Every single plate—from their staples like a masterful rotisserie chicken and beautifully deconstructed chicken pot pie to specials like coq au vin—can be handed to you with the knowledge of every single ingredient put into the dish.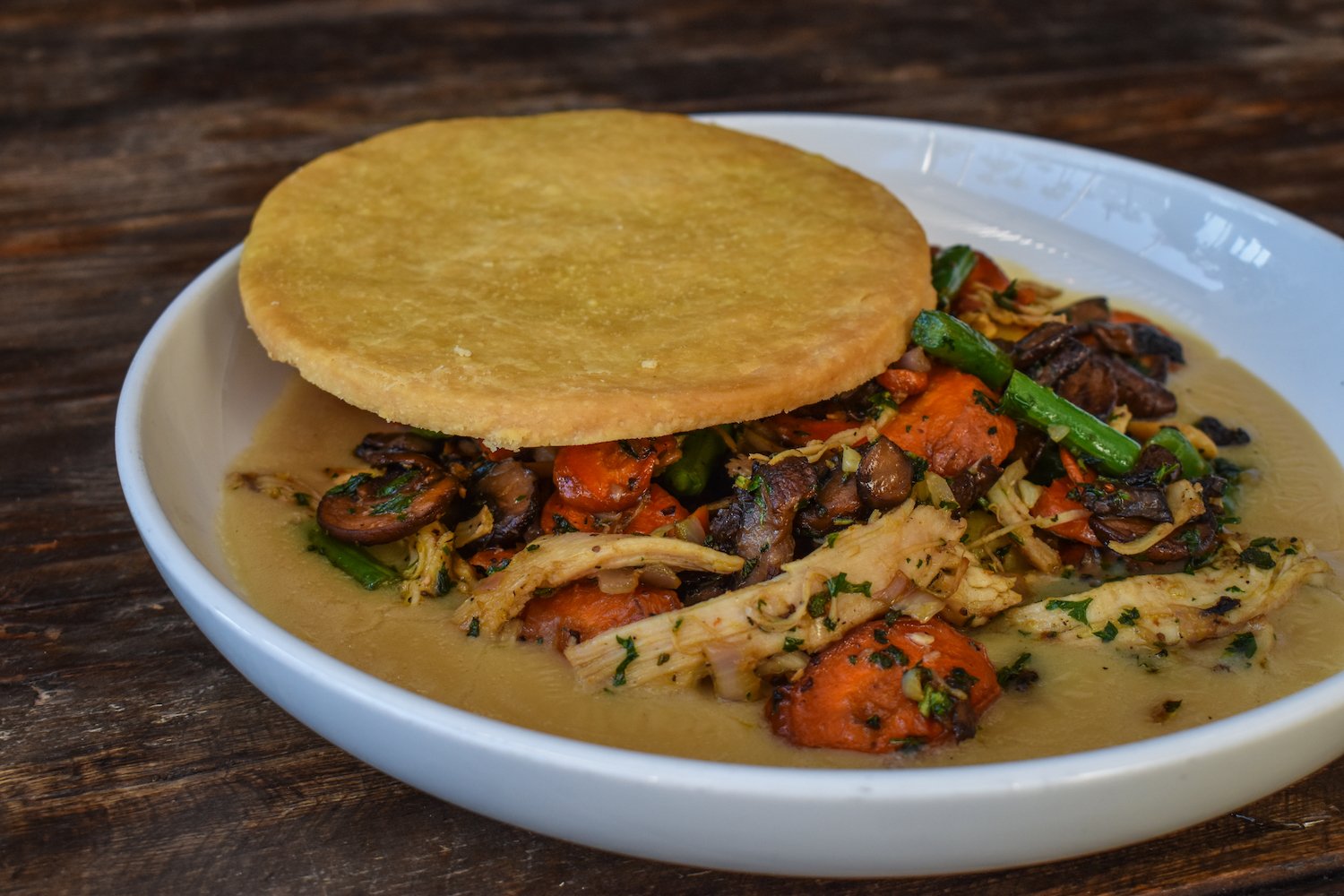 But owners and wife-and-husband team Sidney and Steve Price did not arrive at this idea of creating an allergen-cognizant restaurant because they simply cared about everyone's diets.
It stemmed from a parental nightmare, a nightmare that affects over 30 million American families every year.
There are plenty of tropes and stereotypes surrounding allergies—from the petty person who claims an allergy simply because they don't like an ingredient to a dismissal of those truly suffering from allergies because of the very people that abuse the reality of their existence—but even beyond the focus on creating a safe eating space for everyone, there's one thing so many are forgetting: Noble Bird is creating genuinely great, quality food. Period.
Shortly after having her first son and pregnant with her second, Sidney had to stop nursing and switch her firstborn to other forms of nutrition. Giving him a small amount of yogurt from cow dairy, she noticed a welt on the back of his neck while he was crawling around. Removing his clothes showed a terrifying scene for any parent: Hives and welts marked the little one's body in its entirety, his groin swollen, his armpits swelling with equal intensity…
This was the first moment into what would be a years-long dive into the world of allergies—which was also passed onto their second son—and, in a sense, the robbing of not only the beauty of eating out as a family but the beauty of raising children without a constant anxiety that they could die.
"We thought, after the hospital trip, 'Okay, milk—milk. That's easy. We can do this,'" Sidney said. "And then I started thinking about what I put in my body and I was absolutely shocked at the amount of dairy in things: dehydrated milk proteins in chips or dairy in taco seasoning packets or dental products we had to watch out for—everything."
Avoiding milk soon turned into avoiding tree nuts as well as seeds (including mustard seed). For their second son, it became not only avoid that but avoiding eggs…
"Your whole world just changes—practically every aspect," Steve said. "We like to consider ourselves foodies and traveled the world to find hole-in-the-wall places. We went out all the time, no care in the world, and now we have to worry about everything. A Cheeto could literally send our kid to the hospital. So then we worry about school. And parks—we have to worry about parks."
For the Prices, the seemingly innocuous park becomes an anxiety-inducing landmine field: Let's say a child had a birthday and that birthday had some buttercream cake and, as children do, the frosting got everywhere. Then those children climb on monkey bars, go on swings, use rails… If one of the Price's children were to touch those same things and then touch their eyes, the park would soon be followed by a hospital trip.
Inclusivity in food can mean so many things—allowing other cultures to flourish if they choose Long Beach and L.A. as their home, having a menu that caters to multiple diets—but there is something particularly special about seeing a father, his child in his lap, mowing through some food and telling you, "This is the only place I don't have to worry about my kid going to the hospital."
While we often dismiss these simple things, like parks, as a general part of life, we often forget particularly how pervasive food, the world's great connector, is to the overall fabric of everyday living. Family gatherings? Food. Celebrations? Food. Severe sadness and seeking alleviation? Food. Recess at school? Food.
And this is where the Prices really felt most for their kids and other families that may be experiencing their own struggles: They hadn't had the chance to experience a pizza parlor or a jungle gym birthday, a family dinner at a rowdy restaurant or a family gathering potluck.
Those are some of life's sweetest simplicities—and for children, incredibly important learning events: They teach cooperation and communication, sharing and socializing, connection and camaraderie.
And as a "Mama Bird," as staff calls Sidney and their merchandise proclaims, it would be ice over hell before her kids—or the kids of any other family—were robbed of that.
Hence, the birth of Noble Bird Rotisserie.
Sitting amid a hefty dose of corporate-refined, heavy-capital spaces—The Bungalow is not only backed by social space master Brent Bolthouse but the world-renowned, Michelin-recognized Mina Group while Ola is backed by OC restaurateur powerhouses Toby Reece and Tony Andrews while Shake Shack is a nation brand while…—Noble Bird feels particularly Long Beach in a not-so-Long Beach complex.
Living in the nearby Shore, the Prices weren't necessarily given the red carpet when approaching 2nd + PCH to house Noble Bird.
"It's not as if they were wrong, but [CenterCal, the property owner of 2nd + PCH] were like, 'Why should we give you what we consider one of our prime corners?' and to be honest, we replied back, 'Why not?'" Steve said. "We're local, we're going to use this space. There should be something Long Beach in here. And our mission is to create happiness—not just for people with allergies but for everyone."
Steve nods to the Long Beach greats of foods—the original Hof's Hut, the OG Yard House, Bake n Broil…—as examples that Long Beach is often dismissed in terms of what its locals have offered over the decades and that, in all honesty, that spirit had to be represented at 2nd + PCH.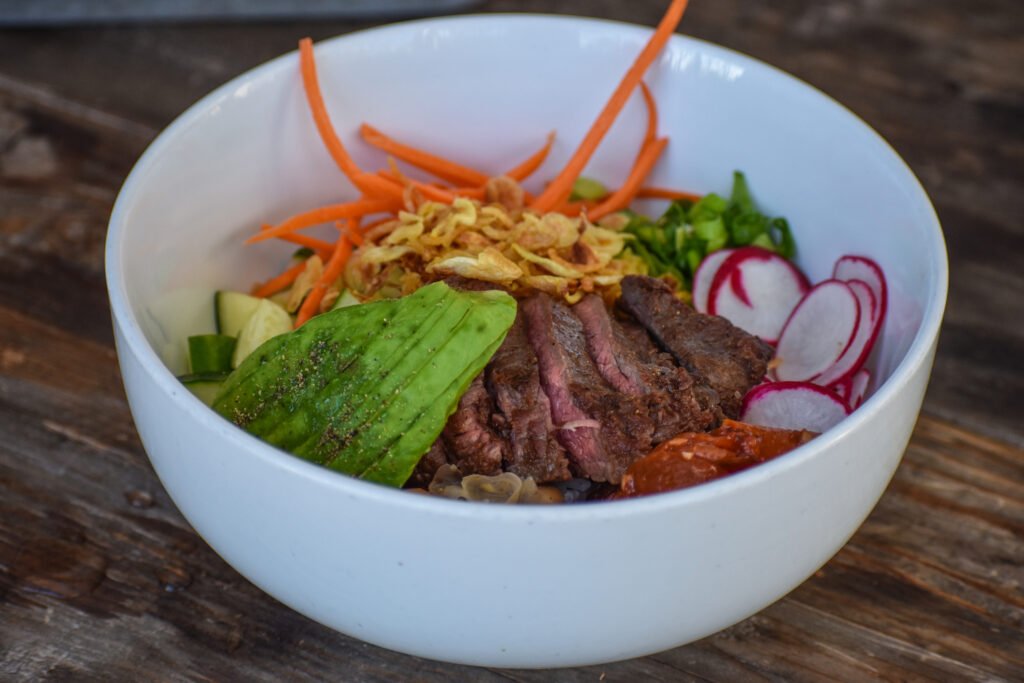 Opening with four other restaurants in January of 2020, Noble Bird was proud of who they were: An allergen-focused space that was equally focused on quality food.
And, of course, the thing we will rarely escape over the next few years when talking of small businesses, the pandemic hit.
But even amid turning off the heat (to save on money), strapping on hefty jackets to deliver to cars as they pulled up, the Noble Bird family—particularly with the talents of Chef Andrew Bice, a man who has worked everywhere from alongside chefs Mary Sue Milliken and Susan Feniger at the lauded Border Grill to Downtown Santa Monica's Blue Plate Oysterette only to face the challenge head of creating an allergen-sensitive menu—owned up and showed up.
Since re-opening—a space that is as bright as Steve and Sidney's spirit, complete with an offshoot kids' play area that doesn't make the restaurant feel aesthetically saccharine—Noble has built a steady and loyal following.
A man with his child in lap, happily mowing through a small stack of the restaurant's pork ribs, smiled up and made a very eye-opening comment after introducing himself and complimenting the Prices:
"There is very little this little man won't eat here," the father said. "And that's great but what's even better? This is the only place I don't have to worry about my kid going to the hospital."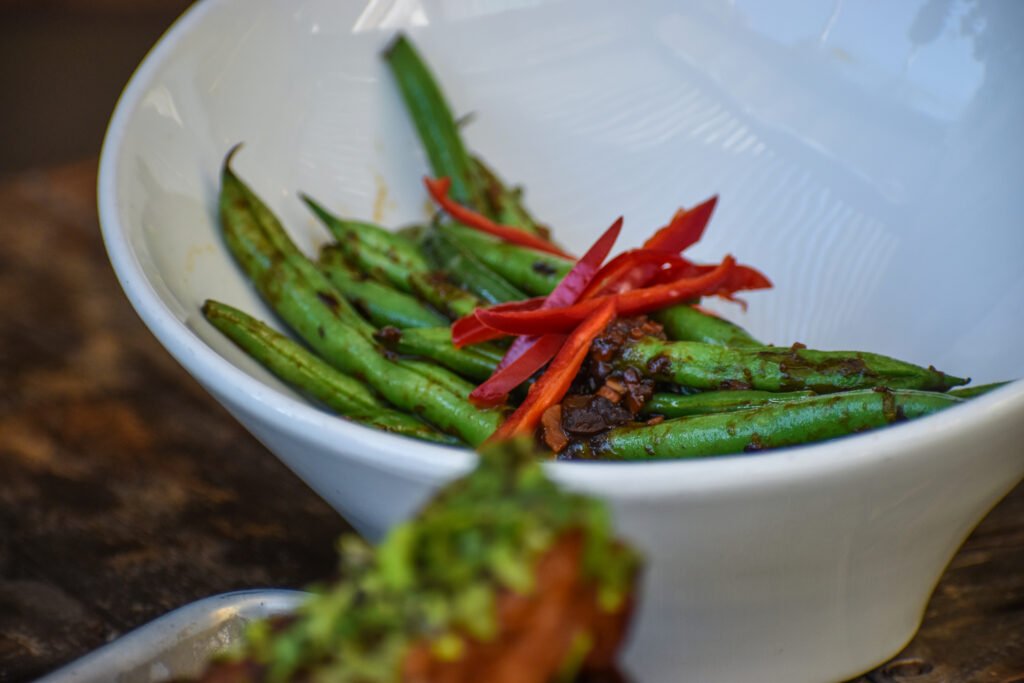 Inclusivity in food can mean so many things—allowing other cultures to flourish if they choose Long Beach and L.A. as their home, having a menu that caters to multiple diets—but there is something particularly special about seeing a father, his child in his lap, mowing through some food and telling you this is the only restaurant he can eat at without anxiety.
And when that inclusivity is paired with genuinely great food, the aura and sense of warmth is as welcoming as it is infectious.
Those ribs the little man was getting down on? A stellar dish, where a sweet-but-not-too-sweet sauce—hints of sesame and hoisin, chile and garlic—is slathered onto wonderfully juicy, fall-off-the-bone Duroc spare ribs.
Bice's appreciation for the sweet—his version of chicken and waffles comes with a beautiful syrup to glaze over the dish and his Thai salad, brilliantly using a chickpea butter instead of nuts to mimic peanut sauce—is one that is not overwhelming but incredibly balanced. It's probably best exuded in the restaurant's "G sauce," a gochuchang-like concoction that comes out a fiery bright red in color and hits the tongue with chile and honey and lime.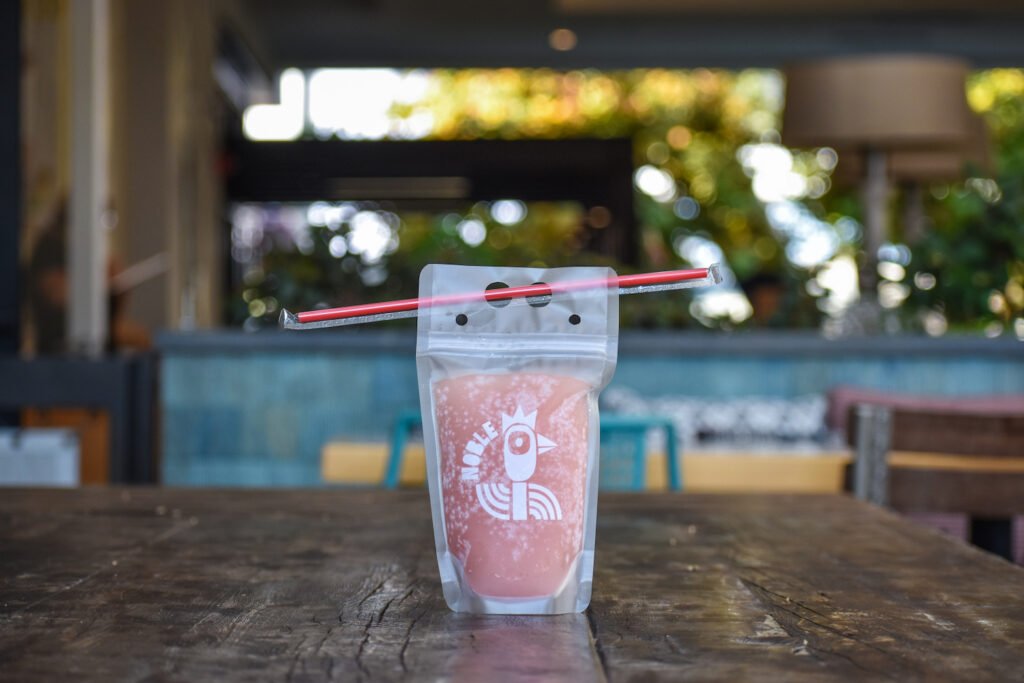 And it's likely best experienced by Noble Bird's namesake dish, a dish that is simply wonderful and divinely simple: Whole brined-and-marinated chickens, chopped to your size preference, and served either traditionally or "g-style," as in slathered in the aforementioned G sauce. Squeeze the accompanied citrus wedge and you have yourself one of the simplest joys in life: a plate of wondrous, succulent chicken.
There really isn't a bad order at Noble: their steak and avocado bowl, featuring a beautifully cooked skirt steak and a side of some properly addictive chimichurri, is a wonderful example of how to create something healthy without skimping on flavor. Their sides—from their green beans, coated in a sesame-meets-garlic concoction paired with the heat of Fresno chiles, to their street corn, a beautiful, dairy-free take on the mayo-meets-cheese Mexican dish—are nothing short of solid.
And as the emphasis on the greatness of its food should always be emphasized (and is consistently downsized by the beauty of their core mission), it is hard not to notice the depth with which Sidney approaches this space.
For her, it is easy to read on her face, Noble Bird is a hallowed place. It not only represents years of dealing with a largely archaic scientific sense of the burden of allergies—"Doctors hand you an epipen and say, 'Well, avoid all these things,'" she said when visiting her first allergen doctors—but one that is also the result of endless emails between moms, phone calls that Noble Bird is indeed safe for their kid, and a mother's mission to make the world better for not just her kid but everyone.
"I treat every kid as my own child," Sidney said. "We're beyond cautious and if we sense even the remote possibility of danger, we are clear about it and we avoid it. It has garnered us trust—immense trust—among families. And it would be remiss of me to say that the sense of that trust doesn't make me fulfilled in a very large, beautiful sense."
Sidney went on to tell of a 14-year-old boy and his mother, who had stumbled upon Noble Bird and its mission. He had always wanted to try to a club sandwich but there was yet to be a space which could create it for him with absolute safety—until Noble Bird.
"For us, it was just a club sandwich but for him? It was an entirely new experience," Sidney said. "And easily the best part, beyond his happiness, was watching how his mom could just, lift the weight. We got you, girl—you don't have to worry. Kick back. Here's some frosé. Watch your kid enjoy food without fear."
If there was ever a time that was appropriate to say this, it would be now: Can we get an amen?

Noble Bird Rotisserie is located at 6460 Pacific Coast Hwy in Suite 125 in the 2nd + PCH retail complex along its Marine Drive facade.