As we slowly crawl out of the pandemic, returning to restaurants and spaces that had been shuttered for a period unlike any other, I've discovered there are two approaches coming from chefs.
There's the exercise the hell out of their talents, flexing for plates that are atypical or heightened. Think Chef Melissa Ortiz's no-land-protein menu at Rose Park. Or Chef Philip Pretty's Heritage 2.0, where his casual sandwich shop becomes a Michelin Plate-noted restaurant. Same for Chef Cameron over at The Attic, dismissing the restaurant's rabid brunch crowd basicness in favor of something far more elegant and elevated (more on that from me in the coming week).
Then there's those have gone toward comfort: Luis Navarro and Brenda Riviera have done incredibly warming and genuinely great chicken sandwiches and burgers over at The Social List. You have Jonathan Strader and Jack Leahy—both alumni of Hatchet Hall—making some of the best pizza in the city with Little Coyote (also more on how that came to be later this week). 
And then you have Chef Jason Witzl, joining the latter crew of comfort and ease.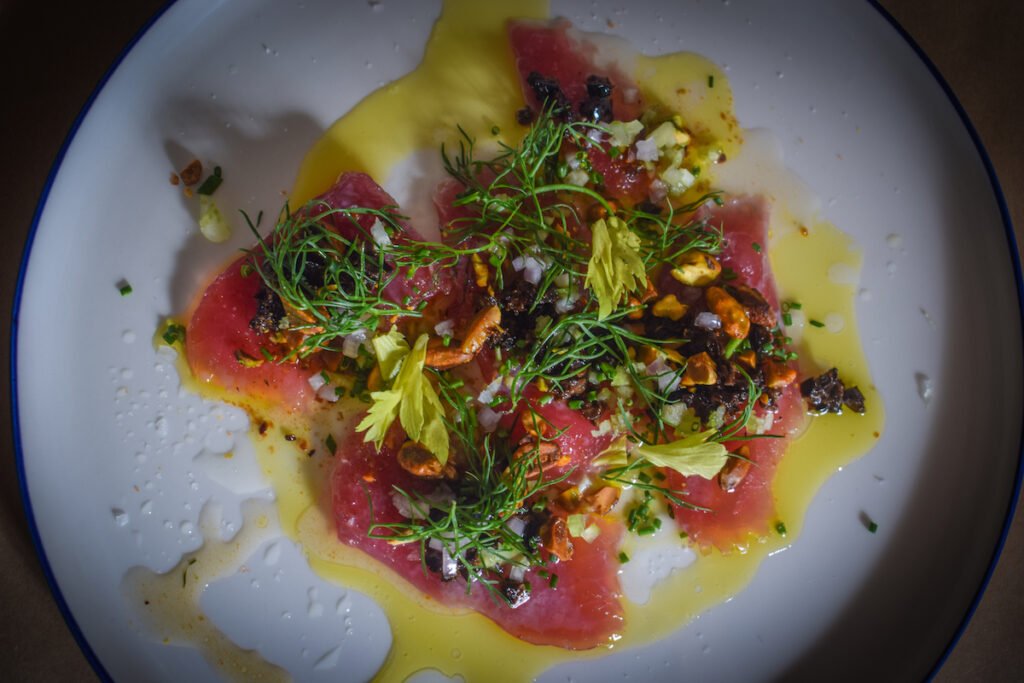 And that last one should make you smile: Witzl is known for his wonderfully complex, multi-layered dishes at both Ellie's—his inaugural Long Beach joint at 2nd and Orange in Alamitos Beach—and Ginger's—the tiny-but-mighty, 12-seater taster space next to Ellie's, as well as Lupe's, his mariscos concept in DTLB.
But if one were to take a look at the new Ginger's menu, it would look awfully like a very old-school, traditionally high-end Italian dinner. We're talking caprese and carpaccio, veal parmesan and tortellini.
"I don't need to prove myself anymore," Witzl said. "After everything we've been through, I want to make food that makes me and my guests happy. It's really that simple."
And while Witzl might call his food simple, it isn't.
His duo carpaccio—a fish crudo and a Wagyu carpaccio—are not just stellar but remind us the of the Italian cuisine canon's power. His incredibly creamy Wagyu—thin white lines of fat marbling the bright red, thinly slices pieces of meat—is topped with black garlic emulsion that stands somewhere between Dijon with a better bite and addictiveness. The umami of his big eye tuna is heightened with the saltiness of olives and the nuttiness of pistachios (that he has directly imported from Sicily).
Yes, these are simple plates—but very much simple-in-quotes. They are just as layered as any of Witzl's previous dishes but offer more familiarity and comfort in exchange for less palate-exploring.
This is exemplified in his tortellini: A staple that most Italian-Americans—and yes, even native Italians—know as mostly from a bag because the technicality of the work needed for tortellini is both high reaching and time consuming.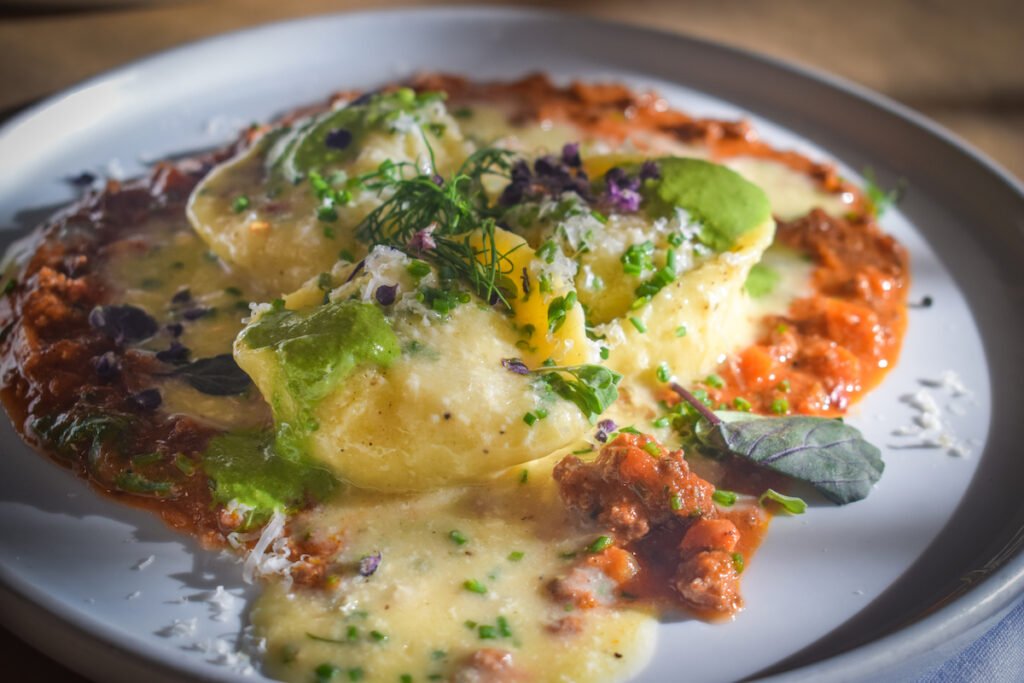 And while at first bite, it feels like a bit of Nonna coming back to the kitchen and serving you: The richness of the ricotta stuffing, the rich savoriness of the classic pork and beef bolognese. Then there's the other wonderful hints: the extra creaminess of the stuffing thanks to stracciatella, the creamy mozzarella-meets-heavy cream center of burrata. The cleanness of a bright green, pesto-like addition paired with a parmesan sauce gives the plate the extra finesse and beauty that would be expected of classic Italian grub handled skillfully.
Or take the gnocchi.
Witzl's gnocchi has always been spectacular, pillowy chunks of potatoes gone to heaven in a steam bath that are as creamy as they are crave-worthy. And here, he takes a classic vodka sauce—adding spice but nothing palate-scorching—and tops it with the earthy wonder that is shaved black truffle.
This is food coming from someone who is clearly comfortable in particular zone—but that comfort doesn't mean it doesn't reach heights, for it is food that is executed with a precision that reminds us why the classics never fade. Much like the perfect cut of raw salmon atop the perfect layer of rice for the perfect bite of nigiri, Witzl reminds us that the perfect cut of raw beef topped with the perfect olive oil and salt creates the perfect bite of carpaccio.
And for some that comment he made—not needing to prove anything—also might seem like a humblebrag; it isn't.
It is reflective of the trust he has built in his team: The kind tutelage of his general manager Molly Sirody always shines through in the staff but for Witzl, his largest trust is the one he has passed to the kitchen. You'll often find him sitting down at tables with guests—not serving them—and talking of his kitchen family. A 19-year-old who started as a dishwasher and has moved his way up to line cook. Another who started at the same rung of the ladder and now acts as sous chef.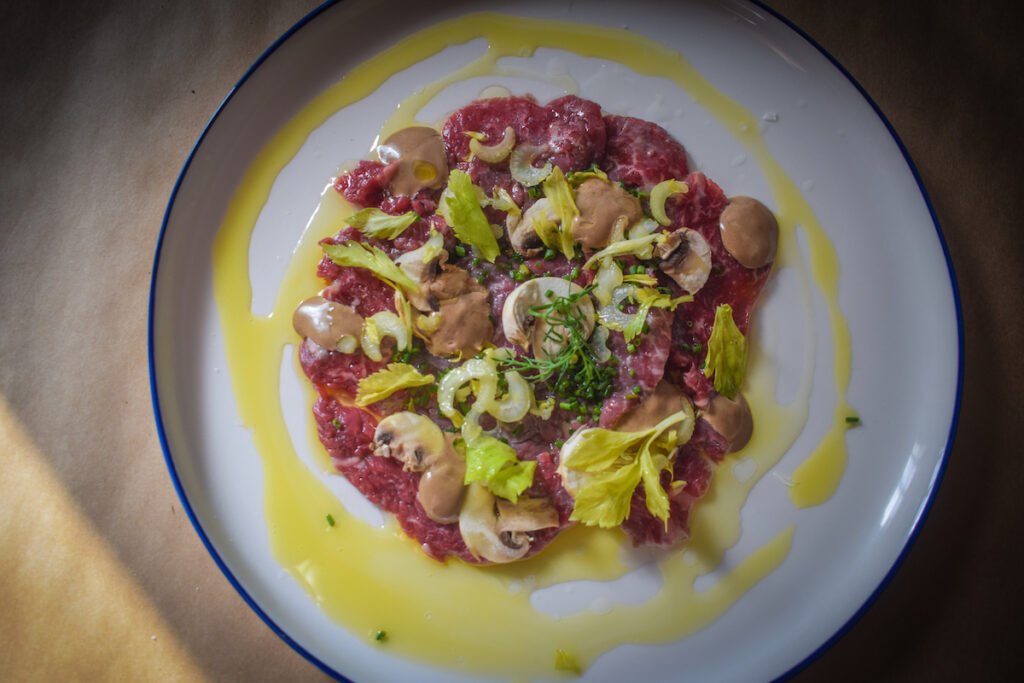 And it makes sense as to why Witzl plans on using Ginger's as a testing site for more permanent items at Ellie's: With small, 12-seater crowd at Ginger's that both respects Witzl enough to buy his taster dinner and willing to experience menus that are often off-the-cuff, Ginger's proves a place where easy crowdsourcing can fuel the menu at Ellie's.
On top of all this, Ellie's is finally getting a facelift come January of next year. Details are slim but in the words of Sirody, "It will be quite a sexy facelift."
While we await that, I can assure you that we are plenty fine with the sexy food—and Chef Witzl, may you never feel the need for competition and always let your soul speak to you because this is, indeed, very much your happy food. And that is a damn good thing.
Ginger's and Ellie's are both located at 204 Orange Ave. Ginger's is the private, 10-seat space hidden next door to Ellie's. Reservations can be made here.