For Chef Jason Winters, the owner of Speak Cheezy—the sourdough-centric Belmont Heights pizzeria that replaced the old Scratch Bakery over a year ago, introducing the city to one of its best pizzerias—it is nearly impossible to misconstrue or miss the intense emotional attachment he has to the Asian community, both personally and professionally.
"My kids and my wife and my family are really the inspiration for us taking such an initiative to celebrate this [AAPI heritage] month at Speak Cheezy," Winters said, noting that his wife, Merly, is Filipino and his children are blended, on top of his three stepsisters being Thai. "The entire Asian community is near and dear to me, more so than most know."
"I love the newfound light being shed on the Filipino community and Asian culture in general because it's such an inherent part of my family and Long Beach—and they deserve to be seen and heard, especially through food and recognition."
When speaking of his family—especially his children and wife, the latter you'll see running around the pizzeria, helping with orders, and even telling you when she'll be bringin in some lumpia—you'll see his eyes widen with pride and care.
And that gaze of pride widens even further when staring down at his Grandma-style sisig pizza, a collaboration between him and the much-loved Westside bake shop Gemmae.
"So many collabs go for the trendy and that is obviously an important component to the food community but we can't forget about the businesses that have really held down the fort—and for the Filipino community, Gemmae is that," Winters said. "And [Gemmae owners] Prescilla and Catherine [Tolentino] are the perfect partners."
Gemmae is, indeed, a legacy Long Beach joint: Serving the Westside for three decades this year after Prescilla opened the joint at the southwest corner of Willow Street and Easy Avenue in 1993, it was at a time when few knew the wonders of ensaymadas, ube halaya, and other Filipino delights.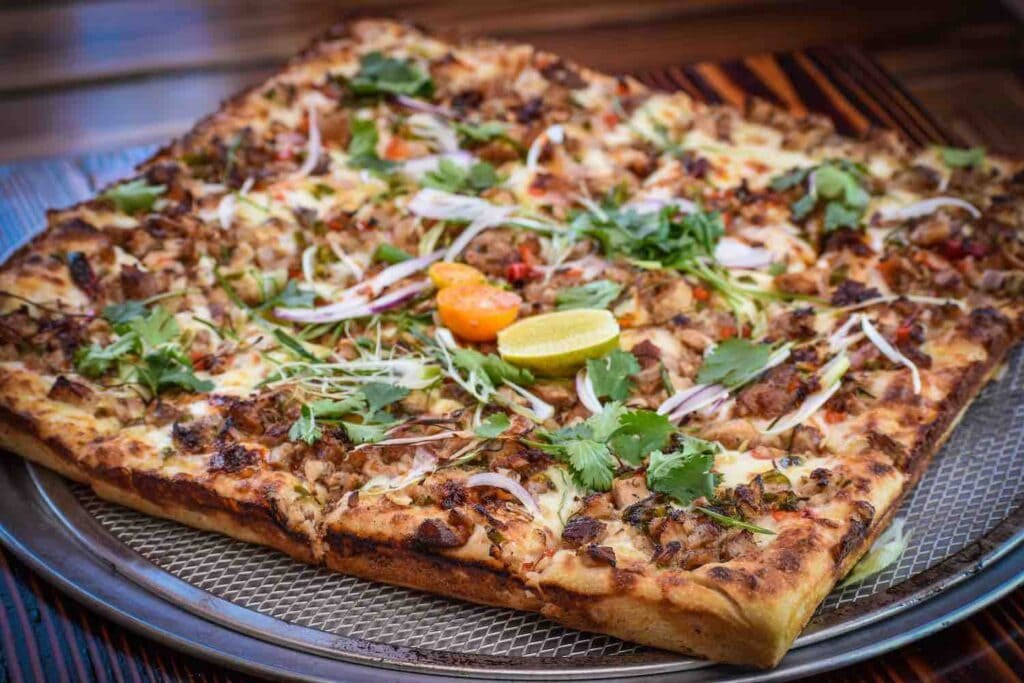 The pizza is a savory bomb of the best kind: Gemmae's sisig is a thing of wonder that honors the country's famed dish—probably only second to adobo when it comes to meat entrees from the island country—where pork meets calamansi citrus and chiles. And Gemmae likely offers up the city's best version: pork jowl is substituted with pork belly for an extra flavor boost from the rendered fat and mixed in with pig ear.
This is used as a topping on Speak Cheezy's sauceless rectangle pie—a nicely concocted, maybe inch-thick dough base holding well—where the cheese and sisig's creamy, fatty, umami qualities are countered with cilantro, onion, jalapeño, a beautifully bright Calabrian chile crisp, and a much-needed drizzle of fresh calamansi juice (the Philippine lime that has both a bright and peppery quality to it).
The result is a pizza that is as Long Beach as it is a celebration of Filipino culture at large and the infectious pride Winters has for his own Filipino blended family.
And, of course, he isn't stopping there: He'll be hitting up the Cambodian Cowboy himself, Chef Chad Phuong of Battambong BBQ, fresh off his Mexican-meets-Cambodian collab with El Barrio's Chef Ulises Pineda-Alfaro for Mexican Mother's Day.
The pizza, set to be featured later this month? A twako pizza, using Phuong's famed version of the Cambodian sausage with fermented rice; usually deep fried to a crunchy-skin outside and juicy center, Phuong smokes his and alters the entire character of the sausage. The tartness of the fermented rice hits the earthiness of the wood smoke—and to see this on a pizza is not just exciting but outright drool-inducing.
Of course, these collaborations don't just appear out of thin air; they require authenticity in both personality and professionalism, talent in both the kitchen and communication, and a deep sense of trust—and Winters has achieved that through a decade of mastering his craft, remaining humble to the point of nearly being absurd, and letting his pies speak for themselves.
For years, he would ride his bike southbound on Termino, hitting 4th Street and seeing what truly is an idyllic corner space that would be perfect for pizza—the precise thing he wanted to do once he escaped the fine dining scene he was attaching himself to at the time for both money and knowledge and, at the same time, fulfill his childhood love of food.
"Oh man, I was that kid: I had a grocery list that had foie gras on it when I was eight years old, sending my poor mother to Alpha Beta [the SoCal grocery store that existed for decades through the 1990s] to find me duck liver," Winters said, chuckling. "I always wanted to be a chef, food has always been in me. By 15, I was working at restaurants and then after that, like everyone who loves the restaurant industry, I started getting work at the big players: the two- or three-Michelin star places, the James Beard winners… It was about making those connections."
Chef Suzanne Goin—the lauded Angeleno chef whose pedigree includes everything from Campanile in L.A. to Arpège in Paris to her own renowned Luques, which closed in 2020 after two decades of service, and a.o.c.—had become Winters's main inspiration and mentor.
And from there, his pizza dreams only grew.
At the time, Winters had been slinging out fine sourdough pizzas as a side gig from both popups and his very own oven-on-wheels, long before the sourdough crust craze began to take over the Southland. (And yes, he still has said oven-on-wheels though it is easy to say he much rather prefers a restaurant grade oven.)
Shortly after branding said van into Speak Cheezy (formerly Urban Pies) during the pandemic, the pizzas of Winters grew even more popular—and with it, his passion for finding a more permanent home and this encounter with the former owner of Scratch only intensified that desire.
"That time was both wild and humbling," Winters said, laughing. "There would be times when we were just in the blistering heat but I was so damn determined to get this space. Determined."
Saving up, popup after popup, gig after gig, he finally rode his bike past the space as a stranger to it for the last time: He was going to be ballsy, offer the owner of Scratch Bakery—the last tenant that used the space-a check with a hefty sum, and see if they would bite. Before he could get the door even heavily ajar, the owner closed it: "We're officially closing. Talk to the landlord for anything further."
Competition would be fierce: The much-loved (and rightfully so) Hey Brother Baker, carb master Jesse Hellen-Lloyd's bread operation, was highly interested. So was a beehive cultivator who wanted to make honey. So was an unnamed baker from the cottage world of Long Beach's baking scene.
But Winters won in the end and has since introduced a pizza that competes with the best, easily on par with La Parolaccia, Michael's on Naples, and Colossus Bakery's vastly underrated Friday night pizza specials.
Using a starter that has been used since day one for the dough—and almost accidentally lost when an unknowing worker almost cleaned out the tub with the starter—Winters has created a name for himself using quality ingredients and beautiful presentation.
His much-loved Tie Die pizza, where purple basil contrasts with the bright white of stracciatella and the rust red of his tomato sauce—which is beautifully showcased in his underrated Rossa pizza—is a highlight that showcases how pizza can be simultaneously light and fulfilling.
Ricotta piping on h pepperoni and house-made fennel sausage pies are one of the space's best sellers while Winters flexes with other ingredients ranging from black garlic drizzles and al pastor pork sausage to roasted corn—yes, on an elote pizza—and ramps (well, at least when they were in season).
They are truly wondrous——and that was proven just earlier this year.
At the first Pizza City Fest late April this year in DTLA—the massive, 40-plus pizzeria festival hosted and created by Chicago pizza king Steve Dolinsky—Winters and his right-hand man, Chef Anthony De Rosa, proved to be a force to reckon: Going head-to-head with some of L.A.'s finest and brightest—we're talking De La Nonna, Quarter Sheets, L'Antica (opening a shop in Belmont Shore soon), Apollonia's (which is a bit overhyped, no?)…
Speak Cheezy didn't just get through the rounds; they danced the ring and their lines reached nearly hour-long waits.
"This is what Long Beach pizza is and what it represents—and I can only hope to continue that," Winters said.
Per favore, amico mio, we have no question you can.
Speak Cheezy is located at 3950 E. 4th St.