Missed out on previous Favorite Things? I got you covered—just click here.
Too many years back, I wrote a very self-indulgent listicle that was about so-called "essential" Long Beach dishes; dishes that I loved and could depend on as long as that place existed—and I wrote it because there's something so elemental and useful about a specific great dish at a specific place. It was less about some grander proclamation than it was about, "This is just great food."

And after a year of not doing such lists, I want to return to it. Not some grand list of "essential dishes"—that is too hard of a burden to put on a restaurant: You better have this and you better have it all the time. But for now, in this moment, I am happy to share some of my favorite things.

In other words: Why not just own the moment? Without further ado, here are the favorite things I'm eating right now…
Dirty Elvis wings at Shlap Muan
2150 E. South St.
When I first wrote about this tiny-but-mighty wing shop in North Long Beach for Eater LA, the story was an ode to the symbiotic relationship between the Cambodian community and Long Beach: Owner Hawk Tea had to balance many things while being raised in his parents' North Long Beach Chinese-American restaurant—his Chinese ethnicity, Cambodian culture, American citizenship, search for self…—but ultimately, it was his eventual take over that very restaurant that has proven to be his most fulfilling endeavor to date: Eschewing the majority of the space's old-school menu and rebranding as Shlap Muan ("chicken wing" in Khmer), Tea has created a mini-wing empire that honors everything about his multi-cultural life—especially the Cambodian side.
And his Dirty Elvis wings—a fire-licked, wok-ed out set of wings with Tea's proprietary master sauce that has layers of soy, fish sauce, and sugar—are the perfect example of how Tea has harnessed his memories, identities, and love for his parents into a single dish.
For Brian Addison's latest feature on Shlap Muan, click here.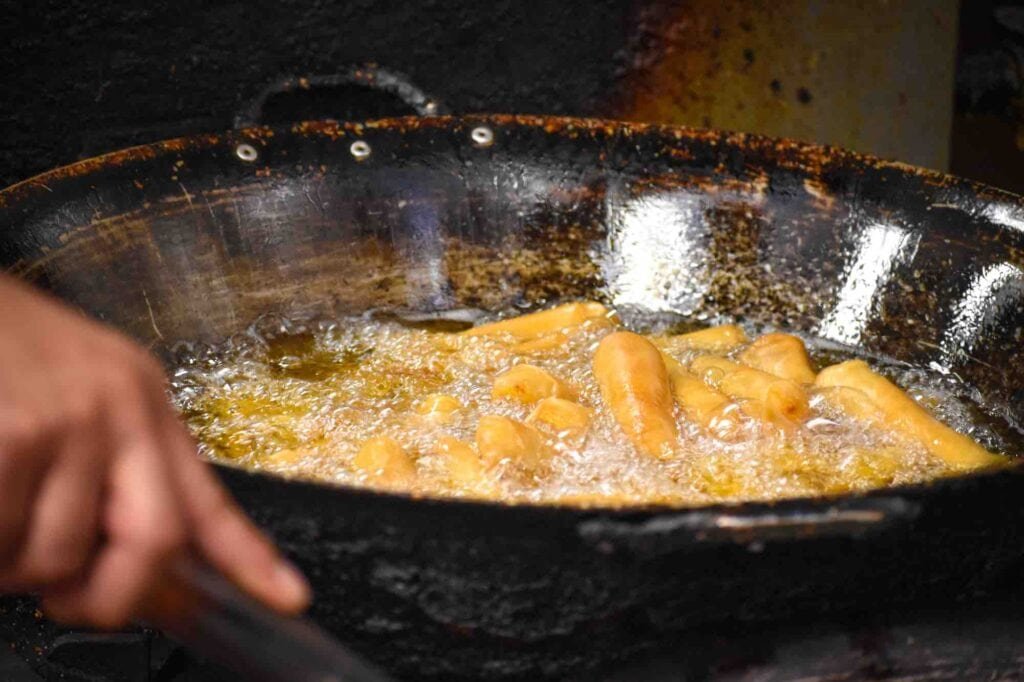 Shanghai lumpia at Gemmae Bakeshop
1356 W. Willow St.
Over 30 years ago, Prescilla Tolentino decided to uproot herself from the Philippines in order to embark on a trip to the United States. With 13 Gemmae bake shops in the Philippines, she sold ten of them on a gamble to take on a different coast: Long Beach. 
Come 1993, at the southwest corner of Willow Street and Easy Avenue in West Long Beach, Priscella opened the first (and only) American Gemmae in what was then a small but growing Filipino and Filipino-American community—and celebrating 30 years of business, has become the heart of Filipino food in Long Beach.
While the shop is known for its sweets, one should not skimp on their savory options—particularly their lumpia, the famed Filipino egg roll. Thin, long, tightly rolled, and filled with a pork concoction, this recipe hasn't changed since Prescilla first made them in the Philippines. Savory, dangerously easy to eat—it's impossible to not reach for another—these bad boys can be purchased freshly fried or in air-locked bags of frozen versions for you to fry at home.
For Brian Addison's full feature on Gemmae Bakeshop, click here.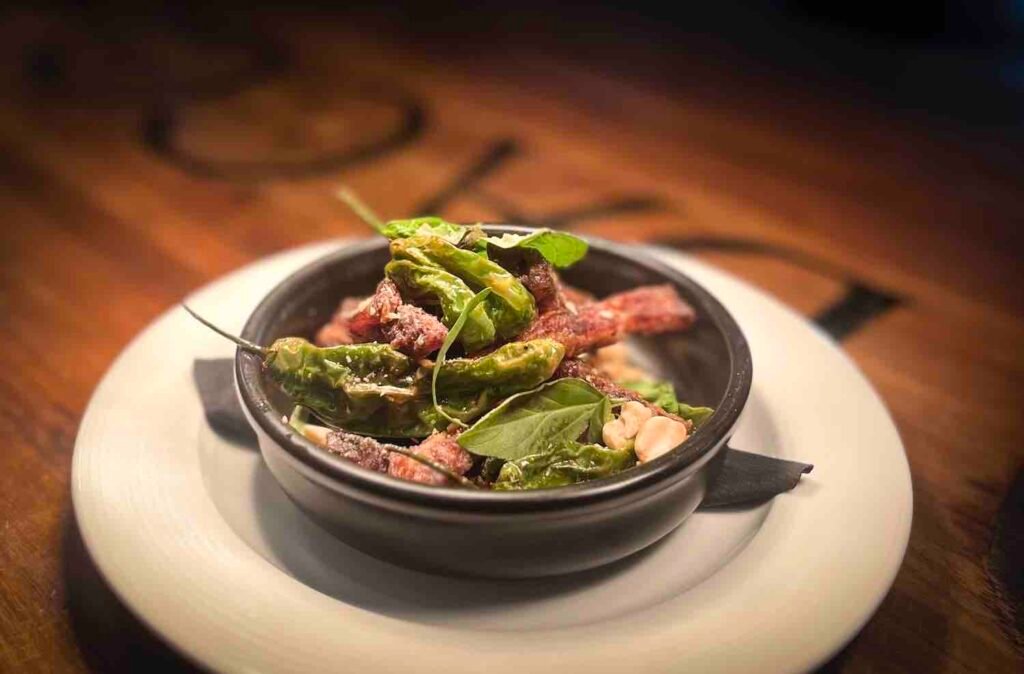 Crispy pig ear with shishito peppers from Chez Bacchus
743 E. 4th St.
Chez Bacchus is a vastly underrated space, particularly for Long Beach. Overtaking a previous space which was riddled with problems and following a concept that never even led to open doors, owner and sommelier John Hansen has done what most thought was outright impossible: Create a white-cloth dining experience without the pretense—and make it successful.
With the onboarding of the incredibly humble, equally talented Chef Danny Kay, there's been a nice shift that expands the space's dedication to Californian cuisine: Yes, it includes some stellar, elevated dishes—like Chef Kay's wonderful potato and chèvre-stuffed agnolotti with shaved Tuscan black truffle—but one of his most incredible dishes is one of his most humble.
Happily exemplifying the Asian flavors he grew up on, Kay takes the oft-dismissed, underrated pig ear and braises it to the point where it becomes gluttonously gelatinous before he throws it in a tamarind concoction while crisping the slivers of ear. Topped with a beautiful array of earthy and minty herbs and charred shishito peppers, this mighty ode to the pig is wonderfully delectable and a damn near perfect bite to grab at either their bar or before dinner.
Chili cheese fries from Proudly Serving at Beachwood Brewing
210 E. 3rd St. 
When Beachwood Brewing's DTLB location announced they would be permanently shuttering their kitchen in January of this year, there was both lament at a downtown lunch staple and a sense of sadness that such a great space would be relegated to a taproom.
So when Proudly Serving owner Matt McIvor—the popup's master smash burger creator—opted to move in, serving some of the city's best burgers and, well, just great food that is perfect with Beachwood's spectacular brews.
Their chili cheese fries? Simply stellar—and that includes the fries alone, crisped in duck fat. But for the meat eaters? Even better when slathered in Proudly Serving's solid, spicy chili, American cheese, and onions—an ode to Tommy's famed (and infamous for many a bowels across SoCal) chili cheese fries where there are no beans, no fancy schmancy cheese, and thick-cut fries.
For Brian Addison's full profile on Proudly Serving inside Beachwood Brewing, click here.
Bánh mì heo quay from Pickle Banh Mi
1171 E. Anaheim St.
I absolutely love our city's growth in traditional Vietnamese cuisine—and Pickle Banh Mi Co.'s first location beyond the Orange Curtain is a prime example of that, giving us the city's undisputed best bánh mì (and some of the best baguettes, made in house for a buck a piece if you just want some good bread).
Even more, the story behind the small operation is one that is about the empowerment and resilience of Vietnamese women and their families—and it is directly reflected through their food, including their offering of the city's best bánh mì.
From the traditional—like bánh mì đặc biệt, the cold cut bánh mì that has defined the sandwich since its origins, or the bánh mì bò nướng sả, a lemongrass beef that has subtleties of sweetness amid its savory and herbal qualities—to the witty and fun—like a play with Peruvian lomo saltado for one or the use of chả cá thăng long, the famed turmeric-dill fish dish, for another—there is no bad bánh mì order at Pickle Banh Mi.
I mean that: No bad or even middling bánh mì at Pickle Banh Mi.
But their pork belly version, with perfectly roasted bits where the skin is crispy and the meat is tender? Well, it's a damn wonder that masterful bit fo a sandwich there…