Ian McCall's craft beer pedigree is, to be frank, no joke: The man had been the head brewer at RIIP since 2018, lifting the brewery's already-stellar brand to new heights with seven Great American Beer Fest medals across his tenure, including a gold for his play on a Belgian-style specialty ale dubbed Tangible Passion.
And before that, he was the assistant brewer at Beachwood Brewing in Downtown Long Beach for the five years prior to RIIP, a tangental but directly-connected part of the brewery's 9 GABF medals from 2013 to 2018 (which included an incredible four golds).
So the fact that, across the past year, Beachwood and McCall have been closely working together in order for McCall to bring his ISM Brewing inside the Beachwood space, it is certainly a return to roots.
Planning the takeover and returning to the old school days of craft beer
"The decision to leave the Promenade space was a strategic one and one in which we were not just going to abandon it as some have insinuated," Julian Shrago, head brewer and co-owner of Beachwood, said during a brief discussion about the Promenade location's closure. "We took our time, connected with Ian, assured that it would basically be seamless—and it has been seamless. We are stoked to hand over the reigns to ISM Brewing and, on our end, focus on evolving our presence in Long Beach.
"Ian's one of the most talented brewers I know—and that's because I worked with him directly. I know his work ethic, his taste, his abilities."
The words of Shrago are not to be downsized: While rumors had swirled that Beachwood would be leaving in October of last year, the process of that to become a reality took a year—and it was because they wanted to bring in someone with the not just the talent but the community-centric ideal to do so.
And for McCall, there is no other way about it: ISM Brewing is his life's investment, with both his wife and their family,
"I don't plan on leaving because there is something inherently different when you own your entire business," McCall said. "This is mine and my family's alone—and this is what I want my life to be. Y'know, when I was first brewing here at Beachwood, everything was so elevated and I just don't think that's the way to approach the space right now. This is a pub and should be treated like a pub: A community space, a place where you shoot the shit and connect."
That casual frankness—a dismissal of the elevated in favor of the working class communal—is a direct reflection of not just McCall's own character but a harkening to the craft beer days of past: For many in the craft beer community, the craft brewery bubble bursting is a good thing, with Trustfund Bros blindly chasing cool points by opening failed breweries left and right. That period—where finding brewing equipment was a score because so many breweries were opening—was a period where some felt craft beer lost its central core: its community.
And McCall compounds this point when he openly jokes about Tony Hawk even getting in on the craft beer game.
"There are so many strings being tied that become full circles," McCall said. "I mean, I started at Beachwood in Seal Beach [the original Beachwood location before they began brewing], then I came here to learn brewing, becoming Julian's first assistant… And those days saw an interconnected beer community that has been partially lost. I want to welcome more guest taps, not just ISM beers. I want to host more collaborations. I want more of the craft beer community to call this place a second home."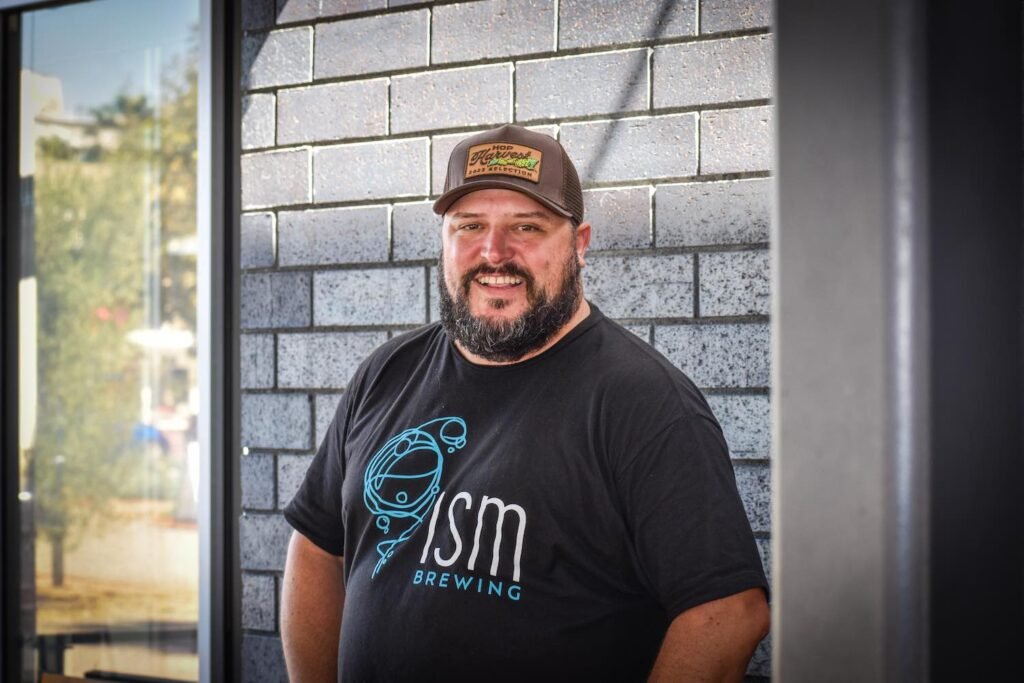 Are there really issues in Downtown? For McCall, it comes with the territory
With the soon-to-open Broadstone Promenade—a 189-unit mixed-use residential tower that sits directly in front of ISM Brewing—McCall knows that Downtown Long Beach will be, once again, king of the neighborhoods. And this is all despite the bad press the neighborhood has been getting for being unsafe and un-patronizable.
"The word I come back to over and over and over again is 'community,'" McCall said. "I want this to be a community spot and it will be because I believe patrons are seeking that in Downtown. All these new buildings combined with the people who've been coming here for a decade or more? There is so much community already built in here; there was no way I was going to say no on this opportunity."
The use of "opportunity" by McCall speaks volumes to his character and his vision for ISM Brewing in DTLB: Yes, there are issues facing the Downtown—but Long Beach is, by no means, some extraordinary exception to what is happening everywhere, according to McCall.
"The 'Downtown is shitty' narrative is so pointless," McCall said. "Go to Huntington Beach's Main Street and it's no worse. Absolutely no worse. L.A., Newport? There's going to be human feces we have to clean up. And that isn't our fault; that was an issue created at the top and we are dealing with that issue from there. But this is our community so we push forward, we can clean it up… And in a few months? I genuinely believe the Promenade will be an entirely different place for both businesses and patrons."
And he's right: That alleyway which is connected via a paseo in the Broadstone Promenade is the back entrance of Altar Society, Pine Avenue's first brewery since the closure of Rock Bottom. This little pathway creates a brewery/bar/restaurant hopping connection that will be par none in the city: One can go from the Pine Avenue-facing entrance of Altar Society, have a beer, exit out the back, walk straight to ISM Brewing (the brewery taking over the former Beachwood space) or jump to The Ordinarie or Congregation Ale House, and jaunt over to The Blendery or the upcoming distillery to be opened by the crew behind Villains Brewing and Smoke & Fire. 
Add on top of this additional residents from this project, the now-fully complete Broadway Block, and the soon-to-be-complete Aster over on Broadway at Long Beach Boulevard, all clutch for making this particular area of DTLB feel more Downtown than Construction Zone.
"Here's the thing: I am a first time brewery owner," McCall said. "There's so much shit I don't know that I don't even know yet: sales, marketing, all those all-the-aboves. Let's take this journey together and I promise I will be as honest as I can be about the ups and downs, the issues, what's it like to run a brewery in the post-pandemic world… I think it's kind of cool to be that in that space, in that in-between because I don't want my brewery to be some absent minded thought; I want it to be built up for the people who call it home."
And we're perfectly hoppy with that, sir.
ISM Brewing is set to open in the coming days and is located at 210 E. 3rd Street in Downtown Long Beach.