Oh yes, a distinct distillery destination is returning—just in a definitively different form: The crew behind the Orange County-based (and very much Long Beach-connected) trio-of-gastronomical-power that is Smoke & Fire/Craft/Villains Brewery will be taking over the former Portuguese Bend space at Mosaic, bringing with them former Blinking Owl master distiller Massimiliano "Max" Stecca and the culinary crew that has made them garner a well-deserved legion of patrons.
Despite the consistent chatter of its supposed downfall, Downtown Long Beach has always been a resilient little thing—and this news comes as the central cultural hub to the city is seeing no signs of slowing down in its upward swing.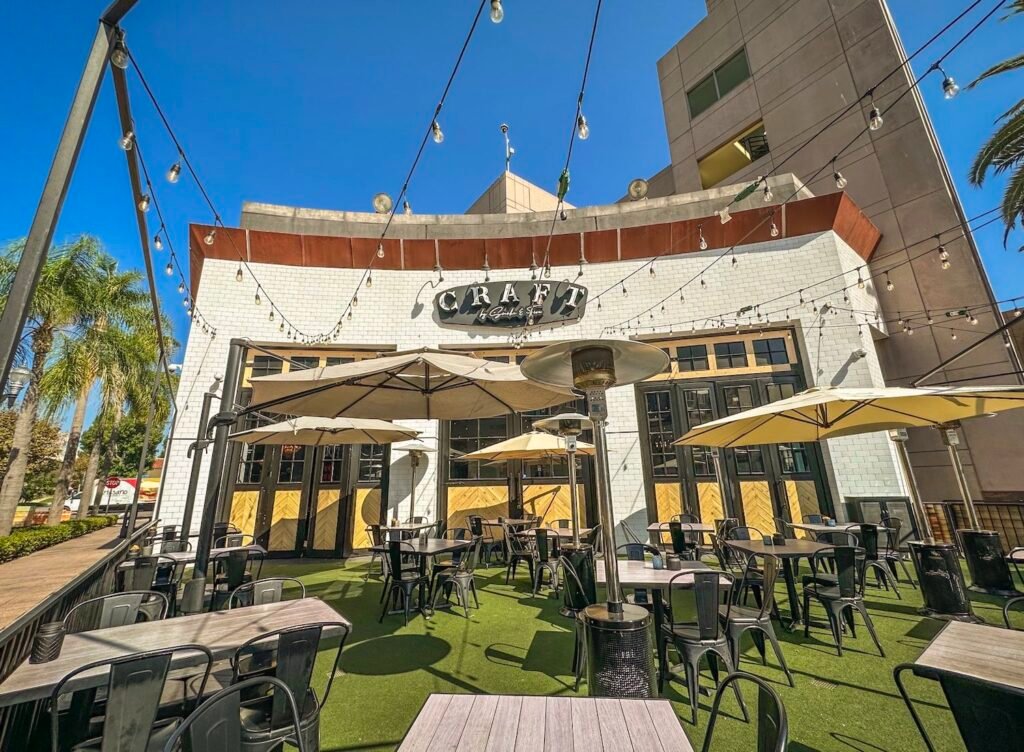 Shortly after it was announced that the owners of Padre and Mezcalero will be taking over the former Lupe's space at Mosaic and Altar Society opened its doors for its soft opening months after their space finally started taking shape, former RIIP brewer Ian McCall said he'll be shifting the DTLB Beachwood space into his own ISM Brewing—making Mosaic and the surrounding neighborhood a concentrated gem of beer'n'liquor wonders, with ISM, Altar, and The Blendery holding down beer brewing; spaces like The Ordinarie, The Stave, and 4th Horseman being hubs for solid libations; and the as-of-now unnamed project at Portuguese Bend bringing in distilling.
But the roots of the story behind the fast growing small business—led by owners Isaias Hernandez, Josh Bentrem, and Juan Hernandez—has always had its roots in Long Beach.
---
"Long Beach taught me how to grow up," Isaias said while standing in the massive, 30,000-plus-square-foot Villains Brewery space that he opened earlier this June. "It might not have looked like it when working places like The Mai Tai Bar and Bubba Grump—especially with Mai Tai Bar's reputation," he said, laughing, "but those were huge operations. You're talking millions in a week and, if anything, it was inspiring. It allowed me to learn enough to realize I wasn't just some kid from L.A. but some kid from L.A. that can make magic happen."
The mention of Mai Tai Bar (and its club offshoot, V2O) among nearly every member of the Smoke & Fire family surely brings back a slew of memories for any who partied in DTLB during the 2000s—and it also solidifies the crew's roots as definitively Long Beach and working class: Isaias started as a dishwasher at a Red Robin in Cerritos at 15 and Josh started as a busser at Elephant Bar, slowly working their way up before stepping into other ventures. (Including Long Beach's underrated Roxanne's—one of the spaces which can be said introduced craft cocktails to the city—where Josh met his wife, Juree.)
Josh was raised in Long Beach and still lives here, crediting the corporate food world at Red Robin and Raising Cane's as the catalyst for getting him to start something that is, well, quite the opposite of corporate food: Smoke & Fire and its dual offshoots are anything but corporate, exuding and exemplifying the importance of community, connection, and quality food.
"I had zero involvement in food until I worked at Red Robin," Josh said. "No joke: I was a journalism major at CSULB, went to FOX Sports, watched them alter their entire approach to live sports journalism, and… Adapted. It was so hard at first—I felt like I was losing what I initially wanted so badly—but that altered when we saw what we were capable of."
Smoke & Fire's first location in La Habra exuded everything about Isaias and Josh as people: A lack of pretense without a lack of quality and a dedication to hospitality that reflect the humble, genial spirit of both.
Brisket grilled cheeses and massive loaded baked potatoes sat next to classic Texan-style smoked brisket and dino ribs, bringing with it a crowd that quickly grew the brand from tiny to mighty, garnering hundreds of thousands of social media followers. And with it, the opportunity to open a another location in Paramount. And Pamona. And Riverside.
Which was was then followed by the creation of Craft by Smoke & Fire—think more upscale and less casual, with a focus on craft cocktails and elevated dishes—in Anaheim. And Arcadia. And Pasadena.
Which was then followed by the opening of Villains Brewery—more on that in a bit.
All this in the span of a handful of years—which is "wild to really think about," Isaias said, "but in all honesty, the goal has always been Long Beach."
So what to expect, exactly, from this distilling adventure in our city?
---
"We don't know what Long Beach will be until we hit that point," Isaias said. "We've always been that way: We wait until we feel the space, figure out how we're going to manipulate it, make it our own. But we're always looking for good bones—and Portuguese Bend has some great bones."
"Searching for good bones" is an understatement, as Isaias, Josh, and Juan have a great knack for finding spaces that require as little of them as possible when it comes to their wallets—something Josh says, "It is absolutely out of need: We never had much money to begin with so finding a space, say, that already has a kitchen—that's a win. I put our first fryers in La Habra on my credit card, maxed that sucker out instantly. We have to be economical to survive on top of knowing what a community wants from an investment."
This could be no better exemplified than their massive Villains Brewery space on the eastern edge of Anaheim, right by the city's popular Packing District.
It is a multi-layered space that is actually home to multiple separate areas: There is a private party area complete with its own bar, own bathroom, and yes, own pool (which can be covered with a three-inch plexiglass, color-shifting cover that acts as a dance floor in case you weren't wanting your guests to get wet. And don't worry about collapse: That badboy can withstand some 800 pounds for every square inch).
There is the brewery itself, which is lined with trees, an overlook balcony with additional seating, a swag store, and another bar that allows one to witness the brewing (from none other than Noble Ale Works and Green Cheek alumni Brad Kominek, who has already earned the brewery a medal from the Great American Beer Fest for his dumb witty Saca La Bolsita lager, a Mexican-style beer that comes with a baggy—no, not that kind—of Limon 7 Mexican candy to pour in).
There are the food concepts: Two different menus that play with barbecue and chicken oversee the brewery while an elevated, eight-course tasting-menu space is set within the property's historic craftsman home, which has been converted into a sleek, charcoal-meets-gold restaurant.
"We're doing 120 covers a night at [our tasting menu space]—something we never thought we would achieve," Isaias said. "But it's really about not presuming you know what your customer wants but listening to what your customer wants—and here, they want a bit of everything so we accommodate that."
Isaias took a pause after saying this, a slight pang appearing: "I really wish you got to met Oscar because a lot of Villains is his."
Executive Chef Oscar Victoria—the man who played in a role in dialing in Craft's menu to what it is and was allowed near complete freedom with Villains—passed last month, leaving a hole in both the hearts and operations of Villains. Bits of his spirit—in the double-fried-to-perfection wings, in the lamb chops slathered in chimmichurri, in the creamy-AF mac'n'cheese—are consistently in the present, leaving Isaias and the family to remember him but also, in Oscar's very aura, succeed.
"Oscar was as stoked about Long Beach as we were," Josh said. "He was going to play a pivotal role in the menu so, to keep his spirit alive a bit, we're taking inspiration from the Craft menu that he helped hone and bringing it to Long Beach. It brings a little bit of him to Long Beach and lets us keep a little bit of him at the same time."
Of course, that doesn't necessarily mean an item-for-item copycat menu nor does it mean a menu that likely won't change. As the cohort is clearly adept at creating vibes that cater, first and foremost, to its surrounding community—Villains is a masterful example of how to mix concepts singularly and mix them well—the to-be-named concept in Long Beach will follow those very rules.
And, in some serendipitous case of déjà vu, the move into Portuguese Bend's former haunt is reflective of their move into the Villains space: Once the shining social jewel of independent brewery Modern Times, who was its peak in the craft beer world when it announced its plan to open Leisuretown in 2016 and taking four years to develop, the space closed two years almost-to-the-day later.
Portuguese Bend, which opened with a huge bang and much celebrated menu and cocktail porgram, shuttered after about two-and-a-half years of operation—a day that was a deep loss of pride for the city given it was the first grain-to-glass distillery we had ever had the chance to call our own.
"This is one really is for Long Beach," Isaias said. "We had looked at so many other properties across the years in Long Beach—years, I am talking—and we are so happy they didn't work out… We're here to invest, to bring in something the city can have some pride and ownership in, to bring a new sense of community. And you know what? We're honored to be able to do that."
The team is ambitious: They are expecting doors to open in the coming months and, to be honest, while we know that is quite quick, we wish it could be quicker. But we shall impatiently wait before happily welcoming them with open arms to a new era in DTLB.