The Masonic Temple standing at 230 Pine Ave.—arguably Pine Avenue's truly oldest building given its complete construction in 1903 by architect Henry Starbuck; others say it is the building that houses L'Opera, which had its first three stories completed in 1900 but was eventually built upon to create what is now standing at the northwest corner of 1st and Pine—has a storied history.
"We want to reconnect people in a way that hasn't been done since the pandemic—sharing space, sharing conversation, sharing each other."
And its storied history continues even when it reaches contemporary times: It was once home to interior design chain Z Gallerie before shuttering in 2010, then converted to a relatively short-lived events space in 2014 when its facade was restored and its interior brought back to life, and now? Well, it will be a brewery, of course.
Don't be deceived by the building's gorgeous but modestly-sized facade, with its brick and three-peaked gables: Like the pseudo-secret society that owned and operated the building when it was first constructed, the outside is not at all what reflects what is actually on the inside.
Altar Society is big. Not just kinda big but massive, sprawling four levels (if you include the basement), and stretching the entirety of its Pine Avenue-facing entryway to Tribune Court, the alleyway which will eventually be connected to the Promenade via a paseo running under the now-in-construction Broadstone Promenade residential building.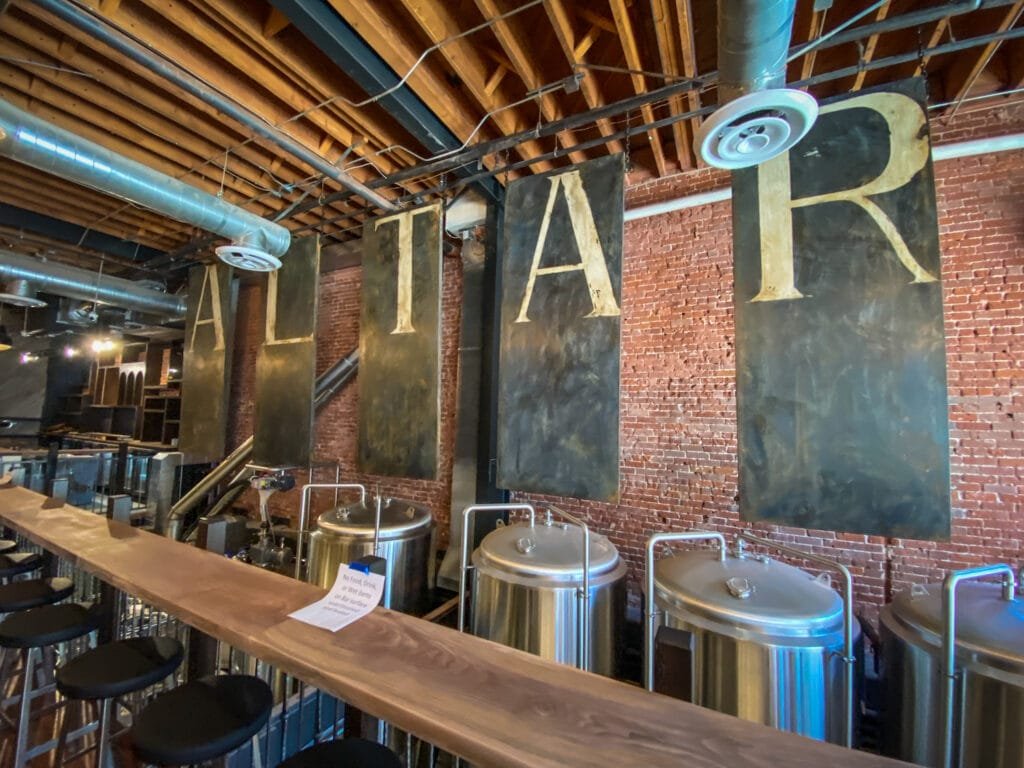 For dramatic effect that adds to the atmosphere as well as a way to actually fit the massive fermentation tanks for brewing on site, owners Chris Evans and Jon Sweeney had to dig a hole on the ground floor level, build an entirely new foundation on the basement floor along with adding angled steel reinforcement beams to the existing steel infrastructure, and lift in the tanks.
"It was a very expensive hole," Evans joked. "But it will soon be creating some of the city's best beer."
His projection isn't far removed from genuine possibility: Sweeney and Evans have brought on Derek Wasak, a Boston native master brewer with a resume that not only cements him as a true beer veteran but will bring both giddiness and smiles across the board from beer lovers in Long Beach.
Holding a masters brewers degree from the Siebel Institute in Chicago, he has studied and practiced brewing in Munich as well as spent 12 years brewing at Stone in San Diego. What does this mean? Stellar pilsners and lagers paired with equally stellar West Coast-style IPAs—and some other tricks up his sleeve like seltzers, hazy brews, and any other trend you might think to quench your thirst.
But those classic styles?
They're important because it reflects a professionalism and expertise that can't be hidden by imperfections. A pilsner? Unlike an ale, which can have a bit of wiggle room when it comes to brewing given it can fairly fluctuate between temperatures, a pilsner has an extremely small temp window to maintain—and a good pilsner reflects a solid brewer.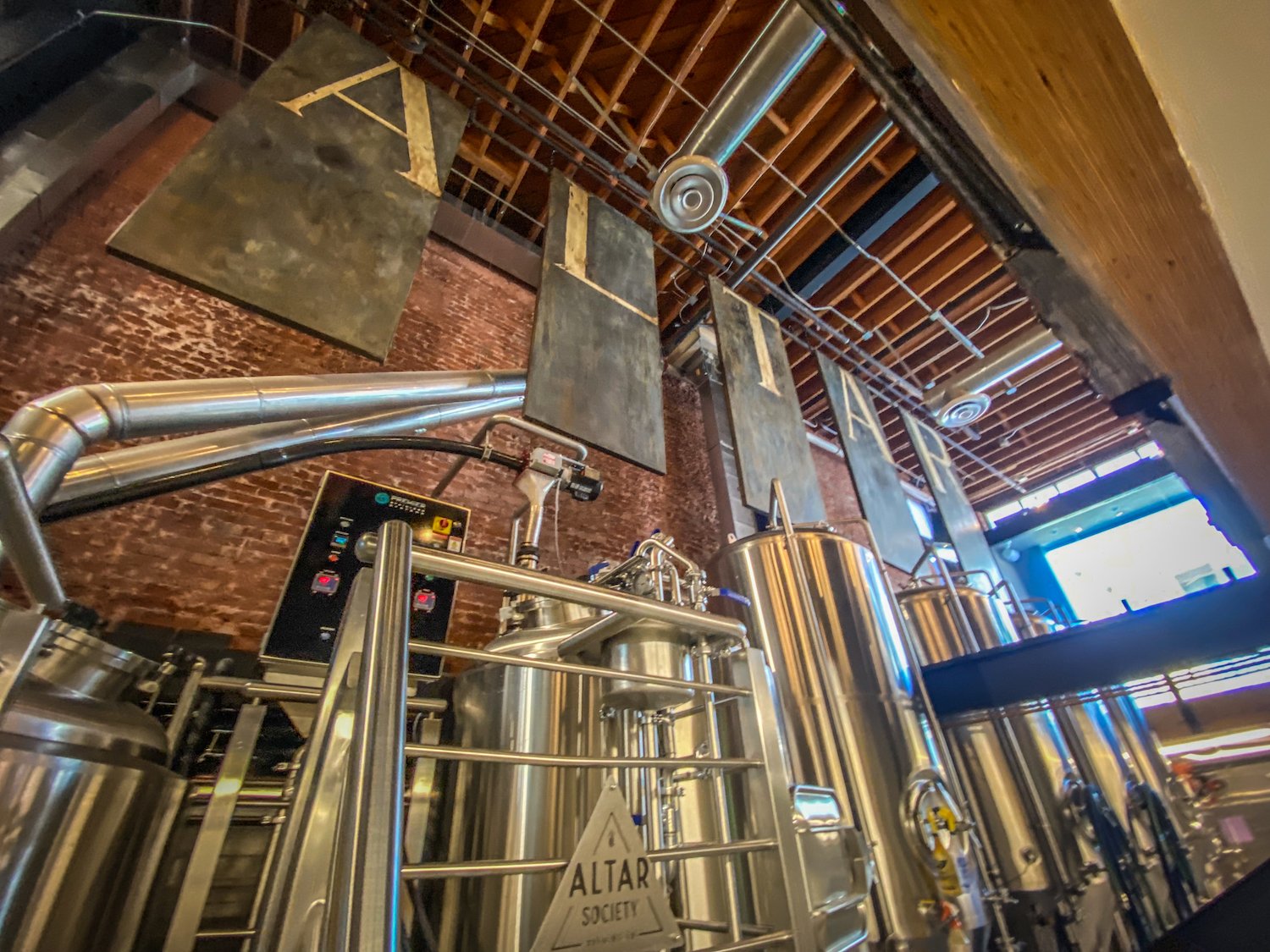 And while the talents of Wasak and what he'll be specifically bringing to Altar Society—he's mentioned everything from a Mexican lager and classic West Coast IPA to traditional German brews and stouts—for Evans and Sweeney, they are finally seeing the light at what's been a nearly six-year tunnel.
"This project has really subsumed us both," Sweeney said, noting that previous investors—including Auld Dubliner and Legends owner David Copley as well as Eric Johnson—had to rightfully drop out when the pandemic hit because their businesses were restaurants. "But the adventure has been worth it because you can actually begin to see where people will sit, how they'll interact, how the space will come alive."
And while new investors have come on—including building owner Courtney Dubar—what is the main focus is getting the space open—and the space is ambitious.
They will not just be a brewery—after all, they're legally defined as a brewpub—but a beer-meets-food-meets-coffee-meets-venue social space.
Toward the building's westernmost space on the ground floor will be a coffee shop, serving up the brewery's proprietary roast while welcoming customers as early as 6AM (at least as long as Sweeney can stick to his dream operating hours).
In the middle of the space is the newly built-out kitchen, where Sweeney and Evans have been working with a consultant on creating traditional New York-style pizza—"We're hoping to guess as close to the real stuff as we can," Sweeney said—along with having other options like sliders, small sandwiches, and an array of appetizers and finger foods. And you'll be able to pick up by-the-slice or whole pies.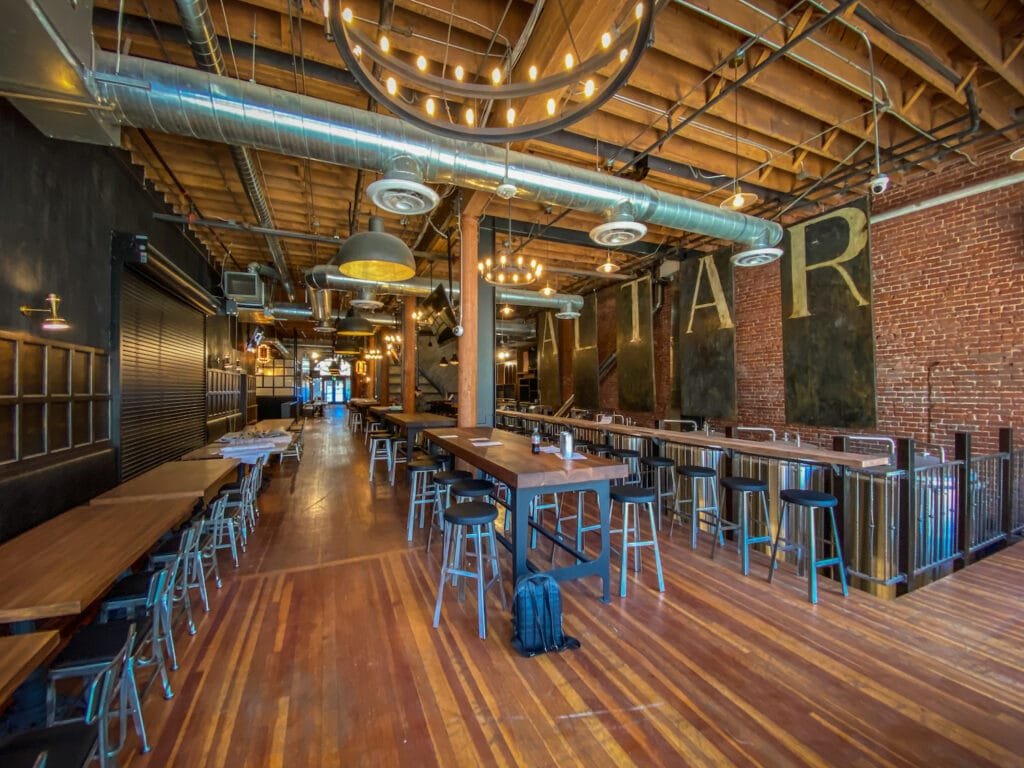 Toward the Pine Avenue side of the space on the east will be the main bar and tap room, a massive collection of bar stools, communal tables, tap handles, and a peak down into the brewing space in the basement thanks to that very expensive hole.
On the bottom, the brewing space, keg storage and fridge.
On the second floor, the venue: Be it for weddings or large parties, social events or private gatherings, guests who book the venue can also book the brewery, which is on its way to also scoring its full-bar license—which means cocktails as well.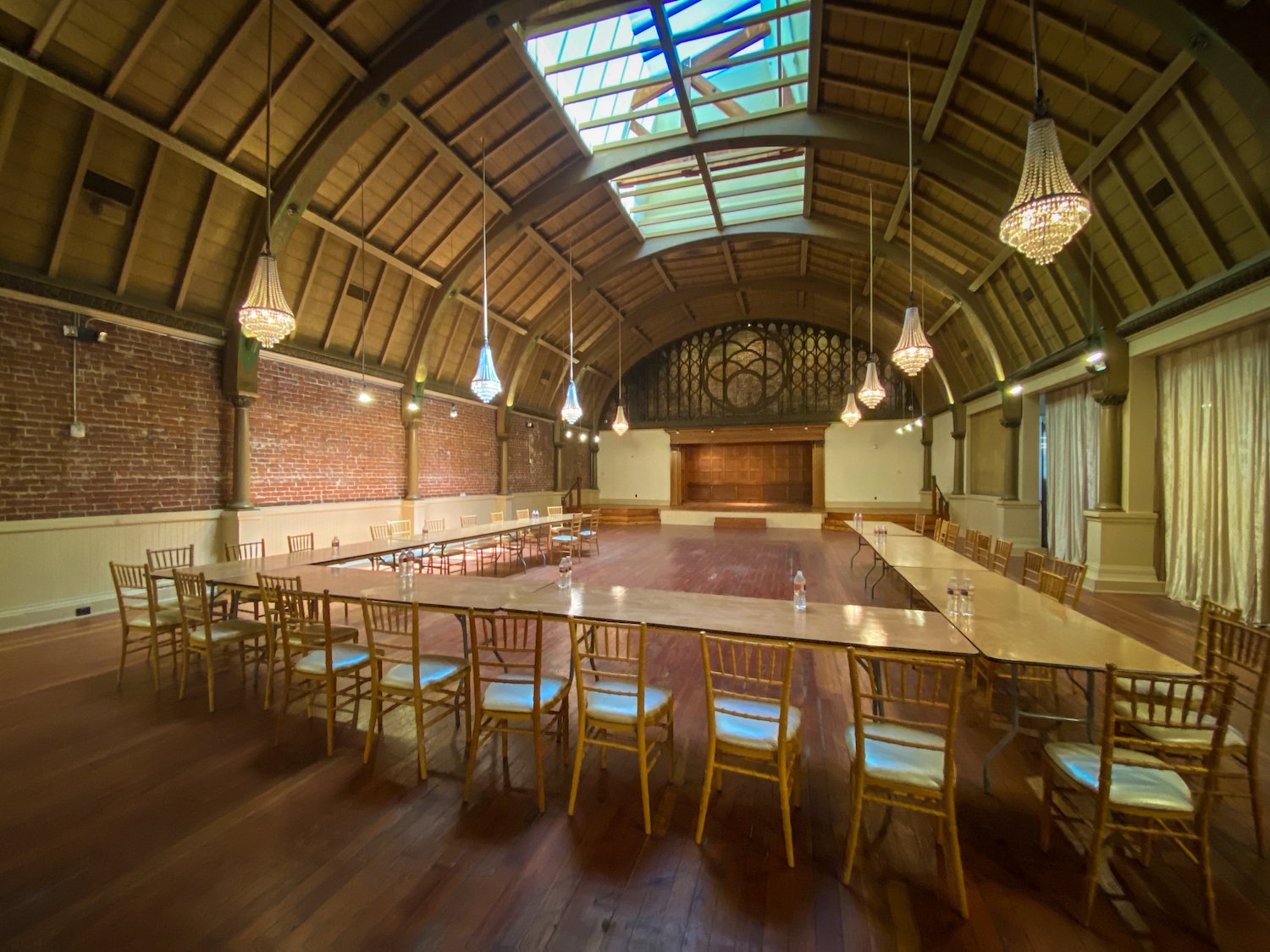 Evans and Sweeney are at the beginning of the home stretch
"We really spent our time on this, burning batteries on those electric scooters exploring brewers in Downtown L.A.," Evans said. "And what we've created here is something truly communal: We want people to hang out, to spend time with each other, face-to-face."
We'll be the first to cheers you, Chris and Jon.
Altar Society Brewing Co. is located at 230 Pine Ave. Look for the feature on its opening beer list and food menu in the coming weeks.