After breaking ground in 2021, the scaffolding has finally come off of the Aster, an eight-story mixed-use building at the southwest corner of Broadway and Long Beach Boulevard, just east of the historic Psychic Temple building.
Offering the first glimpse of the building's façade, the podium-style building's geometric east-facing side have become visible and, within the coming weeks likely, its north-facing brick façade (nicely matching the brick of the historic Psychic Temple).
Designed by Los Angeles-based architectural firm Carrier Johnson + Culture, the Aster, the building is a welcomed addition to what has long been a sad surface lot—and while it felt like the building would be dwarfed by the neighboring Pacific Towers and the (actually towering) Onni East Village high-rise up near 3rd Street, the building looks at peace with its surroundings (thanks to the not-so-towering eight-story building south of Onni East Village's 24-story tower).
The Aster will have two below-ground parking levels with two additional floors of parking above ground, providing 312 spots, along with 44 bike parking spaces and 7,292 square feet of retail space along the ground floor.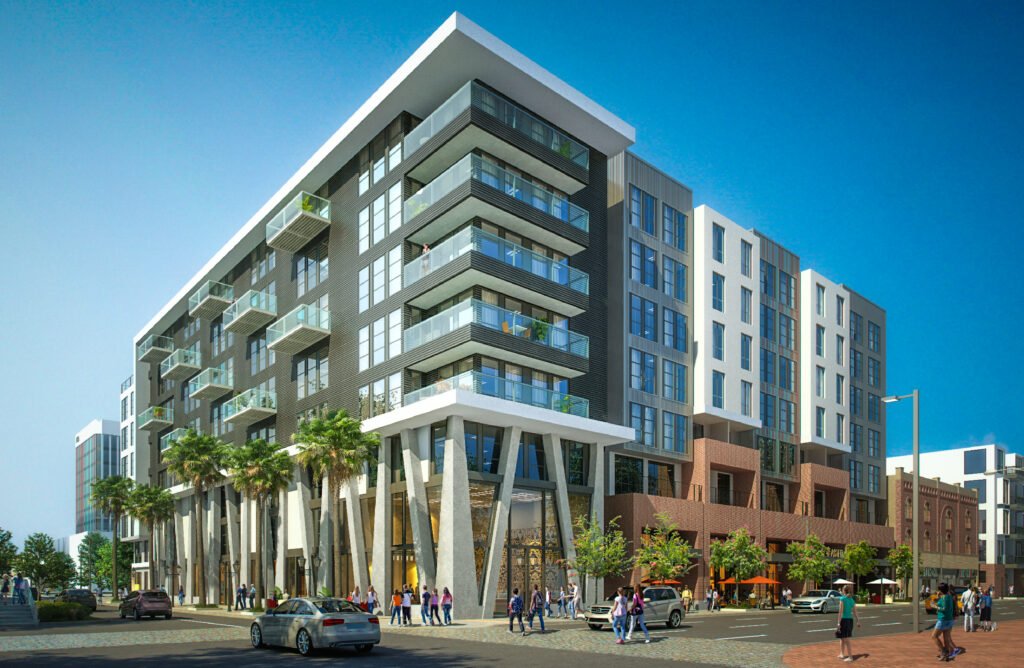 In addition, 218 residential units will be constructed: 32 studio units, ranging from 470 to 525 square feet; 123 one-bedroom units ranging from 610 to 1,000 square feet; 61 two-bedroom units ranging from 885 to 1,335 square feet; and two three-bedroom units at 1,435 and 1,700 square feet.
Those 470-square-foot studios will begin at $2,390 per month; one-bedrooms beginning at $2,745; two-bedrooms beginning at $3,950; and three-bedrooms requiring private inquiries in regard to cost.
There will be no affordable units attached to the complex as the project was entitled before the Long Beach City Council passed the final version of its inclusionary ordinance in January of 2012; that ordinance requires certain projects in certain areas to have a limited amount of affordable units set aside in their development.
In fact, when the Downtown Plan—the guiding document that oversees development in our most dense neighborhood—was originally being drafted, then-9th District Councilmember Steve Neal fought for an inclusionary ordinance but was ultimately shot down; had it have been included and depending on its requirements, millions of dollars or several new affordable units would exist in DTLB, curbing what many see as a steep increase in housing costs citywide.
What does it mean when politicians and developers refer to "affordable housing"?
What is an inclusionary ordinance and how does it affect affordability in housing?