When looking at the magnificent plate that is simply named the "Smoked Bird" on the inaugural menu of Selva, the Colombia-inspired restaurant that overtook the former Hideaway space, there is a genuine sense of soul.
The chicken's aromatics—turmeric meets smoked salt meets burning wood—pair with the festive array of colors: Glowing Marigold flowers are tucked between the chicken and arepas flayed out on the plate. Bright yellow and red pickled biquinho peppers sit atop equally bright green banana leaves.
Glass jars—filled with a classic Colombian green aji, an aji amarillo, and a red, fresno chile-d out take on the green aji—reflect deep reds, bright greens, and warm yellows across the table, little spoons begging you to take a dip.
A bowl of rice and beans are dotted with beaming flower petals that contrast with the deep black of the onion ash that was sprinkled on top of a filleted avocado. A side of caramelized, sticky plantains—somehow bright and acidic as they are sweet and salty—are smokey slices of wonder.
This is food with soul, a person who not only enjoys the art of hosting—the play on colors and presentation are just as formidable as the layer of flavors—but also has a story to tell.
The story is as Long Beach as it is human—and it is the story of Chef Carlos Jurado. 
"Food has this way of evening the field of life. And my pride for both sides of my life—my birthplace and the nation I call home… That pride is a way for me to help people find happiness. And I exert that pride through my food." 
When Jurado had first arrived in the city after being born in Cali, Colombia, he was two years old. And like many immigrant children, he was a full-blown American by the time he returned to Colombia for the first time as a teenager, with a simultaneously deep emptiness and equally deep yearning to connect.
On one hand, his parents had provided him a life that was more stable than anything they could have produced in Cali and on the other, he had been disconnected from the people with whom he shared blood, land, and love.
"I was fortunate enough to meet my grandmother before she died—so there wasn't a complete sense of disconnect," Jurado said. "But it was there where I re-discovered the food my mom made at home in an entirely different light: La Feria is a massive festival in Cali where the city just shuts down to eat and drink and dance. The food that lined the streets was… It wasn't the food that lined the streets of Long Beach, y'know? It is where I realized that we are all searching for the same thing: Some sense of happiness and connection."
As Jurado navigated his culinary career, consistently bouncing between Long Beach and [Insert Major City Here], he had discovered his initial sensation visiting his birthplace—that feeling we are all seeking a better sense of self and being—was a kernel of truth. No matter the highs—be it working at the highest echelons of American fine dining at places like Vespertine and Alinea—or the everyday—consulting for restaurants, cooking in a backyard—Jurado found that even the wealthiest weren't necessarily happy.
"Food has this way of evening the field of life," Jurado said. "And my pride for both sides of my life—my birthplace and the nation I call home… That pride is a way for me to help people find happiness. And I exert that pride through my food." 
The food of Jurado is both welcomed and distinctly unique in the food scene of Long Beach, where Mexican food has long dominated the Latino food market and Salvadorean, Guatemalan, Honduran, and other Latino foods have not received the accolades of its Mexican sibling.
In this sense, owners Geoff and Karna Rau should be commended on two fronts: The food of Jurado isn't just good—it's stellar—and, perhaps even more telling, was the openness they exuded in permanently shutting down The Hideaway.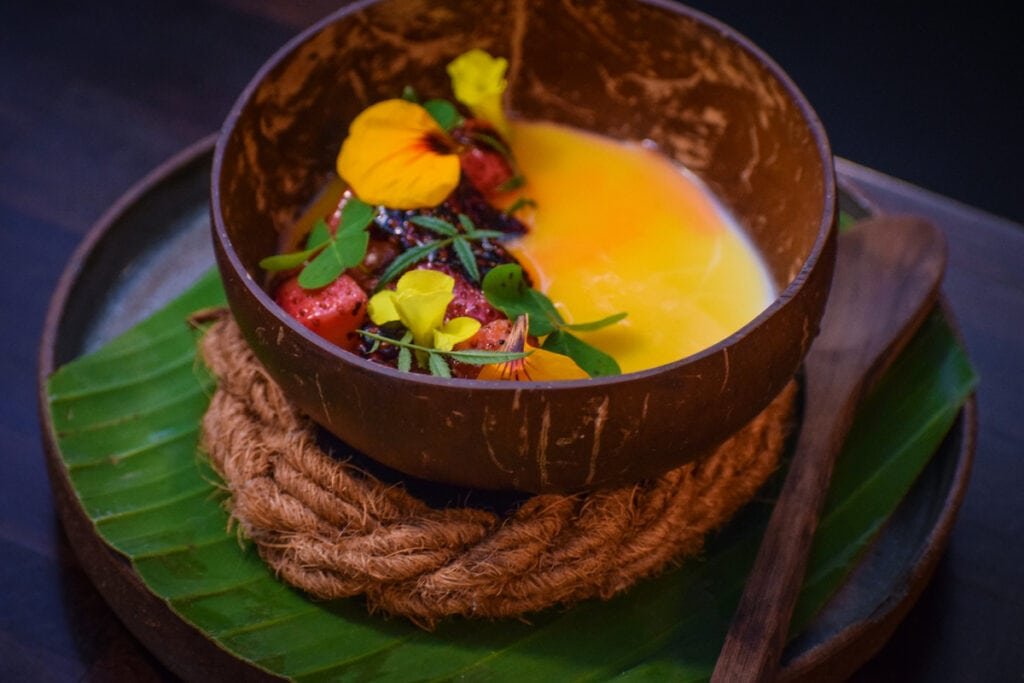 Like many, I was enamored by The Hideaway: Opening shortly before the pandemic went into full-on chaos, the space provided Chef Arthur Gonzalez of Panxa the ability to flex his steakhouse muscles. But as duties in Colorado called, the Raus were left to scramble with a kitchen sans Chef Art—and it simply wasn't working.
One of the reasons many restaurants which open with fanfare and draw crowds often don't remain open after a chef leaves is the stubbornness with which restaurant owners will cling to a menu—and it is admirable for someone like the Raus to realize what they have might have worked with one chef but isn't a one-size-fits-all.
"It just wasn't The Hideaway that it was when it opened, with Chef Art and me working on each of our levels," Geoff said. "And we knew we had to figure out a new concept—and to say I've been blessed is an understatement. Chef Art and myself vibed well with one another, respected one another. Chef Carlos and I hold the same relationship and, to be honest, I am shocked he has never been given his own restaurant."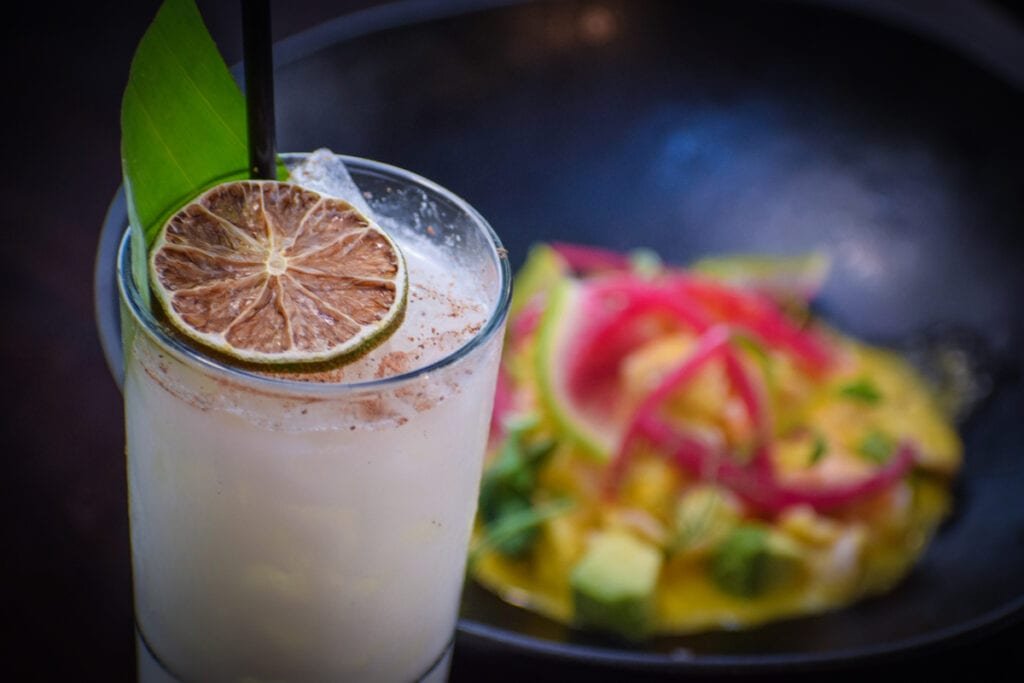 I share that shock with Geoff: Jurado's soulful offerings don't require the slightest background in Colombian cuisine; simply an open heart and stomach.
Those plantains? The best I've ever had. Sweet, salty, with hints of burnt caramel and smoke.
Those rice and beans? Something as simple as rice and beans is a bowl that—at least this was my first thought—would be best with a giant spoon, giant blanket, and that bowl of carby wonder in my hands. Deceptively simple at first glance, extraordinarily layered and nuanced by the bite.
His arepas? A godly ode to the almighty corn that would even make the Family Madrigal proud—and certainly provided me the best version I've had. Kernels of corn and bits of cheese create the beams for its perfectly rounded masa structure, the foundation laid for the slathering of one of Jurado's tabletop sauces as a paint coat.
And those sauces? Perhaps it is the ubiquitous and rightfully wondrous Mexican salsa that I have become so used to—where heat and acid combine to create gastronomical delight—but here is something entirely different.
There's the classic green Colombian chutney—often just called "aji"—where hefty doses of cilantro and green onion are cut with white vinegar and lime. There's an "aji amarillo," an aioli-like concoction that is Jurado's play on traditional Peruvian aji. And then there is the red sauce, what is safe to call the "aji rojo," where pickled fresno chiles create a slightly more kickin' version of its green counterpart. Tart, salty, all creating a trio of wonder to be explored with and played with and mixed with.
His buñuelos—the common Colombian street snack, where the dough of yucca flour is stuffed and fried to golden brown balls of goodness—are filled with oozy white cheese, where the pungency of feta meets the melty-ness of quesito and hits the sweetness of the yucca dough wrapper. Take a spoonful of his red chutney and you'll find yourself in a deep fried slumber of satiation.
He has croquettes—where a days-in-the-making mushroom gravy is used as a filling—sitting atop a wonderfully heat-y jalapeño jelly and topped with a slice of prosciutto.
Thus far, there isn't a bad order at Selva—whose admirable drink menu, might I add, provides colorful, bold, not-so-subtle concoctions that pair rather well with Jurado's colorful, bold, not-so-subtle food.
Witty takes on things like the pisco sour—where pineapple and apricot create a citrusy, stonefruit-centric cocktail that is delightfully dreamy—and the Brazilian batida—where cachaca meets a house-made coconut cream—create a playful and sexy menu.
And yes: Selva is equally playful and sexy. It is as much a date spot as it is a space I can't wait to tell My Dude I want some more booze and buñuelos and ceviche. It simultaneously lacks pretense and offers quality, lacks a sense of superiority while exercising reflections on the city's best Colombian food.
In other words: Go.
Selva is located at 4137 E. Anaheim St. and will be hosting a soft opening on Friday, Feb. 4, where a happy hour begins at 3PM followed by dinner service.