Longbeachize readers, please welcome Derek Kozaites! A communications professional with a passion for food, he is a warmly welcomed addition to the family (because Brian Addison gets a little tired every now and then, let's be honest). This is his first piece—and it is as hefty and saliva-inducing as an overloaded taco.
Additional reporting by Brian Addison
Since the passage of SB 972 at the beginning of 2023, the city of Long Beach has been graced with an influx of street food vendors. Perhaps you've seen them on your way home from work, or been lured in by the beckoning aroma after a night out on the town. The setup is almost always the same: E-Z Up tents sometimes sheltering a hot griddle laden with smoking meat, sometimes a spinning trompo of glistening red al pastor, and always vast arrays of delectable homemade salsas.
Although the highlight of many of these stands is usually the almighty al pastor taco, if you use your senses, you might discover that some of them specialize in a wide variety of traditional Mexican street foods, from mulitas and huaraches to tortas and vampiros.
No matter how it is broken down in similarity or difference, each stand has something truly unique to offer. Whether it's the fresh, hand-pressed corn tortillas, the almost gulf-like differences in al pastor marinades and side salsas, or the passion for community that is so clearly on display, we should certainly feel fortunate that these taco havens have dotted the streets of Long Beach.
With this article, we hope to shine a light on the incredible food that these hard-working vendors are serving and provide you with a handy reference guide for your next Long Beach taco tour.
Note: Stands are listed below geographically from north to south. Typical hours are from 4:30PM to midnight. Some may have been temporary or changed locations. We will continue to update this article based on reader feedback, so email Derek at derek.kozaites@gmail.com if you know of any taco stands that we may have missed!
---
Tacos Lionydas (aka Tacos Lionel)
Southeast corner of Clark Avenue and Atherton Street / Northeast corner of Ocean Boulevard and Termino Avenue
This very well may be the stand that kicked off the current taco cart trend in Long Beach. Their pastor is what put them on the map—and for very good reason: Served piping hot with a sliver of succulent pineapple, it's hard to come up with a better cap to an evening spent knocking back a few drinks at the nearby Interlude. For those of you that live beachside, check out their second location near the Belmont Pool. It's a smaller, more scaled back operation than the flagship on Clark, but they're still carving up the same signature al pastor.
---
Keyla's Tacos
Southwest corner of Pacific Coast Highway and Gundry Avenue
Don't let this unassuming taco outpost fool you. Keyla's Tacos, located across the street from LBCC's Pacific Coast Campus, is a bare-bones operation serving up authentic Oaxacan street food that is anything but basic. Their al pastor and carne asada rank up there with some of the best in the city, and drop by on a Wednesday or Sunday for 2-for-1 tacos.
---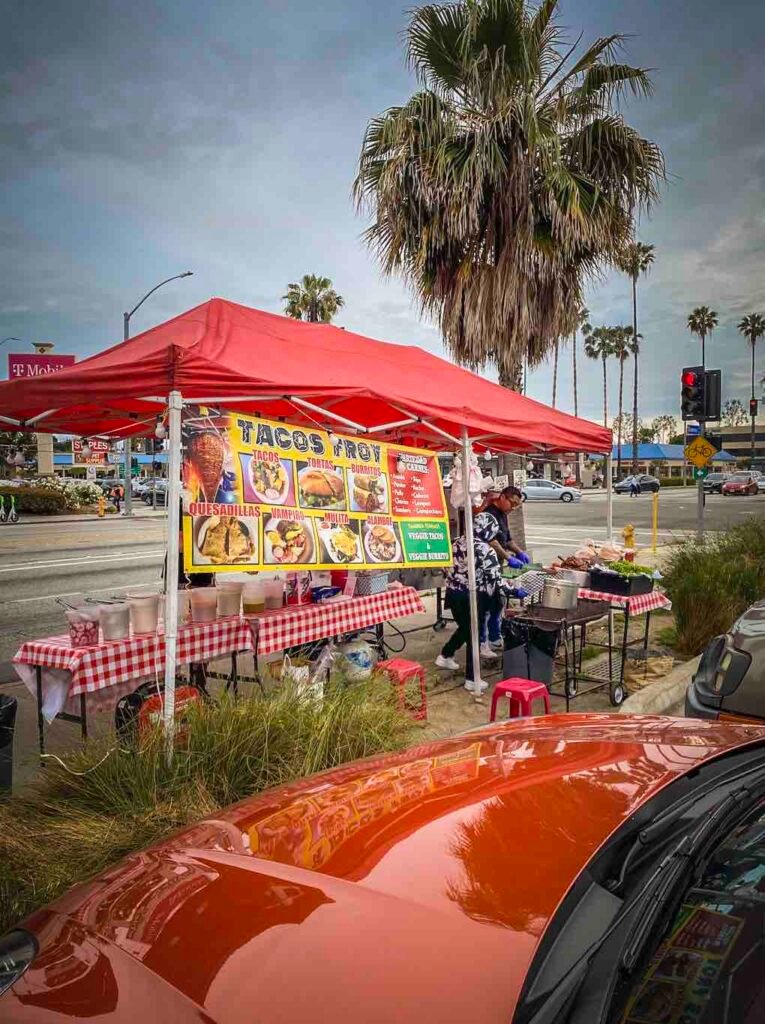 Tacos Froy
Northwest corner of Pacific Coast Highway and Ximeno Avenue
Located near the perennially-busy traffic circle, this humble stand churns out a bevy of carne options, including asada, pastor, and cabeza. Their salsas are some of the best on offer, and don't miss out on the alambre – a hearty mixture of peppers, onions, cheese, and your choice of meat all griddled up together on the flat top and served with warm corn tortillas.
---
Tacos Los Más Buscados
Northwest corner of Anaheim Street and Redondo Avenue
Translated into "the most wanted," this Zaferia district jewel may be the stand with the greatest visibility in town. Located on the busy corner of Anaheim and Redondo, they consistently serve up some of the best tacos around. All of their corn tortillas are made fresh and hand-pressed before the taquero scoops up your preferred meat with it and slaps it upside down onto the flat top to give it a beautiful symbiosis of flavor. Do yourself a favor and stop by this stand the next time you pass it during rush hour.
---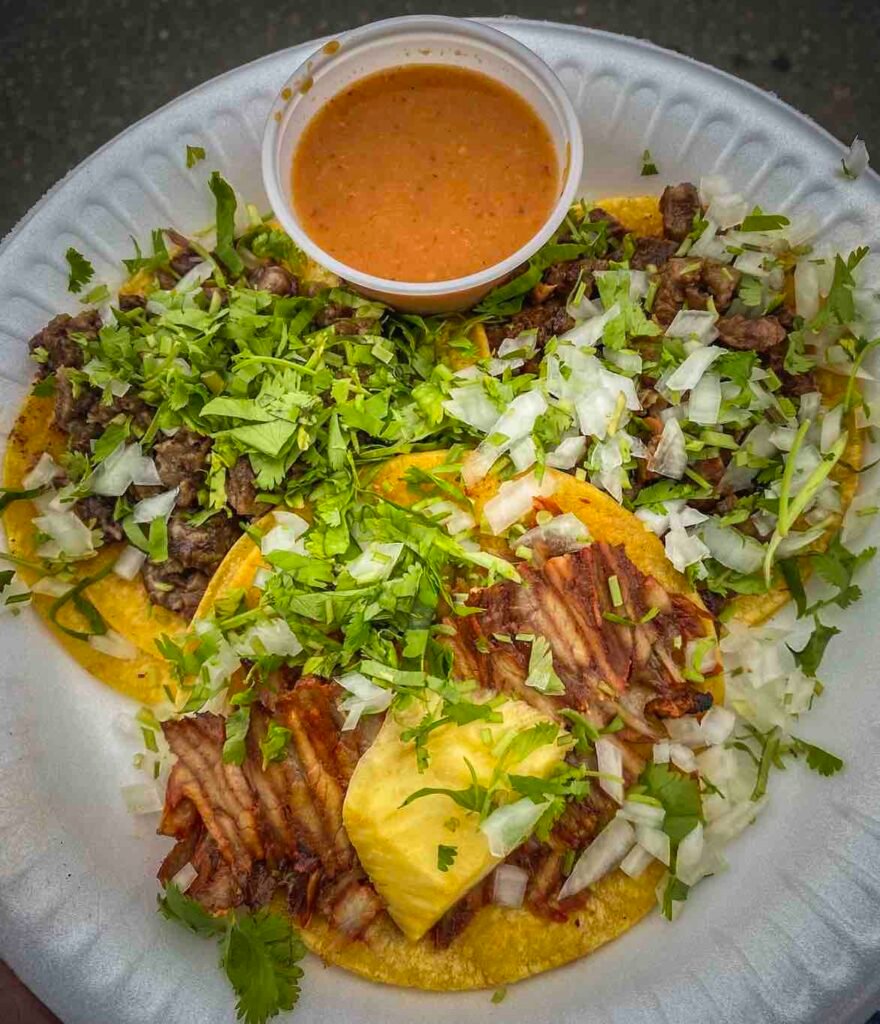 Tacos Guelaguetza
Southwest corner of 10th Street and St. Louis Avenue
This taco powerhouse might be serving up the best Mexican street food in town. Situated on a prime corner right outside of Northgate supermarket, this stand is consistently humming with hungry customers that line up for the multitude of street eats they offer. Not only do they shell out incredible al pastor tacos on homemade corn tortillas, but if you are someone who prefers quesadillas or burritos, this is the place to visit. Make sure to also stop by the neighboring dessert stand for some freshly fried post-taco churros.
---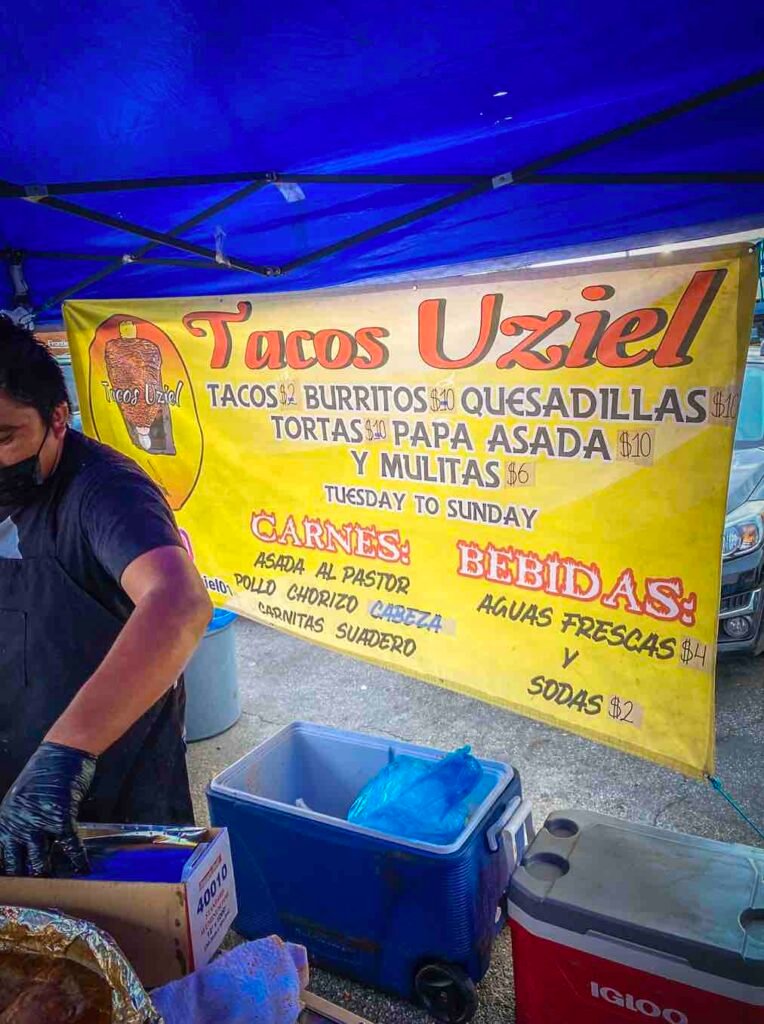 Tacos Uziel
Northwest corner of 7th Street and Termino Avenue
The team of taqueros at this stand is all about the meat. You can't go wrong with any of the offerings here, including the electric-red al pastor that is distinct from any other stand in town. Their carnitas is also second-to-none – served fresh from an enormous brazier, the meat is picked right off the bone and quickly crisped up on the flat top before being cradled into a tortilla. They even cart out a charcoal grill to give their carne asada a kiss of smoky flavor.
---
Tacos El Pacheco
Northeast corner of 6th Street and Redondo Avenue / Southwest corner of Broadway and Redondo Avenue
Located on a quiet-at-night drag of Redondo, this impeccably staffed and organized stand is dedicated to bringing the community some of the most authentic offerings around. The owner, Sergio, is passionate about the operation he runs with his family, and it comes through in the food. On the weekends, this stand can be found closer to the bar scene on Broadway and Redondo, so keep them in mind during your next night out in Bluff Heights.
---
Tacos Pasadita
South side of 4th Street between Gladys and Orizaba Avenues
For those of you that like to shop hungry, this is the perfect post-grocery stop. Their pastor and carnitas are both excellent. The latter is smoky and braised until succulent, while the former delivers on exactly what an al pastor taco should – vibrantly savory and earthy slices of tender meat layered into a perfectly warmed corn tortilla. Top it off with some onions and cilantro and a drizzle of intoxicatingly spicy rojo salsa, and you will have achieved taco bliss.
---
Lupita's Tacos
Northeast corner of Broadway and Orange Avenue
The Broadway corridor—home to a future, formally designated queer district and the largest concentration of LGBTQ+ bar spaces in Long Beach—is no stranger to hungry revelers in search of late-night eats. Enter Lupita's, which offers far more than just tacos and quesadillas. Craving a Mexican hot dog after a few pints at Black Bar, the Mineshaft, or (most conveniently) the Sweetwater Saloon? Lupita's has you covered. They also cater to a more diverse crowd by offering keto and vegetarian options as well as burrito bowls.
---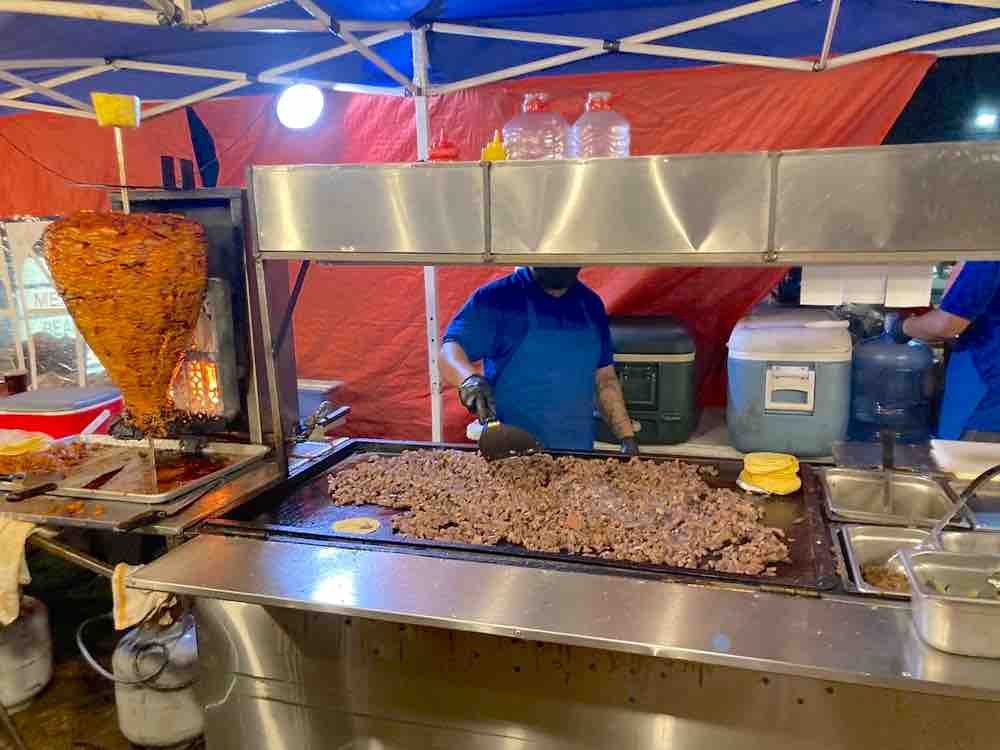 Tacos las Peñas
Northeast corner of Ocean Boulevard and Cherry Avenue
This Alamitos Beach outpost located at the southwest corner of Bluff Park is sure to satisfy the summer crowds looking for a quick taco fix after yoga on the bluff or a day at the beach. For a unique spin on the typical taco condiments, try their salsa de cacahuate – a spicy, peanut-based sauce native to the state of Colima in western Mexico.
---
Tacos El Banquetazo
Southwest corner of Los Coyotes Diagonal and Montaco Road / Southeast corner of Anaheim Street and Atlantic Avenue / Southeast corner of Long Beach Boulevard and 6th Street
This tiny-but-mighty stand started out in the Northside and has now grown into three Long Beach locations, with its Los Coyotes location opening earlier this year. (They have nine other locations throughout the region, from Wilmington to Gardena to Riverside.) Tortas oozing with melted cheese and asada. Pastor charring on the trompo. Tortillas made by hand and puffed into a perfect little imperfect sphere. Styrofoam platters filled with alambre.
---
Tacos Naomi
Northwest corner of Spring Street and California Avenue
This Los Angeles taco stand staple Tacos Naomi, with locations throughout the region and the city proper, have officially come to Long Beach—well, Signal Hill (which is Long Beach Island considering our city surrounds it 360 degrees… Or like, Long Beach Tax Shelter could be another name…). While disappointing that they don't make their tortillas by hand, they are wildly affordable: $2 tacos all day, every day.