"As I was being interviewed, I said aloud: 'Wait—this is about a drag queen makeover?' And the producers said, 'Yeah, depends on what you want to do but how do you feel about that?' And I realized how uncomfortable it made me presenting myself in something feminine—especially after finally getting to the point, after so many struggles, of owning my butchness, of feeling handsome and sexy. At the end of it, what I learned was that it wasn't about being feminine; it was about being a queen."
These are the words of Angie Evans—co-owner of the stellar farm-to-table cafe that is Wide Eyes Open Palms with the love and partner of her life, Kat McIver—who becomes visibly emotional when talking about her (already gone-viral, with fans referring to themselves as "Pangiesexuals" or "Pangies" and artists recreating her looks) appearance on season 8 of RuPaul's Drag Race: All-Stars.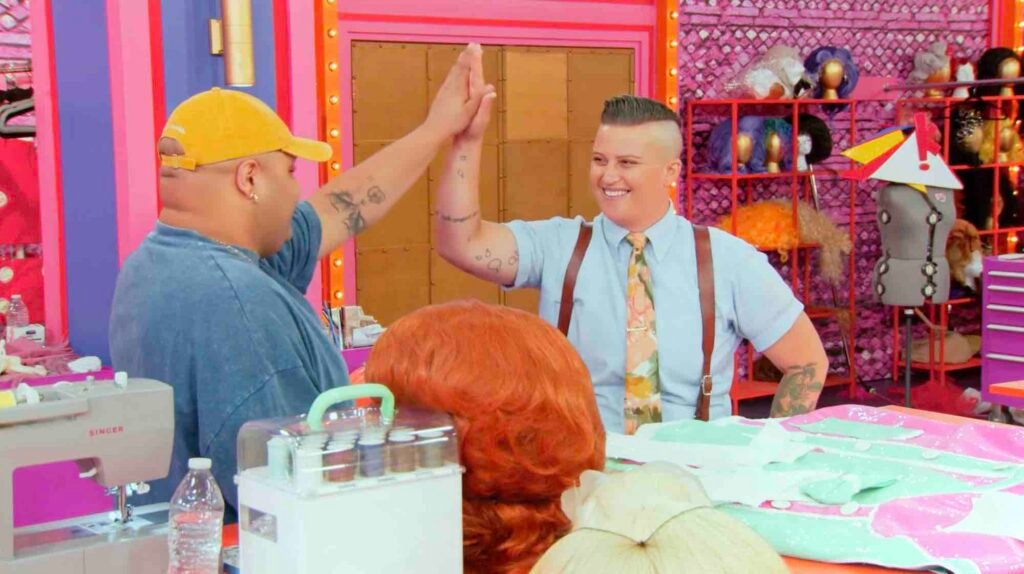 And rightfully so: The episode's powerful impact—where the season's top three drag All Stars Kandy Muse, Jimbo, and Jessica Wild are paired with three lesbians, including Evans, Amanda-Faye Jimenez, and Lisa Changadveja for drag makeovers—showcases two essential cogs for queer culture off the bat: There's the much-needed acknowledgement that queer womEn have often been the backbone of the queer rights movement throughout history though always relegated to the status of silent heroes; and there's the deep need for connection between queer women and queer men in a time when queer rights, especially those regarding drag performance and trans rights, are being stripped.
And for those that thought the show was edited with a rose-tinted lens in order to superficially showcase a more harmonious interaction between the contestants and drag queens, Evans outright shoots down: "It was a serious gay and lesbian kumbaya," Evans said. "Those days are twelve-hour, full days—and our conversations were not just full but really engaged and, to be honest, brought us together in way that could have otherwise never happened."
The show's short but frank discussions—from conversations about the use of words like "dyke" and "fag" in the queer community to the seemingly endless talk surrounding social conceptions of beauty—were but a sliver of what should be common conversation in the queer community day-to-day. Surely, pessimists may dismiss these talks as pointless platitudes, but watching Angie take on such a personal moment of vulnerability in such a public manner is anything but moot.
When a woman—particularly a masculine-presenting one, like her male, female-presenting countersibling—finally reaches the point where their butchness is an inherent part of their conceptions of beauty and identity, to face one's femininity—something in which they were persistently told was needed for them to be attractive and accepted—is not some instantaneous thing to be sought because that very femininity is tied to trauma.
"Even nowadays, there are comments like, "Oh, but you'd be so beautiful if you dressed like a girlie girl.' And it's that 'but'—like being femininity is being better," Angie said on the show's episode. "My whole life, as a young girl, people wanted me to be feminine. And the ability to confront the femininity I pushed away is, in a way, healing."
Angie's drag partner, the sassy and strategic Kandy Muse, was persistent in letting Angie know that, far more than the idea of what is being presented—feminine, masculine, or otherwise—that drag is much more about a layer of armor than it is pure performance.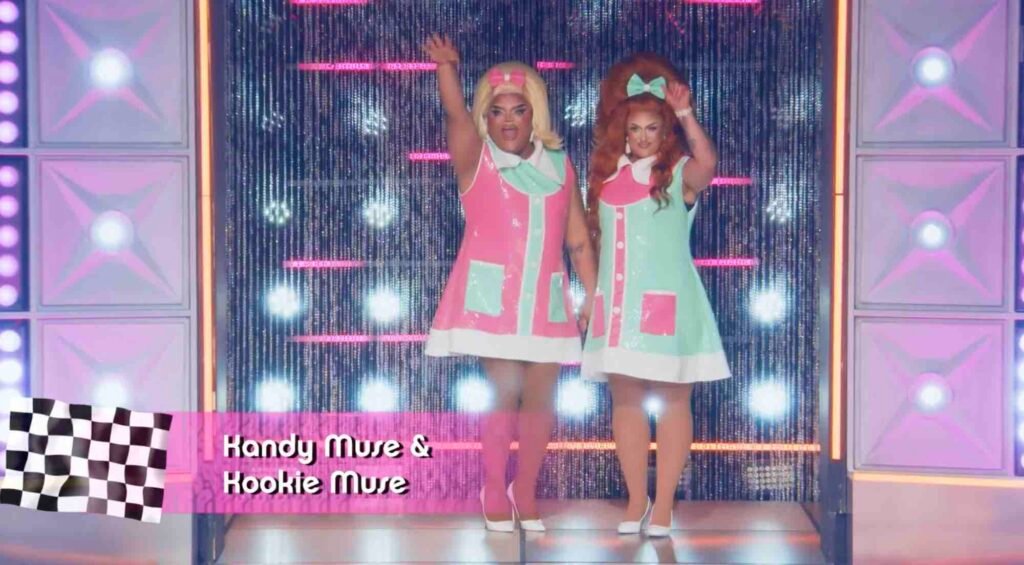 And that conception of inner strength is not immediate for queer people but gifted to them, largely by other queers with interactions such as the one Kandy and Angie had: Queer people, men and women and non-binary alike, are consistently told their presentation of themselves doesn't fit the boundaries surrounding social ideals of masculinity and femininity—and even when we have family that is supportive, reaching a point where expressions of those things we learned to dismiss or harness in order to self-cope can be hard to shake off.
"My whole life, my mother was never strict—there was never a moment where it was as if she said, 'No you can't do this,' but there was this feeling of disappointment when I wasn't wearing the things she would hold up and say I'd look pretty in." Angie said. "But she would let me go shopping in the boys' section."
Angie would race to Pac Sun in search of the biggest shorts and shirts possible—but not necessarily with full confidence: the the many girls seeking butchness and the many boys seeking femininity in terms of their garb, Angie knew the power of teasing and bullying and therefore, learned to not "over do" the masc presentation.
And just as the boss butch that Angie is had to face that her femininity, though not as expressive as her masculinity, is a powerful source, queer men who come to fear femininity in the name of some generically generated toxic masculinity masked as self-defense also grapple with the same struggle of harnessing authentic expression.
For as campy and outright dramatic RuPaul's show can be—and yes, some will say it certainly can waddle into trauma porn for the name of nothing more than entertainment—this episode showcased the power of united queer fronts, whether you find that cheesy or not.

Even more, the way a show that focuses on lesbian and queer women empowerment showcases the need to have frank discussions surrounding media, representation, and Who Gets to Publish What as Authoritative.
At the last newsroom I was a part of—for many journalists, this might seem disheartening, but I actually say that with pride now because I am unsure I ever want to step into that realm again—this very straight, very cis, very white woman editor had one proclamation that simultaneously shrunk me and emboldened me: "Do people really care about drag queens?"
At the time, via Zoom, I was talking of a story I had been working on: Telling the story of how drag queens were coping with the pandemic, particularly given that their largest form of catharsis and connection is through performance. As a queer man, finally comfortable with discussing queer issues in a newsroom that was largely straight, her words were very much a pin to my bubble.
And like many of the other similar questions she strangely posed—including one that asked, "Do people really care about food?"—it felt more like she was asking, "Do people really care about your community?"
This wasn't her first exclamation at something she felt, as someone too stringently immersed in so-called "hard news," wasn't, well, news news. And while I don't expect everyone to be cultural masterminds, I do expect editors, directors, and managers of media companies to have a basic grasp of the cultural relevance of an art form that has been around for centuries and a show which has won multiple Emmys. (No, not "special category" Emmys; just good ol' Emmys, including the fact that RuPaul is the most-decorated Black artist in Emmys history, with 12 trophies to his name so far.)
But perhaps this is why certain queer spaces and displays—whether it's the massive studio that Drag Race films in, with a crew entirely made up of queers and their allies or a local news room which actually grasps its communities—need to be uplifted.
Drag needs to be uplifted. Butchness needs to be uplifted. Femininity needs to be uplifted. Queers need to be uplifted. And Kookie Muse, aka Angie Evans, facing her trauma and winning the episode? Yes, that needs to be uplifted.
In the words of Ms. Kandy Muse, "Drag is about putting on this armor of confidence. Anything is drag. Whatever you woke up and put on in the morning, if you feel beautiful, that's drag."