Broadway Bar in Long Beach—the most westerly bar on the strip of Broadway that designates the good ol' Gayborhood—is, for lack of a much more eloquent term, that bitch.
Dignifyingly divey, unapologetically un-modern, proudly pay-with-cash-only, a stucco showcase unlike any other, the Broadway Bar is the place Les Gays take their straights to just to laugh at them when they see the bartender's pour. It's the queer bar that is consistently rife with conversation more than music, the former always overriding the latter despite the volume uptick.
And it was the place where I first realized that what these enclaves… What these rainbow dives… What these dimly lit hideaways… I first realized what these sacred spaces meant to a generation I wasn't directly connected to.
Broadway Bar was the first bar I had experienced a wake at.
Well over fifteen years ago, I stepped into the Broadway Bar midday, my day-drinking-twenties at full peak, and walked into a Broadway I wasn't used to.
Of course there were the things I was used to, like Randy, a bartender lovingly mocked by the young and old for often being slow (but always extraordinarily kind). There was the newly minted digital jukebox that someone was sorting through.
But there was an aura about the space that was distinctly different from my puke-and-rally Sunday Fundays: There stood older men and women and humans, styrofoam plates of food in one hand, cocktail in the other, arms affectionately around another if they had just one or the other. Smiling. Laughing. Simultaneously lamenting and celebrating both a time and friend lost.
They were the queers who lived through a time I can't imagine, plagued by a lack of understanding and a survival-based need to hide—and they celebrated the life of a dead friend at the bar because the queer bars were their churches. 
They covered the pool tables to make way for a ton of food, encouraged everyone and anyone to come in, eat, and even if they were strangers, take a glance at someone that was important to them.
The Broadway Bar—or any queer bar for that matter—is more than a bar. It was and is a place of worship and protection, especially for an entire generation of humans who saw more struggle, frustration, misunderstanding, stereotypes, and challenges than any gay white dude nowadays could comprehend. 
Even then, in my hot-mess-ness that was my twenties, I was protective of these older fags and dykes—and I was just as protective of their spaces, calling out younger, wannabe-classy gays for dismissing the Broadway as a dump and asking aloud why Long Beach just couldn't "add a little paint to the walls" and "stop the creepers from lurking."
Why, you ask?
Because coming into a space that has the full weight of history attached to it—so heavy that it is the only place for friends to gather to mourn the loss of a close one because it is the only safe haven they know of—makes us, the youngins who benefit from their struggles, exempt from fucking criticizing it.
Also, those "creepers" aren't interested in your twinky, naïve ass, I assure you: They're probably looking for a sling, some poppers, and a romping night your feeble little body couldn't handle.
The Broadway Bar—or any queer bar for that matter—is more than a bar.
It was and is a place of worship and protection, especially for an entire generation of humans who saw more struggle, frustration, misunderstanding, stereotypes, and challenges than any gay white dude nowadays could comprehend. A generation who had police follow them into bathrooms and lure them into cuffs. A generation who saw police have unilateral power in stopping them, frisking them, belittling them. A generation who saw their own generation decimated by a pandemic so maligned that the president of our country refused to say the word "AIDS."
It remains very, very special to my heart and my own history—as do all the bars here in Long Beach and across the world that I've had the privilege of stepping into. 
The Falcon, whose tiny-but-mighty space felt like the dance floor heaven of my gayest dreams, getting lost in the video mixes of DJ Yellow and unabashedly tasting the whiskey-stained lips of too many boys (and a few girls) to count.
The Sweet Water—which I will always, with the most love I have possible to give, call "The Swamp Water"—which connected me with queer women in a way that forever altered my perspective on female love, intellectuality, and camaraderie while filling me up with a competition in billiards that until then was entirely undiscovered.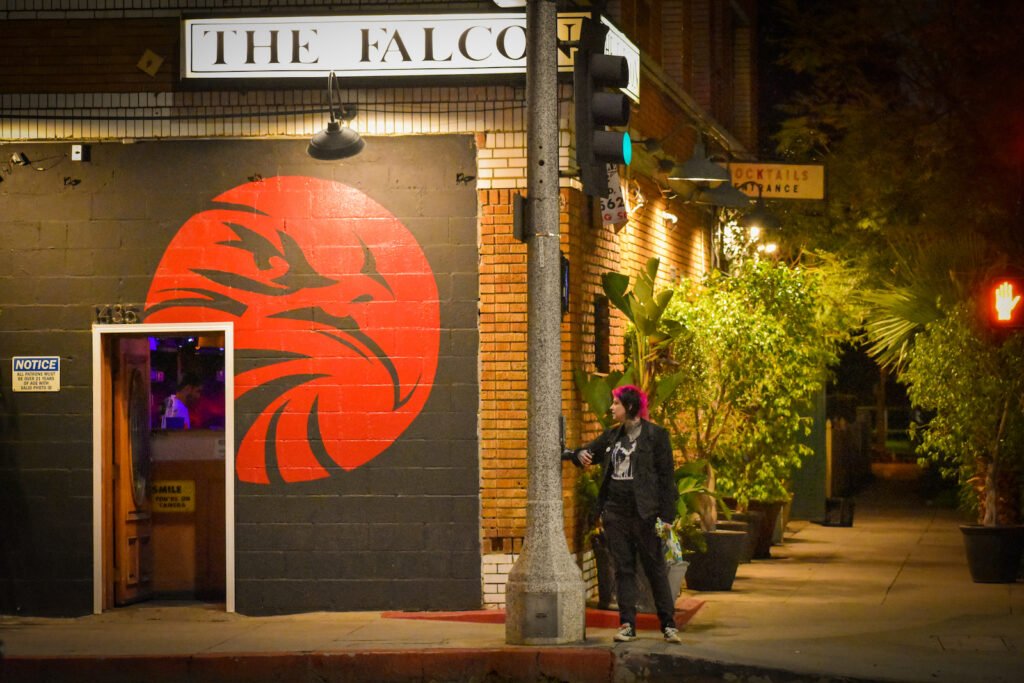 The Brit, whose tiny, if-I'm-being-honest-a-bit-sad back patio feeling like a goddamned oasis-like, private expanse where the chests of bears could be publicly stroked without judgement and the subtle popping of intoxicants were met with love, care, and protection if you found yourself a little too weighted by said intoxicants.
The Mine Shaft, whose minisucle backyard smoking alley was a place to meet the leather master of your submissive fantasy or the pup of your dom aggression, its wooden floors and orifice-meets-phallic-nodding of a moniker—"The Mine Shaft," still makes me grin ear-to-ear—acting as an easy way to frighten your straight bros with the single bearing of a leather chest harness.
The now-gone Paradise, its brick interior the backdrop for piano-loving, out-and-proud homos singing Barbara and Liza, Elton and Cher, while hosting a soft ball team fundraiser and giving you a much-needed bite of food before traipsing down the rest of Broadway in a queer-lit, happy fucking daze.
Within each of these spaces—whether they are the actual space itself or, more importantly, the humans who frequent them—sits the fact that, before Stonewall, when the idea of a Gayborhood became more acceptable to the extent that a largely don't-ask-don't-tell policy developed, the queer community was shunned from every aspect of living: From the churches they grew up in to the medical community dismissing them as a disease to politicians erasing them from the protections of the law.
And the bars became not just the watering holes of our ancestors but their sole safe space.
I remember when having the chance to speak to Dr. Marie Cartier, a Long Beach professor and historian, she said, "The names queer people were even turned in at Alcoholics Anonymous meetings. You couldn't even be safe at an AA meeting. The only place that you could be a known queer—even though you could get arrested there and it was not safe—was a gay bar. And to get there, you had to have the audacity to ask a cab driver or follow a butch woman or trans person."
The trans and non-binary community, the proud butch women and femme men, are some of the most essential cogs to how we, as a queer community, were able to show up and show face later in life, be it for Stonewall or Pride 2022.
And yes, with the removal of homosexuality from the DSM manual of the American Psychiatric Association in 1973, the retreat of the Red Scare, and the academic discourse that included intersectionality, spaces and places have grown for queer identities beyond the bar.
This, however, doesn't discount the history—even from those directly involved in it perceiving it as something which should be forgotten.
And our bars—our churches—carry that history, a history that we as queer people should be proud of.
For some, especially nowadays, the activism that requires day-to-day, head-on battling is the one most heralded: The marching, the standing in front of police, the direct support of our brothers and sisters of color, especially the Black community, fighting capitalism… And of course, this form of activism will never lose its importance or weight.
But it isn't the only form of activism, at least within queer history: Some of the most radical queer activism was and is, as Cartier once pointed out to me, "being able to just continue."
"Continuing" in this sense, brings me back to that wake at the Broadway Bar. "Continuing" means to simply make a friend. To simply make community. To simply remembering a community member leaving but continuing to put a public face on a community that continues to thrive, survive, and flourish.
I am queer and my church is the queer bar—something I will never be less proud of saying.