These fine words from Dark Art Emporium co-owner Jeremy Schott have always the perfect description of the gallery that has long existed has a speakeasy for art given its location behind The 4th Horseman (which he also co-owns): "It's just one big fucking unit of weird."
The two spaces—ran by Schott and Jeremy Cross, or together, The Jeremies—have worked to become one unit of weird quite well, with their latest, double-artist exhibit already proving successful. The exhibit—also part of the restaurant's special event partnership with Longbeachize, which will allow guests to freely meander the gallery while freely exploring the entirety of the Horseman's menu and beer selection—brings the masterful graphite world of PeeMonster together with the witty if not outright smile inducing "portraiture" of painter Michele Melcher.
"These are two of our favorite artists to exhibit," Cross said, "and the response to their newest bodies of work has been fantastic—as expected. We sold much of the show immediately upon release and are happy to welcome guests for this week's event to explore the gallery."
The art of Deidre Morton—who goes under the name PeeMonster and represents Black female artists in a way few do—oversees a pencil-centric world that was birthed out of, well, literally drawing herself away from formal art schooling, where she was studying animation in college. In classes, her doodles while somewhat listening to lectures was far more fascinating the subject of her classes—and PeeMonster was born.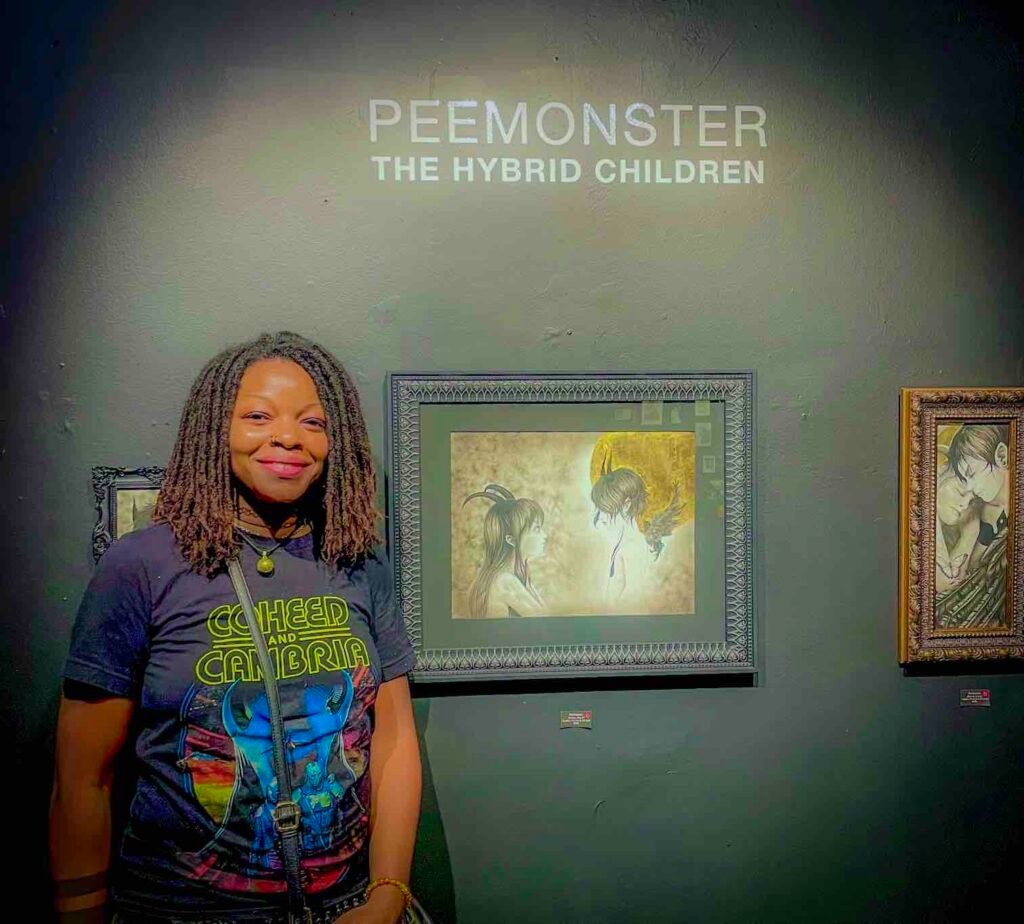 "I love animation, but this [pencil drawing] makes more sense to me, spiritually," she said. "Though I still heavily desire to create characters and tell the stories in my head just the same as I did when I wanted to make cartoons for children, there's a cathartic, therapeutic, and very spiritual experience for me within the process of creating my artwork. Finding my way into, through, and out of the intimate details and patterns while I am drawing with the tiny tips of pencils. It is so necessary for me to slow down and observe the worlds in my head—and I can better cope with the world outside my head for it."
Of the seven pieces she has on display for her showing dubbed "The Hybrid Children"—a tale of intimacy between youthful angels and demons—four have already been sold.
On the other side of the gallery sits the work of Melcher, whose witty takes on things of the past are as chuckle-inducing as they are beautiful in technique. Dubbed "The Villagers," Melcher has taken "weird, old, mostly defunct jobs" from villages of the past—ranging from egglers (those who gathered eggs) to professional mourners (yes, that existed and still does to this day)—and turned them in gorgeously detailed portraits.
Oh yeah, there's also a leech catcher.
The Pennsylvania-based artist—whose studio is an 1891 brick schoolhouse she converted into a workspace—has always had a fascination with "memento mori, strange history, old master paintings, and a life long delight in ghost stories and the supernatural."
The exhibit runs through the end of July.
While the gallery is open on Friday and Saturday from noon to 7PM and Sunday from noon to 5PM, guests at The 4th Horseman's event with Longbeachize will be freely able to explore the gallery that night. The Dark Art Emporium is located behind The 4th Horseman at 121 W. 4th Street.