For those that know me, I am unafraid of having to put my foot in my mouth when I misspoke on something—and this story begins with such an example of humility: In creating my essential pizza list for this year, I excluded Rance's—the Chicago-style pizza staple of the Shore—and included 5,000 Pies. Both stellar but in all honesty? I left Rance's off the list because I thought they were corporate. I could have sworn they were corporate, with multiple locations.
I had never actually vetted this information—and was rightfully called out by readers.
"Our pizzas take 45 minutes to make—there's so much love that goes into those pizzas that we want to you to take your time when you come here. Kick back. Don't think immediately about your next appointment."
Ruiz didn't discover his love of the deep dish pie by traversing through the Windy City. Unlike many, whose love the buttery, cheesy wonder that is Chicago-style deep dish pizza has come from visiting Windy City giants like Lou Malnati's or Pequod's, Ruiz discovered it in Berkeley, California, where Zachary's—the Wisconsinite-owned space that is largely considered the Bay Area's titular representation of deep dish pizza—inspired him for an adventure even he didn't quite know he was about to have.
"Rance was born in Orange County and when he was visiting his sister while she was in college up in the Bay, he discovered Zachary's and became a wild, Chicago-style pizza mad scientist at that point," Long Beach resident—who fell in love with the city during the build-out in Belmont Shore—and co-owner Tofani said. "We've known each other since the 3rd Grade and when it came time to jump into adulting, I went to business school and he went to the School of Hardknocks learning how to make pizza."
"Mad scientist" is underselling Ruiz's endeavor: His family outright told him to knock it off with the pizza nonsense while friends looked on impressed as Ruiz began stakeouts on pizza joints.
No, literally stakeouts: Ordering from various places he would travel to, he would note who delivered and where to; he would ask people at the restaurant why this particular pizzeria was their choice; he would call and say, "Hey, I'm not so good with garlic—do you put garlic in your sauce?" after taste-testing a particular pie…
The result? A matrix of deep-dishes from around the country over the course of nearly a decade, attached with details upon details that would eventually build up to an ask of his friend Tofani after he failed to succeed in Yorba Linda because of a lack of business accumen: With business experience on Tofani's side and what Rance believed was the right recipe for his Chicago-style pizza on the other, Rance's Chicago Pizza was born in Costa Mesa.
The success was nearly instantaneous, offering up a style of pizza that has bucked against the trend of the past decade to make high-heat, thin-crusted pies.
And whether the age-old argument over whether Chicago-style pizza can be considered so-called "real pizza"—many food lovers will surely agree that "real"-anything in food is a shaky hill to die on at best, especially with something as ubiquitous and influential as pizza—there is one thing about the Midwest staple: It is not easy to make.
You need a crust which can withstand the pure weight of it all—the artery-be-damned heaps of cheese, the chunks of San Marzano-style tomatoes, the hefty drop of toppings—but also bake through the toppings while remaining buttery and crisp at the top edges without outright burning.
This means a rotisserie-style oven—with rotating trays on a conveyer belt inside a massive oven—so they can manage to do as many pies as possible while keeping hungry patrons from becoming hangry patrons.
"There is so much love that goes into one of those pizzas," Tofani said. "That's not to say there isn't love in pizzas that are thrown into 900-degree ovens for a handful of minutes. There's beauty in both… But our pizzas take 45 minutes to make. And with that, we want you to take your time here. Kick back. Don't think immediately about your next appointment."
Simmering in the custom that is breaking is also about as Chicago as it gets: Anyone who has visited the Windy City knows that, while directly to the point, Chicagoans are known for their hospitality, respect for visitors, and the love of getting to know everyone.
"They just want to get to know you, have a family meal in Chicago, they want to get to know you—genuinely," said Vice President Joel Borquez. "People from the Midwest are just kind, friendly people—and it's entirely authentic."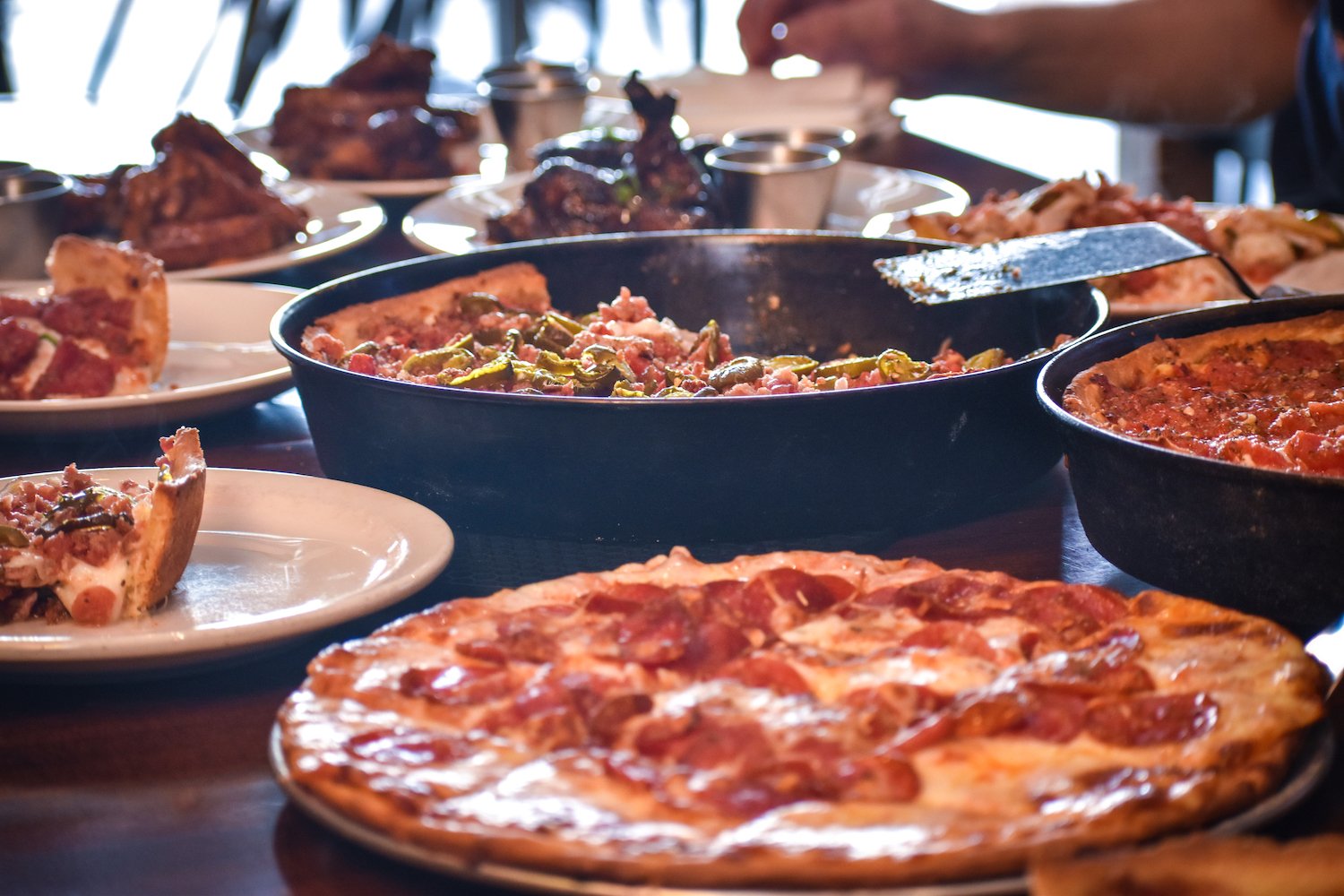 That Midwest aura—genial, heart-warming, lacking pretense—is precisely what the team at Rance's tries to reflect not just in their food but in their personality and presentation.
It isn't rare to see a beer rep stop by—and maybe, if you're lucky, even buy you a beer as long as it's the beer they're repping—to stop and talk to Tofani and Borquez about not just beer but the entire stretch of Belmont Shore (because the tap list is really that local, that well-seasoned, and honestly brings in some of the best in the industry).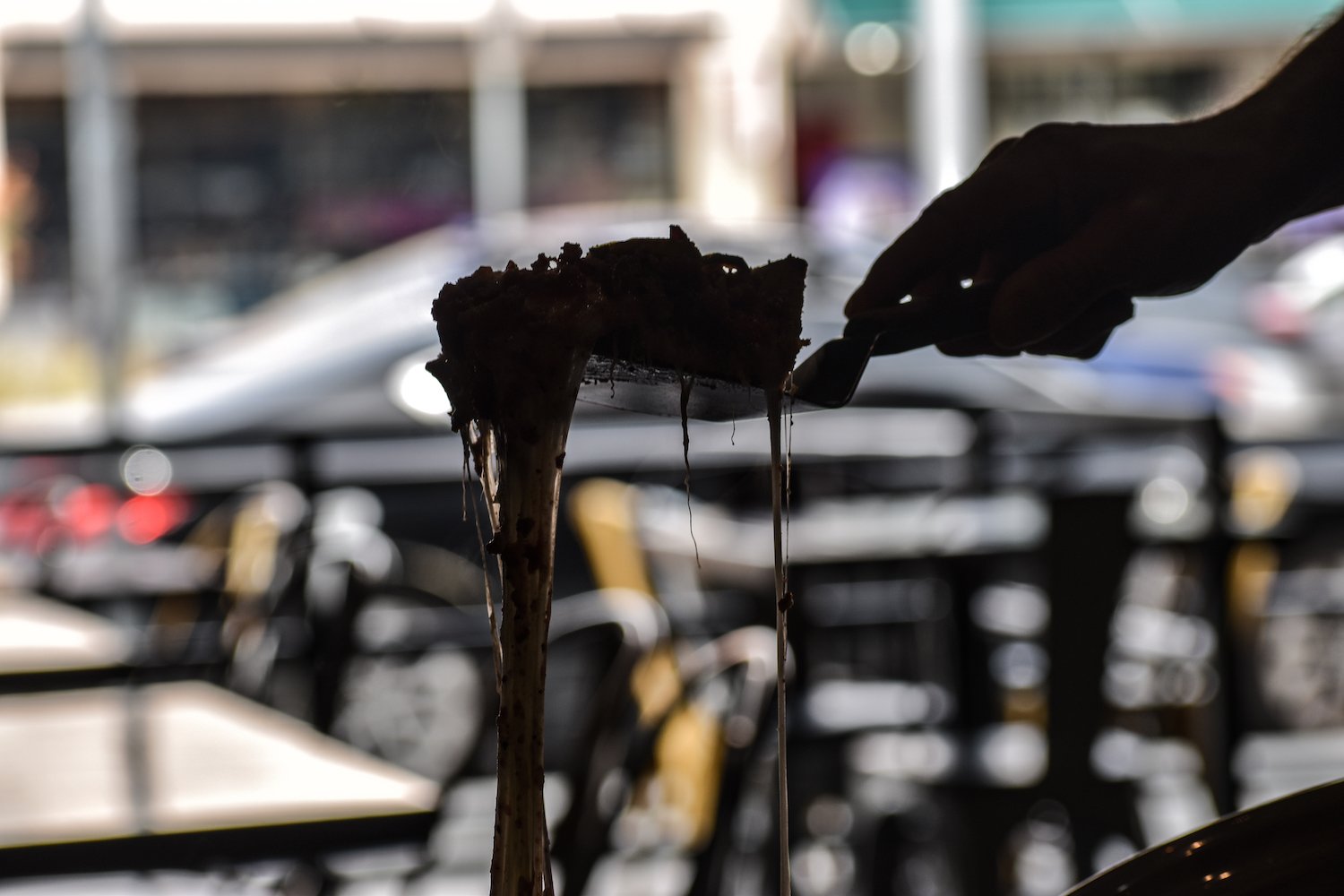 And it isn't rare to see a family marvel at the absurdly photo-worthy cheese pull that comes from one of the space's masterfully created deep-dish pizzas, where Ruiz has managed to co-mingle traditional and Californian styles with comfort and ease.
What Californians tend to go for? "Rance's Favorite," where our local love of jalapeño-on-nearly-everything is exemplified with a pie slathered in pickled slices of the chile, bacon, and meatballs.
The underrated pie that Californians will likely look over but Chicagoans would find nostalgia? The "House Special" pizza with sausage, bell pepper, onions and mushrooms. Wildly savory and earthy—where the peppers are stuffed deep enough under the tomatoes that they come out al dente as opposed to entirely cooked—it is a pie worth exploring. As is their tavern pie, another one Chicagoans will likely venture for because, let's be honest, there is no way you can always mow through a deep dish on the regular.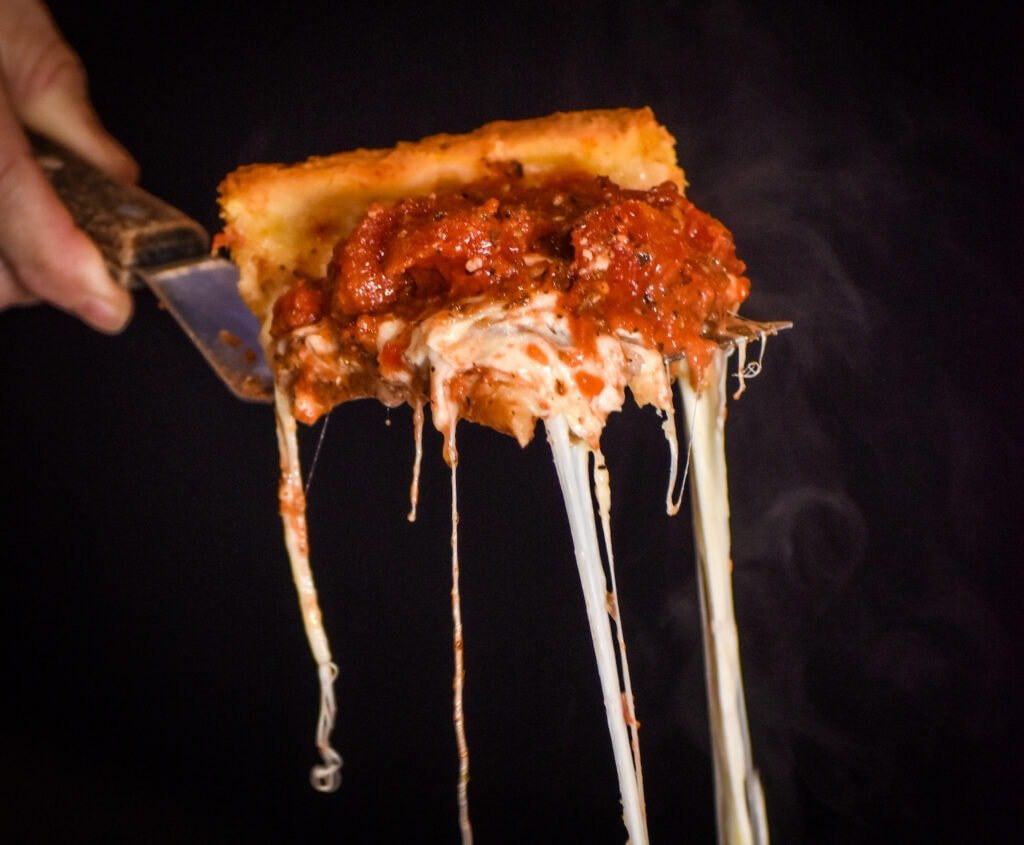 And it also isn't rare to see people skip the pizza entirely and aim for the restaurant's stellar wings, easily some of the best in the city, with a bourbon-bacon set that has a perfect hint of heat to counter the sweet, a stellar Thai peanut glaze, and a straight-outta-Buffalo Buffalo sauce.
"The ultimate thing is our community and it always has been," Borquez said. "There's these bigger guys out there—and they're killin' it but they also have ease because they have huge amounts of capital and infrastructure. Sometimes, the little guys can get lost—but it's always sweet to know just how much Long Beach and Costa Mesa have had our backs. We don't have to worry about being the little guy because we have the community. And that's all we need to keep succeeding."
Well, that and that cheese-pull. You can also bet your ass I am already updating my pizza list for next year…
Rance's Chicago Pizza is located in Belmont Shore at 5258 E. 2nd St. in Long Beach, with another location in Costa Mesa at 1420 Baker St.