Missed out on previous Favorite Things? I got you covered—just click here.
Too many years back, I wrote a very self-indulgent listicle that was about so-called "essential" Long Beach dishes; dishes that I loved and could depend on as long as that place existed—and I wrote it because there's something so elemental and useful about a specific great dish at a specific place. It was less about some grander proclamation than it was about, "This is just great food."

And after a year of not doing such lists, I want to return to it. Not some grand list of "essential dishes"—that is too hard of a burden to put on a restaurant: You better have this and you better have it all the time. But for now, in this moment, I am happy to share some of my favorite things.

In other words: Why not just own the moment? Without further ado, here are the favorite things I'm eating right now…
Whiskey flight at Friday Flight Night at The Auld Dubliner
71 S. Pine Ave.
Amid the clanks and booms of Kalavera's on one side and California Pizza Kitchen on the other, an undeniable saturation of corporatized food on all others, sits The Dub, celebrating its 20th year serving the city of Long Beach.
I've long sang the praises of The Auld Dubliner—including them on both my Underrated and Essential Restaurants list—and for good reason: From stellar Irish grub—do not skip out on the city's best fish'n'chips along with superb versions of everything from scotch eggs to Shepard's pie—to stellar live music, owner and Ireland native David Copley has managed to somehow turn something as nostalgic and comforting as an Irish pub into a constantly evolving, community-centric space.
Take his Friday Flight Night—a nearly always-sold-out, monthly event on the first Friday of every month—where he has, for years now, given mini lectures on whiskey distilleries from around the world. With it, you get three pours of the mighty liquid, a small bite to pair with each, and the eloquence and charm of Mr. Copley himself, who will educate you on the distillery's history and the nuances between each pour.
It's wonderfully underrated little shindig that is also one of the city's best. Next one is July 7—so secure your seat now.
For Brian Addison's full feature on The Auld Dubliner, click here.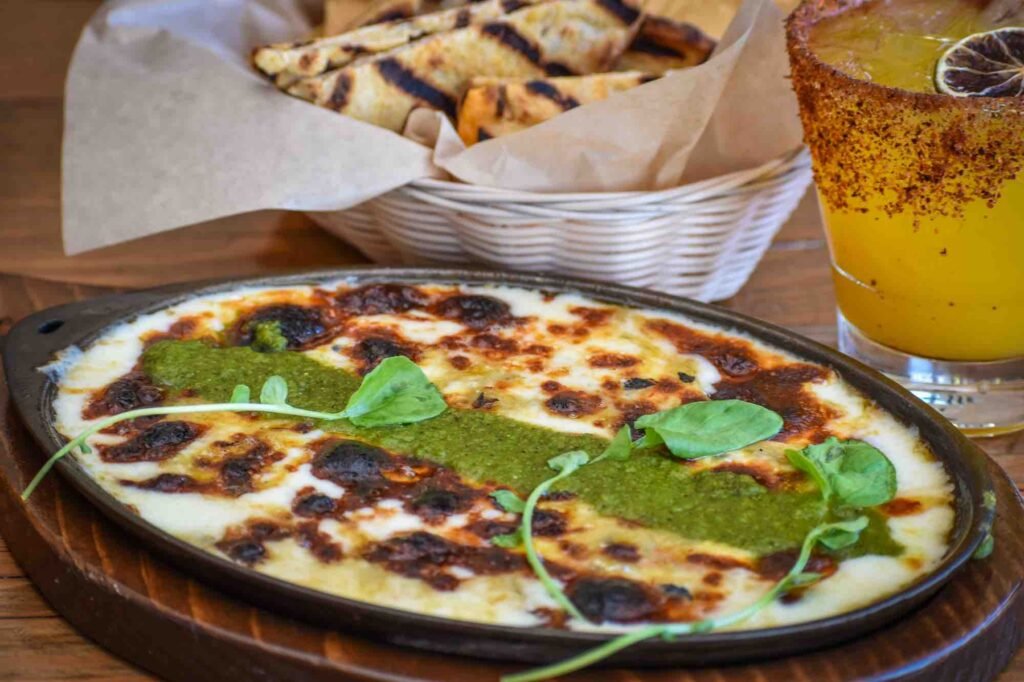 Charred queso Oaxaca from Panxa Cocina
3937 E. Broadway
While nearly impossible to mention Panxa Cocina without mentioning the loss of its founder and spirit animal, Chef Arthur Gonzalez, it should not go unnoticed that his wife, Vanessa, has managed the ability to hold onto and upkeep the space with dignity and class—something not only worth acknowledging but outright praising: While many could have (rightfully and understandably) walked away, the New Mexico native has decided that it is her job and duty to take care of the space.
And while some of Chef Art's classics—his New Mexican take on pozole, his rather perfect play on Taco Bell's famed Mexican pizza…—proudly remain on the menu, perhaps there is nothing more comforting or warming than his charred Oaxacan cheese plate.
An elevated take on queso fundido, this mini-ode to New Mexico—with its grill bread and hatch chile drizzle—
For Brian Addison's full feature remembering Chef Arthur Gonzalez, click here.
Torta ahogada from Cañada's Grill
3721 E. Anaheim St.
I've long praised Cañada's Grill as an underrated Mexican joint, mainly because their carne en su jugo—a chunky soup where minced and roasted bits of beef marinate and stew in their own juices with tomatillos for hours on end—is arguably the best I've had this side of the border. (The other two being, of course, in Jalisco and, ironically, in Quintana Roo where a Jalisciense woman owns a joint called La Fonda de las Piñatas in Cancún—and no, it's in the resort area. At all.)
Like many of Mexico's grand states, Jalisco is one that is filled with culinary glory: from being the birthplace of torta ahogadas and birria to being home to brilliant interpretations of classics, like the Jaliscan version of flan known as jericalla, it is no shocker that the owners of Cañadas Grill in Long Beach's Zaferia hail from this area, given their menu.
And their torta ahogada, with a sauce bathed in a proper birote (not a bolillo), is an example of how they continue to represent food from Jalisco in a way that is both traditional and vastly underrated.
Chicken wings from Rance's Chicago Pizza
5258 E. 2nd St.
"There is so much love that goes into one of those pizzas. That's not to say there isn't love in pizzas that are thrown into 900-degree ovens for a handful of minutes. There's beauty in both… But our pizzas take 45 minutes to make. And with that, we want you to take your time here. Kick back. Don't think immediately about your next appointment."
These are the words of amicable, absurdly kind, overall awesome human Aaron Tofani, the co-owner of Rance's Chicago Pizza. And yes, their pizzas are, undoubtedly, smothered in love.
But why not get some wings smothered in deliciousness?
While people go for the carbs'n'cheese, I definitively suggest you at least open your night of gut-busting with some of the best wings in the city—your choice of a bourbon-bacon set that has a perfect hint of heat to counter the sweet, a stellar Thai peanut glaze, and a straight-outta-Buffalo Buffalo sauce.
For Brian Addison's full profile on Rance's Chicago Pizza, click here.
Sweetbreads with buckwheat and ohba from Roe
5374 E. 2nd St.
While we're on the subject of Chef Art's food—and, genuinely, I feel this all needs to be just said…
It takes many forgivings (plural) to excuse a restaurant's unsanctioned announcement of the death of a chef it is no longer involved with, let alone one it so unpleasingly parted ways with… I've also learned, from Art's very passing and simply getting older, that life never gives up. Roe lives on and to dismiss it is to be naive to the scene happening in Long Beach—like their spirit-centric dinners which are as joyous as they are charming.
Oh yes, these boozy affairs are worth of Chef Art's name and, more importantly, in moving on. And while not quite on the level of, say, Chef Philip Pretty's masterful plate, these sweetbreads (that were only served at this month's past whiskey dinner)? Quite good. Which spirit is coming up next? The charming and amicable Gillian Poe, Roe's Director of Operations, said, "Gin? Cognac? Another tequila dinner? Who knows? But be on the lookout."
We shall indeed.