It has been one of Downtown Long Beach's most storied development projects: A four-parcel, six-acre piece of land wrapped by Ocean Boulevard to the north, Shoreline as it wraps around to the south, and cut-through by Golden Shore toward its eastern edge—and while many grand plans have included high-rises, developers are now looking at a much-smaller, parcel-by-parcel approach.
As first reported by Urbanize LA, the southwest corner of Golden Shore and Ocean Boulevard is looking to be developed into a an eight-story residential project with 493 units on stories two through eight, while the first floor will be almost entirely dedicated to the project's 2,040 square feet of ground-floor commercial space; 642 parking spots will be located across three levels, including the ground floor and two levels of subterranean garages.
Contrary to some reports, this project is not included in the city's inclusionary ordinance and therefore the developer is not required to include affordable units.
This project only encompasses the northwest portion of what was once a singular parcel—it has been sold off this year in separate parcels after the sale was announced this year, including the sale of 400 Oceangate, home to Keesal Young & Logan, this June—that has had a storied history of proposed luxury residential towers, hotels, and office space.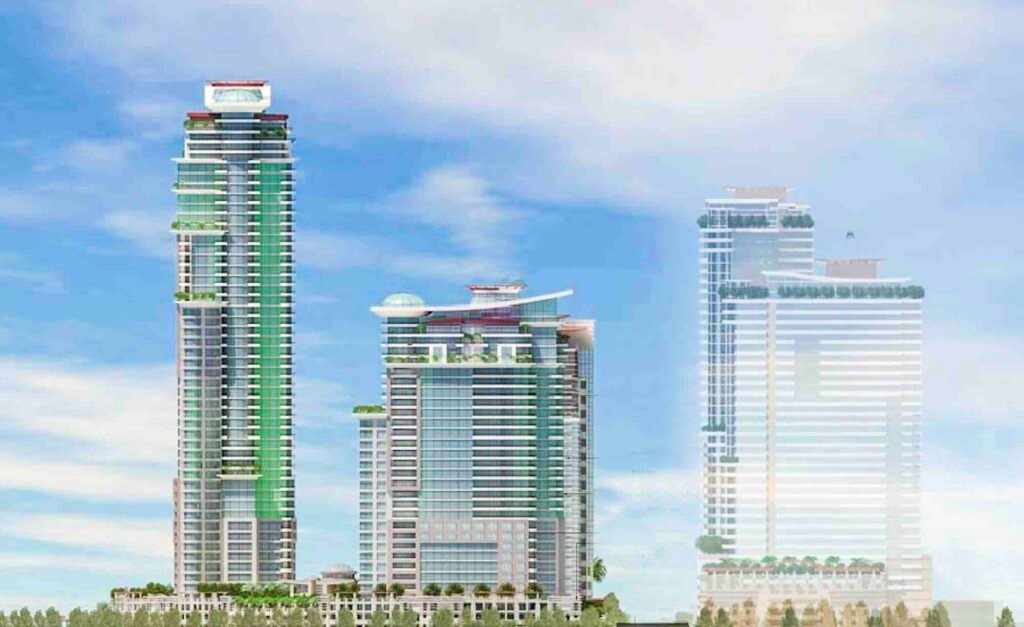 The first iteration of majorly redeveloping the area came about in the heavily-promoted Golden Shore Master Plan in 2009—partially led by Keesal, Young, and Logan, the law firm with its home base in the Union Bank tower at Oceangate and whose partners own the parcel—and was presented as a two-pronged option: An entirely residential development with some retail sprinkled in, as seen above, or as a residential-hotel-retail complex.
By 2010, the Planning Commission approved its proposal for a purely residential development that would boldly propose 1,370 residential units, 340,000 square feet of office space (that would likely be KYL's new home), 28,000 square feet of retail space, a 400-room hotel with 27,000 square feet of conference and banquet facilities, and over 3,400 parking spaces.
Due to its lining on the coast, the project had to be forwarded to the California Coastal Commission, which returned it tentatively approved in 2011 with some modifications that were later approved that same year by the City Council. Come 2015, the entire project's entitlements were protected for 20 years.
By 2018, things began to change yet again: Scrapped were the high-rise plans and, instead, partial development proposals were made. With the specific area talked about in this project, developer Greenlaw announced that the area now being overseen by JPI would have three structures, each rising seven to eight stories in height, and bring in some 750 dwelling units (dropped to 738 in 2020), 11,000 square feet of commercial space (dropped to 10,000 in 2020), and about 1,200 parking spaces (dropped to 1,063 in 2020).
No renderings of this project were publicly released, come 2021, Greenlaw stepped away from the project entirely as the parcel was taken over by the Michael Anthony Group who returned the project to a grand proposal in 2022.
The six-tower 2022 proposal from the Michael Anthony Group.
Consisting of six towers, the mixed-use project seemed like an overstretch of excessiveness: The five, 30-story-plus residential towers would only have 825 condos, where two-bedroom condos would take over some 2,500 square feet. The sixth tower was to include a mix of residential and a hotel space that the development group attempted to sell through a rendering video showing off the design.
Come January of this year, Michael Anthony Group sold the property through separate parcels—hence JPI's connection to Ocean Village.
The most current proposal has not made any progress toward getting entitlement from the Planning Commission, according to one person from the City's Development Services department—which means it is unlikely to see construction for at least a year, if not a couple.