The story of Candified—the shop-meets-create-meets-celebrate world of candy, color, and community space that is set to have its grand opening this Friday in Belmont Shore—is more than a saccharine-saturated story of a woman who happened to find both joy and success in the world of candy, the Candy Queen herself, Jackie Sorkin.
Because, in reality, Candified is a celebration and culmination of women—specifically two: Jackie and her business partner, Amy Kavanaugh Mason—and to their extraordinary friendship molded into a sweet fulfillment for both.
Sure, Jackie is no stranger to the fame game: The North Long Beach native and proud Latina has appeared on everywhere from TLC to Netflix to Hulu and with everyone from Oprah to Kim Kardashian. And in that very fame vein, has somehow simultaneously occupied the space of Willie Wonka and his golden ticket sidekick, Charlie—because one shall make no mistake: Her hustle is what got her to the factory; there's no question about that.
And sure, Amy has been a corporate boss for decades—from Apple to Taco Bell to Dine Brands—honing her skills to be respected as an executive in a male-dominated space to the point where even Howard Schultz relied on her global PR chops during his return as CEO in 2008 (a turnaround documented in Schultz's book "Onward: How Starbucks Fought for Its Life Without Losing Its Soul") and former Taco Bell Greg Creed put her on a jet to fly across the country to rebuild Taco Bell's reputation after a lawsuit questioning the ingredients of company's beef.
Yes, they have spectacular stories; stories of women owning their own in a dog-eat-dog world—until, well, Jackie's heart and spirit was eaten in business deal gone horribly awry, eventually forcing her to step away from her wildly successful Candytopia venture.
And this didn't just mean losing the touring experience itself—a $22M-a-year-in-revenue endeavor where hundreds of thousands of people from across the country fill up mall pop-ups to experience candy art, sculptures, interactions, and more—but losing in-store toy deals where her face was literally on the packaging.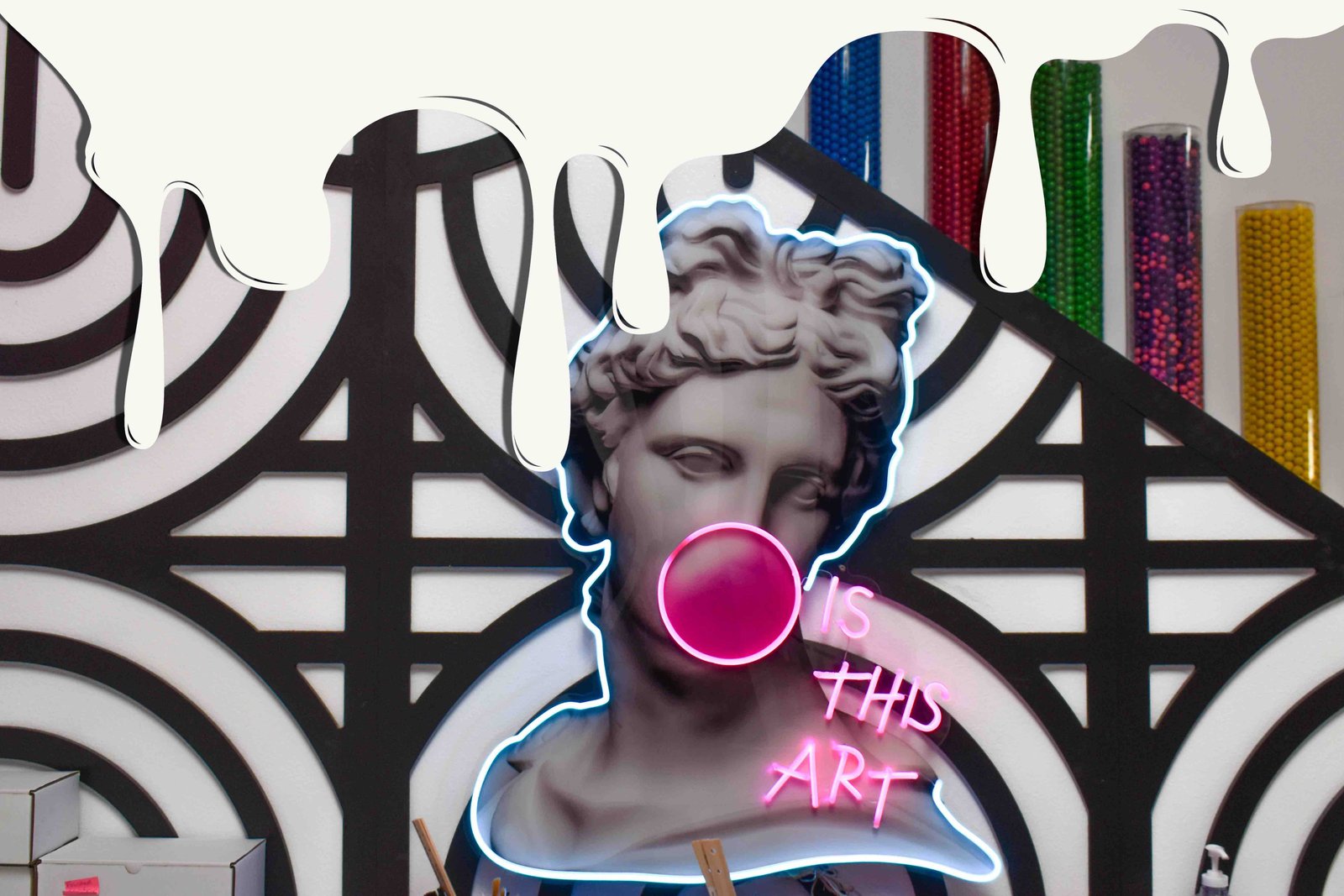 "'Hey, I know you're busy, I know you think I have it all together and all going on with Candytopia, but can I come see you? I want to talk and I need some advice' That's how I approached Amy," Jackie said. "Went to her house with cookies and tequila and, well, did that meeting turn out a lot differently than I expected."
When Jackie arrived at her house, and asked how she was doing, Amy was at a major crossroads professionally and pretty much curled up in the fetal position on her couch. After nearly 30 years in corporate, she was questioning her own professional future and choices following a circumstance that forced her to unceremoniously resign from her last executive role.
Jackie's candy art was on the floor before being hung, as seen here on June 30, 2023. Photos by Brian Addison.
"My husband—an amazing man, I will tell you that—he was always so supportive of my career in ways you can't imagine," Amy said. "So when you're looking back on memories, like the one where he told me I had been away from home, him and the kids 187 days—187 days at one point—and you're looking at it like, 'What for? Who for? '"
Through the power of commiseration combined with serendipity, Jackie opted to let herself skip the victimization and go for the vulnerability: While she may have been seeking counsel from Amy on a deal-gone-bad only to have her own sulking returned her via Amy's dismissal from her career, their connection and discussion proved beautifully fruitful.
"This was the moment," Jackie said. "This was the moment to sit there, mourning with my friend and advisor, talking about the deception—something so many professional women experience, right?—and this was my moment to let down my guard after having my trust broken so deeply and tell her what I've had in my head, building as a brand for over 15 years."
Like the hustle she was born with—but with a hefty dose of vulnerability after being bullied out of her previous endeavor—Jackie began talking about a Build-a-Bear gone sweet: Candy experiences where kids can make their own candy pizzas, explore lines and lines of sweets from around the world, make their own candy sushi rolls, play with slime or even make their own… After sharing her vision, she asked her to partner with her. Repeatedly. Relentlessly. Until she agreed.
"Jackie has this utterly brilliant mind," Amy said. "One she often dismisses but her passion overrides that: She has this beautiful, caring, colorful world—and even more, she gets me and I get her. I saw the vision. I also knew what a heavy lift it would be so I had to be sure I had it in me."
Jackie shares the same sentiment about Amy: "That's real: We bonded through our and common battles in corporate America—and it made me know I could do this but I knew I couldn't do without her counterpart. Amy's brain is magic. And she is the only other woman I've met that has the same relentless spirit, work ethic and drive as me."
Even more, the two distinctly different business minds—Jackie on the creative, Amy on the deliverables—had deep discussions about the status of retail and what that meant for a concept like Candified. The result? The fact that retail needs to move beyond hanging things on a wall or rack for sale and dive into the need for human experience, for hands-on retail, for creating moments within the selling space that are just as important as what is taken home.
"Candified is the culmination of everything—the salty and the sweet," Jackie said. "And it really is about making people happy. You know, I've been on so many sides of things—being Latina, used to be a heavier set girl, being from a family that wasn't wealthy—and my whole life has been creating places that are inclusive, that make people happy, that help people create memories."
Candified's space is wildly joyous, filled with saturated colors and heart: Pillars of Mexican candy—Pulporindo and De La Rosa and Maluabón and Duvalín and Bubulubu sit next to pillars of old-school candy—Boston Baked Beans and Neccos and Mallo Cups and Big Cherries and Pez— sit nexts to toys, cuddlies, and happiness.
Enter the world of Candified in Belmont Shore. Photo by Jackie Sorkin.
Jackie's beautiful candy art—where portraits of Harry Styles and Taylor Swift sit next to those of Frida Kahlo and Gene Wilder's Willy Wonka—hangs high, encourages those visiting the store to do the same (which you eventually can actually do yourself at the store: Jackie and Amy, an AI afficianado, are working on how to translate the portraits in a user-friendly format for the store's patrons).
And that idea, Candified being a place of inclusion? That includes having something for those with little money: A mini-tower of 25 cent offerings are on hand for those that might have just a quarter but still want to walk home with something.
Candified sculptures—including this incredible zebra—are but one part of the experience at Candified. Photo by Brian Addison.
"I try to never take my blessings for granted," Jackie said. "And seeing a kid look around, knowing they can't afford much—I see myself. I don't want that kid to enter my store without walking out with something; they have to walk out with something anda smile."
And the world of Candified has already begun exactly what Jackie and Amy expected it to: One day, the kid of a resident from behind the building peeped in. Him and his best friend knew the store wasn't open yet but were in pure awe that one of them lived literally behind a candy store—and offered the ladies their first $10 bill in exchange for some sweets.
Since then, he has insisted that, after school and practice, he helps the ladies set up shop: From tagging products with prices to literally scrubbing and sweeping floors, and offering Amy ideas on AI platforms to check out, he is a reflection of the power of candy, kindness, and vulnerability in entering spaces of the unknown.
"This is my hometown—and everything Amy and I have done has been big and global and written about endlessly and on TV," Jackie said. "It was about damn time I did something where I always dreamt of doing it: my hometown—and in, of all the places, Belmont Shore. This little girl from Northside Long Beach launching a flagship venture with her dearest friend and fiercest advocate in the beautiful, perfect, dream-stretch Belmont Shore… This is the sweetest adventure yet."
Candified will have its grand opening and ribbon cutting from 2PM to 6PM on Friday, July 14, at their Belmont Shore shop located at 5334 E. 2nd St.