Little did Long Beach business owner and all-around-determined-AF mom Alenni Chitwood know that—into her third batch of attempting to mimic the wildly popular, individualized rolled sugar cookies topped with elaborate royal icing designs—she would eventually be asked to make cookies to celebrate the second season of its taken-over-the-entire-zeitgeist TV show, "The Bear."
Nor did she know she would have a full-blown, out-of-her-kitchen business dubbed Batter Up Sweetery.
Nor did she know, well, much of anything about sugar cooking making.
"Those sped-up YouTube videos on making those cookies 'quick and easy'? Yeah, those are misleading," Alenni said, laughing. "It is actually mind-blowing how hard it can be—but I think what's even crazier is how quickly my own endeavors blew up… When I got the request to make cookies for the show, I ran around the house screaming," she said, continuing to laugh. "I'm a huge fan of the show and was in complete disbelief that this was happening."
Excitement and anxiety is rightfully exuded when it came to Alenni's latest client: "The Bear" has become a nationwide cultural phenomenon, harnessing the power and idiosyncrasies of a hyper-niche community—those who dedicate themselves to the restaurant industry—and the broad, American love of stories about struggle, self-discovery, and success.
The story of a talented chef juggling between trauma, love, and aspirations, the show's second season—being lauded as an artistic achievement and breaking records in viewership—came with celebrations from various parts of the "The Bear"'s creative team, from marketing agencies to the cast and crew itself. And that marketing team wanted Alenni.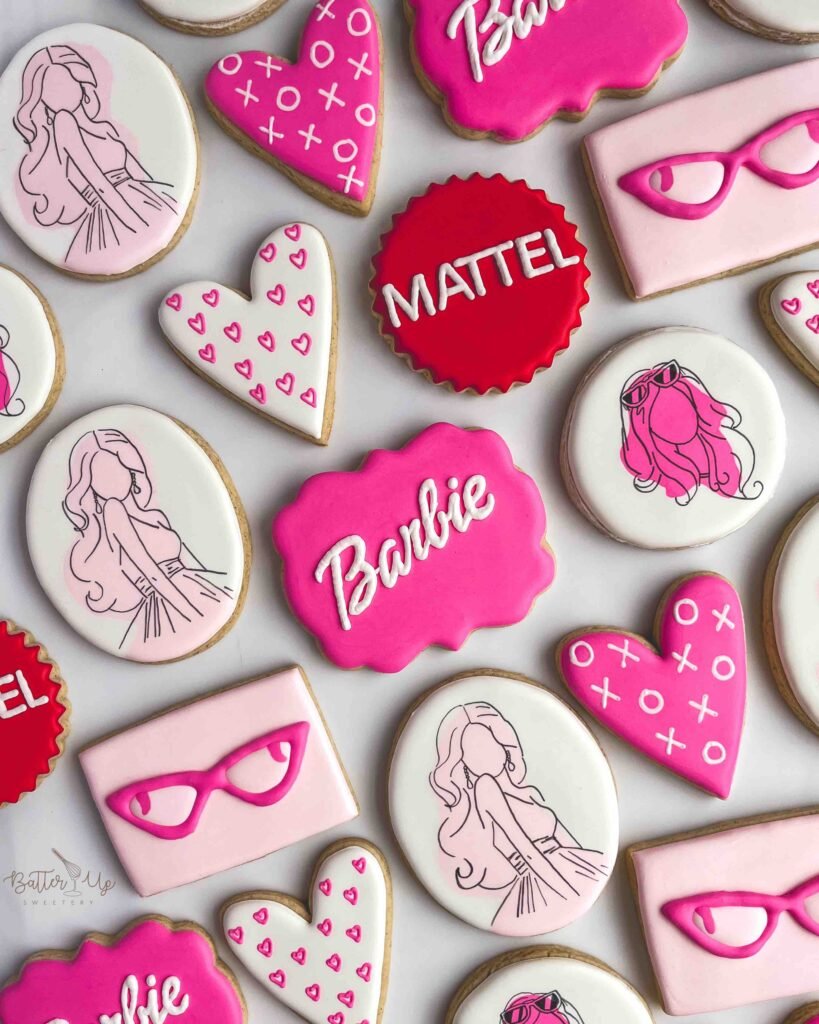 An assortment of cookies from Batter Up Sweetery.
Of course, that invitation didn't come immediately.
Her son—who just turned one year old this past April—has become, like any mom, the epicenter of her life. And for that first birthday, she really wanted to make the cookies that have come to define every contemporary celebration, from birthdays to branding: Highly detailed, artistic, royal icing-covered sugar cookies.
"First batch was just filled with shapeless, sad blobs," Alenni said. "And it's so funny because at first, you're so determined: 'I can do this myself. This is going to work out.' And then you get, well, shapeless, sad blobs."
An assortment of cookies from Batter Up Sweetery.
Her third batch—various animals—turned out to be a success, with fellow parents encouraging her to sell the cookies online—and she decided to do just that: Hopping onto a well-membered mom group on Facebook, she shared her sole picture of her newly minted artwork, asking if people would be interested in her cookies.
"I felt like an impostor, I am not gonna lie," Alenni said. "Like, here I was with this one picture of this one set of cookies—but I'm an entrepreneur and a Yes Person—I won't stop until I see some results."
Entrepreneur for sure: Alenni is already the owner of Eggheads Learning Academy, a private, in-home tutoring company where she oversees around 12 tutors to help coach kids in kindergarten through 12th grade. And, well, at that moment, she was dipping her toes into the frosting of another type of business—and with that one photo of animal cookies, orders started flooding in.
"I didn't even ask my husband for permission—I just turned my apartment into a bakery," Alenni said. "And really, I didn't need to: My husband [Marc] is the executive chef and co-owner of Steel Cup Cafe; being business-minded and culinary is kind of in our bones. And I guess we just have to admit we don't like sleep."
Her tireless work schedule was slowly being watched by a mom in the group from the sidelines—and that mom sent her a message asking for three very distinct batches of cookies: One for a bridal shower—"Sure, of course, bridal shower"—one for Hulu—"Wait, the streaming service? Hulu Hulu?"—and one for Toyota—"Okay, this woman knows people."
"And through her, I was introduced to the media agency that represents various companies like Mattel, Chipotle and FX, and they gift my cookies to those brands," Alenni said. "I'm given complete creative freedom to come up with the cookie designs that represent those brands, which is beyond fun for me."
That creative freedom is warranted: Her cookies are artistic and thoughtful—for anyone who watches the show or, like myself, was birthed into an Italian family, the beautiful cans of San Marzano tomatoes that she made as a decoration are spot-on.
And these massive brands have noticed too: Alenni and Batter Up Sweetery are booked through the summer—but don't think that means you shouldn't be encouraged to reach out to her for an order.
"Oh, I will take it on, Long Beach," Alenni said. "I love my community and, like I said, I am a Yes Person. Bring on the cookie orders."
Yes, Chef.
For more information on Batter Up Sweetery, click here. Or follow them on Instagram and Facebook.