Love renderings? So do we: Scroll through our entire archive.
In Long Beach's continual love affair with tearing down the old in order to accomodate the new, the space that is home to the Dolly Varden Hotel is likely to be torn down—of course, there is a silver lining: It is in the name of housing.
After a tumultuous battle—one which involved, after the Cultural Heritage Commission's original dismissal of the buidling itself as being historic in 1995, facing another failed challenge to reconsider that previous decision—the project will likely move forward.
And perhaps most interesting, it will be taking advantage of a micro-unit ordinance the City of Long Beach passed in 2020.
What do designers have in mind and what the hell are micro-units?
The team at Studio One Eleven has a pretty straight-forward idea to what they wish to achieve with their now entitled design: 141 dwelling units (and, thanks to the inclusionary ordinance, 16 of which will be affordable units reserved for Very Low Income households). These will be in an entirely new building with 75 parking spaces for cars and 54 spaces for bikes.
However, only 12 units will be one-bedroom units. The other 129? Micro-units.
Passed in 2020, Long Beach allows certain areas—mainly those in the Downtown—to skip square footage minimum set within land use laws. In this case, the owners of the Varden are able to put 141 units on a site that would have either needed to be much larger or in a buidling that needed to be much taller; they will do this in an eight story building that will have micro-units ranging from 318 to 441 square feet.
This allows units to rent for less and eventually, should they become condos, sell for much more affordable prices while still having full bathrooms and kitchens (as required by the ordinance).
Okay, cool—but what about those sweet, sweet James Jean and Tristan Eaton murals on the north-facing side of the original building, part of the first annual Long Beach Walls art festival?
Studio One Eleven has spoken with Eaton and he agrees to do a new mural on the new north-facing facade when construction is complete.
The historic-maybe-yes-kinda history of the Varden—including that sign
The Varden's building itself is not historic; its sign, however, is.
Built in 1929, the Dolly Varden Hotel had a luxury that not many accommodations in the city of Long Beach could brag about: a bath in every room. And its beautifully classic neon sign boasted of this amenity for the many years it served as a hotel staple in downtown Long Beach.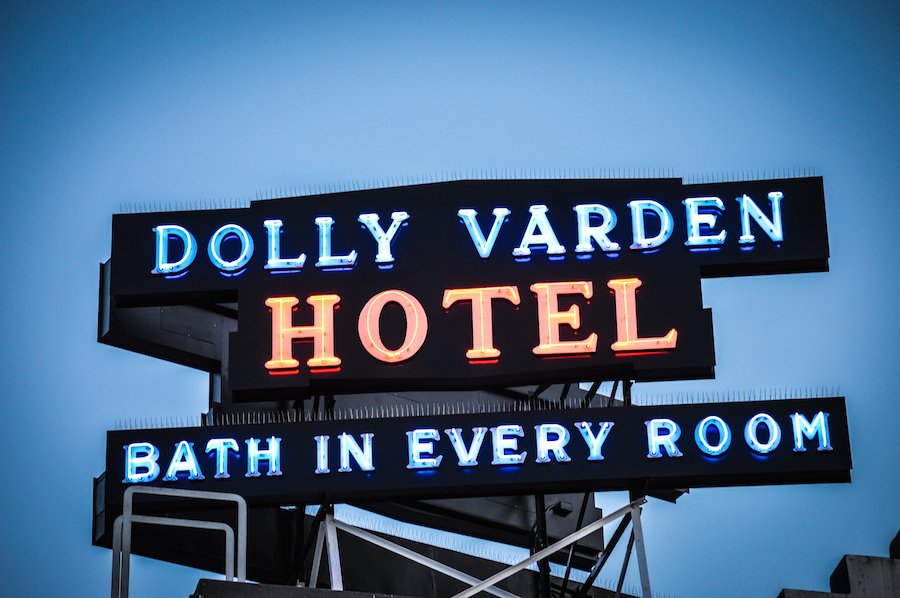 The sign itself was designated an historical landmark in 1995 by the City, but the years of wear'n'tear had turned it into little more than a tattered banner.
Come 2007, Larry Black and Charles Knowlton purchased the 35-room hotel for an undisclosed sum through their Laguna Beach-based Urban Hotel Group (which still owns the property and is handling the legal agreements build housing in its place via 335 Pacific Apts. LLC)—and spent the following two years refurbishing it, with full intents on restoring the sign to its former neon glory.
But first, the hotel, which preserved many original features—the fire escapes, the light-colored wood railings, the OG check-in desk, archways that line the interior, outward-opening windows…—and then came the sign, which was unveiled in 2014.