Let's be honest: Long Beach Walls and the Art Renzei Festival (formerly POW! WOW!) have changed the city's art scene, turning Long Beach into one of the region's finest outdoor museums, etching names like James Jean, Tristan Eaton, Nychos, Defer, Cryptic, and more into the annals of Long Beach art history. And on walls. For the public to explore.
2023 is no exception: This year more than 600 artists applied to be one of the 19 featured festival artists, with the Long Beach Walls worldwide committee reviewed each application and selected a diverse group of local, national,
and international artists.
"This collection of talented artists, muralists and creators from all over the world who share the goal of promoting culture and fostering connections," said Julia Huang, CEO of interTrend Communications and one of the main supporters behind the festival since day one. "We are honored that it has become one of the most anticipated cultural art event of the summer in Long Beach that gets better each year."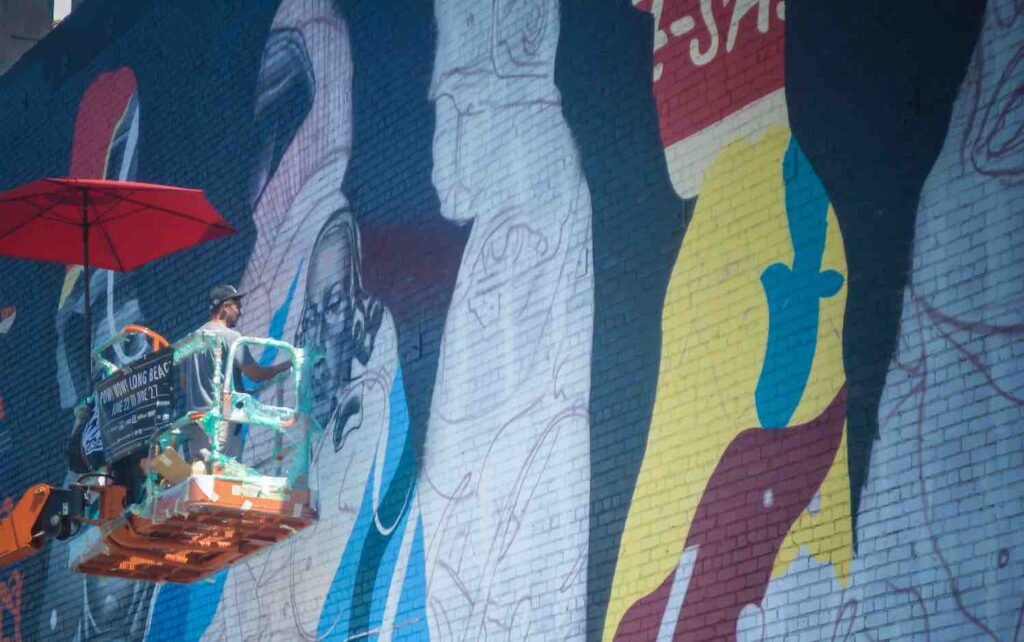 After rebranding as Long Beach Walls and the Art Renzei Festival last year, its original story as POW! WOW! began in the warehouse-filled Kaka'ako district of Honolulu, where a young Jasper Wong saw an incredible opportunity to create a spectacle that harkened more to the power of humans rather than the excessiveness of human partying.
Coachella he was not seeking. EDC? Absolutely not. He was creating what would soon become a phenomenon that the art world could not ignore. Eschewing hipster antics—those popularity-contest-driven events where the partying is slowly eclipsing the art—Wong wanted to bring together his beyond cool friends as "an excuse to make an area better with art."
We are talking talented street artists who are beyond respected in their own right, from James Jean to Ekundayo, Wu Yue to Will Barras.
And this evolution toward Long Beach Walls and Art Renzei Festival has one simple point: create a global artist collective that seeks to alter the public landscape by providing the world's leading street artists the largest canvases possible—the walls of buildings—while bringing together creative spirits in a way that is otherwise not possible.
It has additionally brought forward sculptors, musicians, photographers, and videographers to bring their own artistic flair to the event as it has expanded over the years.
Here is your complete guide to the artists taking over the streets of Long Beach come Aug. 14 through Aug. 20.

Various locations throughout the city
Witty, playful, and delightfully "meant for everyone," Andrew "Balloonski" Mika is precisely the type of artist you think he is: He uses balloons. And a lot of them. (And he is not to be confused with Jeff Balloonski, the post-postmodern artist that mocks the postmodern art of Jeff Koons.)
Balloonski takes over fences, statues, public spaces, private parties, a corner here and there. You may have seen his ubiquitous creations across the streets of Los Angeles (where he moved to in 2015), honoring the local culture with everything from balloon Dodgers logos to a massive balloon bong for the stoners.
What to expect? Well, the unexpected, as always: He will be installing things both small and large throughout the city—and you'll have to, like all his pieces, discover them for yourself.
Crystal Wagner
228 E. Broadway (Psychic Temple)
Like Balloonski, Crystal Wagner is a reflection of Long Beach Walls's dedication to things beyond literally painting the walls and leaning into the artistic endeavors of the oft-under-appreciated sculptors of our time—and Wagner is one of the most exciting artists mixing 2D and 3D mediums to create spectacular sculptures and installations.
Whether its paper or, as of late, recycled single-use materials like plastic tablecloths, her mind-blowing, fractal-like pieces give a strange melding of nature and architecture, earthly shapes and alien-like form, masculinity and femininity. Boldly colorful, often abstract, Wagner's work can easily spark intellectual conversation—but is likely best viewed in the moment of just taking it in.
Dina Saadi
300 E. Ocean Blvd. (Long Beach Convention Center)
You might recognized the image above—dubbed "Butterfly Hugs"—from Russia-born, Syria-raised, Dubai-based artist Dina Saadi: It sits on the parking structure that caters to our former City Hall site on Broadway between Cedar and Chestnut Avenues.
Melding natural beauty—flowers, plants, the faces and bodies of women—with the contemporary life of urbanism—a world where more and more random interactions are happening between cultures that would have otherwise had no such interactions—Saadi's work is a reflection of the role the Middle East is playing in contemporary art while also showcasing that women street artists have powerful voices that can be easily understood and loved across the globe.
Jack Soren
235 E 8th St. (Renaissance High School)
Jack Soren's welcoming mural to Wahiawa on the island of Oahu in Hawaii is the perfect representation of his work: Like many native Hawaiians, his love of the ocean, traditional Hawaiian culture, and the surf lifestyle come together in beautifully colored, graphic-like murals appeal to a variety of creatives.
That appeal has translated into his works being used in fashion and branding—and even across these capital-driving functions, manages to give a middle finger to the consistent appropriation of Hawaii. In the words of writer Naz Kawakami, "In reworking idyllic, postcard depictions of "vintage" Hawaii, he attempts – in some small part – to reclaim old Hawaii's colonized imagery and make it his own, bringing it back into Hawaiian hands, denying the foreign commercialization of those postcard images, while retaining those images' depiction of Hawaii's beauty and culture with recognizable figures and a strong, smooth color palette."
James Shen & Jennifer Tran
Lincoln Park in DTLB
A formal architect and artist, James Shen—one of the founding principals of the influential People's Architecture Office in China, the first architecture firm in Asia to be a certified B-Corporation—is a creative that bounces between SoCal (he attended Long Beach State for his undergrad work before attending MIT), the broader States, and Asia. And Jennifer Tran, a Long Beach-based, Toronto-born artist whose work intermingles "language, translations and intergenerational narratives" through architectural studies, is quite the perfect collaboration.
Often whimsical in aesthetic and deep in architectural philosophy, Shen's works are compelling tales of and about urban living. For example, his piece "Liminal City"—seen above at his installation in Busan, Korea—might be intricately intertwined air ducts that look more like water slides than materials hidden between the walls and ceilings of our building, but they represent the part of buildings we choose to hide yet utterly depend on: Without air ducts, buildings wouldn't be what they are to humans, which are places which provide protection, work, and comfort.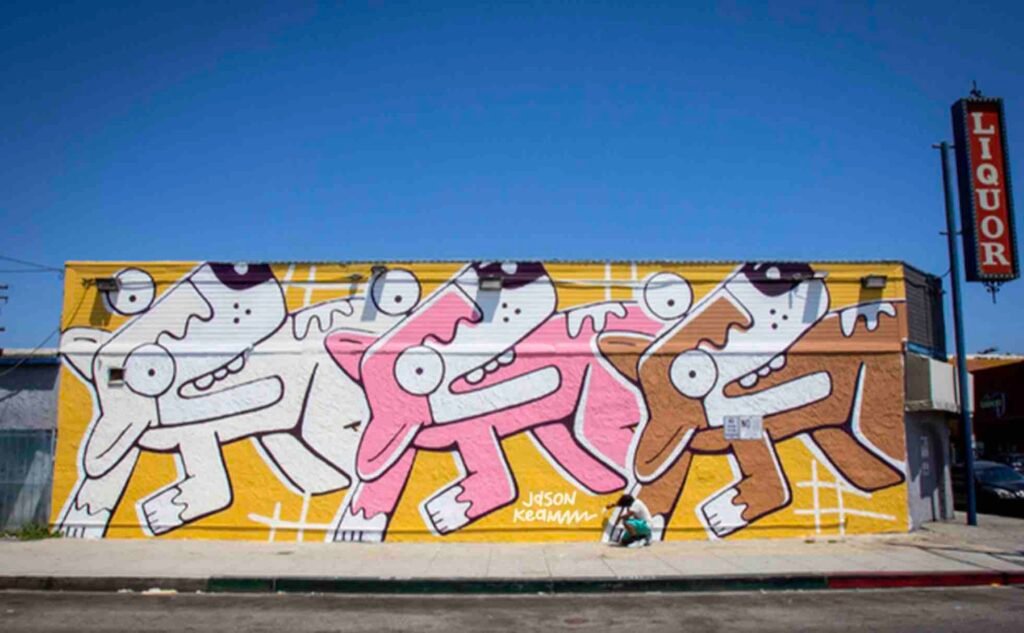 Jason Keam
951 Maine Ave. (Drake Park parking garage)
And we come to our first Long Beach-based artist, whose work has been featured at places like Coachella and for brands like Montana Cans (the preferred spray paint for nearly every street artist).
The Cambodian-American artist—which mingles hard-edge graphical art with a cartoon-like whimsical-ness that is outright heartwarming—has skyrocketed in success over the past five years: You might have seen Jason Keam's work around Long Beach—particularly his piece at Walnut and Anaheim in Cambodia Town as part of the neighborhood's murals project—because, well, he is based in Long Beach.
Whether it's the pig logo for Shady Grove Foods to the massive scale work he has done for hotels and other brands around the world, Keam deserves the local applause as loud as we can give it.
Jess Weymouth
2650 E. Broadway (Wild Chive)
Long Beach-based artist Jess Weymouth describes her work as "dreamscape surrealism," where her penchant for hard-lined illustration commingles with the flow-y, fluid nature of watercolor. The result are mini-universes that simultaneously celebrate the lunar cycles of the moons and the natural elements of our planet.
Harkening to Mother Nature continually, Weymouth's interest in the celestial spaces beyond came as she "found herself being hummed to sleep by the sound of our Mother Ocean and the movement of Her tides." That connection—the harmonies of waves being conducted by the moon in connection with our own inner peace in a night's good sleep—has driven her work to constantly examine the relationship between humans and our environment.
Lauren YS
1401 E Anaheim St. (Mark Twain Library)
Lauren YoungSmith is a Los Angeles-based, Denver-raised artist whose work blends surrealism and symbolism with bold character narratives and equally bold coloring palettes.
A constant advocate for both street art and gallery art—they has often been quoted saying the point of street art is to make art inclusive to all humanity—their work creates imaginary heroines that can be reflected in everyone from the imaginative world of a young girl to the confident head space of a drag artist.
"Artists are the cartographers of our generation, to quote a friend, and people need it, whether they know it or not," she once said. "For urban landscapes to host the work of artists on its blank spaces is to treat the world as a precious canvas, not just a machine for us to pass through. Artwork activates the mind, it challenges everyday life, it allows us to live with the imagination, something that becomes harder and harder the older we grow."
Mister Toledo
235 E 8th St. (Renaissance High School)
Daniel Toledo aka "Mister Toledo" is a Los Angeles-based, San Diego-born Mexican-American artist whose specialty in graphic design for brands No Fear translated into gritty, realistic paintings that often combine reality with surreality—but always highlight the human experience, whether that experience is freeing or frightening.
Inspired by illustrators of the Golden Era—think Norman Rockwell and JC Leyendecker—Mister Toledo's work has evolved beautifully with age: Murals addressing homelessness, indigenous erasure, the importance of Black Culture, climate change… There are few topics Mister Toledo is unafraid to approach.
Never Made
Francisco Reyes Jr., aka Never Made, is no stranger to the Long Beach art scene. Though he works widely throughout Los Angeles, his lives here—and that is reflected in his art: His graphical style used to line the façade of the building of the DTLB extension of the Long Beach Museum of Art at the southwest corner of 3rd Street and Elm Avenue, along with other places, his graphics have been used for local apparel companies, he's partnered with local bars to create creative nights before the pandemic…
Never Made is never not busy.
And for those who wonder, the Mexican-American artist's work might have a reflection of famed artist Shepard Fairey—and for good reason: Never Made scored an internship with Fairy, working for Obey Giant before launching his own brand that has become ubiquitous throughout Los Angeles.
Olivia Steele
200 W. Broadway. (Lincoln Park)
Olivia Steele is obsessed with words. And signs. And the play between how words shape our life experience—and for her, as expressed in many interviews about her iconic neon signs arranged in public places (long before such things became ubiquitous in coffee and juice shops) and appropriated street signs, the most important thing in art is not the life of the artist but the spectator of that art.
"My art is not about what I see—it's about what I invite you to see," she says in her bio. "It is the spectator and not life that art really mirrors."
In other words: Steele might have her own interpretation for for installing a witty if not outright frank sign that reads, "The bill always arrives," at the Burning Man festival. But the spectator? Well, for them, it could be about climate change. It could be about truth finding light. It could be about the toll of secret misdoings. It could be about death. It only has meaning for those who view it.
Roshi
1365 Obispo Ave. (Roland Sands Design)
Psychedelic, unabashedly feminine in quality, wildly trippy, inexhaustibly consuming—or, in the words of the artist, "manga-saturated, symbol-obsessed transfiguration"—Erik Vincent, aka Roshi is a beautiful thing to witness.
"To be honest and connect to this brings me peace, to be able to share that creation with others brings me joy," Roshi once said. "There have been plenty of challenges to overcome, as we all have in life, but art has always been a thread that leads me to discover new lessons and possibilities. Asking your own questions and finding your own answers is the most powerful journey you can embark upon in this life I think, and I'm driven to share that through the examples of my own work. We are all powerhouses capable of shaping a new world, so connect to yourself to see what is truly important and then build it into the ever evolving future."
Royyal Dog
Royyal Dog—the Seoul-born artist whose birth name is Chris Chanyang Shim or 심찬양—is one of the most prolific and respected Korean street artists, where his melding of Black culture with Korean imagery has earned him much love as a multiculturalist and unifier.
His murals—often a mixture of hyperrealistic and illustrative characteristics—are prolific throughout SoCal, highlighting the contributions of the Black community through pieces that highlight hip-hop stars—including Long Beach's own Snoop Dogg—to the late'n'great Kobe Bryant in a mural in DTLB that eerily captures the basketball legend's face.
Ryan Griffin
Various locations throughout Long Beach
Multimedia artist Ryan Griffin is better known as Projected Visions, his brainchild that has combined his two artistic strengths: Drawing'n'painting with light projections. The result is a play with past and present: The project is already created but what Griffin will draw in tandem with the projection's wall canvas is running with current time.
"Projected Visions foundational truth is that art can radically change and uplift people," Griffin states in his bio. "What started as a monthly happening on the Los Angeles River to upend the under utilized infrastructure of the city with live projection art collaborations has grown to be a cross pollinating practice empowering productions from the micro to the macro."
Shar Tui'Asoa
2630 E. 4th St. (Pippi + Lola)
Shar Tui'Asoa of the Punky Aloha Studio is a Hawaiian native of the island of Oahu, the power of her works lies in the power of the belief in her self: Proud of her brown skin, her body, her hair, and her heritage, she reflects her own image onto her art so that girls like her can find power in themselves.
Graphical, colorful, and wonderfully whimsical, the artist has said, "I think I create the world and the women and the characters I create because that's the world I want to live in. The way I view Hawai'i has always been in this sort of fantasy world. I just want things to be really bright and fun and happy. The beautiful curvaceous women I create, that is the women I always knew. I wasn't seeing that enough. I wanted to see more of it. I wanted to feel liked I recognized what I was looking at. I wanted children to recognize themselves in the characters I created."
Stevie Shao
235 E 8th St. (Renaissance High School)
This Seattle-born and -based artist is a proud Chinese American who proudly reflects her heritage throughout her graphical work, be it one that takes over the entire façade of a building or for a 24-inch-by-24-inch piece for the famed ABV Gallery in Atlanta.
Shao's art is a direct experience of the liminal space many children of immigrants experience: Wanting to feel American but never seeing themselves represented—and for Shao, that was via the Eurocentric art that was on constant display, to which she counters with dragons, fire dogs, fanged water deer…
"I love incorporating the plants and animals from this region with the symbols and ideas from the stories my parents told me as a child," she said. "I think of [my murals] as their own universes with sets of characters that have stories. Storytelling is a great way to share culture."
SUPERWAXX
235 E 8th St. (Renaissance High School)
The work of Virginia native, Los Angeles-based SUPERWAXX is one that multifaceted: Graphical and comical? Yes. Poignant and feminine? Absolutely. Rooted in her Blackness? Unabashedly.
"Honestly, the way I learned to create and draw was actually through recreating the cartoons that I watched and comic book characters that were in the comic books that I purchased. So it really started at an early age and it just carried on throughout my adulthood as a creative," she said. "I started to get into graffiti because of my brother Anthony. He was a graffiti writer and when I was a little girl, I would lay beside him and try to copy and mimic his black book sketches. He hated it as an older brother, but I credit a lot of my creativity to him. Then I got introduced to artists like Murakami, who I think really broke the gate open for the Fine Art World to really recognize that anime aesthetic as fine art. That recognition really helped me think in a broader sense of how I create my work and being influenced by cartoons, comics, video games and skateboarding culture."