Black Dog Coffee Roasters—the DYI roaster-gone-coffee shop that was initially birthed in Signal Hill—has officially opened its new shop in the space that once held local coffee royalty, Lord Windsor, at the northeast corner of 3rd Street and Cerritos Avenue.
For budding coffee roaster and owner Francisco Portillo-Kessler, the road from El Salvador—where he was born and where his family owns a coffee farm—to the United States, where he moved to Long Beach in 2015, has been both brightened and blighted by the ups and downs of life: Taking on a small air roaster, he signed a lease for a space in Signal Hill in February of 2020 in order to roast and hopefully get some of his beans into shops.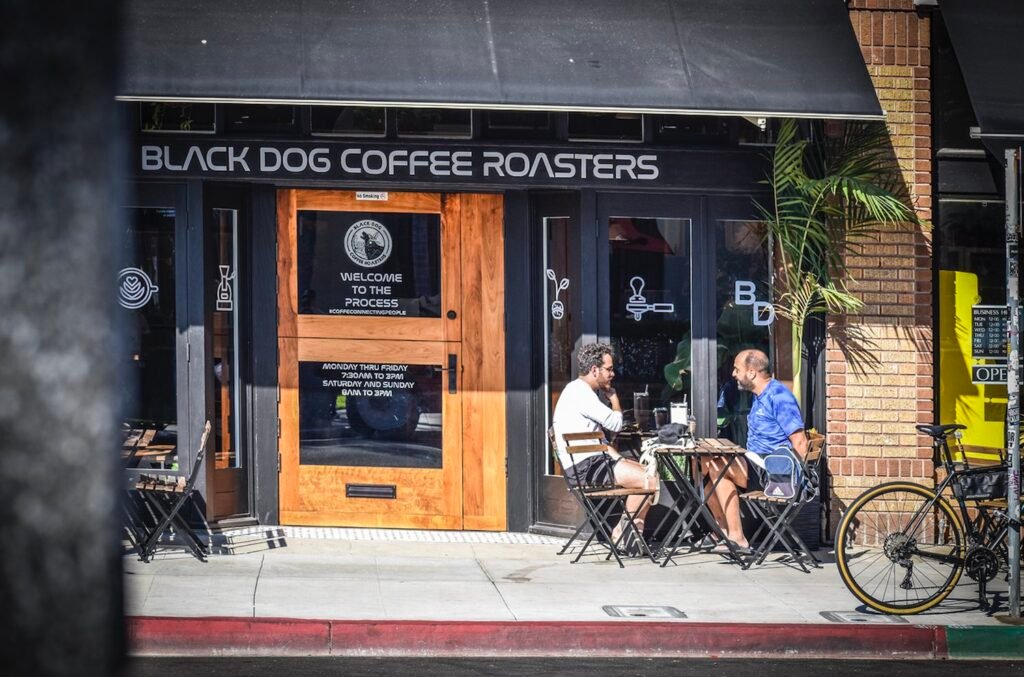 "I remember stepping outside, after the landlord handed me my keys—I even remember the date: February 28 [of 2020]," Portillo-Kessler said. "And I turned around to him and said, 'This virus thing—heard about it?'"
It's a joke that many have—remembering where they were before the pandemic, noting how there were levels of how serious they took it—but for Portillo-Kessler, it was a matter of his future: He had poured his savings into roasting beans, hopefully selling those wholesale to shops around—but come COVID, no one would take them.
"I even offered them for free," he said melancholily. "I just wanted some feedback, some opinions… But none."
He then decided to do what he had never planned: Make coffee using his own beans and then sell it. And it worked—until his landlord refused to renew his lease. Never one to avoid adapting, Portillo-Kessler created a popup shop on a trailer across the street to make ends meet until he came upon the former Lord Windsor space.
Taking on the space in January, the pathway to opening proved frustrating, from permitting and approvals to getting simple things in order—but the work has proved fruitful: Opening this past Saturday, the crowds have been nonstop.
"It's a blessing, for sure," Portillo-Kessler said, "because this is my dream. This is it; this is what I wanna do."
Boldy eschewing third-wave coffee to claim his own style
"I can easily make you a light roast if you want," Portillo-Kessler said. "It will take five to ten minutes on my air roaster in the back of the shop—but for me, from my life on a coffee farm in El Salvador, medium roasts bring out the full flavor of single origins coffee better than any other."
Black Dog's approach to roasting—medium to the darker range, bringing out the heavier, bittersweet chocolate notes of beans—is antithetical to what has largely come to define independent coffee in SoCal.
Third-wave coffee—led by brands like Intelligentsia and Blue Bottle nationally and locally by roasters like Rose Park, Recreational, and Black Ring—marks the move away from traditional European methods of roasting, which focus on rich, dark roasts coffee served simply, or what is called the first wave. That first wave brought with it an entire lexicon that wasn't common among American coffee drinkers: Espressos, cafe au lait, and the invention of the Americano.
The second-wave of coffee—marked by Starbucks' seemingly endless concoction of flavors and offerings—was proceeded by the third and largely still dominating wave of coffee, focusing on lighter roasts that put the bean itself forward and usually heavily limit options.
Think of Black Dog as a 2.5-wave: While Portillo-Kessler respects everything third-wave does, he largely sticks to his own style that harkens to the very style he grew up with in El Salvador.
"Medium roast is really the best way to present the beans," he said. "We want to present the notes I feel best represent the single origin beans I roast, especially the ones I get from my family in El Salvador: sweet notes, chocolate notes…"
"There are people, first and foremost, behind coffee farms"
If there is one thing to immediately notice when stepping into Black Dog, it isn't so much how the specter of Lord Windsor lingers more than the fact that Portillo-Kessler's love of his family and farm are included everywhere. From holding beans to standing on the very soil of the farm that sits outside Santa Ana, El Salvador at some 3,350 feet in altitude, his shop is a reminder that coffee beans don't just magically appear out of air.
"There are people, first and foremost, behind every coffee farm," Portillo-Kessler said. "My family is one of them but there are countless workers and other families who are not given a fair shake; they are taken advantage of by larger corporations and greed—and I want my shop to represent the opposite of that."
While Portillo-Kessler returns to El Salvador as often as he can, his family has yet to make the trip to his home here in Long Beach—and while he waits to educate them on why he loves the city so much, he then shifts that toward educating his patrons: Guests are welcomed to watch him roast, smell and touch beans before and after the roasting process, learn about life on a coffee farm, and more.
"Education is a key component of this place, which is part of connecting people," Portillo-Kessler said. "But it's not just connecting people but connecting with people: Some of our original customers? They're employees here now. People who were the first to visit me in Signal Hill? They've stopped by today.
"It's about the people. Simple as that."
Portillo-Kessler's infectious kindness is hard to avoid—and with it, makes sense as to why so many loyal followers have stood by his side through the ups and downs.
Remembering Lord Windsor—and how it altered our coffee scene
When it comes to coffee in Long Beach, Lord Windsor was a trailblazer: The roaster and coffee shop that formerly served Alamitos Beach where Black Dog sits now was once just one of its kind—easily forgettable when it comes to roasting-shop spaces like Rose Park, Black Ring, Recreational, Stereoscope, Caffe Luxxe…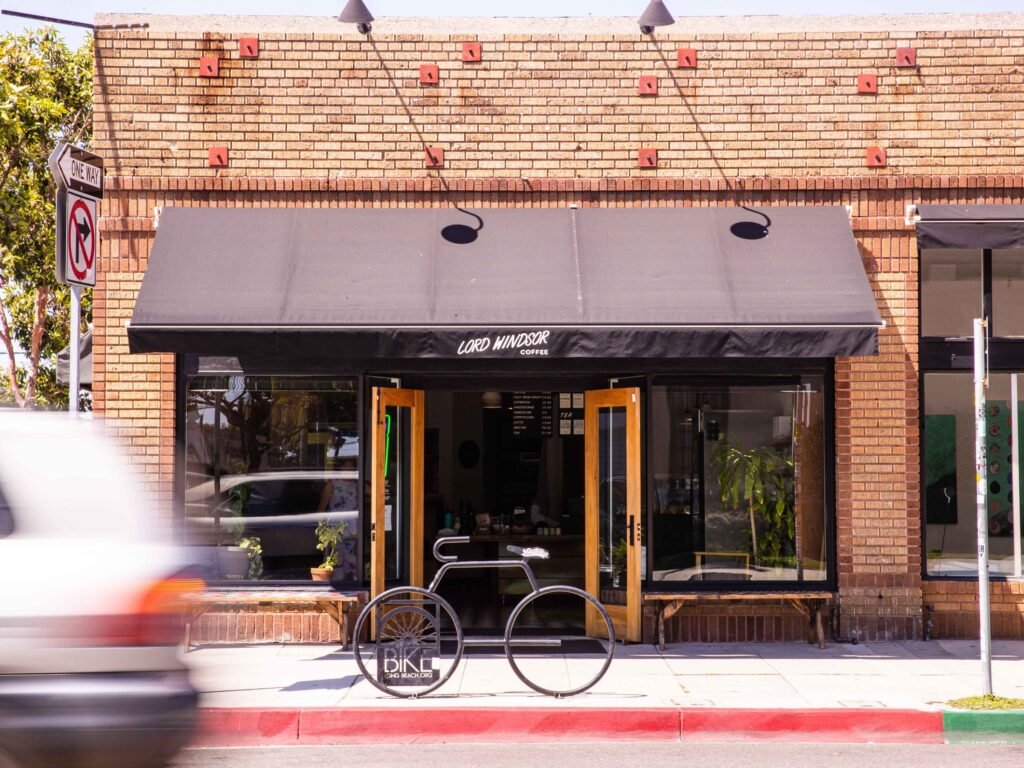 The now-ubiquitous third-wave coffee shop—even those who don't roast themselves, from the stellar Wide Eyes Open Palms to Confidential Coffee—was non-existent when Lord Windsor owners/spouses Wade and Lindsay Windsor first opened in 2012, let alone a third-wave roaster and coffee shop.
Utilizing a three-group La Marzocco espresso machine and fleet of Hario V60 cones, Lord Windsor offered no wifi (you can actually talk amongst yourselves for once), no televisions—just an L-shaped, airy, calm space that became a staple before a drunk driver slammed into their space in May of 2021. The crash proved inescapable: Dealing with the landlord's insurance and an inability to fix it on their own, they never reopened their doors.
Of course, the opening of a coffee shop in its place? Absolutely serendipitous—and warmly invited in. Welcome to the neighborhood, Black Dog.
Black Dog Coffee Roasters is located at 1101 E. 3rd St.