During the peak of the pandemic, Chef Kat McIver of Wide Eyes Open Palms-the genuinely stellar cafe just north of 4th Street on Cherry—faced what many in the restaurant industry were facing: An overall distress that culminated in burn-out, frustration, and a lack of inspiration.
The announcement was doubly heart breaking: Easily one of the city's best food spaces, WeOp also doubled as a space that was distinctly queer friendly and unabashedly women-forward—something not lost on McIver when she shared that she had lost employees and was unable to keep up with the ability to continue doing this solely.
"I think a lot of people feel this way—and I am sure a million people will tell you, 'Yeah, that experience was really, really wretched,'" McIver said. "But I feel like we are coming out of it."
"We're a queer city in general, let's be honest. And I think I'm most honored by the fact that we are known for being unabashedly queer- and women-centric. This is a space to feed your stomach and soul."
Writing an online post she shared after announcing WeOp would essentially be a cafe limited to coffee drinks and pastries to go, McIver painfully speculated as to why her employees had left the service industry:
"Is it because so many of our team are women? Women, the caretakers, single mothers, the ones who are most likely to have to give up their job because the needs of someone else… Or is it just a sign of the times? That the pandemic has made the labor market for restaurants so small and competitive… Or that working in a mask for eight hours a day feels impossible?"
That sense of empathy—trying to truly grasp the experience of their workers—is constantly exuded by both McIver and Evans but shortly after a year announcing they would unplug the induction burners, they have a newfound sense of both relief and resilience.
"I was already on the edge of burn-out before the pandemic," McIver said. "But I also felt like we didn't get a choice and, ultimately, I always find myself wanting to fix things; I have to find where something is broken so I can fix it. And that was this space… And each day—each and every single day—I feel like I am shown another post about another restaurant closing and I don't want to be that. I finally see our industry starting to come out it."
So the return of WeOp comes three-fold, in the eyes of McIver: It's the nature of her tenacity, the nature of the pandemic, and the nature of the restaurant industry's brutal way of discarding people and businesses unsustainably—and both McIver and Evans are ready to bring back food in a style that Long Beach fell in love with for a reason.
It's in the sometimes-carby-sometimes-not baked wonders of McIver, whose talent as both a pastry chef and chef proper collide at WeOp in a mixture where the mastering of simplicity shows off the complexity of achieving that mastery.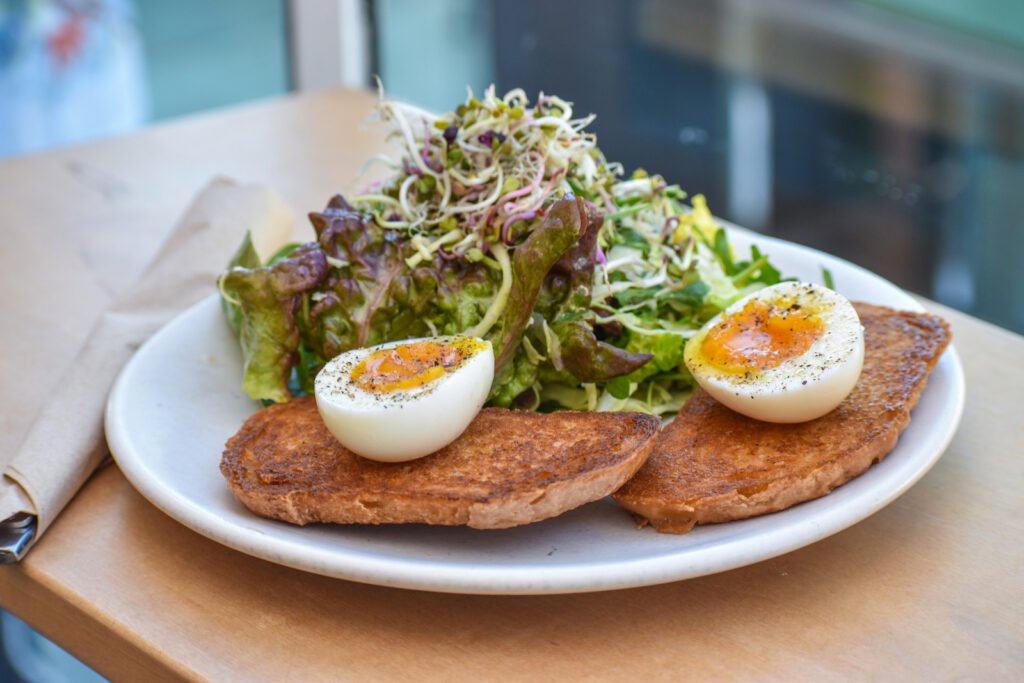 It's in her aptly named Tangerine Dream Cake, a citrus bomb that feels has the texture of a beautiful polenta olive oil cake with the brightness of tangerine—a cake so perfectly executed that it almost (almost) makes me give it a slight edge to McIver's masterful olive oil cake.
It's in her biscuit breakfast sandwich—certainly one of the best in the city—that is a savory-saturated wonder: Folded soft-cooked egg is stuffed with cheese biscuit halves layered with herbed chèvre and arugula.
It's in the wonder of beautifully executed, simple dishes—dishes that are awash in Los Angeles at spaces like Republique, Destroyer, Petit Trois, Juliet, All Day Baby…—like her soft-boiled egg with a heavily buttered slice of sourdough and citric acid-laced salad with sprouts.
It even includes the addition of beer and wine, where Evans has homed in on natural wines with brands that are, for the most part, either women-owned or women-centric, allowing one to have an Aperol spritz with their pastry simply because that is a beautiful choice to have.
And it has driven customers both locally and regionally.
"We constantly get customers from out of town that are so impressed with our little stretch of businesses here on 4th," McIver said. "And they love the neighborhood-y feeling where it's the best of both worlds: 'Wow, I get all the benefits of big city living but I can also get the down-to-earth comfort.'"
WeOp is back—and sometimes, they need to remind themselves that that is an accomplishment in and of itself.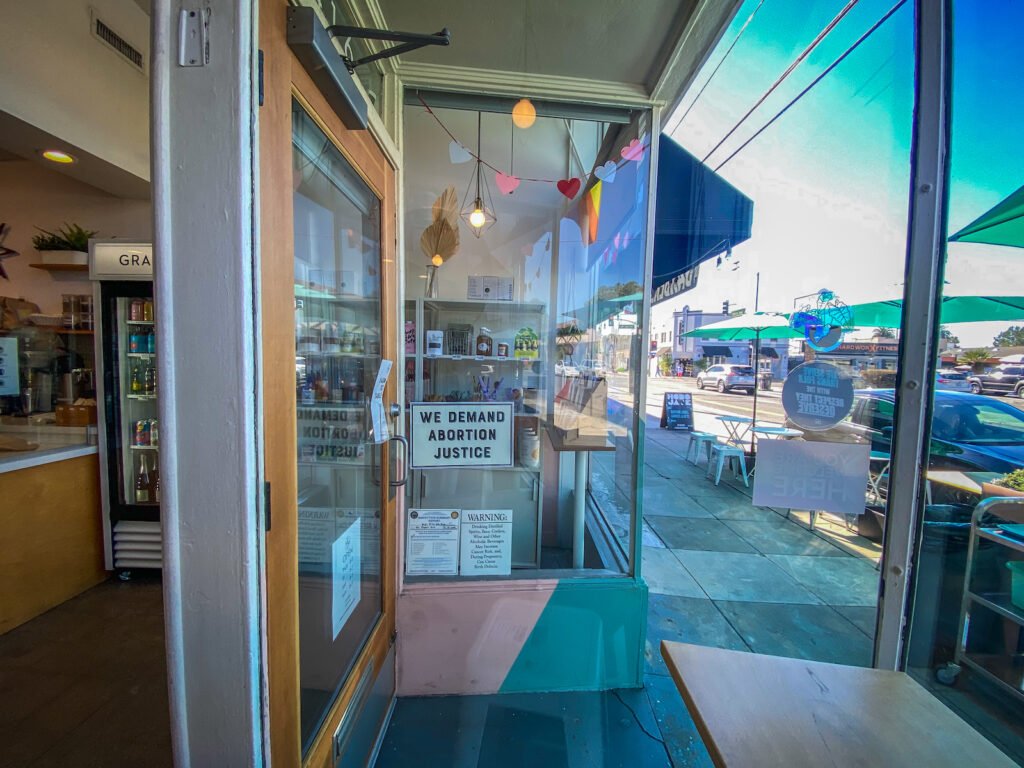 "We are just this little tiny thing off of 4th that isn't even directly on 4th so we have to be our own thing and own it; we have to be a destination," Evans said. "And when people say, 'I'm so happy you made it through.' Of course we did—but when I say that, it hits me that not everyone did and maybe sometimes, I hide the struggle because I don't want to displace that onto others."
Perhaps just as beautiful—if not definitively more beautiful—as their genuine authenticity and unabashed support of Long Beach's community is their love for one another: As McIver puts it, it would "nearly impossible" to imagine a world where her business would not have Angie by her side. It is a love that is proudly lesbian and a reflection that companionship and true support supersedes the faulty, surface-level relationships that seem almost inherent in the restaurant industry.
"We're a queer city in general, let's be honest," McIver said. "And I think I'm most honored by the fact that we are proudly queer- and women-centric. This is a space to feed your stomach and soul."
That is witnessed in real time were one to prop themselves in a corner window seat inside and watch the constant revolving door of customers: A woman here asking if they have new stickers that mock right-wing idiocy, a person there perusing the bottles of wine, a couple taking a seat on the parklet to sip on coffee and talk about their community.
It's a space worth protecting, as Evans noted, but also a space that will lead the way when it comes to ethics and inclusion in the restaurant industry.
"Everyone in this industry knows we were working on a model that was unsustainable—the pandemic proved that—and it forced us to say, 'No, we're not going to operate that way any longer' and I strongly believe it's women who led that sentiment," McIver said. "It's going to be women who lead the way and I see many examples of that: I see La Copine in Joshua Tree. I see Kimset in Los Angeles. We are leading the way—and WeOp is a part of that."
Wide Eyes Open Palms is located at 416 Cherry Ave. and is open Thursday through Sunday from 8AM to 3PM.