Roxanne's owner Robert Molina—along with his genuinely warm and loving co-owner, his mother Mirna—has always had two very admirable characteristics: A love of and pride for his Salvadorian heritage—one that very much extends into his appreciation for Long Beach and his business's neighborhood, Cal Heights—and a deep sense of humbleness.
The latter characteristic has led to Roxanne's (and his two offshoot businesses, the speakeasy that is the Exhibition Room and his spirits distilling operation known as Willie's Tin Shop) having a more organic sense of growth and a bit of a dependence on self-advertising via its patrons more than traditional marketing.
Molina has, for the most part, let his businesses and his patrons speak for the business itself—and with that, has created a tiny but loyal following that should be, in all frankness, very much larger. (When I say "tiny," I don't mean that as jab; Roxanne's devotees have kept it alive for over a decade.)
The former one, that love of his heritage, has meant that the food of Roxanne's has always had heavy touches of El Salvador—mixed with flavors and cuisines ranging from Mexico to the good ol' U.S.-of-A.—but has been often overshadowed by Molina's more unique offerings, like great cocktails and an even greater speakeasy.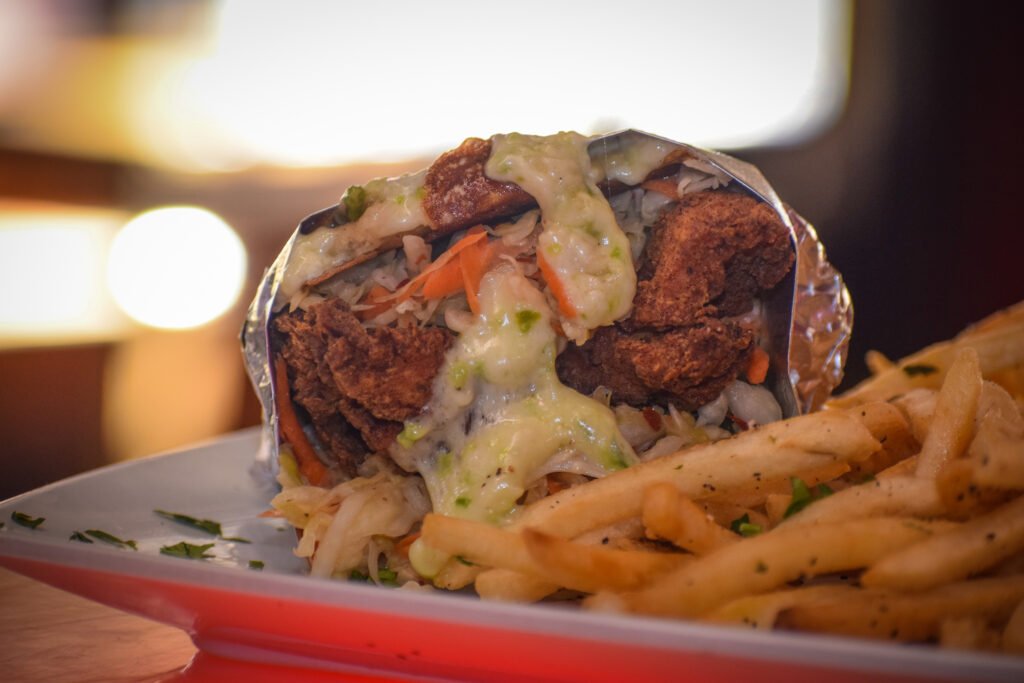 And the two together—pride and humbleness—have led me to a very genuine question about the Cal Heights staple: Why don't we talk about Roxanne's more? Is it because Molina tends to keep his ego grounded, let the business speak for itself? Is it because the alcohol has overshadowed everything else because, well, who doesn't love a good cocktail?
And hell, I mean, it is nearly impossible to not love The Exhibition Room, Molina's homage to Dennis McCarthy's then-illegal alcohol operation in Long Beach during the Prohibition Era: Dark, pseudo-secretive, old time-y in the best sense of the word, all surrounded by stellar spirits that go from low brow to single cask. And then there is Roxanne's bar offerings since day one, before the speakeasy: They have been consistently solid long before it was common to see curated cocktail lists and beer programs.
And even I myself admit to automatically assigning one very easy stereotype to Roxanne's: It's a place that is great for drinks. And then it stops there. But Roxanne's has been offering equally consistently solid bar food that is atypical but not inaccessible, food that fits with the heavy pours of his bartenders or the weight of a three-beer lunch because you have the day off.
Because, when it comes down to it: Roxanne's has always had more to it than meets the eye. Its happy red, playfully-retro logo could easily be mistaken as the brand of a 50s-style family diner but when you step inside, you see the embossed tin tile ceiling, the apothecary scale, the iconic old-school phone booth…And the solid bar food has always been there as well.
They once had some of the best yucca fries in the region on their menu. They still offer what is arguably the best wings in the city, their in-house tamarind barbecue sauce a staple on the menu since opening and expanding into other varieties like mango habanero and classic buffalo. And they have always offered stellar empanadas.And let's not even shy about how impossible it is not to love witnessing these two words pushed together on a menu: "Pupusa burger."
And that pupusa burger has a particular magic dancing around its outright decadent nature thanks to the work of Chef Susy Rios of El Salvador.
"I have always loved my patrons and my business—it's my baby. But there's something particularly special about bringing in a chef directly from El Salvador to represent my heritage on the menu here."And Rios's nature—like that of Mirna and Robert—is one of humility: She is quiet, reserved, and inward-facing when it comes to trying to advertise her skills. And that is, at least for now, okay because the food speaks for itself.
Her pupusas—be they acting as the bread for a burger or standing on their own—challenge some of the best in the city with nothing more than her masa stuffed with nothing more than a cheese blend and loroco. You'll often find that very filling oozing out of the pupusas and onto the edge of your burger. And her curtido—the cabbage-meets-carrot accoutrement that is a staple in Salvadorian food—is worthy as a topping on any burger, not just her own.
If you think a pupusa burger is already decadent enough, you can push your own boundaries of basking in gluttony by getting the chicken version: A hefty, hand-battered chunk of chicken breast is fried before being smushed between two pupusas and layers of curtido.
And when she is not playing with her interpretations of bar food, she returns to El Salvador by way of what she dubbed the Tropical Plate: Slices of bright mango sit next to an alignment of lavender-shaded rice, capped with a skewer of beautifully seared beef short ribs and vegetables.
It's food that pairs well with what we know Roxanne's already does well—maintain a solid beer list and craft even more solid cocktails—and with that patio, how can we not want some wings, some pupusas, and a pitcher of beer?
Meet me at the patio.
Roxanne's is located at 1115 E. Wardlow Rd.