Steve Dolinsky is the king of food when it comes to his stomping ground of Chicago: The 13-time James Beard award winner is someone I refer to video journalism students as a Guide of All Guides when it comes food storytelling through video, his NBC Chicago series "The Food Guy" being a prime example of how local journalists can harness food stories with class, culture, and connection.
With his new venture west—where this weekend will be the inaugural Los Angeles version of his Pizza City Fest, harnessing his knowledge of pizza to create a festival that has over 40 regional pizzerias, including Long Beach's own Speak Cheezy, Long Beach Bread Lab (an extension of Long Beach Beer Lab), and Little Coyote—he asked myself and James Tir (aka @LBFoodComa) for a tour of Long Beach's food scenes.
"Four stops," he said. "Easy, peasy."
Steve Dolinsky shares the end of his Long Beach travels with myself (the fatty on the right) and James Tir (aka @LBFoodComa).
While it may have been an easy suggestion off the top, James and I took the task rather seriously. Having spent months in Los Angeles prepping for his pizza festival and decades harnessing a grasp of Chicago food, Steve's ask was a genuinely kind, if not outright risky endeavor: He only knew us through a handful of media events for the festival and, other than that, was going on pure intuition that we were legit and, more importantly, the food scene in Long Beach was worthy of separation from our bigger sister to the north.
And if there is one thing Long Beach has always had it is certainly a devout, if not pseudo-toxic pride toward its own that has burrowed a chip on our shoulders; we feel the need to constantly impress others or, if we can't impress, grandly stand our ground in blind defense of the mighty Playa Larga.
Part one of the tour: Crystal Thai Cambodian. Ingredients for an unassembled bowl of nom p'jok await to be married to its bright yellow broth while green mango salad and beef skewers sit along for the ride. Photo by Brian Addison.
And looking back at James and I bantering back and forth about what four places to pick—we struggled over how we could get the pizza king himself into La Parolaccia or Michael's on Naples, considering each open at 5PM and our tour ends at 3PM and those were, amusingly, two of the Long Beach pizzerias he didn't visit for his festival research…
We struggled over how to whittle down Long Beach's vast array of food into four spots: "Do we do Selva? They're not open that early." "Do we do something like The Auld Dubliner or is that too on-the-nose?" "Do we do Sushi Nikkei—well, shit, they're not open early either…" "Perhaps Shlap Muan? Are chicken wings too 'simple'?" "Hell, take him to The Cambodian Cowboy or visit Organic Harvest Gardens?"
Our brains were all over Long Beach and, looking back on that, by the end of the tour, Steve far too full and our day far too extended beyond his time limit that we didn't even make it to the fourth place…
Stop two: Los Reyes del Taco Sabroso. A trio of Los Reyes del Taco Sabroso's nearly perfect carnitas tacos. Photo by Brian Addison.
After the struggle of defining the tour as half "homey"—we began with Crystal Thai Cambodian and Los Reyes del Taco Sabroso—and half "elevated"—ending with Ammatolí and only James and myself making it to Michael's on Naples…
After all this, Steve's presence, care, and overall love for our city—with a few frank but reasonable "Not impressed with this"-es—through the lens of a midwesterner made me realize something I should have known all along: I don't need to impress anyone with Long Beach's food scene because it speaks for itself.
It sounds dumb if not outright childish but it's honestly true: Even as a food writer, I have felt this constant need to prove my city's worth. It can be in the writing of the pieces themselves, where I have pretty much shunned formal criticism in the name of Simply Storytelling when it comes to food, leaving formal food criticism to the Paper Papers of the world with budgets to allow faceless critics to sneak into restaurants on the regular…
I have felt that chip gnawing my shoulder when sending out pitches to Eater LA and sometimes having to go overboard on why the story I'm pitching is important to Long Beach (and, more importantly, sometimes forgetting why it should be important to Los Angeles as well), only to feel deflated even at the most reasonable of rejections.
Stop three: Ammatolí, or what Steve Dolinsky noted on his Instagram as "one of the best Middle Eastern meals of his life." Muhammara, fresh pita, and mousakhan chicken were just a small array of what we ate. Photo by Brian Addison/CVB.
And that sense of deflation isn't because I don't understand why they're rejecting it or why folks won't go below the 10 to explore Long Beach for shits and giggles—the vast majority of Long Beach itself never leaves the island, a fact that perpetually disheartens me since L.A. is a great (and I repeat: fuckin' great) city…
I intellectually and reasonably get it all. But there's just that emotional attachment to the city I love that makes me feel that rejection or even rightful criticism is a form of defeat or worthy of self-deflation. Of course, I hide it well and I hide it intentionally because my intellect battles my emotions perpetually but I would be entirely dishonest by saying I never feel the minute sting of those rejections, of those criticisms…
But then I watched Steve eat a bowl of nom p'jok at Crystal Thai Cambodian.
The man is beyond well-traveled—our visit to both Los Reyes and Ammatolí showcased a well-oiled vocabulary in the annals of Mexican and Levantine cuisine—and one could sense he was searching through his travels of Vietnam and Thailand to find the wording for Cambodian food.
It was something new—and Long Beach provided him that. The citrus-centric, turmeric-tainted fish broth of the nom p'jok. The bites of bitter and snips of sweet from the green mango salad. The ultimate umami bomb of their beef skewers.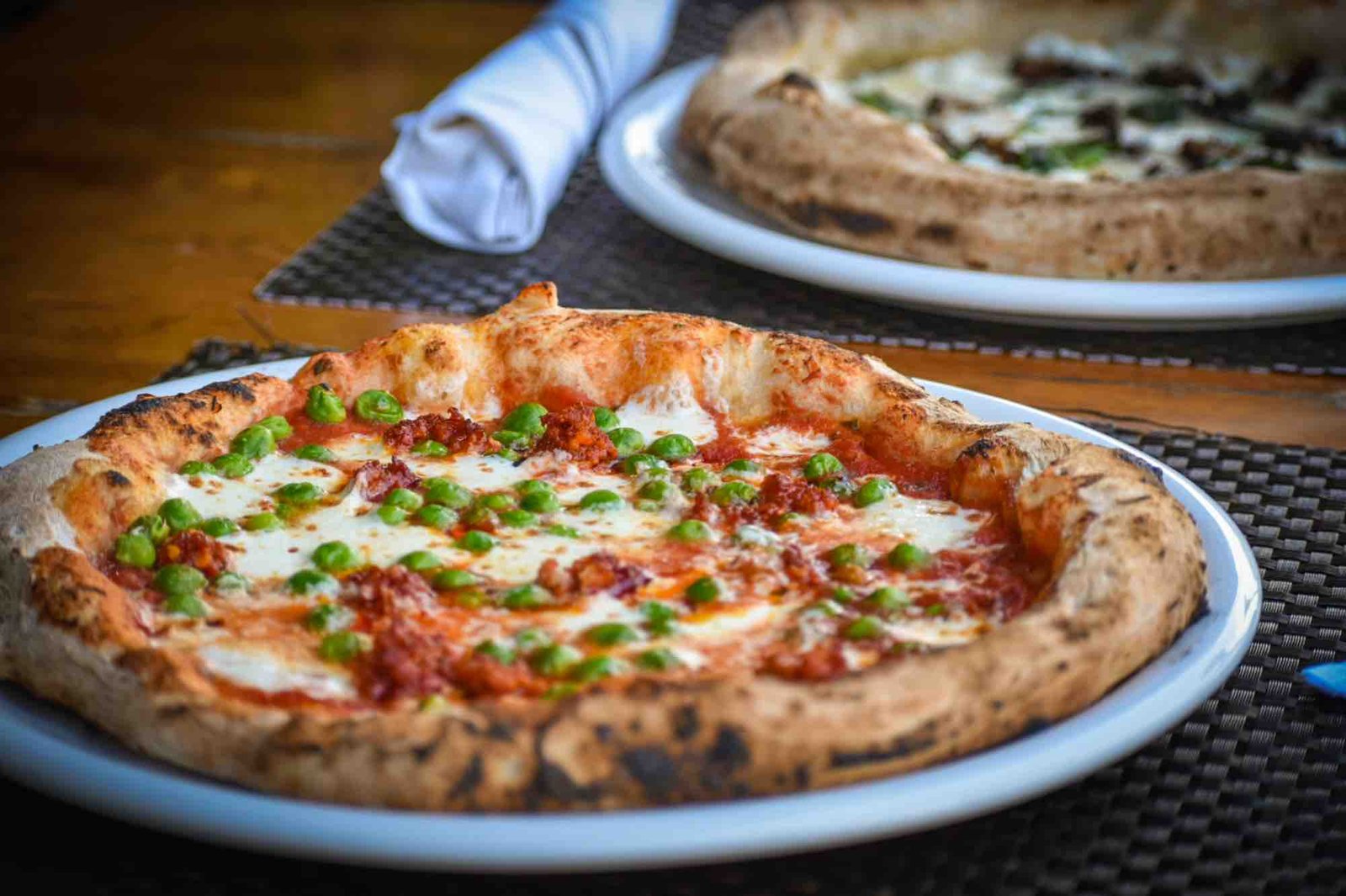 Stop four: Michael's on Naples or, The Stop Sans Steve. Here, a masterful nduja pizza [front] and a morel and ramps pizza [hidden in the back] from pizzaiolo Julio Van Schuerbeck. Photo by Brian Addison.
And then something familiar: The carnitas of Los Reyes reflecting the decades-old Chicago staples like Carnitas Uruapan and Carnitas Don Pedro, where they are sold by the pound so Steve was delightfully surprised to see the Montesinos family pot definitively smaller than normal serving Long Beach.
The seemingly endless plates coming to our table at Ammatolí—bright red muhammara, the dull beige of Chef Dima Habibeh's saliva-inducing smoked mutabal,the bright orange of her spicy hummus, the deep maroons and browns of her mousakhan chicken…
Steve's face was plastered with a permanent smile, later sharing on his Instagram: "One of the best Middle Eastern meals I've had—and it's in Long Beach, California. Ammatolí is brilliant… Every dish more impressive than the next… [Chef Dima] crushed us and we feasted. Love the LB!"
This was because of my city, without me having to defend or encourage; without me needing work or trying to sell a story. Simply Long Beach.
And then, at the meal Steve missed at Michael's on Naples, Chef Eric Samaniego and I ended up discussing awards and recognitions, rankings of food and the seemingly endless, nauseating lists of "The Best This" and Chef Eric said something really profound and, to the spirit of this writer, perfectly poignant for this conversation:
"I was talking Carlos Salgado [the chef of Taco María] and he was like, 'I just want to make my food' but the need to always live up to the expectation or to be at the top of the list becomes exhausting. Those types of things create bitterness in a community that should be lifting each other up so I've learned to step away from all that. I understand things like Michelin stars have their place but I've never been happier just making food without that in mind—and from the looks of our customers' faces and the amount of reservations, they get it too."
Amen. We don't need to prove anything, Long Beach—but what we should do is continue to invite people. Show them around. Show them what you love and tell them why you love it. There's a way to show pride without being blindly positive or being excessively defensive.
Eat well, be kind.
Brian Addison's full features on restaurants mentioned in this piece:
Editor's note: Long Beach Bread Lab is an extension of Long Beach Beer Lab; a parenthetical was added for clarification.