Standing over twelve feet high, its nods to the forms of nature—leaves, blossoms, vines, seed pods…—lavished with bright paints (that were literally used for NASA space exploration vessels), it is nearly impossible to miss the 1986 Nancy Graves masterpiece that is "Sequi."
Originally commissioned for and installed in DTLA in the courtyard of the Crocker Tower at Bunker Hill under a city-mandated public art program, the piece was part of a mini-collection of super sculptures that included pieces by Jean Dubuffet, Miró, Louise Nevelson, and Robert Graves. It was described as "a refugee from a botanist's hallucination" when it was first unveiled, with Graves appearing on the cover of Artnews while being profiled by nearly every major publication after its rising.
Photos by Tatiana Mata.
Following the disbandment of the collection over the past four years (with the famed Miró going to the auction block), the "Sequi" was anonymously donated to Cal State University Long Beach's Carolyn Campagna Kleefeld Contemporary Art Museum last year. 
The installation—the first sculpture unveiled on the campus's grounds in nearly 30 years—is a testament to the university's dedication to creating one of the region's most rich collection of freely accessible sculptures, now totaling nearly 20 formal sculptures spread across the CSULB campus.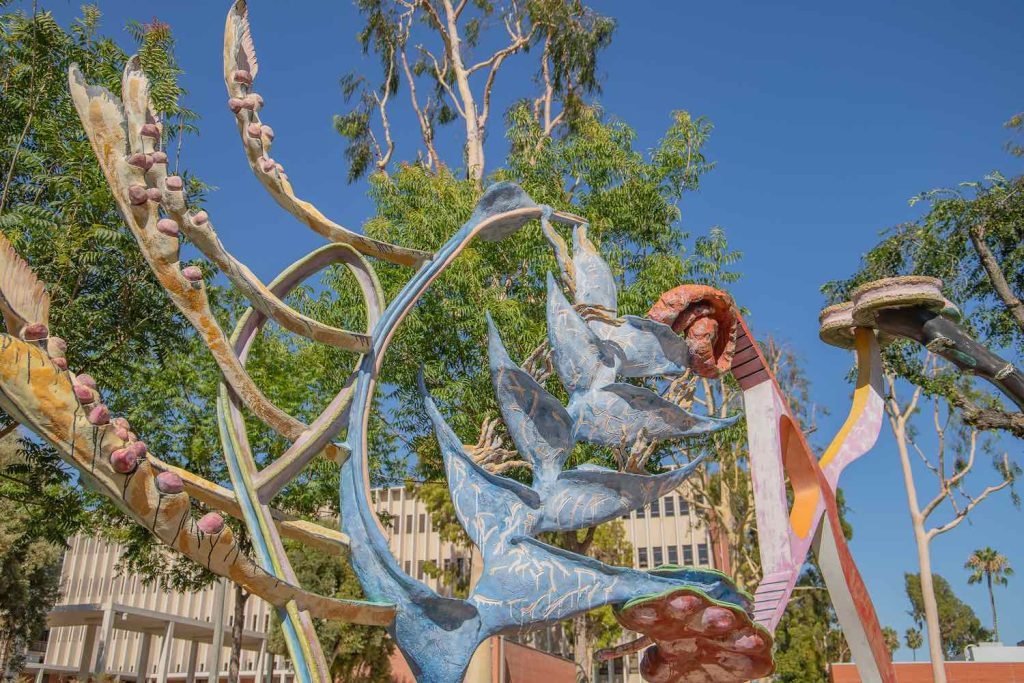 And that collection is an essential part of the university's long love-affair with sculpture.
In 1965, a Cal State Long Beach professor, Kenneth Glenn, teamed up with an Israeli artist, Kosso Eloul—known for his solemn, eternal flame piece at the Yad Vashem World Holocaust Remembrance Center in Israel—to organize a symposium that would partner nine artists with industry fabricators—Bethlehem Steel, Fellows and Stewart Shipyard, and North American Aviation—in order to construct massive sculptures. Dubbed the California International Sculpture Symposium, it was part of an international series of symposiums that was launched in Europe in 1959—and it was the first one to be held in the U.S. as well as the first to occur on a college campus.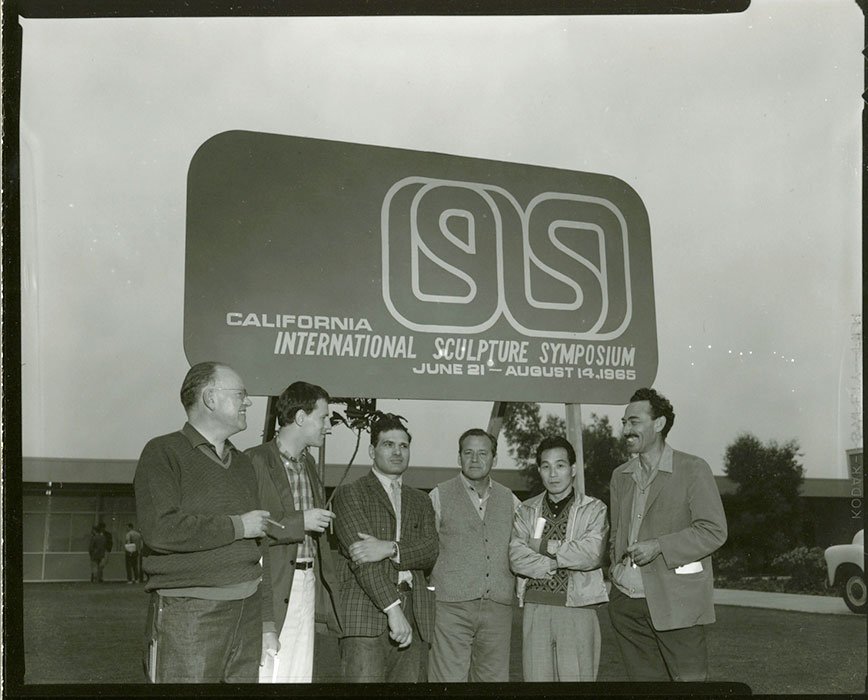 Come 2015, marking the 50th anniversary of the sculpture symposium, the Getty Conservation Institute partnered with CSULB's art museum to create a conference dubbed "FAR-SITED: Creating and Conserving Art in Public Spaces," while also donating funds and resources to restore or provide care to certain sculptures. Part of that latter contribution of the partnership was was a focus on Robert Murray's "Duet," a 1965 abstract geometrical sculptures. After multiple repaints shortly after its initial fabrication and painting, the piece deviated further and further away from its original warm orange.
The university's sculpture collection is free to explore by the public and is located across the campus's grounds. For a map of the sculptures, click here.