Three massive residential projects announced last year are taking big steps forward toward fruition—fruition that could alter the entire landscape of Pacific Coast Highway as one heads north, coming in from Orange County and crossing into Long Beach.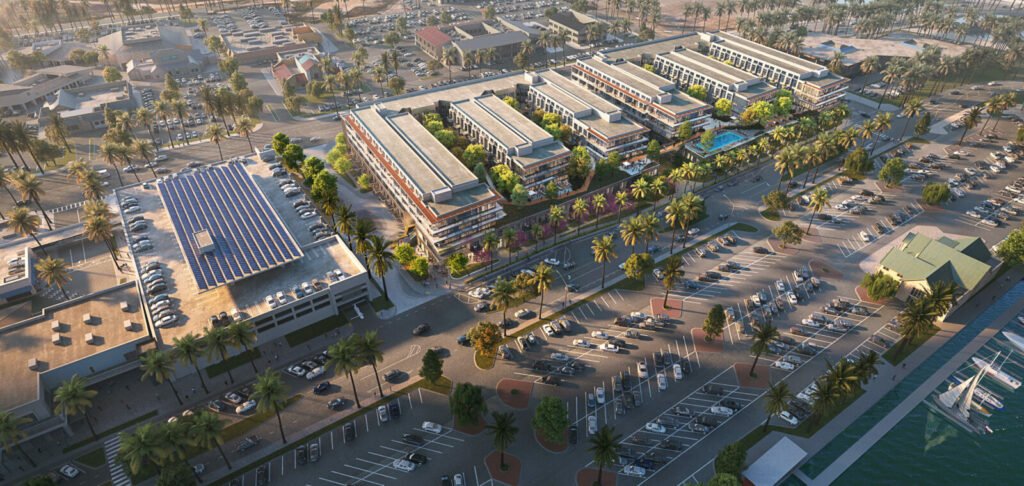 Onni Marina Shores (6500-6670 E. Pacific Coast Hwy.)
This massive project—led by Onni, the company behind the towering Onni East Village project that spans Long Beach Boulevard between Broadway and 3rd Street—was previously home to anchor tenant Whole Foods before it moved over to the neighboring 2nd+PCH retail complex. With a Petco and an empty grocer—in combination with the Southeast Area Specific Plan, which encourages residential development in the area—a sale was bound to happen: In late 2021, when real estate firm Newmark announced that Onni had purchased the 6.2 acre complex for $67.9M.
Presenting their plans the following year, with former Mayor Robert Garcia announcing it at his last Building Long Beach event, two, five-story buildings with 670 units were announced. That was has recently been reduced to 600—and those revised plans face the Planning Commission next month. As to why the unit number is falling is currently unknown as Onni has not responded for comment.
Carmel Partners (6615 E. Pacific Coast Hwy.)
Across the street, San Francisco-based firm Carmel Partners will raze an office complex and surface lot to make way for a six-story, 380-unit, mixed-income building (with 17 of those set aside as affordable units) and some 4,800 square feet of ground-floor retail space.
According to Urbanize LA, Carmel, "has developed a number of high-rise buildings in the City of Los Angeles, including the Cumulus complex in West Adams and the Atelier apartments in Downtown. The company's other future projects include a proposed 28-story high-rise just south of Beverly Hills and a 35-story development now rising in the Arts District."
Holland Partners (6700 E. Pacific Coast Hwy.)
An office building that immediately greets commuters on the west side of Pacific Coast Highway as they pass the Los Angeles County line is set to become a six-story, 281-unit (originally 303) residential project (with 13 units set aside as affordable), with 3100 square feet set aside for retail.
The project, which also includes over 500 parking stalls, was entitled this month.