After what felt like a perpetual June Gloom from January until, well, the very end of June, Long Beach is finally seeing its sunny days as it races into July—and Sura Korean BBQ and Tofu House, the city's sole purveyor of all things Korean, is taking grasp of the season with an array of cold noodle offerings.
Cold noodles are a staple throughout the entirety of the Korean food diaspora, where big steel bowls are filled with cold noodles, cold toppings, especially the Korean pear, and cold sauces or broths before being topped with mustard oil and vinegar—and in the months where the heat amps up, they are a savory offering (with bits of spiciness and sweetness, depending on the dish) that are deeply satisfying.
Sura honors that tradition—steel bowls and all—with a set of two cold noodle dishes.
The most accessible of these offerings? Likely their bibim-naengmyeon (비빔냉면), where a spicy-meets-sweet blend of sesame seeds, gochugaru, soy, chili paste, vinegar, and a bit of sugar is slathered onto a heap of wonderfully chewy buckwheat noodles (that, in the best way possible, give a Red Vine-like bit that separates it from traditional noodles: these buckwheat strands are rinsed and rinsed until their starch is stripped, especially once it hits the ice bath after cooking).
Paired with the mustard and vinegar as a topping, it's a nicely slow-build spicy noodle dish that is best eaten when served.
The most bold of these offerings? The mul-naengmyun (물냉면).
This gorgeous dish—where slices of Korean pear and watermelon help perch brisket, a hard boiled egg, and strands of chile threads called sil-gochu—is a counter to the bibim-naengmyeon, where a spicy-paste quality is exchanged for a broth ice bath.
Happily salted, this beef broth-meets-dongchimi (radishes soaked in water with various spices and chiles) concoction is thrown in with shaved ice (and honestly, I already put salt on my watermelon so I found both versions of naengmyun to pair quite nicely with the melon slices).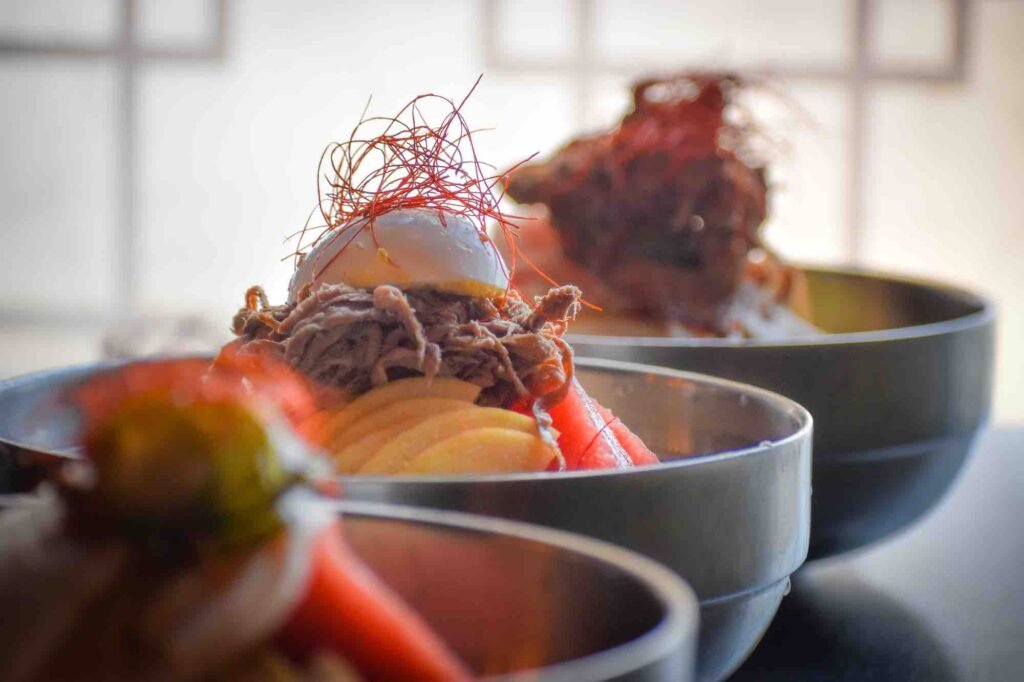 Not feeling the cold noodle? Fear not: They (rightfully) added their Mother's Day special, a rose tteokbokki dish, to the menu permanently—and it is the perfectly creamy, hot dish for those that (like myself) actually love hot food during hot days.
Using rice cakes as its base, this tomato-meets-cream wonder—a milder version of traditional tteokbokki, which leans on the gochuchang heavily—is, in all honesty, addicting—like a creamy gnocchi gone rice starch.
For those that don't know, Sura has long been the steward of Korean food in Long Beach, introducing what has long existed in Koreatown to our city's bellies.
Stuffed between a video store and a salon, the original Sura restaurant space opened in 2008 on Atlantic Avenue just south of 7th Street. And it was opened by a family hesitant to own its Korean identity—and not necessarily for no reason: Outside of L.A.'s bustling Koreatown, traditional Korean flavors were not just rare but nearly non-existent in Long Beach before Sura. More people identified with the city's ubiquitous Cambodian, Thai, and Vietnamese flavors.
When mother-and-daughter team Eunice and Claire Kim opted to take it over come 2014, at a time it was nearly a third of the size it is now, that very mingling of cultures on the menu downsized the space's Korean traditions—and it was that particular focus they wanted to shift.
To read the full story on Sura, click here.
Sura is located at 621 Atlantic Ave.