Stuffed between a video store and a salon, the original Sura restaurant space opened in 2008 on Atlantic Avenue just south of 7th Street. And it was opened by a family hesitant to own its Korean identity—and not necessarily for no reason: Outside of L.A.'s bustling Koreatown, traditional Korean flavors were not just rare but nearly non-existent in Long Beach before Sura. More people identified with the city's ubiquitous Cambodian, Thai, and Vietnamese flavors.
When mother-and-daughter team Eunice and Claire Kim opted to take it over come 2014, at a time it was nearly a third of the size it is now, that very mingling of cultures on the menu downsized the space's Korean traditions—and it was that particular focus they wanted to shift.
"There was this take on a Korean soup that was advertised as a take on 'Korean pho' [on the original menu]," Claire said. "And we immediately wanted to bring the legit flavors of Korean food and recipes back to the menu and actually call these dishes by their traditional names—rather than imitating another culture."
Raised in Koreatown and brought here by Eunice when she was 10, Claire's perspective on Korean food and identity cannot be easily shifted: In what is arguably the nation's most influential Korean neighborhood, Claire had access to a quality of Korean cuisine unparalleled—and her dive into the world of owning a restaurant soon reflected that.
Gone were the pho imitators and in were the bowls of stellar yukgaejang—unquestionably the city's best version, where shreds of brisket, scallions, and bracken fern sit in a fiery, beautifully bright red broth—and extra-fermented chunks of kimchi, made in house, is turned into kimchi jjigae, a kimchi stew layered with bits of firm tofu and fatty, salty pork belly.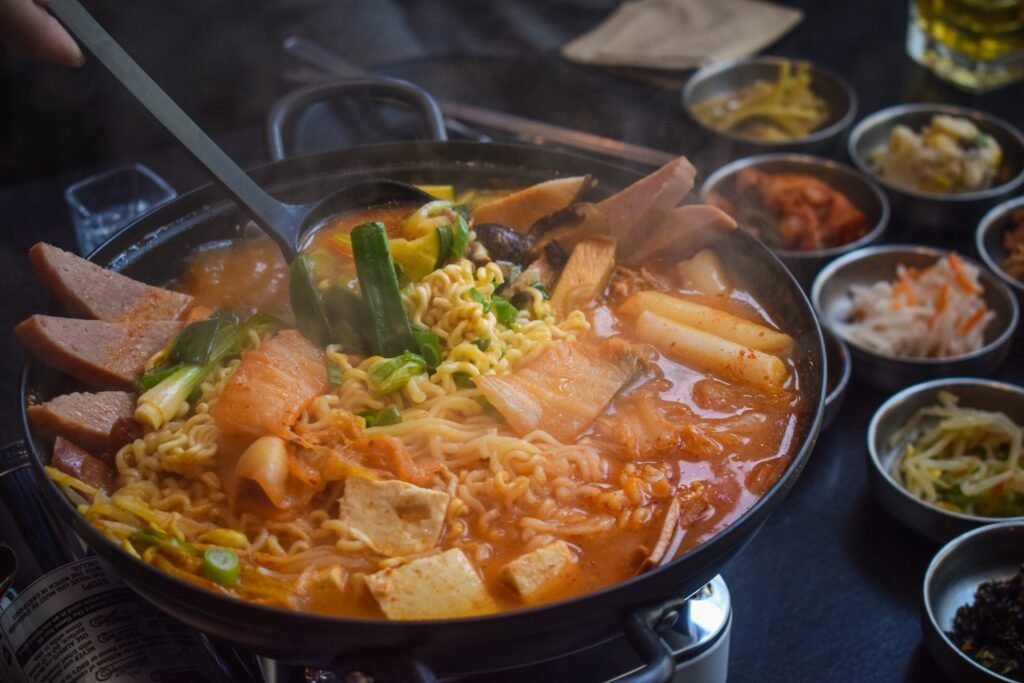 With this sense of self-pride came the loyal crowds: They sought sizzling stone pots of bibimbap, where a layer of rice sits against the searing hot bottom of a heated stone bowl, topped with anything from egg and bulgogi to chicken and tofu. They gobbled up plates of galbi-jjim, braised short ribs that come on a pile of shiitake mushrooms, dates, glass noodles, and rice.
And amid the devouring of these plates, seemingly endless pours of soju with little bowl after little bowl of banchan, small side dishes all made entirely in-house, from pickled seaweed and fish cakes to newer offerings like vegan potato salad and macaroni salad.Sura was now becoming the sole influencer of Korean food in the city.
The adamant and proud proclamation of Korean identity by Sura's new owners can easily be attributed to the influx of Korean and Korean-inspired food that has since come (and gone): From the much missed Seoulmate on 7th Street to the tiny spots popping up in other parts of the city like Marinate from the owners of Quarters, Sura has played a key role in garnering a love for Korean food here in Long Beach—and it is only growing stronger as Claire's husband and business partner, Brandon, notes the restaurant's increasing Korean and Korean-American patrons.
"We've noticed an increasing amount of people from Koreatown coming in—you know, whether they're with friends or if they've moved here because K-town is getting so expensive," Brandon said. "And it's been a bit inspirational in a sense because it's allowed us to not get too comfortable."
While Brandon may be exuding Sura's ever-constant sense of humbleness, ever since the Kim clan took over the space, they've been anything but comfortable, eventually taking over both the video store space and the salon, expanding to include a kitchen with Seoul-based Chef JP Kim.
This two-sided dose of positivity—an ownership of their quality and an influx of new patrons—has allowed Sura to confidently do what its previous owners failed to do: Go beyond the traditional and step into interpretations of fusion food.From their (much-missed) Taco Tuesday—where bulgogi tacos would sit side-by-side with the best vegan shrimp taco I've had to date—to what has become one of my favorite dishes to ever experience from them, their budae-jjigae, Sura has become a beautiful mixture of traditional and forward-thinking food that is undeniably, first and foremost, Korean in inspiration.
On that budae-jjigae, just added to their menu, is a rather beautiful projection of Sura's own development. Homing in on the traditional to expanding to varying palates and becoming a mixture of both traditional and forward-looking Korean food in SoCal, budae-jjigae reflects much of the same, albeit following the horrors of the Korean War.
"It basically translates into 'army base stew,'" Brandon said, "And it stems from when the Americans officially pulled out of the war, leaving behind many of their supplies."
Amid a tragic food shortage after American troops vacated the theater, Koreans were left with what the marginalized are often left to do: Make something out of very little. Amid former American bases being filled with canned and cured meats ranging from Spam and bologna to hot dogs and salami, they created a stew that has not only stood the test of time but has made its way back to the United States.Sura's version is no exception to the soup's popular and beloved reputation: A house-made beef broth sits as the base for this instant ramen noodle dish, where layers of shiitake mushrooms, tofu, and rice cakes sit among their very American counterparts, including Spam, bacon, and good ol' American cheese.
Arriving at your table atop a mini-stove top burner, it is wonderfully warm, holding a savory depth that pairs perfectly with a hangover and a pour of Sura's partnership with brewery Strand, their Seoul Lager. And sitting there, the wafts of scallions and sesame oil permeating the space, there is a realization that Sura is far more than just a Korean joint that has withstood a fairly large city that has seen little of its cuisine.
The Kim Family proves to be a genuine conduit in creating community: They took on ownership of Long Beach's flagship kombucha brand, Fine Feathers, when its previous owners were ready to close up shop. They consistently listen to customers, including their vegan customers, to create menus that cater to both Korean and individual sensibilities. They are unafraid of change as much as they are proud of their traditions.
And amid a seemingly increasingly antagonistic online culture that permeates every aspect of our digital lives, they are physical examples of why living in a silo—be it culturally or philosophically—isn't just a detriment to individual experience but a disservice toward a truly collective human connection.
Take in your bowl of yukgaejang—and fear not if you need to ask your server how to pronounce it. Enjoy your soju bombs—and fear not looking too much like a lush. Soak in the fact you live in a place where bulgogi nachos and folks like the Kim Family not only want to invite you into their culture but invest in your city.Geonbae, friends.
Sura is located at 621 Atlantic Ave.