The process to repaint (let alone touch up the beautifully ornate terra cotta) of a historic building is one helluva an endeavor—and the people behind the recent activity behind the Lafayette complex's tower, formally known as the Campbell Apartment Building and built in 1928, understand that.
While the building stands in one of its most pristine conditions as of this moment—a glorious white that highlights its beige terra cotta details that have made it so loved among residents and visitors alike—getting there was nothing but simple.
The Campbell Apartment Building—the tower attached entirety of the Lafayette complex—as seen in its former color in 2017—and the updated façade as seen in 2023. Both photos by Brian Addison.
"This was a $550,000 project," said Joe Harding, the man who manages the Lafayette complex, which includes the Campbell, the Lafayette Hotel (originally named Hotel de Cota and built in 1929), and the Broadway building (built in 1948 and designed by Theodore H. Criley). "And it included a ton of color samples."
This arduous process included sampling each of the building's eight previous colors—the core sample determining the building was originally green, various layers of white and tan, and then its last two layers of brown, the last of which faded into a brown-pink—landed them on a simple white with a dark green to wrap the small window frames.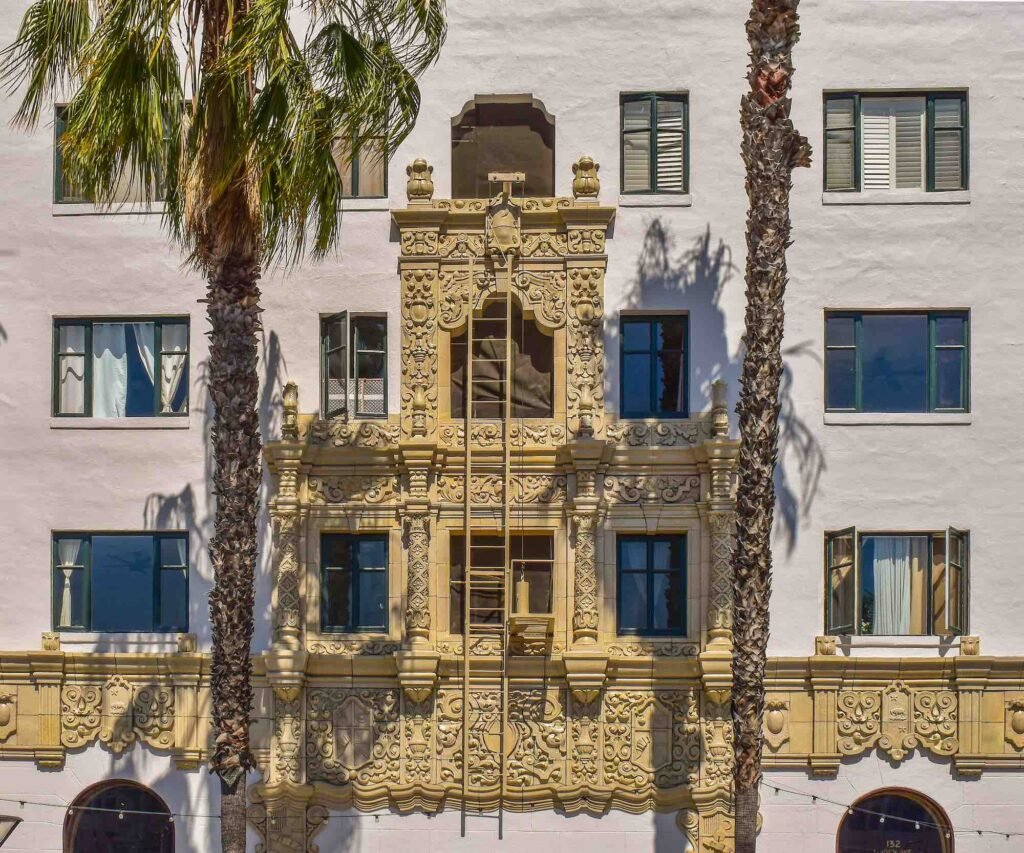 This, obviously, wasn't done in a silo.
The Lafayette complex had a ton of support—both locally and nationally—thanks to the folks behind Long Beach Architecture Week (LBAW) introducing Dunn-Edwards to the people organizing the restoration and repainting efforts of the Campbell building.
"A big part of LBAW's mission is to not only celebrate our amazing architecture but to preserve it," said LBAW Board President Sal Flores. "That's why it was so important for us as an organization to make sure we helped with the Lafayette's repainting and restoration process. Dunn-Edwards has been a major partner of LBAW since the beginning and it only made sense to bring them on and include them in this unique preservation project." The Lafayette building is an iconic Long Beach Landmark and what we did was to bring people together that share the same goals of preservation and history of our city."
And if one is to think this partnership was simply, "Pick a color and go," you have to rethink that.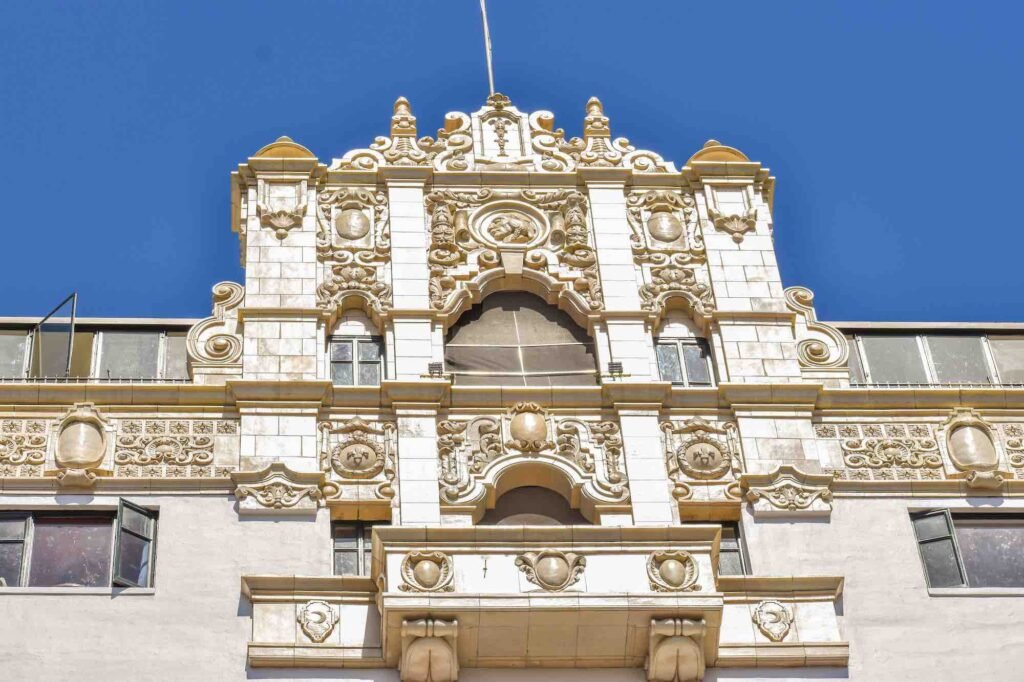 Various details on the restored terra cotta. Photos by Brian Addison.
Dunn-Edwards has a very particular collection—dubbed Then, Now & Forever—that has over 140 historical colors that can help projects precisely like this, letting organizers avoid too contemporary of a color while also allowing the building to take on a new coat.
"In 2015, I helped lead the efforts in establishing the collection, working alongside other color experts to identify historically accurate paint colors—and it was the same process when we worked alongside the Lafayette team to establish what color would be appropriate," said Sara McLean, a color expert and stylist with Dunn-Edwards.
The result? Two very distinct colors that are unique to the Lafayette: Schilling Me Softly (DELAF01)—an ode to Arthur and Cecil Shilling, the architects of the Lafayette—as well as Refined Green (DEA181), the aforementioned color of the window frames.
"It really reflects a dedication to a part of Long Beach that, were it not maintained and kept up, could have been easily lost," Harding said. "These projects are not easy—but with something like this, it becomes all worth it when you see the sunset hitting the glaze of that terra cotta. It's simply beautiful."