River Jetty Restaurant Group—the Orange County food giant behind the base moniker legends that are A Restaurant and A Market in Newport Beach as well as A Crystal Cove on the Newport Coast—have officially moved beyond the Orange Curtain, with their "A PCH" restaurant opening July 19 at the 2nd & PCH retail and dining complex.
While the announcement of and construction on the project began earlier this spring, the 2,500-square-foot, 175-seat space itself has been mostly under wraps.
Led by Executive Chef Louis Capiz—the former sous chef at the group's "A Crystal Cove" concept on the coast of Orange County—the dinner and lunch menus are a reflection of the group's dedication to old-school style, higher-end steakhouse offerings (minus a few offerings like a couple of pizzas and avocado hummus) and a literal reflection of their Crystal Cove concept, with identical menus, from lunch to brunch to dinner, kicking off at A PCH.
There's the starter and for-the-table staples: Caviar service, oysters, charred octopus, the group's famed 1855 steak tartare, hamachi crudo, charcuterie plates…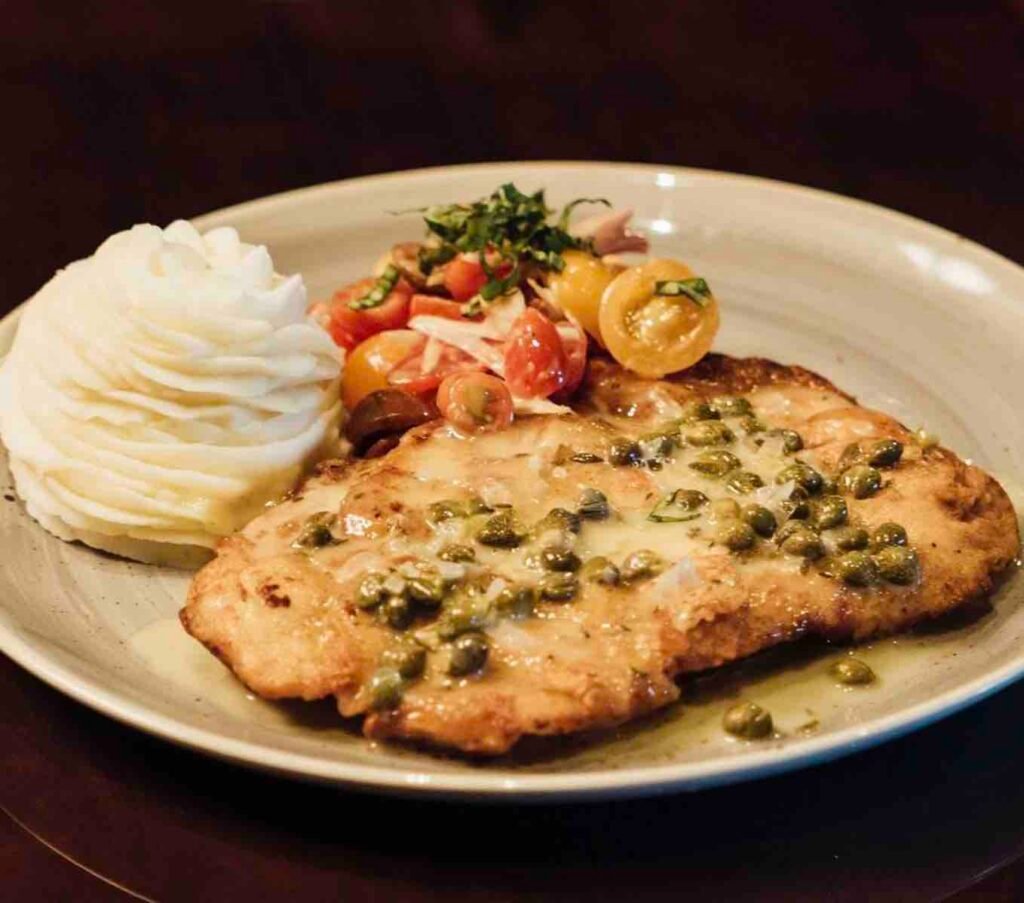 There's the "flour and water" section that heavily leans Italian: the space's much-loved "Dirty Pasta" rigatoni dish with ground duck and fried sage, a classic cacio e pepe, a short rib ravioli dish with a pistachio pesto, two pizzas (including one which controversially and confidently defies the no-pineapple-on-pizza myth)…
There's the so-called "larger" menu which : A Scottish salmon with curry, pink apple, and dandelion; halibut with lemon and caper butter; whole roasted branzino; lamb with mint and couscous; a Monday- and Tuesday-only chicken pot pie special…
The bar area of A PCH. Courtesy of River Jetty Restaurant Group.
This all finished off with their signature a la carte steak menu—including Japanese A5 wagyu—and a brunch menu which includes the group's popular horchata pancakes, lobster benedict, filet and Dungeness crab benedict, and breakfast burger.
A preview of the interior—a warmly lit bar line with velvet blue chairs and an accompanying line of the group's signature red booths—is yet another reflection of that ideal of returning to the classics, where Rat Pack-inspired restaurants featured cozy, intimate spaces with dim lighting.
Its massive patio—where the pictures above look out onto—will have the majority of its portion running parallel to Marina Drive, where it wraps toward its northern end to meet Ola's "palapa" outdoor bar space.
While this marks River Jetty's second concept beyond the Orange Curtain—it is simultaneously working on "A Sunset" on, you guessed it, Sunset Boulevard in Los Angeles, which will open after A PCH—its original location, "A Restaurant" has a storied history inside a building that has been around since 1926 that was originally called The Arches.
A noticeable marker along the then-recently opened Pacific Coast Highway connection between Newport Beach and Huntington Beach, the service station and restaurant became a magnet for Hollywood elites, serving everyone from Shirley Temple and John Wayne to Humphrey Bogart and Bob Hope.
The Arches was, even after it moved to a new building decades later, a staple for the Orange County food scene by doing what Palm Springs and Los Angeles were already excelling at: Establishing a steak and seafood-focused menu with hints of French technique and cuisine—and doing it stellarly.
The abrupt closure of the space in 2011—its 85th year of operation—was a cause for broken hearts across Orange County until childhood friends and Newport natives Jordan Otterbein and Joseph McGinty Nichol (widely known as the director McG) bought the building and rebranded it to "A Restaurant."
Since then, the restaurant has flourished, allowing the pair to establish the River Jetty Restaurant Group and open "A Market" in Newport Beach, "A Crystal Cover" on the Newport Coast, and CdM in Corona del Mar.
"A Pacific Coast Highway" will be located on the second floor of teh 2nd and PCH retail complex at the southwest corner of 2nd Street and Pacific Coast Highway.