Developers of the 42-acre West Harbor development—previously dubbed the San Pedro Public Market and taking over the space that was formerly the beloved Ports O' Call—have announced that the project is 65% leased, with some of the region's most recognized food names becoming future tenants expected to open when the project is completed in 2023.
Most recognizable is Yamashiro, Hollywood's famed mountain palace that has attracted tens of thousands of patrons yearly since it opened in the early 1960s. It's almost mythic history—real estate monger Thomas Glover bought the Asian-centric 1914 building in 1948 after it had gone into severe disrepair and was prepared to raze the gorgeous structure to build a hotel before discovering silk walls and elaborate woodwork under years of plaster and plywood—has made it a food destination that skirts replicability.
Until now.
The second location will take over the original location of the San Pedro Fish Market—more on their major move in a bit—with plans to expand globally, according to Eater LA.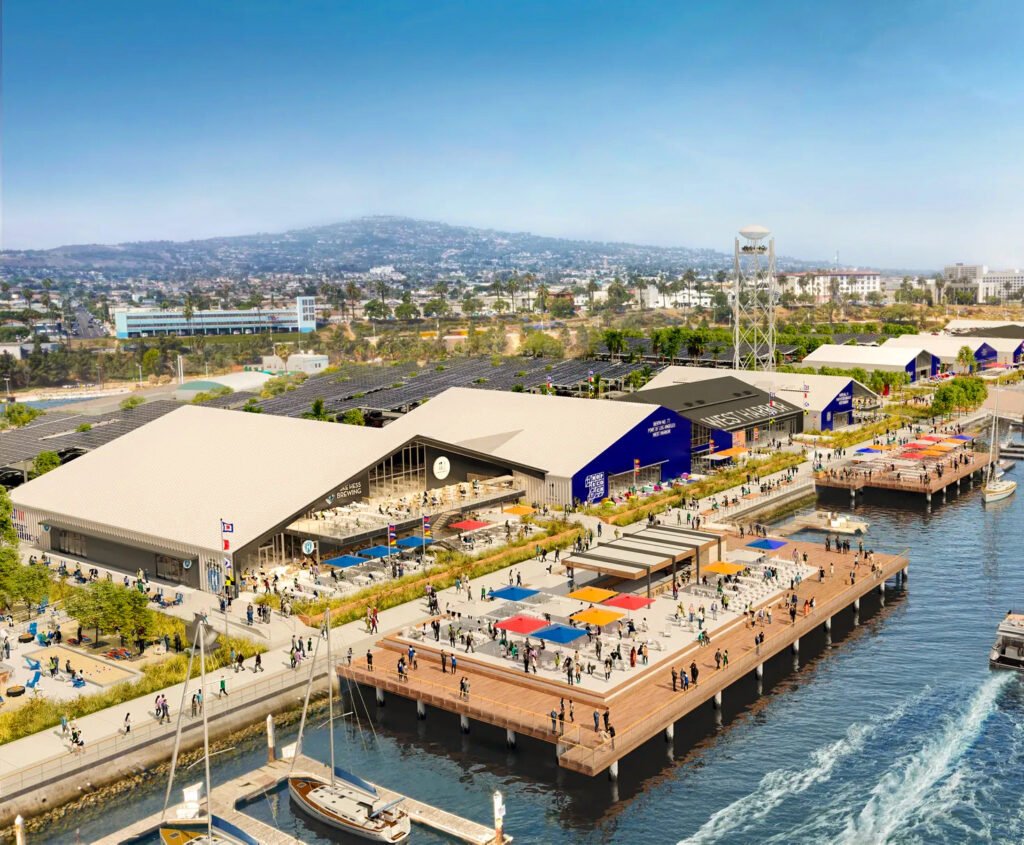 Renderings of the West Harbor development. Courtesy of Studio One Eleven/Jerico Development.
And the group which owns and operates Yamashiro isn't just expanding its namesake brand but plans on opening an unnamed, unknown Mexican food space inside a 5,000-square-foot building at West Harbor.
Mike Hess Brewing, the San Diego-based brewing giant whose local popularity has kept it alive and expanding despite an overwhelmingly saturated market, will join San Pedro's tiny-but-growing brew scene. It marks San Pedro's third brewery, following the San Pedro Brewing Company and the much-beloved Brouwerij West.
This marks one of many expansions into new markets over the past decade for Hess, which has seen its brand step into everywhere from the Bay Area up north into Colorado in the east.
Joining Yamashiro and Hess will be:
DTLA brunch- and fried chicken-favorite Poppy + Rose will expand into the nighttime with its West Harbor location—only its second, which is shocking considering its popularity—which includes a 2,000-square-foot patio that will allow its dedicated brunch crowds to overlook water, bikes, and ships.
Popular Long Beach Exchange-based Jay Bird's will open its fourth Nashville hot chicken location.
Sugar Factory American Brasserie, the over-the-top worldwide brand which prides itself on serving rainbow pancakes you can top with gummy bears, sprinkles, whipped cream, and other assortments of, well, sugar.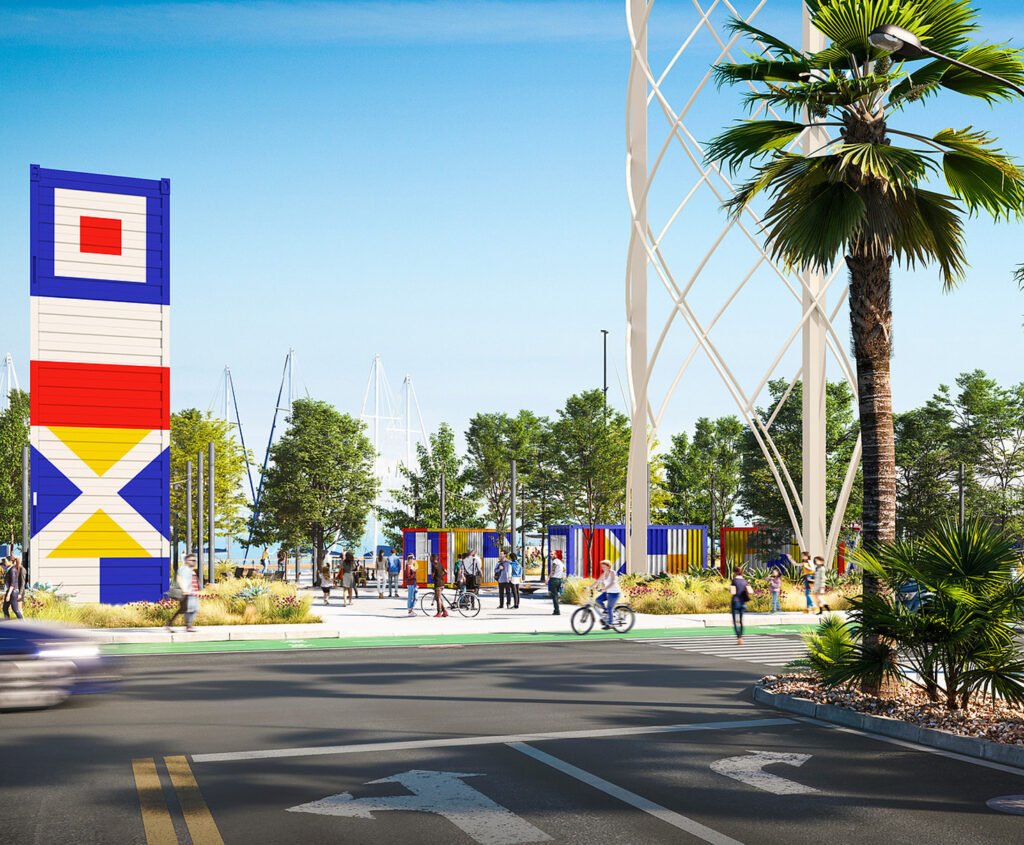 Renderings of the West Harbor development. Courtesy of Studio One Eleven/Jerico Development.
Meanwhile, the San Pedro Fish Market, one of the most profitable restaurants in the nation—when it was operating out of Ports O' Call, it earned some $30M per year—will move up the waterline a bit, with owner Mike Ungaro citing space concerns.
"We are happy to see the West Harbor moving forward and wish them nothing but success as they move towards breaking ground on the world's greatest waterfront," Ungaro said. "As a 65-year tenant of the Port of Los Angeles, we've been blessed with near continuous growth, especially over the last two decades where we have seen our regional and national popularity explode. We expect that growth to continue meaning we need more space than the West Harbor project can accommodate and the Port is helping us make that happen."
Ungaro's San Pedro Fish Market, open since 1965, is the stuff of legend: the state's largest seafood restaurant, it heaps piles of shrimp, mussels, clams, octopus, lobster, calamari, halibut, crab, and scallops for your gluttonous delight. Hell, it's even spawned wannabe versions of its platter in Irvine (though there is no comparison to the OG version).
The arduous and contentious battle to get the project going has been an 8-year-long endeavor and, most recently, included yet another return to the drawing board for designs, the fourth in the project's existence.
After plans were revealed in March 2016 for the then-$100M renovation of the San Pedro's famed, 30-acre waterfront area known as Ports O' Call, not many were impressed—including a large portion of Long Beach fisherman and sailors who bounce back and forth between Ports O' Call and Long Beach.
The initial proposals, marked by theme park-y saturated colors and nods to the berths of the 1950s and 60s, were eventually replaced by renderings below that offer a more warehouse, earth tone-centric aesthetic.
Those then-new plans were unveiled last year by the Ratkovich Company and Jerico Development, the partnership forming the LA Waterfront Alliance overseeing the project, as the Ports O' Call area was undergoing demolition to make way for the project. Shown at the Warner Theatre in San Pedro, the designs drew both applause and raised eyebrows. (Those designs included Rapt Studio as its design architect, James Corner Field Operations, the landscape architect firm working on the master planning for the project, and Adamson & Assoc. serving as Executive Architect.)
The unveiling revealed stark contrasts to initial proposals, entirely eschewing homage to the area's nautical past and instead aiming for a glass-and-metal look with large, steel A-frames that encase massive expanses of retail and restaurant space.
The third batch of renderings—set at the current price tag of $150M—were a mixture of the previous, hyper-contemporary iteration and a return to a more rustic look, with corrugated metals, earth tones, and large logos being paired with an expanded patio section, more outdoor dining space and container kitchens, and play areas to accommodate visitors with children and dogs.
The fourth-and final?—set of renderings mute the rust colors while stripping down the warehouse look by contemporizing their structures with wood and metal beams, glass, and whites.
"By making port space public space for everyone, from joggers to boaters to cyclists to walkers, we're connecting San Pedrans, Angelenos, and out-of-towners ready to celebrate small businesses, local restaurants, and community," stated the project team at Jerico.
Other highlights of the project include:
Fisherman's Park, a 3-acre pedestrian promenade that includes trails, bicycle paths, water features and more.
Some 600 feet of continuous courtesy boat slips, bike and scooter paths, along with pedestrian and jogging paths providing direct waterfront access along the Market Walk.
An open-air amphitheater to be operated by Nederlander Concerts.
The possible moving of the USS Iowa from its northern docking slip and into the market space, acting as a direct attraction while also freeing up its former space to attract another cruise line.
The possible incorporation of the famed Red Trolley, depending on the initial economic performance of the market.
West Harbor is to hopefully open in late 2023.