On a trip through the northern midwest, somewhere between Montana and Wyoming, Lola's owners Luis Navarro and Brenda Rivera opted to take a side trip to Taco John's, the region's ubiquitous Mexican fast food joint.
In the words of Navarro, think of it as the original Del Taco: smile-induced-by-absurdity with items like the Double Cheese Chicken Boss Burrito that sit next to hard shell tacos topped with ungodly amounts of yellow cheese and lettuce, proudly advertising how they "freshly fry" said shells daily in house…
"And what was so cool about this wasn't that the food was mind-blowingly good," Navarro said, "but that we were in the middle of the American midwest and they loved tacos. They loved the food of my mom's motherland, of my heritage. They were straight up having tacos in the bed of their pickup truck."
The diaspora of Mexican food throughout the United States is an impressive one, having reached every corner of the country (and, now, nearly the world) thanks to the hard work of immigrants and the open stomachs of otherwise unwelcoming white Americans.
The little nods to Mexico proper—the witty ode to round corn cemitas, common in Guadalajara, in the heirloom blue corn pancakes—mixed with America's infatuation with brunch are warmly welcomed.
The story of Luis's mom—Maria Delores Navarro, referred to by friends and family simply as "Lola"—who came to Long Beach from Guadalajara in 1972 with nothing but fifty bucks and the dream of opening a restaurant, is something that often has to be repeated for those that don't know it was indeed Lola's herself who opened the shop before shortly succumbing to cancer a few years later.
"Every time we visit Mexico—whether it's Guadalajara or Mexico City or Puebla or Guanajuato or…," Rivera said, "we are constantly amazed at the evolution of the food there—and that's what we are trying to do with our food here, every day, every year."
Rivera could be hinting at everything from Ahogada Mutante in Guadalajara—a torta ahogada joint that has bolillos made specifically to look like turtle shells in an homage to Teenage Mutant Ninja Turtles, with various sauces representing specific characters—or the famed Pujol of Mexico City, where the term "elevated Mexican cuisine" is taken to extraordinary heights with the talents of Chef Enrique Olvera.
But one thing is certain: Little bits of Lola and Mexican culture sit throughout every dish, oftentimes witty, always delectable.
The blue corn pancakes—using L.A.-based tortilleria Masienda's heirloom blue corn—are simultaneous nods to two things in Mexico: The ubiquitous "Hot cakes!" man that stands outside churches across Jalisco daily offering mini pancakes slathered in cajeta or mermelada or lecherita or… And Lola herself, who would make corn cemitas, a bread-like round—whose sesame version is the base for the famed Pueblan sandwich that is the cemita—and offer them up as snacks to her children, Luis and Erica.
Navarro's take on the hot cakes-meets-corn cemita is genuinely warming: The earthiness of the blue corn is balanced with crumbles of piloncillo, Mexican brown sugar whose hardened triangle of fructose is briefly heated before being cracked into little bits of sweet crunch for the batter. The result is a meet-in-the-middle for those seeking something sweet but not overwhelming sugar-centric for their breakfast.
For the sweet-toothers, that would be the cajeta-slathered French toast, whose milky and deep caramel flavor can be offset with the salty, heat-y jalapeño-infused bacon that is a staple of the Lola's brunch. (And yes, that bacon is also included with the blue corn pancakes.)
Then there are wonderful nods to a common breakfast for any child who has had the honor of having a Mexican or Mexican-American mother (or, in my case, sister-in-law): gorditas. Of course, Navarro takes the idea of a gordita to Benedictine heights—and we'll get to that shortly—but first, let's just talk about the almighty gordita.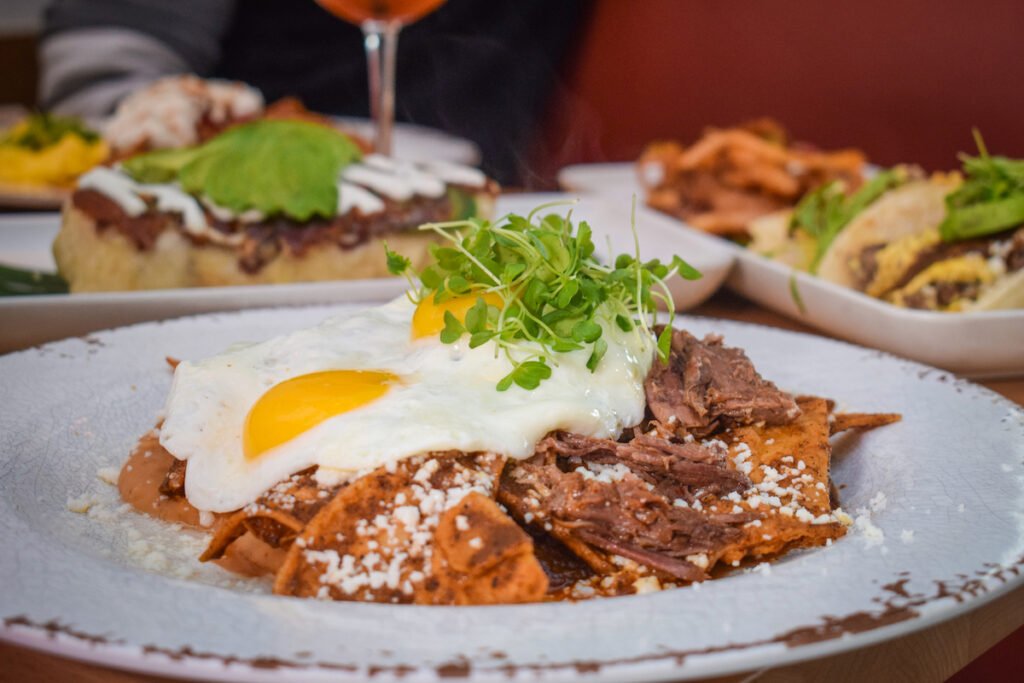 Thick rounds of fresh masa are tossed onto a griddle, often with a cracked egg or fried beans as part of its base, fried slightly and then topped with whatever your heart desires: crema, salsa, cotija—your choice, your rules.
The gordita is a canvas and it should be treated as such, whether it is sitting at the kitchen table or inside a restaurant.
And for Navarro, he saw eggs benedict. Stuffing his gordita with cheese and pasilla peppers, a riff on rajas, he then adds a thin layer of fried beans, the restaurant's staple birria—a recipe of Lola herself that hasn't changed much—, a poached egg, and hollandaise.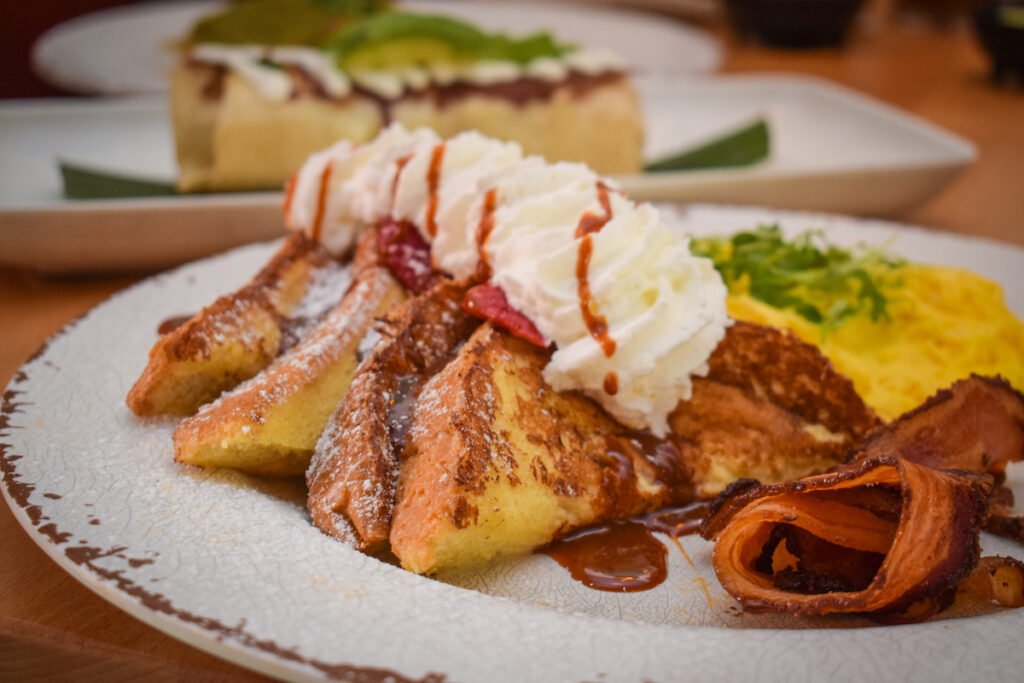 The result is the restaurant's strongest new item, a mightily hefty plating of two of these stacked-and-packed gordita bad girls, whose side of pickled jalapeños act as the perfect acid slicer through a wonderfully rich dish. (My suggestion? Ask for extra jalapeños.)
Then there are the mighty chilaquiles, where Navarro takes a much-welcomed step away from the typical verde and rojo sauces and goes for dried-blood maroon of the chipotle, creating a saucey concoction that somehow skips the heat of the almighty dried jalapeño but maintains its lip-smacking smokiness. For spice seekers like myself, the lack of heat is only a momentary disappointment because the flavor is genuinely multi-layered, where salt and smoke are balanced with brightness and crisp.
My suggestion? Get birria on it—I promise, you won't regret it.
There are plenty of other solid options—a heavy, two-taco platter using steak and eggs as its base as well as a solid breakfast burrito with a burnt-cheese crust that will appease the less adventurous palates that—that round out the menu in the way Lola's always has: Having a bit of something for everyone.
That appeasement has consistently drawn criticisms toward Lola's, ranging from the outrageous claim that their food "isn't Mexican" or that, despite the plate like the Mexican eggs benedict can easily be split between two, the space is too expensive. These types of criticisms, largely thrown at Mexican-American establishments that take pride in both bending and honoring traditions, are things that Navarro and Rivera have long taken with both resilience and, of course, a bit of pain: Hearing folks from one's own community saying they aren't "Mexican enough" can hit in a spot that is genuinely tough to navigate.
But for Navarro, whose constant demeanor is one of love and connection, it all comes down to the fact that the resilience of Mexican food criss-crossing its way through myriad other cultures is proof of one thing: Mexican food is for everyone.
"We cater to everyone," Navarro said. "Genuinely. Blair Cohn wanted a riff off the grilled burrito from Chipotle so we gave him one—and it's the still the best selling item at our Bixby Knolls location to this day. And I'm cool with that because Mexican food is for everyone."
Can we get an amen to that?
Lola's Mexican Cuisine has two locations: 2030 E. 4th Street on Retro Row and 4140 Atlantic Ave. in Bixby Knolls. Brunch is served only on weekends.